New York Jets:

Miami Dolphins
May, 7, 2014
May 7
2:01
PM ET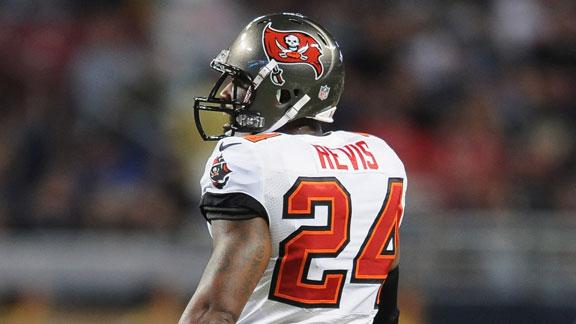 Did the AFC East's best keep on getting better?
The perennial division champion
New England Patriots
signed elite cornerback
Darrelle Revis
, which could offset significant free-agency gains by the
New York Jets
and
Miami Dolphins
.
The
Buffalo Bills
are in good position to improve through this week's NFL draft.
EJ Manuel
, the Bills' top pick last season, returns as the starting quarterback and is one of three second-year players facing intense scrutiny in 2014.
Who finishes atop the AFC East in 2014 could depend largely on which team best handles the stretch run, as December features five inter-division matchups -- including three in a row for the Patriots to end the season.
The four writers who cover the division -- Rich Cimini in New York, Mike Reiss in New England, Mike Rodak in Buffalo and James Walker in Miami -- offered their insights on the AFC East offseason and other key topics. They also polled their Twitter followers to find out if they saw the issues differently.

Which AFC East team has had the best offseason to date?
Rich Cimini: I'm all about the stars, which is why I'm picking the Patriots, who landed the best free agent of them all: Darrelle Revis. He's one of the top two cornerbacks in the league, a legitimate game-changer. His presence will allow Bill Belichick to play more press-man coverage, which will help their pass rush and create headaches for opponents. Once Brandon Browner serves his suspension, they'll have two physical corners. The Jets and Dolphins helped themselves in free agency, addressing need areas, but neither team acquired a player as good as Revis. The Patriots lost a terrific corner in Aqib Talib and actually upgraded. How often does that happen in free agency?

Mike Reiss
: The Patriots get the nod here because they added the best overall player in cornerback Darrelle Revis and re-signed receiver
Julian Edelman
(the Jets had explored poaching him), but I don't think it's a large gap to the next club. I like what the Dolphins have done to start rebuilding their offensive line (
Branden Albert
,
Shelley Smith
) while also bringing in defensive tackle
Earl Mitchell
, re-signing cornerback
Brent Grimes
and potentially getting some value with cornerback
Cortland Finnegan
.
Mike Rodak: Comparing gains and losses in free agency, the Patriots have fared the best. The season is never won in March, but the Patriots were able to upgrade even after losing cornerback Aqib Talib. Signing Darrelle Revis was the most significant free-agent move in the division, while Brandon Browner adds another quality player to the secondary. The Jets aren't too far behind. Eric Decker and Chris Johnson add firepower where the Jets have struggled in recent years -- at their skill positions. Neither player, though, is on the same level as Revis, which is why I give the Patriots the edge. Honorable mentions go to the Dolphins for signing Branden Albert and the Bills for signing Brandon Spikes.

James Walker: I like what the Jets have done this offseason. It has been offense, offense and more offense in free agency for New York. The Jets went out and signed wide receiver Eric Decker, former Pro Bowl running back Chris Johnson and veteran quarterback Michael Vick. All three have a chance to make an impact on New York's weakest side of the football. Jets head coach Rex Ryan is a great defensive mind and has that side taken care of. It's just a matter of New York scoring more points this year. If the Jets can add a receiving threat such as Marqise Lee or Brandin Cooks in the first round Thursday, look out for "Gang Green."

@mikerodak Patriots - name a player better then Revis signed this free agency period in an area of need #FourDowns

- Samuel Simmonds (@Samuel_simmonds) May 6, 2014
---

Will an AFC East team select a quarterback in the first three rounds of the draft?
Cimini: No one will pick a quarterback in the first two days of the draft. The most likely candidate is the Dolphins, who have a new offensive coordinator and might be looking to acquire some Ryan Tannehill insurance after two so-so seasons -- but it won't happen before the fourth round, not this year. Neither Geno Smith nor EJ Manuel is entrenched with the Jets and Bills, respectively, but their teams have too many other needs to start doubling down on quarterbacks. The Patriots made headlines by hosting Johnny Manziel on a pre-draft visit, but I'm not buying it. It's still too early to start looking for an heir to the Tom Brady throne.

Reiss
: Yes. One of the things that has become clear in the build-up to the draft is that this is a good year for clubs looking for a developmental quarterback. ESPN's Mel Kiper said he has spoken with teams who have identified as many as 15-20 draftable quarterbacks this year, which is higher than the norm. NFL Network's Mike Mayock said he has 10 signal-callers with grades within the first three rounds, which is about double the norm. I think Buffalo (insurance for EJ Manuel) and New England (backup
Ryan Mallett
's contract expires after the 2014 season) are the spots to look within the division.
Rodak: The Patriots are the most likely to select a quarterback in the first three rounds. Their backup since 2011, Ryan Mallett, enters the final season of his rookie contract and hasn't proved in limited playing time that he's capable of being a starter. Mallett was a third-round selection and that could be the sweet spot for the Patriots again, although I wouldn't put it past them to take a quarterback in the second round if one of the top signal-callers falls. The Bills might also pluck a quarterback off the board by Friday night. EJ Manuel, a first-round pick last year, is their starter but they could use an upgrade over Thad Lewis or Jeff Tuel as their backup. If the right quarterback falls, Buffalo might pounce.

Walker: The third round seems like the best possibility; it's the safest round of the three for avoiding a quarterback controversy. The Bills would have the best case for drafting a quarterback fairly early. The team has said several times that it's behind 2013 first-round pick EJ Manuel, but I don't see any reason for the Bills to avoid adding depth at the position behind Manuel in the middle of the draft. Backup quarterbacks Thad Lewis and Jeff Tuel are not the answers. Manuel had injury issues last year, as well. It makes sense for the Bills to consider a capable backup.

@RichCimini Pats and Mettenberger is a match made in heaven. Strong arm? Statue in pocket? Tall? Character/Injury concern? All check marks.

- Bob (@Bobister) May 6, 2014
---

What stands out about the NFL schedule for each AFC East team?
Cimini: Prepare for the missiles of October. The Jets face Philip Rivers, Peyton Manning and Tom Brady in a 12-day span, Weeks 5 to 7. Before that, they meet up with a few other top quarterbacks: Aaron Rodgers, Jay Cutler and Matthew Stafford. The Jets' suspect pass defense, which allowed nearly 4,000 yards last season, will be seriously tested. This is the main reason they need to prioritize cornerback in the draft.

Reiss
: The Patriots have a well-placed bye week and some of their biggest games around it. A Nov. 2 home game against the Broncos precedes the bye, then coming out of it is a Nov. 16 road game against the Colts. Fun, fun. If that's not the iron of the schedule, then back-to-back road games against the Packers (Nov. 30) and Chargers (Dec. 7) probably qualifies. Also, with the season concluding with three straight division games, the AFC East could still be up for grabs late.
Rodak: I've harped on this point before, but the Bills might have the NFL's toughest December schedule. Who knows where they'll be by Thanksgiving -- they could be in the playoff hunt or fading -- but their final month is brutal. The Bills must travel to face Peyton Manning and the Broncos, return home to host Aaron Rodgers and the Packers, make a cross-country trip to face the Raiders and then head back East to finish their regular season on the road against Brady and the Patriots. Ouch. Perhaps it's better that this four-game stretch comes at the end of the season rather than the beginning -- the Bills could be staring down an 0-4 start if it did -- but if they have any hope at the playoffs, they're going to need to win a couple of those games.

Walker: The Dolphins must bring their A-game on the road because they do not have back-to-back home games until the final two weeks. The Dolphins were a respectable 4-4 on the road last season, but it will be challenging for them to put together any significant winning streaks away from Sun Life Stadium. Miami's regular-season opener at home against the Patriots also stands out. We will find out immediately whether the Dolphins are a legitimate threat to New England in the AFC East.

@JamesWalkerNFL the 4 game stretch playing the broncos jets ravens and pats. ultimately make or break us

- Michael Broyles (@mikesdolphins) May 7, 2014
---

Which AFC East second-year player has the most to prove?
Cimini: My first inclination is to say Jets quarterback Geno Smith, who could lose his starting job to Michael Vick, but that's the Jets beat writer in me talking. The better answer is Bills quarterback EJ Manuel. Why him? Unlike Smith, Manuel was a first-round pick, which means greater expectations -- and those expectations were heightened when the Bills anointed him as The Guy. Smith has yet to receive that kind of endorsement from the Jets. The Bills have hitched their franchise to Manuel, who is coming off a mediocre-at-best rookie season in which he went 4-6 as the starter. He was hampered by injuries, but part of being a franchise quarterback is being on the field.

Reiss
: Bills quarterback EJ Manuel would be my choice. He looked like a foundation-type player in the season opener against the Patriots last year, and had a few bright spots in ensuing weeks, but overall had an uneven first year in the NFL that was affected by injuries. The Bills surprised many by using a first-round draft choice to select him last year, and because of that Manuel gets the nod here over Jets quarterback Geno Smith, a second-round pick. It will be intriguing to see how things unfold with Smith now that the Jets have also signed Michael Vick, but I think the discovery process on Manuel in Year 2 -- is he really a franchise quarterback? -- trumps it.
Rodak: It has to be EJ Manuel. Geno Smith is a close second, but the Jets have Michael Vick to lean on. The Bills decided not to add an experienced backup quarterback this offseason, clearing the way for Manuel to be their unquestioned starter. Manuel needs to be more consistent. He showed flashes last season but also had some downright horrid games, including a four-interception afternoon against the Buccaneers. Manuel must also stay healthy. His three knee injuries last season limited him to 10 games and set back his development. Another injury this season will cloud the picture and keep the Bills from knowing exactly what they have. That could give him more leeway if he isn't progressing as quickly as the team would like, but it could also cause the Bills to look elsewhere.

Walker: It's easy to point to the quarterback position and say New York's Geno Smith and Buffalo's EJ Manuel have the most to prove. But neither player was drafted higher in 2013 than Miami's Dion Jordan, the No. 3 overall pick. The Dolphins traded up nine spots to get Jordan last year, only to use him as a backup defensive end and special-teamer. It was head-scratching to figure out why such a dynamic talent couldn't find his way onto the field. Jordan's usage actually was one point of contention between Dolphins head coach Joe Philbin and former general manager Jeff Ireland, who had a falling out last season. Was Jordan not ready for the NFL level? Was Miami's coaching staff holding him back? This is a big Year 2 to answer those questions.

@MikeReiss. Dion Jordan his lack of production as a #3 pick especially when Miami drafted him to put pressure on Brady...gives him the nod

- paul (@kurtzfam4) May 6, 2014
November, 29, 2013
11/29/13
5:00
PM ET
Not many expected the
New York Jets
to be playing meaningful football in December, but here we go: A game that could define their season.
A win over the
Miami Dolphins
means they enter the fourth quarter of the season in prime position for a wild-card berth. A third straight loss would signal yet another late-season collapse, triggering the Rex Ryan Watch.


"All these teams are fighting their tails off to get a seed," said guard
Willie Colon
, alluding to the six teams vying for the final wild-card spot. "If we don't start moving the train, it's not going to be the outcome we want."
Both the Jets and Dolphins are 5-6. This amounts to a knock-out game, a 1 p.m. kickoff Sunday at MetLife Stadium. What to watch for:
Let Geno play:
It'll be interesting to see how offensive coordinator Marty Mornhinweg plays this. Instead of coaching not to lose, he needs to entrust
Geno Smith
with an aggressive game plan that accentuates his downfield passing ability. Will he? Probably not.
Based purely on the stats, the Jets probably will opt for a conservative, run-oriented attack. The Dolphins still have some talented big bodies up front, but their run defense has slipped this season (4.2 yards per carry, 20th in the NFL) -- an invitation for the Jets. The Dolphins are better when the ball is in the air (14 interceptions), so Mornhinweg probably will be hesitant to let the turnover-prone Smith sling it too often. Plus, they could be without injured wide receivers
Jeremy Kerley
(elbow) and
Santonio Holmes
(hamstring). Mornhinweg had better be prepared to adjust, though, because the Dolphins will load the box, daring him to throw. They'll blitz, too. Why not? Smith's QBR against five or more pass rushers is 13.0, second-lowest in the league.
If Smith can't shake his funk, could we see
Matt Simms
? Possibly. There's an outside chance third-stringer
David Garrard
could dress as well.
Jets secondary vs. Mike Wallace
: The Jets don't need Fireman Ed in the stands; they need their future Hall-of-Fame safety to be Fireman Ed on the field.
Ed Reed
, yet to make an impact, has a vital role, especially if CB
Antonio Cromartie
(hip) doesn't play. Wallace, the Dolphins' $60 million wide receiver, was a disappointment for 10 games, but he produced a season-high 127 yards and a touchdown last week against a good
Carolina Panthers
defense. Turning point or aberration?
The Dolphins will go after the Jets' embattled secondary, which has struggled against the deep ball. They need Reed to step up and put out the fire; that's why he's here. He's familiar with Wallace from their days in the AFC North. QB
Ryan Tannehill
has two dangerous options in
Brian Hartline
and Wallace, whose average target distance is 15.0 yards, the second-deepest among wide receivers with at least 50 targets. The Dolphins are out to prove that the Tannehill-to-Wallace connection isn't a bust; the Jets can't let that happen.
A post-Thanksgiving feast
: The Jets' defensive line should dominate. Tannehill, playing behind a second-rate offensive line, has been sacked a league-high 44 times. The return of C
Mike Pouncey
will help, but they're still down two starters -- LG
Richie Incognito
and RT
Jonathan Martin
, the two principles in the bullying scandal. The Jets already have 32 sacks, two more than last season.
This should be a showcase for DE
Muhammad Wilkerson
, who has a career-high 10 sacks. He also has forced opposing blockers to commit five penalties for 50 yards, according to NewYorkJets.com. The problem is, there have been games in which the defensive line was dominant (see last week), but the Jets still lost because the secondary failed to hold up its end. You can bet the Dolphins will try everything (i.e. quick throws) to neutralize the pass rush.
Battle of the Bookends
: The offensive line struggled last week against the
Baltimore Ravens
' edge rushers,
Elvis Dumervil
and
Terrell Suggs
. They face another formidable outside tandem in
Cameron Wake
and
Olivier Vernon
, each of whom has 6.5 sacks. LT
D'Brickashaw Ferguson
and RT
Austin Howard
will have to bring their A game. They also need to keep an eye on Jets killer
Randy Starks
, who has been known to wreck Jets' screen passes. The big fella has four career interceptions, including two of
Mark Sanchez
in 2011. It would help if the Jets' backs stepped up in pass protection.
Who will choke?
You have to figure this will be a close game. Consider: Four of the Jets' five home games have been decided by seven points or less. (They only get blown out on the road.) The Dolphins' entire season has been built on tight games. In fact, they've had eight games decided by four points or less, only two shy of the most in a single season over the past 10 years. They're 4-4 in those games. Chances are, this will come down to the fourth quarter, with perhaps the game -- and each team's season -- riding on a single play. The team that functions best under those circumstances will win.
December, 19, 2012
12/19/12
1:36
PM ET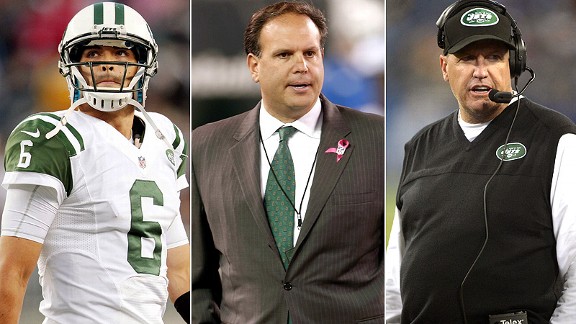 US PresswireMike Tannenbaum and Rex Ryan may have to stick with Mark Sanchez next year, but here are other ways the Jets can improve on an abysmal season.
From top to bottom, the
New York Jets
are a mess. The Jets
have quarterback issues
, an old and expensive roster and a
circus-like atmosphere
in the locker room.
New York has a gigantic cleanup project ahead in 2013.
Here are five steps the Jets should take in the offseason to turn things around:
1. Add a quarterback
Adding a quarterback will be the trickiest but most significant thing the Jets do this offseason. For starters, money is a huge issue.
Although I'm in the minority, I expect
Mark Sanchez
to be with the Jets next year. His $8.25 million salary is guaranteed for 2013, and the prorated cap hit would be much larger if he's cut. The Jets are already significantly over the cap. As much as they may be ready to move on from Sanchez, it's smarter to save the cap hit and just keep him on the roster for another season.
With Sanchez making franchise money next year, the Jets can't pay two quarterbacks the same amount. So forget about names like
Alex Smith
of the
San Francisco 49ers
. New York cannot afford to invest $16-$17 million into one position.
New York's best option would be to look for a cheaper veteran alternative. Personally, I like
Matt Moore
of the
Miami Dolphins
. He has starting experience and would take a cap-friendly contract for the opportunity to play. Moore is currently
Ryan Tannehill
's backup in Miami. Other veteran quaretrbacks like
Jason Campbell
,
Brady Quinn
and
Drew Stanton
are affordable options who can compete with Sanchez to be the starter.
The Jets can take also draft a quarterback early and hope the rookie can play right away. The quarterback class is not strong next year and head coach Rex Ryan will enter 2013 on the hot seat. He cannot afford to wait another year or two for a rookie to develop. He needs to win now.
2. Fire or demote Mike Tannenbaum
The person most responsible for putting together New York's old and expensive roster should be reprimanded.
Jets general manager Mike Tannenbaum tried to keep this group veteran together too long. New York thought it could get to the Super Bowl after back-to-back AFC title games in the 2009 and 2010 seasons. Tannenbaum locked himself into some bad free-agent contracts with older players that are crushing the team's cap.
In addition, Tannenbaum's drafts have been below average. You can start with back-to-back first-round picks of
Vernon Gholston
and Sanchez in 2008 and 2009, respectively. Both players were taken in the top six overall and the Jets whiffed. That held the franchise back. Other draft busts like
Vladimir Ducasse
also stand out.
Finally, Tannenbaum's giving Sanchez a five-year, $58.25 million contract extension in March was inexcusable. Sanchez had done nothing the year before to warrant a large extension, yet the Jets believed he was the long-term solution. It didn't take long for Tannenbaum to regret that decision.
Tannenbaum has his strengths and is a good presence within the Jets. He doesn't need to be fired, but he should no longer have final say on roster moves. The Jets need a new general manager to reshape this roster.
[+] Enlarge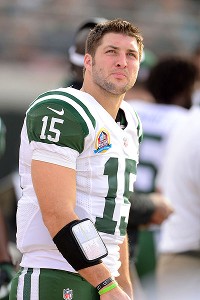 AP Photo/Scott A. MillerThe Tim Tebow experiment has failed and it's time for the Jets to move on from the quarterback.
3. Trade or release Tim Tebow
It's clear the Jets' coaching staff
doesn't think much of Tebow as a quarterback
. After benching Sanchez, New York passed over Tebow for third-stringer
Greg McElroy
. Why did Tannenbaum and the Jets ever think the Tebow experiment was a good idea?
Very few people outside of the organization thought this would work. Tebow, for starters, is not a legitimate NFL quarterback. He's a gimmick player who can help by using his rushing ability.
But Tebow brought the large following and media hype of a franchise quarterback. I remember attending training camp in August when Tebow got the loudest cheers. It immediately added unnecessary pressure to Sanchez and the team. The last thing the Jets needed was another circus, but that's exactly what they got with adding Tebow. It was a train wreck waiting to happen.
The good news is Tebow is much easier to move than Sanchez.
The New York Daily News
reports the Jets can release Tebow and take only a $1 million cap hit.
It's best that Tebow and the Jets go their separate ways after just one year.
4. Get a new offensive coordinator
Tony Sparano is very likeable and a high-energy coach, but he's a mediocre offensive coordinator.
The Jets are ranked 30th in total offense, and the play calling has been mind-numbing. New York is a team without an offensive identity. After 14 games, the Jets still haven't figured out what they do best.
Hiring Sparano in this role was a risky move from the start. He was a head coach in Miami and offensive line coach in Dallas. But the Jets hired him to call plays on offense. Sparano's Miami teams were never offensive powerhouses. There was no indication Sparano could turn the Jets' offense around. His quarterback development has been even worse, as both Sanchez and Tebow regressed on Sparano's watch.
The Jets need to hire a top-level offensive coordinator. Soon-to-be former head coaches like Norv Turner of the
San Diego Chargers
and Pat Shurmur of the
Cleveland Browns
should be available. The Jets need someone with a proven track record of developing quarterbacks and successfully calling plays next season.
5. Make cuts, rebuild through the draft
The Jets need to get younger and build through the draft. It starts by making some veteran cuts.
New York can begin by releasing expensive veteran linebackers
Calvin Pace
and
Bart Scott
. Both are 32-years-old and making big salaries. Other players like offensive tackle
Jason Smith
and safety
Eric Smith
should come off the books, as well. That should provide sizable cap relief.
The Jets won't have a lot of money to spend in free agency, which is why the draft is so important.
Using the draft to build up the offense should be the top priority. The Jets need better players at receiver, running back and tight end to help whoever becomes the starting quarterback. New York also could lose starting tight end
Dustin Keller
and tailback
Shonn Greene
, who are pending free agents, and need to fill those positions.
There is no easy way for the Jets to escape this mess. But if they follow these five steps this offseason, the Jets will be heading in the right direction.
October, 28, 2012
10/28/12
6:56
PM ET
EAST RUTHERFORD, N.J. -- The Jets' special teams units have been a strength this season, but by the first quarter of Sunday's 30-9 loss to the Dolphins, the team had already given up two demoralizing plays -- and a ton of momentum.
First came the onside kick. The Dolphins did it right after scoring a field goal on the opening drive of the game, and recovered the kick to get a second straight possession.
A few minutes later,
Jimmy Wilson
blocked a punt that
Olivier Vernon
was able to convert into a touchdown with 3:59 to play.
Linebacker
Aaron Maybin
said the special teams lapses hurt. "It does, because we always expect our special teams is going to be a strength for us in a game," Maybin said. "You never expect that anything's gonna go wrong, but especially with our special teams. That's kind of one of the rocks of our team, where you always expect they're going to have a high production day. So when you do have a play like that it's deflating a little bit."
On the other side of the ball, Miami center
Mike Pouncey
said the Dolphins surged from that point on. "It set the tone," Pouncey said. "They put us into situations on the plus side of the field instead of playing backed up. That helped us out a lot. It opened up the playbook a lot more and let guys get open."
Vernon later blocked Nick Folk's 35-yard field goal attempt just before halftime. It was the first kick that Folk had missed all season in 12 attempts.
"That's just not us," wideout
Jeremy Kerley
said. "One thing went wrong followed by another, it just wasn't our day today."
In the third quarter,
Marcus Thigpen
returned a kickoff 57 yards. The Dolphins took advantage of that field position and eventually scored on a four-yard touchdown pass from
Matt Moore
to
Anthony Fasano
for a 27-3 lead.
With a strength like special teams turned into a weakness, Maybin said coach Rex Ryan had a pretty clear message to the team.
"The only people who are going to believe in us from here on out are in this locker room," Maybin said.
October, 28, 2012
10/28/12
4:20
PM ET
EAST RUTHERFORD, N.J. -- The Jets ate their words, with hot sauce provided by the Dolphins. They were outcoached and outplayed in every phase of the game,
falling 30-9
in an uninspired effort Sunday at MetLife Stadium. The only thing that could've made it worse was a touchdown by
Reggie Bush
.


What it means:
After a week of trash-talking, the Jets embarrassed themselves, dropping to 3-5 with their second straight loss. They lost to a backup QB in
Matt Moore
, who replaced the injured
Ryan Tannehill
(quadriceps/knee) in the first quarter. The stakes were huge, but Rex Ryan failed to get his team ready, mentally or physically. The Dolphins (4-3), winners of three straight, were refreshed coming out of their bye week and burned the Jets with several wrinkles. The Jets' season is on the verge of imploding, if it hasn't already.
Tebow Time?
Mark Sanchez
's job security will be the hot topic for the next two weeks, as the Jets head into their bye. He was rattled by the Dolphins' pressure, throwing an interception, losing a fumble, missing open receivers and getting sacked four times. The Jets had a chance to regain some momentum in the third quarter, but Sanchez's third red zone interception of the season ruined the opportunity.
The crowd chanted for
Tim Tebow
in the second half, but the Jets stuck with Sanchez (28-for-54, 283 yards), even though he brought absolutely no spark to the offense. At 3-5, how long will Ryan keep Tebow on the bench? Tebow played only five snaps on offense, including four as a wide receiver. Why? What's the point? Apparently, the Jets see Tebow as nothing more than a decoy.
Kicking themselves:
The Jets' special teams were garbage. Repeat, garbage. There were breakdowns in virtually every unit, directly costing them 10 points. They allowed a blocked punt for a touchdown, and a 35-yard field goal was blocked. So much for
Nick Folk
's perfect season. Wait, there's more. They fell asleep on a surprise onside kick, giving up the ball after the Dolphins scored a field goal on the game-opening drive. They also allowed a 57-yard kickoff return, setting up a Miami touchdown in the third quarter. Welcome to Mike Westhoff's worst nightmare.
Sparano's pain:
Jets offensive coordinator Tony Sparano was schooled by his former team. The Jets' offense produced only 107 total yards in the first half, with four three-and-outs and two turnovers in seven possessions. They were ill-prepared for the Dolphins' third-down blitz package, the best in the league. The Jets surrendered sacks on back-to-back series in the first quarter, failing to pick up safety and slot blitzes.
At times, the players seemed confused, not knowing the play call. This was the eighth game of the season; no excuses for an utter lack of cohesion. When they fell behind by 24 points, there was no sense of urgency. Where was the hurry-up offense?
Lousy coverage:
The Jets geared up to stop the Dolphins' running game, but they ended up getting gashed in the secondary. There were miscommunications and blown coverages throughout the game as Moore -- in his first action of the season -- passed for 131 yards and a touchdown. CB
Kyle Wilson
was dreadful, giving up a 37-yard catch to the No. 4 receiver,
Marlon Moore
. There was a busted coverage on a 30-yard pass to
Jabar Gaffney
, and somehow 5-foot-8 CB
Isaiah Trufant
got matched up against 6-4 TE
Anthony Fasano
on a 4-yard TD.
Silver lining:
Well, at least the Jets didn't get embarrassed by Bush, the reason for the war of words leading up to the game. They held him to 59 yards on 14 carries.
What's next:
This will feel like the longest bye week in team history, considering the implosion. The Jets return to action on Nov. 11 for a tough road game against the Seahawks.
October, 28, 2012
10/28/12
2:59
PM ET
EAST RUTHERFORD, N.J. -- With Hurricane Sandy about to blow in, the Jets spent the first half being buffeted by the Dolphins.
The Jets trail 20-0 after a series of mistakes on special teams, allowing three sacks of
Mark Sanchez
and gaining only 18 rushing yards. Sanchez was 10-for-19 for 109 passing yards.
TANNEHILL OUT:
After
Calvin Pace
sacked the Dolphins' starting quarterback for a loss of nine yards,
Ryan Tannehill
was announced to have a left quad and knee injury, and backup
Matt Moore
replaced him on the next series. Moore was 7-for-12 for 81 yards the remainder of the half.
OUT-TRICKING THE TRICKSTERS:
The Dolphins used an onside kick after their first possession, which ended in a field goal. Miami recovered the ball, but went three and out. The Jets, meanwhile, used a few wildcat plays, but didn't use any of their fake punt plays.
SPEED AND PROTECTION:
Sanchez will have to get rid of the ball faster if he wants to stay clean. Two defensive back blitzes in the first quarter yielded two sacks. The first was on third down and courtesy of safety
Jimmy Wilson
, who then blocked a punt on the ensuing play.
Olivier Vernon
grabbed the loose ball and ran it into the end zone. The Jets got the ball back, only to see a corner blitz on a first down, and Sanchez fumbled as he held the ball over his head. The Dolphins scored on the possession to go up 17-0 with 14:08 to play in the second quarter.
RUNNING BACK RANKS:
Joe McKnight
has been resilient, playing the past two weeks despite a painful high ankle sprain. But he didn't stay in against the Dolphins after a 24-yard kickoff return. The Jets announced the running back was out because of the ankle, with his return questionable.
Shonn Greene
had 16 yards in the first half, but
Bilal Powell
is inactive with a shoulder injury. Greene won't get much relief in the second half, although RB
Jonathan Grimes
could see the ball. WR
Clyde Gates
returned kickoffs.
FOLK ZERO:
Nick Folk
had a chance to get the Jets on the board before the end of the second quarter, but his 35-yard field goal attempt was blocked. It was the first field goal in 12 attempts this season that didn't sail through the uprights.
COMEBACK HISTORY:
The Jets have only come back from a 20-0 deficit twice -- in 1978 at Denver, and in 2000 against the Dolphins in the "Monday Night Miracle." If they can't, they will go into their bye week 3-5 and facing the Seahawks and the Rams on the road. Not an easy route to the playoffs, which are looking increasingly unlikely after the loss of CB
Darrelle Revis
and WR
Santonio Holmes
.
September, 23, 2012
9/23/12
9:39
PM ET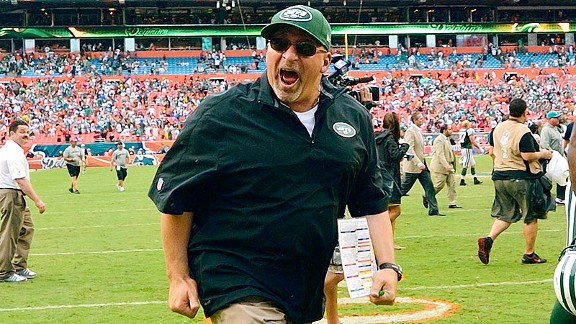 Steve Mitchell/US PresswireDoes Tony Sparano know how to use Tim Tebow? "I was born in the day, but not yesterday," he said.
MIAMI -- Offensive coordinator Tony Sparano downplayed his return to Miami, but it meant a lot to him, according to former Dolphin S
Yeremiah Bell
.
"I know he wanted this, I know it was big for him," Bell said after the Jets' 23-20 OT win over the Dolphins. "At the end of the day, I don't think he was too happy with the way he was done here. To get some revenge I'm sure was sweet for him."
Sparano, who led the Dolphins to the AFC East title in his first season, 2008, was fired with three games remaining last year. Many felt he was undermined by team owner Stephen Ross, who courted
Jim Harbaugh
before the season.
This wasn't a vintage performance by Sparano's offense, however. Consider the number of mistakes:
• The Jets managed only one touchdown in 13 possessions. In their last eight-plus quarters, they have only two touchdowns.
• They squandered two goal-to-go situations, managing only three points. They settled for a field goal and threw it away on a
Mark Sanchez
interception. All told, they were 1-for-5 in the red zone; they led the league in that category last season.
• The running game continued to sputter, as they ran for only 88 yards and a 2.7 average.
• Sanchez (21-for-45) completed less than 50 percent of his passes for the second straight week.
• Rookie WR
Stephen Hill
went without a catch for the second straight week. Hard to believe, considering he was targeted nine times.
September, 19, 2012
9/19/12
8:47
PM ET
FLORHAM PARK, N.J. —
Reggie Bush
got plenty of screen time on Hard Knocks in the offseason, and now that the show has run its course, he can say that the additional scrutiny wasn't necessarily a good thing.
"I don't think it helped us," Bush said. "It's a great show and I think it did a great job of capturing just what it takes to be in the NFL and go through an NFL season and training camp and the business side of things and the sports side of things. I think that's great for fans. As football players I don't think it makes or breaks us. I think a lot of guys would probably prefer not to have the show around because then you have to watch what you say and how you act, and speak differently and walk differently. Especially in this day and age you never know, especially when there are cameras around, what kinds of things get out there so you just want to err on the side of caution."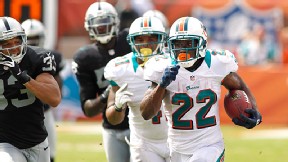 Robert Mayer/US PresswireReggie Bush accounted for 197 yards against the Raiders in Week 2.
Bush will be under the spotlight himself after a 197-yard performance against Oakland. He's had six 100-plus yard rushing games for the Dolphins in the last calendar year.
"Quick guy, definitely a home run hitter," Jets defensive lineman
Muhammad Wilkerson
said.
The Jets defense has definitely keyed on the running back and studied him as they prepare to take on Miami. They also experienced it first-hand last season.
"He's a guy who makes sharp cuts," Pouha said, "probably the sharpest anybody can make in the NFL. You think he'll hit one spot but then he'll cut somewhere else."
Safety
Yeremiah Bell
, who came to the Jets from Miami as a free agent, may be more familiar with Bush than many of his teammates, having gone against him in practice for a season.
"With a running back like that just make sure he doesn't get to the outside," Bell said. "He's a back who is looking to get to the outside, looking to get to the perimeter and get up the field. A big thing for us is going to be keeping him inside the tackles. Not putting guys in one-on-one situations because he can make guys miss I mean that's what he does, and we have to gang-tackle him. That's going to be a big thing."
And Bush knows that Miami's offense has to be mindful of the Jets as well.
"The biggest challenge for us I think with all the exotic fronts that they run on defense is just protect the quarterback," Bush said. "I think that's always probably one of the main challenges for any offense but any time you face a defense like the Jets defense where they bring in all pressures at you and a lot of different looks, you just want to make sure you're ID-ing the fronts right and make sure you're protecting the quarterback and limiting the hits on the quarterback."
December, 29, 2011
12/29/11
4:53
PM ET
On Wednesday, Dolphins receiver Brandon Marshall said Jets cornerback Darrelle Revis gets the benefit of the Jordan Rule. Just like Michael Jordan got the benefit of the calls when he played in the NBA, Marshall reasoned, so does Revis in the NFL.
On Thursday, Revis said he didn't exactly see it like that.
"If a referee makes a call, they make a call," Revis said. "If they don't, they don't."
Jets coach Rex Ryan said maybe Marshall's comments were more about trying to massage any future calls than about any deference Revis might get from the stripes.
"I think he's trying to put it in the officials' mind," Ryan said. "Come on, Brandon's a big guy, a great receiver, and if anything let's just say it's pretty physical. I don't know if Revis is doing the pushing or not; I'm not sure. But those two guys do get after it -- two great players going at it.
"And I agree with the Jordan deal. I think he is the cornerback equivalent of Michael Jordan," Ryan said of Revis.
Revis said calls go both ways, and the corners aren't the only ones who initiate contact. Marshall pushes off sometimes when the ball is thrown his way; there are a lot of wide receivers who do. Marshall is "by far" the most physical receiver in the league, Revis said.
"There's a lot of holding out there. There's a lot of pushing off out there," Revis said. "But you've got to play through the plays."
Both Marshall and Revis are from the Pittsburgh area and both agreed there was mutual respect between the two, and they are friendly off the field.
"It's always a good fight between me and him," Revis said.
Jets center Nick Mangold said he wasn't big into basketball, but got the comparison.
"Revis is a heck of a player," Mangold said. "I don't know much about DB play or corner play, but I imagine the player that he is, he probably doesn't need the rule."
Linebacker Calvin Pace said one thing that amazes him about Revis is that he hasn't reached his ceiling. Revis, 26, is basically at the top of him profession and continues to push and improve.
"He's basically the Michael Jordan of cornerbacks, so why wouldn't he be able to get a call?" Pace said. "Receivers always say they're getting interfered with or getting held. I guess it's kind of in the receiver handbook of what you're supposed to do. Greatness, when you're great you get away with a little pushoff. Or if you're Michael Jordan maybe you get away with a little over-the-back."