New York Jets:

Mike DeVito
April, 30, 2014
4/30/14
6:30
PM ET
FLORHAM PARK, N.J. -- Remember last year in free agency, when the
New York Jets
lost
LaRon Landry
,
Dustin Keller
,
Mike DeVito
and
Shonn Greene
?
General manager John Idzik, who took a lot of criticism for the exodus, admitted Wednesday that the decision to let those players walk was based, in part, on knowing they'd receive compensatory draft picks for the losses.
The Jets ended up receiving the maximum number of compensatory picks (four), giving them a total of 12 picks in next week's draft.
"The compensatory draft-pick system is always in your mind," Idzik said at the team's pre-draft news conference. "It's a factor. It's not the determinant, but it's a factor."
A number of well-respected teams, namely the
New England Patriots
,
Green Bay Packers
and
Baltimore Ravens
, have maximized their compensatory picks. Now the Jets get a chance to cash in. The third day of the draft (rounds four to seven) will be hectic, as the Jets have nine picks over the final four rounds.
Not everyone is a fan of collecting compensatory picks.
"We never went into free agency saying, 'Let's let Bobby and Billy go so we can get a compensatory pick to replace them,'" said ESPN analyst Jon Gruden, a former coach. "We never said, 'Let's not sign a free agent because it will hurt our ability to get a compensatory pick.'"
The Jets' compensatory picks: Fourth round (No. 137 overall), sixth round (No. 209), sixth round (No. 210) and sixth round (No. 213).
Numbers game
: A lot of work goes into a draft. It takes almost a full year for the entire scouting process. Former GM Terry Bradway, the senior director of college scouting, provided his annual numbers breakdown, illustrating the point:
Number of schools visited: 263.
Number of school visits: 575.
Number of players written up in scouting reports: 1,372.
Number of player evaluations: 3,500.
Player interviews: 635.
Pro days attended: 115.
College games attended: 120.
The numbers remain fairly steady from year to year, and you can bet every other team is doing the same amount of homework.
January, 4, 2014
1/04/14
8:00
AM ET
Several former
New York Jets
will be playing this weekend in playoff games. In fact, there's at least one ex-Jet on seven of the eight teams. Remember these names?
•
LaRon Landry
, S,
Indianapolis Colts
: 12 games, 62 solo tackles, no interceptions, no sacks.
•
Mike DeVito
, DT,
Kansas City Chiefs
: 14 games, 18 solo tackles, no sacks, no forced fumbles.
•
Mike Nugent
, PK,
Cincinnati Bengals
: 16 games, 18-for-22 on field goals.
•
Nick Novak
, PK,
San Diego Chargers
: 16 games, 34-for-37 on field goals.
•
Danny Woodhead
, RB, Chargers: 16 games, 76 catches for 605 yards, 429 rushing yards, eight total touchdowns.
•
Brad Smith
, WR,
Philadelphia Eagles
: 6 games, two receptions for 27 yards, two rushes for 2 yards, four kickoff returns for 106 yards.
•
Kahlil Bell
, RB,
Green Bay Packers
: 3 games.
•
Jonathan Goodwin
, C,
San Francisco 49ers
: 16 games.
July, 22, 2013
7/22/13
6:00
AM ET
Breaking down the Jets, position by position, as they prepare for training camp, which opens Thursday
:
Position
: Defensive line
Projected starters
:
Muhammad Wilkerson
,
Kenrick Ellis
,
Sheldon Richardson
.
[+] Enlarge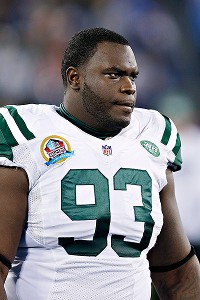 Joe Robbins/Getty ImagesKenrick Ellis is preparing for his third NFL season -- but his first as a starter. What kind of production will the Jets get from him?
Projected reserves
:
Antonio Garay
,
Damon Harrison
.
New faces
: Richardson, Garay.
The departed
:
Sione Po'uha
,
Mike DeVito
.
Player to watch
: Richardson. The Jets' scouts were so high on Richardson (No. 13 overall pick) that they rated him fourth on their draft board. He's an athletic lineman with a terrific motor, and he's expected to play a key role on the revamped line. The question is, does he fit Rex Ryan's 3-4 base defense? Richardson isn't accustomed to being a two-gap lineman, so there will be a transition period. Ryan won't get the best of Richardson if he lines him up as a 5-technique end in a straight 3-4 front, so he's likely to move him around, using him in 1- and 3-technique positions as well.
Potential strength
: Without question, this is the youngest and most athletic defensive line of the Ryan era. And it should be. After all, they've picked first-round linemen in the past three drafts -- Richardson, Wilkerson and
Quinton Coples
, who will be used in a hybrid role. Wilkerson, entering his third year, has a chance to be one of the best 3-4 DEs in the league; some say he's already there. The line started to get a bit creaky last season, especially with the banged-up Po'uha at nose tackle. The '13 group has a chance to be special if it realizes its potential.
Potential weakness
: Depth. A bad injury to one of the top four players would be devastating. The depth isn't as bad as it looks on paper, because they can use Coples,
Calvin Pace
,
Antwan Barnes
and
Garrett McIntyre
-- all outside linebackers -- at defensive end in certain fronts. Nevertheless, they still need a veteran backup to increase the comfort level.
Wild card
: Ellis. This is Year 3, so he's out of mulligans. After two years of adversity (injuries and legal problems), Ellis steps into a starting role, replacing the well-respected Po'uha. Basically, Ellis was handed the job based on his potential. He has the size (6-foot-4, 346 pounds) and raw ability to control the point of attack, but he's still green and needs technique work. His small-college background bought him a two-year honeymoon. Now it's time to deliver. If not, Garay could assume the starting job on the nose.
April, 25, 2013
4/25/13
10:15
PM ET
PICK:
First round (13th overall)
PLAYER
:
Sheldon Richardson
SCHOOL
: Missouri
POSITION
: Defensive tackle
HEIGHT
: 6-foot-2½
WEIGHT
: 294 pounds
What this means
: Rex Ryan apparently still has some influence in the draft room, as the Jets used their two first-round picks on defensive players. This marked the third straight draft in which they chose a defensive linemen in the first round. Richardson is a terrific talent, but many believe he's best suited to be a penetrating lineman in a one-gap scheme. That's not how the Jets play defense, but they could be planning to play more 4-3 fronts. Richardson had only one impact season, recording four sacks and 10.5 tackles for loss last season. He's a junior college transfer who played only two years at Missouri. He was suspended one game last season for violating an unspecified team rule. He's explosive and light on his feet, capable of blowing up blocking schemes.
How he fits the defensive scheme
: It'll be interesting to hear Ryan's explanation of Richardson's role. With Richardson,
Muhammad Wilkerson
and
Quinton Coples
, the Jets have the makings of a formidable front. And don't forget about NT
Kenrick Ellis
. It sure looks like Ryan and new coordinator Dennis Thurman will be calling more 4-3 fronts. In a 3-4, Richardson has the size to hold up as a 5-technique end. He also has the athleticism to be a third-down rusher. Ryan has options.
Projected impact:
The Jets' run defense plummeted to an embarrassing 26th last season -- and that was
with
Mike DeVito
and
Sione Po'uha
. They cut Po'uha and lost DeVito in free agency, signing veteran
Antonio Garay
as a stop-gap measure. But do you really want to go into a season with Garay and the still-unproven Ellis as your top interior linemen? Not really. Richardson should help immensely on first and second down, possibly on third. If Richardson, Wilkerson and Coples reach their potential, the Jets will have a premier line.
April, 19, 2010
4/19/10
12:46
PM ET
The Jets addressed their needs on offense through free agency in getting WR Santonio Holmes and RB LaDainian Tomlinson.
That won't stop the Jets from drafting a running back and perhaps even a wide receiver.
The Jets have five picks in the 2010 NFL Draft, and they have a glaring need for a pass-rusher and a safety. That said, if the player they identify for those spots isn't available at No. 29, it's conceivable Jets general manager Mike Tannenbaum could trade back and get a few more picks.
Last year the Jets got three players in the seven rounds. To get QB Mark Sanchez and RB Shonn Greene, the Jets traded away the store. Although the team has found gold in undrafted free agents before, like DT Mike DeVito, it's not a good long-term strategy.
Extra picks would allow the Jets to address a pressing need at running back. You look at the roster and see Greene, LaDainian Tomlinson and Leon Washington, but which one of those players takes the preseason games?
The Jets aren't going to exhaust their No. 1 back in Greene. Tomlinson isn't at a point in his career where he needs the extra wear and tear. Washington is coming back from an injury so severe that few have even attempted a return. That leaves one Chauncey Washington for the bulk of four games.
Add to that contract issues. Tomlinson is here on a two-year contract but Leon Washington's situation would change if the league and players association come to an agreement that makes the 2006 draft class free agents. Again, there could be a lockout next season which would render it all moot, but I'm assuming there is no lockout.
Getting a young back out of a lower round would protect the Jets' top three running backs and allow Tomlinson's mentoring potential to be fully used.
The Jets are set for wide receivers for this season, but next year could have a problem at the position. Both Holmes and Braylon Edwards will be free agents. Depending on how well they play, it will probably be too expensive for the Jets to pay them both. (Like with the lockout, I'm making the assumption here that Holmes doesn't incur additional substance policy violations.)
That leaves you with Jerricho Cotchery as a solid returner. Also on the roster at the position are Brad Smith, David Clowney, Danny Woodhead, Aundrae Allison, Marcus Henry, Britt Davis, S.J Green and Larry Taylor. That's a crowded field but, aside from Smith and Clowney (go ahead and debate), is there a lot of potential? Last spring Jets coach Rex Ryan was high on Davis, but he fizzled at camp.
There's the offensive line. I'll take a look at that in a future post. And lastly a backup quarterback. Ryan clearly doesn't have a ton of faith in Kellen Clemens given the fact that they brought in veteran QB Mark Brunell earlier this spring, but that's a need they are better off addressing through free agency.
If Jason Taylor decides to stick with the Dolphins, the Jets could use Jay Feely's vacated spot to bring in Brunell or another veteran QB.
The Jets have five picks late 20s in the 1st, 2nd, 4th, 6th and 7th rounds. The third went to Cleveland for Edwards and the fifth to Pittsburgh for Holmes. Although the defense is a bigger focus of Jets draft-watchers, there could be a few offensive picks as well.