New York Jets:

Mike Westhoff
December, 17, 2013
Dec 17
4:10
PM ET
Special-teams guru Mike Westhoff had no problems with the
New York Jets
' unconventional strategy that resulted in a blocked punt Sunday against the
Carolina Panthers
. He said it was a sound call, with minimal risk. He just believes the players --
Zach Sudfeld
, in particular -- did a poor job of executing.
The Jets' former special teams coordinator, in a phone interview Tuesday, said he used the same three-flyer scheme on occasion. He recalled one time against the
New England Patriots
, when Bill Belichick was running down the sideline calling for a timeout because he thought the Jets were planning to run a fake.
Westhoff knows why Ben Kotwica, his former protege, used three flyers (or "gunners"). It was to get more speed on the field to combat
Ted Ginn
, one of the league's top punt returners. Frankly, I think the coaching staff also may have been haunted by the Ginn nightmare from 2009, when he burned the Jets with two touchdowns on kickoff returns as a member of the
Miami Dolphins
.
The risk with three flyers is that, according to the rules, it permits the opponent to place a player directly over the long snapper. The Jets didn't use three flyers against other top punter returners -- namely
Antonio Brown
(
Pittsburgh Steelers
) and
Jacoby Jones
(
Baltimore Ravens
) -- but they employed the scheme on the first two punts to Ginn and held him to two fair catches. On the third punt, they stacked the line to block a 10-man rush.
On the fourth punt, they went back to three flyers and disaster struck.
Jason Williams
covered the long snapper Tannen Purdum and rushed the A gap, between Purdum and the left guard (Sudfeld), who were lined up in a tight split -- only six inches apart. Williams changed up his rush, this time attacking away from the uncovered right guard (
Garrett McIntyre
) and toward the overload. The Jets still had the numbers in their favor -- seven players blocking six rushers -- but there was a technique breakdown and Williams came free to block
Ryan Quigley
's punt. It changed the game.
"You should be able to block that very easily," said Westhoff, who works as an ESPN radio analyst. "It's not some crazy look."
The Jets are a man-to-man team in punt protection, but they also employed a zone technique on that play, according to Westhoff. Instead of firing out of his stance to block the man in front of him, Sudfeld should've set himself to help on Williams, who shot the gap with a swim move.
"Never jump out to your man," said Westhoff, adding that Sudfeld, Purdum and McIntyre should've formed a "cup" in protecting the middle.
If there's a criticism of the strategy, it's that the Jets used it three times, allowing the Panthers to adjust. Westhoff didn't disagree with that, saying "you don't necessarily need a steady dose" of the three-flyer look. It's likely they were spooked by the third punt, which Ginn returned 24 yards. (It was nullified by a penalty.)
Westhoff's biggest beef was the quality of the personnel on special teams. Indeed, Sudfeld is a weak-blocking tight end, hardly ideal in that position on the punt team. He was moved into that role only recently because of a season-ending injury to
Konrad Reuland
.
"The Jets are limited in personnel," Westhoff said. "And I'm being kind."
The blocked punt will be remembered as one of the killer plays of the season.
"It devastated me and I'm not even coaching there anymore," Westhoff said. "I was sick."
October, 27, 2013
Oct 27
6:00
AM ET
A few thoughts and observations on the
New York Jets
for Week 8:
1. Rex & Co.:
One of the most overlooked aspects of the Jets' surprising 4-3 record is how Rex Ryan has managed to galvanize a rebuilt coaching staff. Remember, Ryan parted ways with all three coordinators after last season -- OC Tony Sparano (fired), DC Mike Pettine (contract expired) and STC Mike Westhoff (retired). Ryan also lost assistant head coach/linebackers Bob Sutton, among others. At the time, it looked like passengers jumping from a sinking ship. Ryan filled some spots by promoting from within, but he had to go outside the organization to hire eight coaches, some of whom accepted one-year contracts. That's a lot of upheaval under a head coach with little security.
[+] Enlarge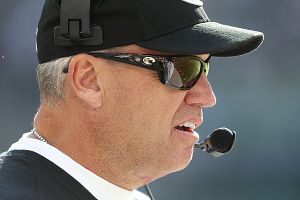 AP Photo/Peter MorganDespite having to employ a trio of new coordinators, Rex Ryan has the Jets contending in the AFC East.
"I thought the staff situation, more than anything else, was going to get him [fired]," a longtime personnel executive said of Ryan, speaking on the condition of anonymity. "I mean, who wanted to go to the Jets? Only coaches without any other job offers. To me, that part has been amazing, how he has coordinated the new staff. If you asked me a few months ago, I would've said, 'No way, no how.'"
The personnel executive praised Ryan, saying he'd be a Coach of the Year candidate if it weren't for the
Kansas City Chiefs
' Andy Reid. "I knew you'd see the best of Rex," the executive said. "I knew he'd coach his ass off, whether he was interviewing for the Jets' job or his next job. He's more focused. It's the old saying: No man sees life clearer than a dying man."
2. Sour grapes from beneath the hoodie
: The Jets didn't appreciate Bill Belichick's reaction to the "push" controversy, as he falsely accused them of the same illegal tactic on field goals. No one likes to be called a cheater (Belichick should know that), but I also think the Jets were chafed by how he handled the entire situation. At no point in his Sunday, Monday or Tuesday news conferences did Belichick say anything complimentary toward the Jets, who outplayed the
New England Patriots
; it was all about what his team didn't do. Hey, look, it's a grown-man game, and the winners aren't entitled to a pat on the back from the opposition. But Belichick tried to drag the Jets into the mud with him, and that was uncalled for. Great coach, terrible loser.
3. A push for safety:
Westhoff, who coached special teams for three decades, said he blocked "a lot of kicks" using the two-player, pushing technique, which was banned this season. Despite his success with it, Westhoff was a proponent of the rule change because he saw the other side of it, the physical wear and tear it exacted on the blockers. He said the now-retired Brandon Moore, who played guard on the field goal unit, always remarked that his chronic hip pain could be attributed, in part, to having to block defenders that were pushed from behind. Said Westhoff: "Imagine the force that generates."
4. Pirate ship be sinking
: The more the
Tampa Bay Buccaneers
lose, the better it is for the Jets, who received the Bucs' third-round pick (2014) as part of the
Darrelle Revis
trade. There's a big difference between the 65th pick (worst record) and, say, the 85th pick (a wild-card team). The Bucs are 0-7, looking like they've quit on Greg Schiano. Money can't buy happiness, right Darrelle?
5. Running for a record
:
Geno Smith
already has run for 146 yards, putting him on pace to break the team record (post-1970) for rushing yards in a season by a quarterback. Richard Todd ran for 330 in 1980. But let's be honest: There have been some glacially slow quarterbacks for the Jets -- Ken O'Brien, Boomer Esiason, Vinny Testaverde, Chad Pennington, etc.
Mark Sanchez
had some mobility, but he never eclipsed 106 yards.
6. Revisiting draft day
: The Jets were second-guessed in some circles for passing on former Notre Dame TE
Tyler Eifert
with the 13th overall pick. After picking CB
Dee Milliner
with the ninth pick, they certainly could've used a playmaker on offense. Eifert is off to a good start (22 receptions for 270 yards and one touchdown), but it's hard to second-guess the Jets' choice -- DT
Sheldon Richardson
, a possible candidate for NFL Defensive Rookie of the Year.
7. Revisiting draft day, part II
: On Sunday, the Jets will cross paths with one of their worst draft decisions ever -- PK
Mike Nugent
. He has carved a nice career for himself with the
Cincinnati Bengals
, but that's not the point. In 2005, the Jets picked him in the second round, 47th overall -- a kicker! GM Terry Bradway thought the Jets were only a kicker away from being a championship-caliber team. Talk about a bad miss. Want to know some of the players they passed? Try WR
Vincent Jackson
, RB
Frank Gore
and DE
Justin Tuck
, all of whom were chosen within 30 picks after Nugent.
8. The kids are all right
: Whenever Ryan faces the Bengals, he usually has a rookie at quarterback -- and he usually wins. In 2008, the
Baltimore Ravens
beat them twice with
Joe Flacco
. (Ryan was the defensive coordinator.) In 2009, the Ryan-coached Jets beat them twice with Sanchez, including the AFC wild-card game. (By the way, the Jets also beat them in 2010.) This time, it's the Rex & Geno show.
9. The old coach returns
. Joe Walton was fired by the Jets in 1989 amid chants of "Joe Must Go!" On Saturday, he returned to New York on his farewell tour. Walton, 77, who is retiring after 20 years as the head coach at Robert Morris, was on Staten Island to face Wagner College, which acknowledged his retirement before the game. It ended badly in New York for Walton, but it has been a remarkable football life. Of all the coaches I've covered, he's the only one who showed up to the news conference the day he got fired.
10. Mother knows best
: NT
Damon Harrison
has the best nickname on the team -- "Big Snacks," courtesy of defensive line coach Karl Dunbar. It's an obvious reference to Harrison's prodigious appetite. The nickname is so catchy that his mother, who used to call him "Heavy D," has jumped on the "Big Snacks" bandwagon.
"At first, I thought [the nickname] was something that would just hang around here," Harrison said. "I guess not."
October, 21, 2013
Oct 21
6:15
PM ET
Rex Ryan probably didn't want to come off as a tattletale, but the
New York Jets
coach left little doubt Monday that he knew about the
New England Patriots
' previous use of the illegal pushing technique on field goal blocks, and he didn't deny blowing the whistle on them.
In fact, the Jets sideline alerted the officiating crew during the game to watch out for it, a person familiar with the situation said late Monday.

Ryan
While he wouldn't answer directly on whether he was aware the Patriots had used it once the previous week against the
New Orleans Saints
, Ryan said, "The coaches watch every single play of every single game, so we're aware of the opponents' tendencies and everything else."
In other words, he knew.
Ryan declined to say if that information was shared with his players ("I'll leave that in-house"), and he also avoided the question of whether he tipped off officials before Sunday's game.
"Again, you know what? My comments with the officials, I'll just leave that way," he said.
The Jets were well-schooled on the new "push" penalty, players said Monday. In addition to the mandatory tutorital in training camp from officials, who travel the country to educate teams on new rules, the players were "reminded" as recently as early last week, said
Damon Harrison
, a member of the field-goal unit.
They were reminded because the Patriots got away with it last week.
Chris Jones
pushed teammate
Will Svitek
on
Garrett Hartley
's 39-yard field goal late in the fourth quarter. Jones and Svitek ran the same technique against the Jets, but the umpire saw it and threw a flag -- 15 yards for unsportsmanlike conduct. It nullified a field-goal miss by
Nick Folk
, who followed up by nailing one from 42 yards in overtime, lifting the Jets to a 30-27 win.
The "push" penalty, on the books this season for the first time, is designed to improve player safety. This was the first time it was enforced.
Former Jets special-teams coach Mike Westhoff, an ESPN Radio analyst, studied a tape of the play and said it was "very, very evident" that it was orchestrated. He said Jones "cheated back in his stance," allowing him to get in position to push Svitek from behind.
"I watched the tape. You don't have to be Sherlock Holmes," Westhoff told ESPNNewYork.com. "I can't prove this -- I don't know what they teach -- but those guys are pretty sharp up there [in New England]. I can't imagine them running a technique and not being aware of it. In my opinion, it was coached, taught and implemented that very way. I think they did it on purpose and got caught."
Westhoff said he "blocked a lot of kicks with that same technique," but it was legal up until this season. He said it's an unsafe practice because of "the force it generates," a big body pushing another big body into a blocker.
Demario Davis, another special-teams contributor, said he was "very aware of the rule." Patriots coach Bill Belichick admittedly wasn't, acknowledging Monday his postgame interpretation was wrong. Rule 9, Section 1, Article 3 from the rule book is pretty straight-forward: "Team B players cannot push teammates on the line of scrimmage into the offensive formation."
Willie Colon
, another interior blocker on the field-goal unit, said "all coaches should have knowledge of the rules." But he admitted he didn't know what was going on until after the game.
How could a head coach make such an oversight? Ryan didn't want to go there.
"I'm not worried about that," he said, bristling after several questions about the controversy. "The focus is going to be wherever you guys want it to be, but I think we outplayed New England, and I think that's why we won the game."
September, 10, 2013
Sep 10
10:45
PM ET
FLORHAM PARK, N.J. -- They happened in a span of 52 seconds, three calamitous plays that changed the season and probably changed the franchise.
Boom! Boom!! Boom!!!
You've heard of the Minute Waltz? This was the Minute Faults, three mistakes that bordered on mind-boggling.
[+] Enlarge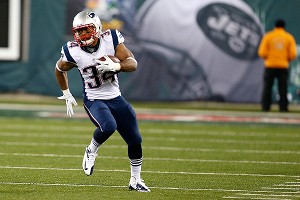 AP Photo/Julio CortezShane Vereen's 83-yard score gave the Pats a 14-0 lead with 9:43 left in the second quarter.
It was 7-0 last Thanksgiving night, the
New York Jets
trailing the
New England Patriots
, when the madness started. Suddenly, it was 28-0, because for only the third time in modern football history, a team scored three touchdowns in a 52-second span.
"Un-[bleeping]-believable," Jets coach Rex Ryan muttered on the sideline after the third touchdown, his reaction easy to decipher for a nation of television viewers.
The Jets and Patriots meet Thursday night for the first time since the Thanksgiving debacle and, even though the Jets refused to look back -- "It's very hazy," tackle
Austin Howard
said with a straight face -- it's impossible not to reflect on that ill-fated night. The Jets are who they are now, in part, because of what happened in those 52 seconds.
They actually went into the game with a 4-6 record, coming off a road victory, thinking they had a chance to get back into playoff contention.
The 49-19 loss
, which included the infamous Butt Fumble, made them a laughingstock. Owner Woody Johnson was disgusted by the performance, according to sources, some of whom believe he made up his mind that night to fire general manager Mike Tannenbaum and start a rebuilding process with a new front office.
"It was the beginning of difficult times," retired special-teams coach Mike Westhoff said Tuesday. "In reality, was it the beginning of the end? I'm not sure if I believe that. But in the big picture, yeah, it probably was."
It's probably an eerie coincidence, but three players directly involved in the three touchdowns are out of football. Linebacker
Bart Scott
and guard
Brandon Moore
are retired, and running back
Joe McKnight
is looking for a job after being released in training camp. A fourth, quarterback
Mark Sanchez
, is injured and could be finished with the Jets.
[+] Enlarge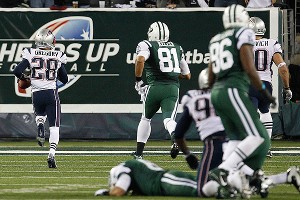 William Perlman/USA TODAY SportsForty-three seconds later, Steve Gregory scooped up the "Butt Fumble" and raced 32 yards for a score.
Could it be some kind of karmic justice?
Scott was supposed to cover running back
Shane Vereen
on a wheel route, but he didn't get to his spot on time and Vereen took a short pass and went for an 83-yard touchdown. There was 9:43 left on the second-quarter clock.
It would be Scott's final game versus the Patriots, against whom he enjoyed perhaps the highlight of his career. After the Jets' stunning win over them in the 2010 playoffs, Scott delivered his famous "Can't Wait!" rant.
Forty-three seconds after
Tom Brady
-to-Vereen, Sanchez aborted a running play after turning the wrong way on the handoff. He tried to run, the right move, but he ran into Moore's backside, hitting it with such force that Sanchez lost the football. It took a fortuitous bounce for the Pats'
Steve Gregory
, who made the scoop and returned it 32 yards for a touchdown.
The Butt Fumble was born, becoming part of the sports lexicon.
"It wears thin," Westhoff said of the seemingly endless references to the Butt Fumble. "I don't want to hear about it anymore."
On the ensuing kickoff, McKnight, a home-run threat, was blasted by
Devin McCourty
. The ball came flying out and hung in the air, as if being held up by an invisible string.
Julian Edelman
grabbed it on the run and sprinted 22 yards for another touchdown.
[+] Enlarge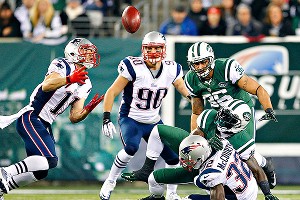 Rich Schultz/Getty ImagesOnly nine seconds elapsed before the Pats' next touchdown, as Julian Edelman plucked a fumble out of the air and raced to pay dirt.
There was 8:51 on the clock. Patriots 28, Jets 0. It was so embarrassing that the Jets' most famous fan, Fireman Ed, couldn't take it anymore and left the building. For good.
Sanchez later referred to his fumble disaster as a "car crash," meaning the randomness of it. There were three car crashes in 52 seconds or, as Westhoff called them, "crazy negative plays." The probability of three fluke plays occurring in rapid-fire succession is incalculable. That each unit -- offense, defense, special teams -- was responsible for giving up a touchdown was fitting, because it was a true team meltdown.
This week, the Jets have made it a point to avoid any references to last Thanksgiving. But there's some relevancy because it's another short week. Obviously, they need to be better prepared, mentally and physical, than the last time.
"We don't even think about that one," wide receiver
Stephen Hill
said. "We haven't even talked about it. It hasn't been brought up at all. We're just ready for 2013 and ready to get it kicked off with the Patriots."
There are 57,600 seconds in a 16-game season. For the Jets, 52 seconds of epic failure will remain timeless.
January, 6, 2011
1/06/11
1:20
AM ET
By
Ian Begley
| ESPNNewYork.com


Special teams coach Mike Westhoff broke down the NFL's new overtime rule during his weekly chat with reporters on Wednesday.

Here's a brief explanation of the new rule:

In the postseason, if the team that wins the coin toss scores a field goal in its first possession, the opposing team gets a possession to tie the score or win the game.

If the team answers with a touchdown, the game is over. If the team gets a field goal to tie the score, then the next team to score wins the game. If the team that wins the overtime coin toss scores a touchdown on its first possession, the game is over.

Here are a few highlights of Westhoff's breakdown:

• Teams will get three timeouts each quarter.

• All replays will be handled by officials in the upstairs video booth.

• Westhoff also said the new rules may force the Jets to alter their overtime strategy.

Westhoff said if the Jets had the ball deep in Colts territory -- say, the Colts 11 -- and they face a fourth and short, they would consider going for the first down instead of kicking a field goal.

"To possibly score a touchdown to not let Peyton Manning get on the field," Westhoff explained, "that's a strategic thing that could come up in this game."

NFL owners in March voted to change the sudden-death nature of overtime in the 2010 playoffs.
October, 29, 2010
10/29/10
3:17
PM ET
First, the main news. Rex Ryan said that LB Calvin Pace (foot), OL Nick Mangold (shoulder) and CB Darrelle Revis (hamstring) will play against the Packers Sunday. They all practiced fully and will be listed as probable.
Since it's Let Your Guard Down Friday, Ryan spoofed Mike Westhoff in his press conference. He passed out a Wikipedia printout on the on-side kick, which the special teams coordinator claimed to have perfected when he talked to reporters earlier this week.
Ryan joked that Westhoff, 62, actually was the ghost-writer for a 1907 book on the subject, and included additional pages in the handout with defensive coach Bob Sutton's name penned in as the inventor of the blitz, and offensive line coach Bill "Pop" Callahan as the mind behind the single-wing offense, aka the wildcat.
"I want to make sure it's documented," Ryan said with a smirk.
Then things just got silly, until Westhoff was alleged to be the person behind not just the on-side kick, but velcro, string cheese and the Internet as well.
But in all seriousness.
"He really is a pioneer of special teams; he's the best special team coach I've ever been around and I've been around a lot of great ones," Ryan said. "The guys play their tails off for him. They know how much he appreciated them their efforts, he's brutally honest so he's got that blunt force trauma. He's a helluva guy, he really is a fascinating guy. I think the world of Westie. But he's still not above kidding."
Ryan talked about the running game and Shonn Greene, the link is here.
DE Shaun Ellis had spider or Kinesiology Tape wrapping his left leg. He said it helps improve circulation to the muscles and strengthen his knee. It's a method that's popular among some professional athletes.
On a somber note, Ryan addressed the tragedy in Notre Dame, where video camera operator Declan Sullivan dies when the scissor lift he was standing on blew over in a gusty wind.
We have certain protocols here," Ryan said, "where if the wind gets to a certain level then clearly they will not be up on list or we will be practicing indoors."
October, 13, 2010
10/13/10
6:06
PM ET
Nick Folk doesn't have to look back too far to remember a time when his status with the Jets was in jeopardy. The kicker was in the middle of a difficult OTA season, where he was missing practice kicks in spectacular fashion.
It was a rough moment.
"In OTAs yes," Folk said. "You just learn from those mistakes and I did I talkes a lot with (special teams) coach (Mike) Westhoff and with Steve Weatherford about what we were all doing and we all worked trhough it together and it worked out great."
If Folk needed any further indication of how much he has turned things around, he got it Wednesday when he was named AFC special team player of the week.
He got the regnition after contributing the only offensive points in a Monday night win over the Vikings, hitting four first-half field goals in the driving rain during the 29-20 win. One of those was for 53-yards, a long shot even in perfect weather.
"At the end there it got really wet really fast," Folk said. "And I'm sure that's hard to deal with because it's hard to deal with on my end, I couldn't imagine trying to catch a ball that wet or anything. They trusted me to get the ball through the uprights."
Folk ended the game with five field goals, and has made all 13 PAT tries this season. He currently leads all scorers this season with 49 points, and has made 12 of 14 field goals.
October, 5, 2010
10/05/10
9:05
PM ET
NFL teams made a few changes today, and one Jet found a new home. David Clowney tweeted that he is going to take his talents to Carolina today.
"Thanks for all the love Jets Fans," he said via Twitter. "Really wish I would have had a chance to shine for you guys. On the was to NC now tho."
The wide receiver had some great moments for the Jets, notably a preseason catch from then-rookie quarterback Mark Sanchez. But during the regular season, he didn't capitalize on all his opportunities. This season he had one catch for 22 yards.
Last season, in 13 games he had 14 catches for 191 yards. His per catch average is an impressive 14.9, but Clowney's lack of versatility on special teams was glaring, and he never got on ST coordinator Mike Westhoff's good side.
Clowney will take his blazing fast speed to Carolina, and see if his game can improve. A change of scenery did wonders for RB LaDainian Tomlinson after all. And he already got a welcome from Carolina quarterback Jimmy Clausen.

"Panther Nation welcome newest WR @DavidClowney to the squad! Excited to get to work tom to get ready for the Bears," Clausen said via his Twitter account.
October, 2, 2010
10/02/10
7:56
PM ET
The Bills always have one of the best special teams units in the game and will provide a good challenge for Gang Green this weekend. First-round pick C. J. Spiller returned a kickoff for a touchdown against New England last weekend and Roscoe Parrish is one of the best punt returners in the game. Punter Brian Moorman is also one of the best in the league.

Special teams coordinator Mike Westhoff met with the media Friday and discussed a variety of topics. While he didn't delve into much about Buffalo's special teams, other than talking about their tendency to draft top returners from college and praising Buffalo's returners and unit as a whole, here are some of the highlights from his talk.

OH SNAP: Westhoff praised second-year long snapper Tanner Purdum's technique, saying he could always snap, but the questions were always whether he could block. He also applauded his work habits.

"He's got better and better and we've really challenged him going all the way back to the minicamps," Westhoff said. "We made it very difficult for him, every day and he's reacted very well. He's got stronger. We have him on a special program to get him stronger and he's improved it."

UP AND AWAY: Westhoff said that punter Steve Weatherford has improved his directional punting, his hang time is better and he's been more explosive this year. Weatherford is averaging 46.2 yards per punt, and he has a long of 61 yards in 14 attempts.

While Westhoff didn't make a direct correlation, he said he's seen a more explosive Weatherford this offseason following his cardiac ablation procedure. Weatherford had the procedure done in the offseason to prevent irregular heartbeats, as he missed Jets Wild Card round victory over the Cincinnati Bengals because of the medical condition.

Westhoff said Weatherford has been able to move forward with his workout regiment, compared to previously "take two steps forward and a step back." He started noticing in March that his punter "looked different" in the offseason. Westhoff said Weatherford has gone from averaging 4.3 seconds of hang time in practice to 4.65 to 4.7 seconds.

"He's able to maximize his abilities and he's done it in the games and he did in the preseason so hopefully he'll continue," Westhoff said. "But to me it's a matter of I see how he's improved physically, that's what I've seen but the whole package has been a good package. (The punts) not all perfect, he doesn't hit them all perfect, but he's done a nice job.

PRACTICE MAKES PERFECT: Eric Smith's blocked punt against Miami on Saturday was the result of practice, practice and more practice. The special teams unit had seen that the Dolphins were a little aggressive and the Jets practiced that scenario and Smith ended up with the block. Westhoff said Brad Smith set it up for Eric Smith.

"Eric Smith is a very gifted athlete. He just has a knack and I don't think I've been around anybody that worked harder at practice of doing it every single day when he rushes," Westhoff said. "He gives our guys fits. Who ever we try to get to block him has a hard time. Every day he works at it. "

JOKE TIME: Speaking of Brad Smith, Westhoff had the line of the day about the Jets Mr. do-it-all.

Said Westhoff: "Brad leaves, I'm leaving."

Westhoff added that Brad Smith allows the team to do to a lot of things, and any time he has a football in his hands, he's a dangerous weapon. He also praised him as a return man.