New York Jets:

New York Giants
February, 22, 2014
Feb 22
6:00
AM ET
On the schedule for Saturday in Indianapolis:
Giants/Jets media availability:
Giants general manager
Jerry Reese
will address the media at 10 a.m., one day after his coach -- Tom Coughlin -- announced his own one-year contract extension. No doubt, Reese will be asked about Coughlin, but most of the topics will be personnel-related. The Giants' talent base has decayed the last two years, and Reese needs a home-run draft to get them back in the playoffs. There will be no Jets media availability.
Combine schedule:
This is the busiest day because there are four different player groups involved in various activities. The offensive linemen and tight ends finish up their week with on-field drills -- springs, agility stations and skill drills. ... The quarterbacks, running backs and wide receivers move to their next phase -- psychological testing, bench press and team interviews. ... The defensive linemen and linebackers get into the action with measurements, medical exams, team interviews and media obligations. ... The defensive backs arrive in town, starting with a medical pre-exam and X-rays, orientation and team interviews.
Players of interest:
The big story -- the big, big story -- will be
Michael Sam
. If you haven't heard of him, you're welcome to rejoin our society at any time now. The former Missouri defensive end, who came out recently as gay, is scheduled to meet the media. It probably will be the largest news conference in combine history, assuming it happens. The schedule got jammed up Friday because medical exams took longer than expected, causing some of the wide receivers (including the top prospects) to postpone their media sessions until Saturday. Hopefully, Sam stays on schedule because it should be fascinating.
February, 20, 2014
Feb 20
6:00
AM ET
On the schedule for Thursday in Indianapolis:
New York Jets/Giants media availability:
New York Jets
coach Rex Ryan (2:45 p.m.) and general manager John Idzik (3 p.m.) are scheduled for news conferences. The hot topics will be the futures of
Mark Sanchez
,
Santonio Holmes
and
Antonio Cromartie
; the draft and free agency; and the organization's first public comment on former Missouri DE
Michael Sam
. The
New York Giants
' media availability begins Friday.
Combine schedule
: Placekickers, special teamers, offensive linemen and tight ends will undergo medical exams, measurements and team interviews. They also will be available to the media. ... Quarterbacks, wide receivers and running backs arrive in town. They will have a medical pre-exam, X-rays, orientation and team interviews.
Players of interest
: The Jets (18th overall pick) and Giants (12th) both have a need at tight end, so North Carolina's
Eric Ebron
-- the consensus top player at the position -- will be a focal point among the New York reporters. Ebron has the ability to light up the combine -- on and off the field. He's confident and entertaining, once bragging that his speed should be "illegal." He will be asked about his weight in light of a recent report that he put on extra pounds in an effort to become a better blocker. ... The Giants need help at offensive tackle, so Thursday's media session will offer a chance to meet first-round possibilities, namely Michigan's
Taylor Lewan
. We know how the Giants love those Big 10 linemen.
August, 24, 2013
8/24/13
6:10
PM ET
EAST RUTHERFORD, N.J. -- Rookie CB
Dee Milliner
, who aggravated a calf injury last week and missed the entire week of practice, was among the Jets' inactives for Saturday night's game against the Giants.
Kyle Wilson
was expected to start for Milliner.
[+] Enlarge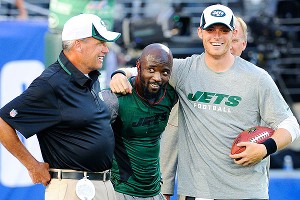 AP Photo/Bill KostrounSantonio Holmes, flanked here by Rex Ryan and Greg McElroy, ran pass routes before Saturday night's game.
WR
Braylon Edwards
, who also didn't practice, sat out with a leg injury. It was an important game for Edwards, who is battling for a roster spot. Newly signed WR
Mohamed Massaquoi
dressed for the game, but it was unclear how much he'd play. Another veteran newcomer, OT
Jason Smith
, also was expected to dress.
Other inactives for the Jets: LB
Quinton Coples
(ankle), NT
Kenrick Ellis
(back), LB
Josh Mauga
(back), C
Dalton Freeman
(ankle) and WR
Santonio Holmes
(foot).
Holmes, activated Friday from the physically unable-to-perform list, looked ready to play in the pregame warmups. In warmup attire, he ran pass routes and cut hard at full speed. Just the other day, Holmes cast doubt on his imminent return, claiming he still wasn't able to cut. That apparently isn't an issue anymore. Catching passes from QB
Greg McElroy
, he ran an entire route tree under the supervision of WRs coach Sanjay Lal.
August, 23, 2013
8/23/13
10:00
AM ET
FLORHAM PARK, N.J. -- It's that time of the summer, the annual preseason game between the Jets (1-1) and Giants (1-1). The Jets lead the preseason series, 23-20-1, having won 13 of the last 17 games. This is what we'll be watching:


1. The Geno show:
Jets Nation has been waiting for this moment since late April, when the team drafted
Geno Smith
in the second round. Smith will start and play into the third quarter, if his tender ankle holds up. Can he win the starting job? He wouldn't be starting the most important game of the preseason if the coaches didn't think he had a chance. Everyone will analyze his stats, but the coaches will be looking at the subtle aspects to his game: His ability to communicate plays in the huddle, his cadence, his footwork, the depth of his drop-backs, etc. They also will try to gauge the "It" factor and whether he has the ability to inspire his teammates. This should be compelling stuff.
2. Defensive intensity
: The Jets came out flat last week, letting Jaguars QB
Blaine Gabbert
have his way with them. They tried to use the bad game as a learning tool, especially their struggles against the no-huddle. LB
David Harris
said they emphasized the no-huddle in practice, "so we don't get caught sleeping again." They'd better get used to it because they'll see plenty of no-huddle in the AFC East. CB
Antonio Cromartie
set a tone in practice by blasting WR
Stephen Hill
. Cromartie caught some grief from his offensive teammates, but maybe it served as a wake-up call for the slumbering defense.
3. Battles rage on
: Aside from quarterback, three starting jobs are legitimately up in the air -- left guard (
Vladimir Ducasse
vs.
Stephen Peterman
), free safety (
Antonio Allen
vs.
Jaiquawn Jarrett
) and punter (
Robert Malone
vs.
Ryan Quigley
). Ducasse and Allen will start this game, hoping to nail down jobs. Quigley has outkicked Malone and should be closing in on the job. There's also competition at kickoff returner between
Joe McKnight
and
Clyde Gates
. McKnight, finally healthy, will make his preseason debut, trying to convince the coaches he's worth the aggravation.
4. Replacing Q
:
Garrett McIntyre
is expected to replace
Quinton Coples
(fractured ankle) at outside linebacker in the base defense, but you could see a committee approach with
Ricky Sapp
and
Antwan Barnes
joining the party. They also could experiment with 4-3 fronts. Hey, why not? Watch for DE
Leger Douzable
; he could have an expanded role as he makes a bid to make the roster.
5. The kids are all right
: When you're not watching the quarterbacks, keep an eye on the other rookies, namely: FB
Tommy Bohanon
, trying to secure a starting job; LG
Brian Winters
, making his preseason debut after missing two games with an ankle injury; undrafted WR
Ryan Spadola
, trying to nail down the fifth receiving spot; and DT
Sheldon Richardson
, attempting to build on a terrific game last week. CB
Dee Milliner
(calf) isn't expected to play.
February, 12, 2013
2/12/13
1:02
PM ET
It's been almost a week since the
New York Giants
parted ways with
Ahmad Bradshaw
.
The running back said he hasn't "really talked to anybody" yet as he continues to let his foot heal from surgery. But he wouldn't mind staying in the New York/New Jersey area.
Bradshaw said that he and the Giants
left the door open
for a potential return when they met last week. But, he also would welcome the chance to play for Rex Ryan and the Jets.
"(The Giants) had mentioned that there was a chance for me to come back. And I'm always up for that," Bradshaw said on NFL Network's "NFL AM" on Tuesday. "Whatever, whoever needs me, whoever can use me. Whoever I feel that I can get a better chance of playing and helping which team."
Bradshaw was asked about the idea of becoming a Jet. The Jets'
Shonn Greene
is an unrestricted free agent.
"The
New York Jets
are a team that I'm excited to hear about, just to stay home, not to make a big move from New York," Bradshaw said. "It's just right across the street from where I am now."
Of course, the Jets, and any other team interested, would have to wait for Bradshaw to heal. He expects to make a full recovery after having a screw replaced in his right foot. Bradshaw had the surgery around three weeks ago and will need seven more weeks of recovery.
"I am just trying to get as healthy as I can before I talk to any team," Bradshaw said. "I haven't really talked to anybody. Feel like this surgery was very well needed; I feel better already. I should have gone through the surgery last year instead of getting the stem cell (injection), but I felt great after getting the stem cell last year; I felt it was a great success.
"I will be ready to go for whoever I play for this (season)."
August, 8, 2012
8/08/12
2:33
PM ET
ALBANY, N.Y. --
David Carr
has marveled at the incredible hype and attention surrounding Jets quarterbacks
Mark Sanchez
and
Tim Tebow
.
"I don't envy their situation at all," Carr said.
Like Tebow, Carr is a backup with first-round pedigree. The former 2002 top overall pick, though, is firmly entrenched as
Eli Manning
's backup. The dynamic between Sanchez and Tebow could be a full-blown quarterback controversy in a matter of weeks.
Carr
"I don't think it will be easy," Carr said when asked how it might impact Sanchez. "You can say what you want when you're in that position in front of the media, but when it comes down to it there's going to be a lot of pressure. The first time the guy throws an incomplete pass, people are going to be cheering for the other guy. It's just the nature of the business. That's why quarterback is so interesting because one guy plays.
"Wide receiver, you can have five or six guys who are good players and you're all going to find a spot," Carr continued. "But as soon as you take the starting quarterback off the field and you put in another guy for a certain situation, it causes a lot more drama. It's a tough situation to be in, but like I said, I'm glad it's not our situation."
Manning joked in an appearance on ESPN New York 98.7 that he tried to get Carr to do sprints on the field with his shirt off after seeing the buzz Tebow created when he jogged in the rain shirtless. Carr couldn't believe all the attention Tebow.
"Tebow has his shirt off and he is running and I am just like, 'Who cares?'" Carr said, laughing about the media hype. "The guy got hot. He took his shirt off. So what? It is pretty intense."
Don't expect Carr to go topless anytime soon.
"Yeah, he was feeling a little excited that day," Carr said of Manning egging him on to go shirtless one day after practice. "He wanted to take some shots. So I deflected, that's for sure."