April, 5, 2013
4/05/13
3:09
PM ET
The Jets own seven selections in the upcoming draft. Here's a look back at the recent history with each slot, focusing on the sixth round:
The Picks
:
Round 1
-- 9th overall
Round 2
-- 39th overall
Round 3
-- 72nd overall
Round 4
-- 106th overall
Round 5
-- 141st overall
Round 6
-- 178th overall
Round 7
--
215th overall
The last three drafts, the 178th pick
:
2012
:
Mark Asper
, G, Bills (Oregon)
2011
:
Aldrick Robinson
, WR, Redskins (SMU)
2010
:
Arthur Moats
, LB, Bills (James Madison)
Analysis
: There was one phenomenal pick in the sixth round of last year's draft. Obviously, we're not talking about Asper. It was RB
Alfred Morris
, chosen 173rd overall by the Redskins. He rushed for 1,613 yards as a rookie. Asper? He's already on his third team. The point is, sometimes you get lucky; most times you don't. In 2010, the Bills found a solid backup in Moats, who has five career sacks. He's best known for delivering the blow in 2010 that ended
Brett Favre
's consecutive games streak at 297. Moats also has an interesting tattoo on his back: "Don't cross the Moats." You can't make this stuff up.
February, 23, 2013
2/23/13
6:59
PM ET
INDIANAPOLIS -- Most draft experts believe it's a weak quarterback class. Maybe it's just weak in comparison to last year's crop, which produced stars
Andrew Luck
,
Robert Griffin
III and
Russell Wilson
.
"You're coming off a phenomenal years for quarterbacks, one that doesn't come around very often, but I will tell you there are good players (this year)," Chiefs coach Andy Reid said at the scouting combine.
The Jets, very public in their desire to create competition for incumbent
Mark Sanchez
, will strongly consider drafting a quarterback, according to sources. It probably won't be in the first round (No. 9 overall), but it could be in the second round (No. 39) or later.
Sunday will be a key day in the evaluation process, as the quarterbacks will throw for scouts at the combine. Here's an update on the top prospects based on what I've heard at the combine:
Geno Smith
, West Virginia -- He's generally regarded as the top quarterback in the class, but I can't see the Jets taking him at No. 9 unless they're absolutely blown away by his workouts. He has first-round talent, but he's inconsistent. One coach told me he's concerned about Smith's ability to handle big-game pressure.
Matt Barkley
, USC -- He's not planning to throw because he's still recovering from a shoulder injury. Seahawks coach Pete Carroll said, "I don't think there's anything to stop him from being a starter right away." But he coached Barkley in college, so what do you expect him to say? Barkley would fit in the Jets' West Coast system, but he doesn't have to arm to handle Northeast weather. Plus, do you really think the Jets will draft another USC quarterback?
Ryan Nassib
, Syracuse -- I see him as a possibility in the second round. His best football is ahead of him, and he's familiar with the West Coast system. He's being trained by former Jets offensive coordinator Paul Hacket, a Bill Walsh disciple and the father of former Syracuse OC Nate Hackett. Nassib already has met with Jets quarterbacks coach David Lee.
Mike Glennon
, North Carolina -- Dude is big; he was measured at 6-foot-7. He also has a big arm, so, naturally, he's drawing comparisons to
Joe Flacco
. Whoa, let's not get ahead of ourselves. The Jets interviewed Glennon at the Senior Bowl, so we know there's some level of interest. He was wildly inconsistent last season, so the Jets -- and other teams -- will continue to do their homework to get a better read on him.
Tyler Wilson
, Arkansas -- He, too, struggled at times last season, but he may have been hurt by the upheaval in the program and a suspect supporting cast. Scouts like Wilson's intangibles and they say he throws a nice ball. Some people think he has some
Brett Favre
-like qualities. He might be an intriguing option in the third round.
E.J. Manuel, Florida State -- Manuel is a bit of a wild card, but he really helped himself at the Senior Bowl. He played in a pro-style offense, has good size (6-foot-4) and has all the physical traits that scouts covet. He's a poor man's
Cam Newton
, but he has to convince scouts he has the ability to handle the mental aspect of the game. Manuel doesn't lack confidence, claiming, "I definitely feel I'm the best quarterback in this class. I'm very confidence in my abilities."
December, 19, 2012
12/19/12
1:36
PM ET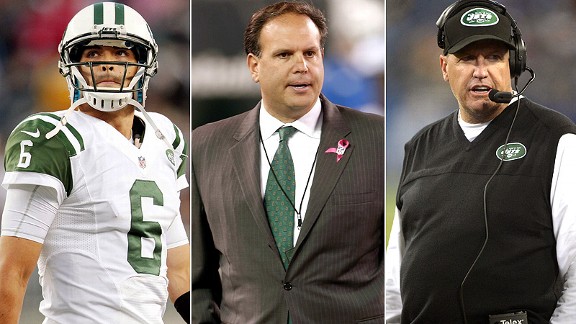 US PresswireMike Tannenbaum and Rex Ryan may have to stick with Mark Sanchez next year, but here are other ways the Jets can improve on an abysmal season.
From top to bottom, the
New York Jets
are a mess. The Jets
have quarterback issues
, an old and expensive roster and a
circus-like atmosphere
in the locker room.
New York has a gigantic cleanup project ahead in 2013.
Here are five steps the Jets should take in the offseason to turn things around:
1. Add a quarterback
Adding a quarterback will be the trickiest but most significant thing the Jets do this offseason. For starters, money is a huge issue.
Although I'm in the minority, I expect
Mark Sanchez
to be with the Jets next year. His $8.25 million salary is guaranteed for 2013, and the prorated cap hit would be much larger if he's cut. The Jets are already significantly over the cap. As much as they may be ready to move on from Sanchez, it's smarter to save the cap hit and just keep him on the roster for another season.
With Sanchez making franchise money next year, the Jets can't pay two quarterbacks the same amount. So forget about names like
Alex Smith
of the
San Francisco 49ers
. New York cannot afford to invest $16-$17 million into one position.
New York's best option would be to look for a cheaper veteran alternative. Personally, I like
Matt Moore
of the
Miami Dolphins
. He has starting experience and would take a cap-friendly contract for the opportunity to play. Moore is currently
Ryan Tannehill
's backup in Miami. Other veteran quaretrbacks like
Jason Campbell
,
Brady Quinn
and
Drew Stanton
are affordable options who can compete with Sanchez to be the starter.
The Jets can take also draft a quarterback early and hope the rookie can play right away. The quarterback class is not strong next year and head coach Rex Ryan will enter 2013 on the hot seat. He cannot afford to wait another year or two for a rookie to develop. He needs to win now.
2. Fire or demote Mike Tannenbaum
The person most responsible for putting together New York's old and expensive roster should be reprimanded.
Jets general manager Mike Tannenbaum tried to keep this group veteran together too long. New York thought it could get to the Super Bowl after back-to-back AFC title games in the 2009 and 2010 seasons. Tannenbaum locked himself into some bad free-agent contracts with older players that are crushing the team's cap.
In addition, Tannenbaum's drafts have been below average. You can start with back-to-back first-round picks of
Vernon Gholston
and Sanchez in 2008 and 2009, respectively. Both players were taken in the top six overall and the Jets whiffed. That held the franchise back. Other draft busts like
Vladimir Ducasse
also stand out.
Finally, Tannenbaum's giving Sanchez a five-year, $58.25 million contract extension in March was inexcusable. Sanchez had done nothing the year before to warrant a large extension, yet the Jets believed he was the long-term solution. It didn't take long for Tannenbaum to regret that decision.
Tannenbaum has his strengths and is a good presence within the Jets. He doesn't need to be fired, but he should no longer have final say on roster moves. The Jets need a new general manager to reshape this roster.
[+] Enlarge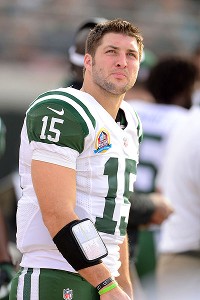 AP Photo/Scott A. MillerThe Tim Tebow experiment has failed and it's time for the Jets to move on from the quarterback.
3. Trade or release Tim Tebow
It's clear the Jets' coaching staff
doesn't think much of Tebow as a quarterback
. After benching Sanchez, New York passed over Tebow for third-stringer
Greg McElroy
. Why did Tannenbaum and the Jets ever think the Tebow experiment was a good idea?
Very few people outside of the organization thought this would work. Tebow, for starters, is not a legitimate NFL quarterback. He's a gimmick player who can help by using his rushing ability.
But Tebow brought the large following and media hype of a franchise quarterback. I remember attending training camp in August when Tebow got the loudest cheers. It immediately added unnecessary pressure to Sanchez and the team. The last thing the Jets needed was another circus, but that's exactly what they got with adding Tebow. It was a train wreck waiting to happen.
The good news is Tebow is much easier to move than Sanchez.
The New York Daily News
reports the Jets can release Tebow and take only a $1 million cap hit.
It's best that Tebow and the Jets go their separate ways after just one year.
4. Get a new offensive coordinator
Tony Sparano is very likeable and a high-energy coach, but he's a mediocre offensive coordinator.
The Jets are ranked 30th in total offense, and the play calling has been mind-numbing. New York is a team without an offensive identity. After 14 games, the Jets still haven't figured out what they do best.
Hiring Sparano in this role was a risky move from the start. He was a head coach in Miami and offensive line coach in Dallas. But the Jets hired him to call plays on offense. Sparano's Miami teams were never offensive powerhouses. There was no indication Sparano could turn the Jets' offense around. His quarterback development has been even worse, as both Sanchez and Tebow regressed on Sparano's watch.
The Jets need to hire a top-level offensive coordinator. Soon-to-be former head coaches like Norv Turner of the
San Diego Chargers
and Pat Shurmur of the
Cleveland Browns
should be available. The Jets need someone with a proven track record of developing quarterbacks and successfully calling plays next season.
5. Make cuts, rebuild through the draft
The Jets need to get younger and build through the draft. It starts by making some veteran cuts.
New York can begin by releasing expensive veteran linebackers
Calvin Pace
and
Bart Scott
. Both are 32-years-old and making big salaries. Other players like offensive tackle
Jason Smith
and safety
Eric Smith
should come off the books, as well. That should provide sizable cap relief.
The Jets won't have a lot of money to spend in free agency, which is why the draft is so important.
Using the draft to build up the offense should be the top priority. The Jets need better players at receiver, running back and tight end to help whoever becomes the starting quarterback. New York also could lose starting tight end
Dustin Keller
and tailback
Shonn Greene
, who are pending free agents, and need to fill those positions.
There is no easy way for the Jets to escape this mess. But if they follow these five steps this offseason, the Jets will be heading in the right direction.
August, 7, 2012
8/07/12
2:48
PM ET
CORTLAND, N.Y. --
Bart Scott
just wouldn't stop talking.
The charismatic linebacker's mouth was running 100 miles per hour during
New York Jets
practice this past weekend. Scott got on the Jets' quarterbacks,
Tim Tebow
and
Mark Sanchez
. Scott got on Jets offensive coordinator Tony Sparano. Scott got under the skin of the offensive linemen.

No one was immune in training camp -- and Jets coach Rex Ryan likes it that way.
"The funny thing is when you talk like that, it puts pressure on you to play well," Ryan said. "You can tell that Bart feels great about himself, and he feels great about this team. That is why he is the way he is right now. He is all over everybody -- offense, defense, especially offense."
The Jets were humbled by last season's 8-8 record and late-season implosion. But if Scott's mouth is any indication, it appears this team is getting its swagger back.
There have been no Super Bowl predictions and no preseason talk of supplanting the
New England Patriots
in the AFC East this season. But watching the Jets practice, you sense this team has an edge to it. Sometimes that edginess goes overboard and leads to fighting among the players, which explains the
20-player scuffle
the Jets had Monday and a second fight Tuesday.
The Jets undoubtedly will do damage this year. The question is, will they do more damage to themselves or their opponents? They first must prove that this group is bonding and will no longer be "team turmoil" in 2012.
THREE HOT ISSUES
1. Can the Jets handle the Sanchez-Tebow dynamic?
Even U.S. President Barack Obama has his concerns about the Jets' two-headed monster at quarterback. Obama said he doesn't think Tebow's immense presence will be good for Sanchez. The Jets, however, say they're unfazed by Obama's comments.
"He doesn't play football for the Jets," guard
Matt Slauson
said.
[+] Enlarge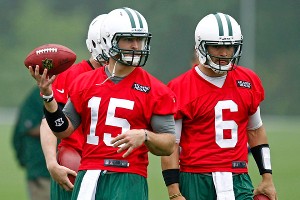 Jeff Zelevansky/Getty ImagesTim Tebow is the backup, but there will be times when Mark Sanchez is the QB in the background.
But it is clear the Jets have to keep an eye on the Tebow effect all season. At the teamwide scrimmage this past weekend, 9,200 fans packed in to watch, and Tebow received by far the loudest ovation. The cheers heard when Tebow entered the huddle for the first time had to bother Sanchez to some degree.
It appears Sanchez and Tebow get along fairly well. But things could become tense if Sanchez struggles early in the regular season.
2. Is chemistry still an issue?
The Jets didn't miss the playoffs last year because they lacked talent. They missed the postseason for the first time under Ryan because they lacked togetherness and chemistry.
Things fell apart for the Jets in the locker room, and it showed on the field. Too often players weren't on the same page, and Ryan admittedly dropped the ball in fixing those issues. It's Ryan's job to make sure those things no longer happen. But there already are ominous signs that the locker room could be combustible again in 2012. In addition to the reported scuffles, cornerback
Antonio Cromartie
created tension by claiming to be the second-best receiver on the team. These things add up. The Jets need to end the in-house silliness now before it shows up in the regular season.
Sanchez, a team leader, wasn't particularly happy about the brawl that went down.
"At this point in camp, especially after the scrimmage, tempers flare," Sanchez said. "That stuff happens; there's no excuse for it. There's no throwing the ball at a teammate. There's no shoving the guy out of bounds into the signs. One, it doesn't look good, and two, it sends the wrong message to our team. We want to take care of our guys."
3. Who is the No. 2 receiver?
Cromartie apparently thinks he's it. But despite his controversial comments, the Jets have to find other players to step into that role full time. Players such as
Patrick Turner
,
Chaz Schilens
,
Jeremy Kerley
and rookie
Stephen Hill
are all competing for the role to start opposite
Santonio Holmes
.
The Jets will rely more on the run than the passing game, but they must make the most of passing opportunities. Holmes' rib injury will allow other receivers to get more reps. This is a golden opportunity for someone to emerge and provide another target for Sanchez.
Hill appears to have the best chance to fill this role long term. But it may take an experienced player such as Turner or Schilens to step up until Hill acclimates to the NFL.
[+] Enlarge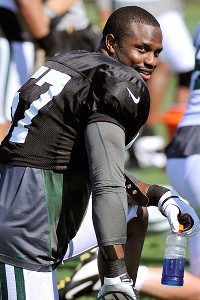 AP Photo/Bill KostrounBart Scott and the New York defense hope to pick up where they left off last season.
REASON FOR OPTIMISM
As noted earlier, New York's defense looks tremendous. The Jets were the most impressive defense of all the AFC East training camps we've visited in the past two weeks. The front seven is allowing few rushing lanes, and the cornerbacks are covering well, as expected.
"I feel great about the defense," Ryan said.
It's easy to forget that New York had a top-five NFL defense last year because the Jets didn't play that way at times. But this defense thinks it can rank No. 1 in 2012. Based on what we've seen, that goal is not out of reach. New York's defense doesn't have many holes.
REASON FOR PESSIMISM
The Jets' passing game appears shaky, which could be a major issue for the team this season.
New York wants to ground-and-pound its way to victories. But the NFL is a passing league, and winning by running the ball 40 times is becoming increasingly more difficult. The Jets at some point will have to air it out if they want to score enough to win consistently. The defense is great. But New York can't win every game 13-10 or 17-14. That puts too much pressure on one side of the ball, and the offense not holding up its end of the bargain is one issue that caused chemistry issues last year.
What if teams stack the box against tailback
Shonn Greene
and Tebow and the Wildcat? Can Sanchez make enough big throws to keep defenses honest? The Jets were 2-5 last year when Sanchez threw the football 35 or more times. Expect opposing defensive coordinators to keep that stat in mind when preparing for the Jets this year.
Sparano wants to play conservatively and win on the ground first. But defenses won't make it easy. At some point this year, Sanchez and his receivers will be forced to win games, and this team might not have enough quality personnel to pass the football consistently.
OBSERVATION DECK
Tebow admittedly never played special teams. But the backup quarterback and former Heisman Trophy winner looks like a natural in the third phase of the game. Tebow will serve as the punt protector, which gives the Jets options on fakes, as Tebow could run or pass on fourth down. Tebow also has been getting work on the kickoff team, and he looks good moving downfield and tracking the ball carrier.

New York's starting offensive line and backups appeared to have been pushed around too often during our camp visit. That should be a concern for Jets fans. New York wants to establish a physical identity on offense, but the line has been unable to establish many running lanes against its defense. Granted, most defenses aren't as good as New York's. Preseason games will provide a better indication of where the offensive line stands.

Hill needs to work on his consistency. There are days in practice when he is a nonfactor and others when he shows why he's a highly touted second-round pick. Hill beat Cromartie and Darrelle Revis on a pair of deep balls in practice in recent days. Yet Hill disappeared in Saturday's teamwide scrimmage. Hill has the physical tools; he just needs to sharpen his routes and bring strong effort consistently. "The route running is still coming. I'm not even going to say I'm perfect on it," Hill said. "I'm still working and still learning on it. Revis and Cromartie are actually helping me on it, because they're noticing I do certain things [to tip them off]."

One of the most impressive players during our visit to training camp was defensive end Aaron Maybin. The former first-round pick of the Buffalo Bills has really come into his own with the Jets. Last year, he recorded a career-high six sacks, and he looks even better in his second year in the system. Maybin says the "mayhem" is back, and it has looked that way in training camp. He had a sack and quarterback pressure in Saturday's scrimmage.

It's difficult to get a feel for new Jets safety LaRon Landry. His action in camp remains limited because of last year's Achilles injury that was never surgically repaired. Landry practices with the team about once every three days to stay fresh. He played in Saturday's scrimmage but wasn't tested much. The Jets have high expectations for Landry, so we're curious to see how well he moves in exhibition games.

Free-agent signing Yeremiah Bell is bringing exactly what the Jets expected at safety. He's made some big hits and solid plays against the run, but he hasn't been great in coverage. The combination of Bell and Landry on the back end means the Jets must do a lot of scheming to protect their safeties. That involves a lot of blitzing to get to the quarterback and playing Bell or Landry in the box.

The backup running back situation is interesting. Joe McKnight entered camp as the favorite because of his athleticism and experience. But relative unknown Bilal Powell has been outperforming McKnight. Powell has been more consistent, and McKnight still has a penchant for fumbling.