New York Jets:

Peyton Manning
February, 2, 2014
Feb 2
5:00
AM ET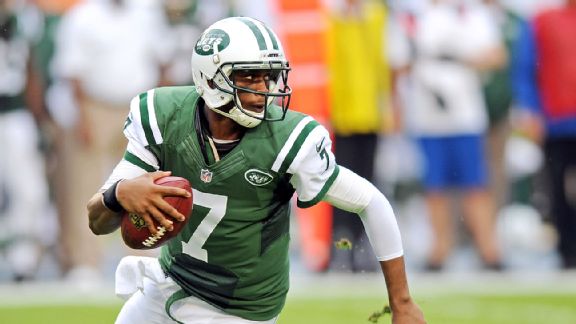 Steve Mitchell/USA TODAY SportsMore will be expected of QB Geno Smith in his second NFL season.
NEW YORK -- Talking
New York Jets
and Super Bowl XLVIII from the greatest city in the world:
1. Not yet, Geno:
Hoping to get a sense of how non-Jets personnel feel about
Geno Smith
, I interviewed 10 experts throughout the week -- talent evaluators, analysts and former players-turned-analysts. The overwheleming consensus: He hasn't done enough to be anointed the Jets' franchise quarterback, although many believe he deserves another shot with a better supporting cast.
"I don't think you just hand him the job," CBS' Rich Gannon said. "I think you make it a competitive situation. They have to get better at that position. They need more depth and talent there, and I anticipate that will happen this offseason."
A longtime personnel man mentioned two weaknesses and raised a question about Smith, saying: His body is "too soft," he must do a better job of processing information and, "Does he love football or does he like football?" In professional football, there's a huge difference.
Bart Scott
said "you can't get a fair assessment" of Smith because of the lack of weapons on offense. He suggested acquiring
Matt Schaub
, who many believe will be released by the
Houston Texans
. Schaub is "somebody who can compete and steady the ship, a bridge if Geno isn't ready yet. If not, you move on and draft somebody else."
Former
New York Giants
wide receiver
Amani Toomer
said, "I don't think he's done enough to secure the job. I think he's done some good things, but he's done a lot of bad things, too, so I wouldn't bank on Geno Smith. He's a guy that can be promising -- he has a lot of potential -- but potential gets coaches fired."
Tony Richardson
said the Jets should sign a veteran and create a competition, with Smith having "the upper hand" at the outset. Smith used up his slack last season, according to Richardson, who said "Jets fans went through the growing pains and now it's time to win football games. The best guy should be the starter, period."
Anthony Becht
believes the Jets should be patient with Smith because of his physical talent. He said it was "a humbling year" for Smith, starting with his unexpected slide in the draft. The adversity, Becht said, will fuel Smith's motivation. "You stick with the guy," he said. "People are afraid to take the time and develop talent. Sometimes they don't come right out of the box."
Wilkerson
2. Mo money for Wilkerson?:
It'll be fascinating to see how the
Muhammad Wilkerson
contract situation plays out -- all the 2011 first-round picks, for that matter. Some in the industry believe Wilkerson, who has outperformed his rookie contract, should play hardball and stage a training camp holdout, if necessary.
As I explained last Sunday
, the Jets can have him for only about $7.2 million over the next two years, assuming they exercise the fifth-year option in May. He's scheduled to make only $1.2 million in 2014 and, although the '15 option year would be guaranteed against injury, it's still a risk. This is uncharted territory because the '11 draft is the first affected by the new CBA. On Saturday, GM John Idzik declined to reveal his plans for Wilkerson.
2a. Temple of doom
: Wilkerson played two years at Temple with
Denver Broncos
defensive tackle
Terrance Knighton
-- aka Pot Roast. Wilkerson was the young pup, Knighton the upperclassman. Knighton knew Wilkersom was something special. "He was actually my backup," Pot Roast said. "He's a great player. The whole time I was at Temple, I was hoping he wasn't going to start over me."
3. Spy Games
: The acrimony between the Jets and
New England Patriots
runs so deep that, before the AFC Championship Game was played, the Patriots were squawking about the prospect of having to practice at the Jets' facility during the run-up to the Super Bowl. In fact, they wanted to practice at Rutgers instead of the Jets. It turned out to be a moot point, obviously. Both the Jets and Giants, concerned about the possibility of hosting division rivals for the week, actually asked the league if they could trade places -- NFC team at the Jets, AFC at the Giants. That request was denied. As it turned out, the Jets and Broncos hit it off. The Jets found the Broncos to be terrific guests.
4. Give my regards to Bradway
: Only two players from Terry Bradway's final draft as the Jets' GM (2005) remain active in the league -- kicker
Mike Nugent
(
Cincinnati Bengals
) and tight end
Joel Dreessen
(Broncos). Dreessen played one season with the Jets and was cut by Eric Mangini in 2006. He never forgot it. In 2010, as a member of the Texans, he caught four passes for 106 yards and a touchdown against the Jets. When he scored, he fired the football at a Jets logo on the wall behind the end zone. "That was one of my most liberating moments," Dreessen told me. "That was a really cool moment for me."
5. Trade winds
: The Jets should be monitoring the
Larry Fitzgerald
contract situation in Arizona. If it falls apart, the Jets should swoop in to see if he'd be available in a trade. Even though he turns 31 in August, Fitzgerald would be a perfect fit for the receiver-needy Jets -- at the right price, of course. He told several media outlets this week at the Super Bowl that he's willing to restructure his contract, which has an $18 million cap charge in 2014. Stay tuned.

Ryan
6. The Rex-tension
: Maybe it's just me, but ...
Every time Rex Ryan does an interview (and he did plenty this week) and is asked about his recent contract extension, it sounds like he's trying to convince everyone (maybe even himself) that he's happy with the outcome. Just my two cents.
7. Speaking the same language
: After listening to the
Seattle Seahawks
for a week, it's amazing how much their players and coaches emphasize competition. Sound familiar? Idzik, a former Seahawks executive, preaches the same gospel. It's rooted in the Pete Carroll philosophy. In fact, Carroll takes it to the extreme with "Competition Wednesday." Every Wednesday, the first-team offense competes against the first-team defense in an unscripted practice -- highly unusual in the NFL. Not even the Jets go that far. But, hey, it's a copy-cat league. If the Seahawks win the Super Bowl, you might see a "Competition Wednesday" or two popping up around the NFL.
8. No Ordinary Joe
: Talked to a couple of Hall of Fame voters this week who can't believe Joe Klecko never garners serious consideration for the Hall. It's hard to believe, isn't it? All he did was make the Pro Bowl at three different positions on the defensive line.

Sapp
9. Sad Sapp
:
Warren Sapp
is an embarrassment. Actually, it's sad to see a Hall of Famer -- a person who accomplished so much professionally -- behave like a spoiled, jealous kid. This week, on the NFL's biggest stage, Sapp felt it was his place to dump on
Michael Strahan
's
Hall of Fame candidacy
. Sinking to another low, Sapp, in an interview with the New York Daily News, took a couple of shots at Jets rookie DT
Sheldon Richardson
. Memo to Sapp: Grow up or please go away.
10. An Ode to Peyton
: Heard this anecdote about
Peyton Manning
a few years ago, and it bears repeating on Super Bowl Sunday. In 1998, Manning and
Ryan Leaf
were projected as the top two picks in the draft. The Chargers, picking second, wanted to interview both prospects. They sent an abbreviated version of their playbook to each and asked them to learn the offense before the interview. As a reward and a test, the coaches stapled a $20 bill to the last page -- a clever way to determine if they'd read the entire book. Leaf arrived for his interview and never mentioned anything about the $20. Clearly, he didn't know it was there. Manning showed up and immediately thanked the coaches for the $20. And there you have it. Unfortunately for the Chargers, they never got a shot at Manning, who went No. 1 overall.
January, 30, 2014
Jan 30
3:00
PM ET
JERSEY CITY, N.J. -- When he played for the
New York Jets
in 2005, tight end
Joel Dreessen
experienced perhaps the most tumultuous quarterback season in team history. The Jets used five quarterbacks that year --
Chad Pennington
,
Jay Fiedler
,
Vinny Testaverde
,
Brooks Bollinger
and
Kliff Kingsbury
.
[+] Enlarge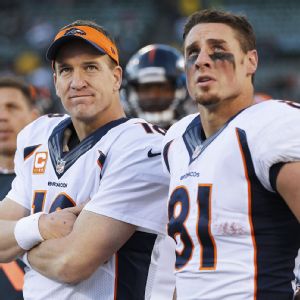 AP Photo/Marcio Jose SanchezFormer Jets tight end Joel Dreessen, right, described Broncos teammate Peyton Manning as an extraordinarily demanding and tireless worker.
Now he has one --
Peyton Manning
.
Dreessen, a sixth-round pick of the Jets in '05, has gone from a mess to a football messiah. In an inteview Thursday with ESPNNewYork.com, he provided insight into what it's like playing with one of the best quarterbacks in history.
Dreessen described Manning as an extraordinarily demanding and tireless worker who never accepts excuses for failure:
"If you drop a pass, he'll try to settle you and say, 'You have to make that play, you have to make that play,'" said Dreessen, who signed with the
Denver Broncos
in 2012. "It's not like he's trying to embarrass you or make you feel like crap. There was one time, I dropped a pass. It was in Mile High, a regular-season game. The sun was in my eyes and I couldn't see it and I couldn't bring in the ball. He yelled at me and I said, 'Man, I can't see.' The whole next week at practice, he was giving me grief for the sun being in my eyes. Basically, it was like, 'You have to learn to catch the ball even when the sun is in your eyes.
"When we miss a throw in practice, you can expect to stay after to do it again, even if it's just on air. He wants to walk off the field feeling good about every play.
"On game day, he's pretty serious. He doesn't joke in the huddle or on the sideline. He'll joke around in meetings at times, but I can't think of any game day where he did. Actually, I remember one game where he smiled. It was the opener [Manning's seven-touchdown performance]. I was inactive because I was hurt. He had just thrown touchdown No. 5 against the Ravens and I greeted him on the sideline. I said, 'Five touchdowns?!' He was smiling a little and, under his breath, he said, 'There might be more.' He was right.
"He's a machine. It makes you feel like, if you're in another offense or have another quarterback, you're beating your head against the wall because they can't do what he does as far as getting us in the best play every time. Really, he's like a scientist, except he's 6-foot-5 and he throws the ball amazingly accurate.
"He's going to put it most of the time where you -- and only you -- can catch it. When I first got here, I was frustrated because if I was wide open, most quarterbacks would put the ball right on me. But he's going to keep leading you so you can run underneath it and have more room to run after the catch, keeping it further away from the defender. It's a very catchable ball, a very accurate ball. Even when it's not, he expects you to catch it.
"You definitely want to match his work ethic and preparation. It kind of gets to be a competition: Who can know more about the opponent than Peyton? Who can know the offense better than Peyton? He'll go around the room and quiz guys about their assignments on particular plays. It happens all the time. He makes sure you're on top of it. He really does raise the expectation level at every position. Same with the coaches. He wants information from the coaches. Before he starts his preparation, he wants breakdowns and statistics. It's not just the players he raises up, it's the coaches, too.
"I always come in on Tuesday [our day off] to do some weight lifting. By the time I leave around lunch time, he's coming in early to get a jump-start with the coaches on the game plan. His day off is really not a day off. He truly honors all six months of the season. He takes a few hours off here and there, but I've never seen him take a full day off.
"Honestly, I can say he's not preparing any different for this game than he would a preseason game. I kid you not. Every game is important. To say he's preparing harder for the Super Bowl would be an insult because that would suggest he wasn't preparting as hard as he could for the other games.
"Some day, if I'm telling my grandchildren about Peyton Manning, I'd probably describe how gifted a person he is as far as his intelligence and his technique and his accuracy. I'd describe those things and add to it his work ethic. He's gifted, but he worked at it."
January, 29, 2014
Jan 29
10:00
AM ET
Our NFL Nation network of reporters polled 320 players across the league -- 10 from each team -- to produce a confidential survey that covered eight probing questions/hot topics. Next up ...
Question:
Two-minute warning and the Super Bowl is on the line. Whom do you want at quarterback?
Answer
:
Tom Brady
,
New England Patriots
.
Brady
Our take
: This is very interesting. In the previous categories, Brady was dominated by rival
Peyton Manning
, but he received a fairly decisive nod from his peers on this particular question. The message is clear: Brady is clutch, Manning isn't. Brady garnered 128 votes (40 percent), with Manning finishing second with 86 votes (26.9 percent).
Aaron Rodgers
,
Drew Brees
,
Ben Roethlisberger
and
Eli Manning
also received votes. In case you're wondering, no,
Geno Smith
didn't get any votes. Oddly,
Matt McGloin
received two. Go figure. The Jets went against the grain, casting six votes for Manning, three for Brady and one for Roethlisberger. As it was explained in a previous post, the Jets simply don't like Brady, plain and simple.
January, 28, 2014
Jan 28
7:30
PM ET
Cue the dream sequence.
NEWARK, N.J. -- Peyton Manning arrives at the Prudential Center for Super Bowl XLVIII media day, sharing a few laughs with his coach, Rex Ryan, as he walks to his designated interview podium. Manning, wearing a white and green-trimmed No. 18 New York Jets jersey, appears totally at home.

Because he is.

Manning is only 30 minutes from the Jets facility in Florham Park -- a.k.a. Peyton's Place, where he hopes to add a third Lombardi Trophy to the showcase. Coincidentally, the Jets' team hotel is the Manning Tower in Jersey City -- a breathtaking high rise on the Hudson that he co-owns with his not-so-silent partner and close friend, Donald Trump. Manning, as you might know, inhabits the entire 18th floor.

"I'm excited to be in another Super Bowl, representing the New York Jets," Manning begins.
* * *
Well, it could've happened.
[+] Enlarge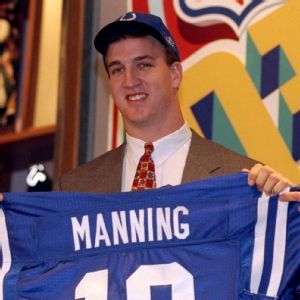 Ezra C. Shaw/AllsportWhat would have happened if Peyton Manning was holding a Jets jersey instead of this Colts one?
In the winter of 1997, Manning ostensibly snubbed the Jets by deciding to stay in school for another year. The Jets owned the No. 1 overall pick, and Bill Parcells, new on the job, could've started one of the most daunting rebuilding projects in NFL history by drafting Manning and making him the centerpiece.
After much consideration, Manning decided he'd rather remain a Tennessee Vol than a Parcells volunteer.
In the tortured history of the Jets, it remains one of the most haunting what-if questions: What if Manning had turned pro in '97? By staying true to his school, he altered the landscape of the league.
Parcells, in an interview this week with ESPNNewYork.com, said he didn't try to convince Manning to leave school because of a "strong mandate" by the league, which didn't want teams attempting to influence underclassmen.
"I kind of laugh when people say I should've talked him into it," Parcells said. "I wasn't capable of doing that."
Why didn't he attempt to recruit Manning through his father, Archie? Parcells paused.
"I think they had a pretty good idea of what would've happened if they came out," Parcells said.
The Hall of Fame coach hasn't revealed too much over the years about that chapter -- some believe he would've traded the pick to accumulate extra draft choices -- but he strongly hinted he would've selected Manning.
"Obviously, we had an interest in a quarterback, so, had he been available, I'm certain he would've been very, very strongly in the mix," said Parcells, claiming he always had a "gut feeling" that Manning would stay at Tennessee.
But Manning kept people guessing, which fueled hope among Jets fans, many of whom already were tired of Neil O'Donnell after one season. On the morning of his announcement, the local paper in Knoxville, Tenn., ran a front-page headline that said its favorite son was prepared to jump to the NFL.
A poker-faced Manning added to the drama in his news conference, speaking of Tennessee in the past tense as he made his opening remarks. After about a minute, he cracked a smile and declared his intention to stay. The room exploded with applause. There were mini-eruptions across the campus, which stopped to watch the announcement on closed-circuit TV. Remember, this was long before Twitter.
At the same time, Manning crushed Jets Nation.
"There are times when good fortune strikes, and there are times when it doesn't," said Parcells, who eventually traded the pick and selected linebacker
James Farrior
at No. 8 overall.
Not surprisingly, Manning has always taken the high road, claiming that Parcells' arrival in New York that winter actually complicated the decision for him.
"Parcells shook things up for me a little, but when he was hired there, it made this decision a lot tougher, knowing he was there." Manning said at the time. "I had no negative thoughts about the Jets whatsoever."
Manning went No. 1 overall in 1998, and things have worked out quite nicely for him. If he beats the
Seattle Seahawks
for this second Super Bowl title, he will fuel debate on whether he's the greatest quarterback in history.
Parcells is an admirer, for sure, but he wasn't ready to anoint Manning back in the day. Asked if he knew Manning would be special, the old coach showed his gruff side.
"I'm not too quick to judge guys," he said. "The guy picked right behind him [
Ryan Leaf
], somebody thought he was going to be special, too."
The football business is inexact, and it's difficult to predict how players would fare in different situations, but let's be real: Manning would've been huge in the New York market.
"I think he would've had a long, long run there," said agent Leigh Steinberg, who once represented the biggest quarterback stars in the sport. "He would've been very dominant in New York, probably the biggest football personality in that city since Joe Namath."
The Jets have been searching for the next Namath for 40 years. Two years ago, they made another pass at Manning, but it was a brief flirtation. It lasted as long as a belch.
When the
Indianapolis Colts
released Manning in March 2012, then-general manager Mike Tannenbaum placed a call to Manning's agent, Tom Condon.
"It was a quick, cursory call," recalled Tannenbaum, performing due diligence. "We had a young quarterback [
Mark Sanchez
] we felt good about, but when a player like Peyton Manning becomes available, you have to check it out. I had a very good sense right away that he knew what he wanted to do."
In other words, Manning wanted no part of the Jets.
Again.
Later that day, the Jets announced they had signed Sanchez to a contract extension, an affirmation that backfired.
This week, Manning is practicing at the Jets' facility as the
Denver Broncos
prepare for Sunday's game at MetLife Stadium.
Some blows never stop stinging.
January, 27, 2014
Jan 27
7:15
PM ET
Curtis Martin
always has been an admirer of
Peyton Manning
. Two years ago, the Hall of Famer wanted to see the New York Jets pursue Manning as a free agent. On Sunday, Martin believes Manning will be the difference in Super Bowl XLVIII.
"I think the advantage comes with Peyton Manning, his mind and his understanding of the game," Martin said Monday during an appearance on ESPN's "Mike & Mike" radio show. "He can go out there and it's like playing chess. He's like a good football chess player. I would give the advantage to Peyton and to the Broncos just simply because of (his) wisdom and knowledge, just because of Peyton's football IQ."
Another edge for the
Denver Broncos
, according to Martin, is Super Bowl experience. No one on the
Seattle Seahawks
has played in a Super Bowl. Martin played in only one, for the 1996
New England Patriots
, and he lost to the
Green Bay Packers
. He said the Patriots' lack of experience that year was costly.
"We were so pumped up, it was almost as though we were too hyped for ourselves," Martin said. "It took us a while to settle down. By then, Green Bay had already jumped out on top of us. I do think there are nerves and excitement, and the entire week leading up to the Super Bowl does have an effect on the players. Everyone wants to say it's just another game, but it's bigger than a game."
January, 16, 2014
Jan 16
10:00
AM ET
Our NFL Nation network of team reporters polled 320 players across the league -- 10 from each team -- to produce a confidential survey that covered eight probing questions/hot topics. Next up ...
Question
: If you had to start a team with one player, whom would it be?
Winner:
Peyton Manning
, quarterback,
Denver Broncos

Our take
: This was close. Manning edged his
Indianapolis Colts
successor,
Andrew Luck
-- 62 votes (19 percent) to 56. A total of 37 players received votes, with
New England Patriots
quarterback
Tom Brady
(41 votes) and
Green Bay Packers
quarterback
Aaron Rodgers
(40) finishing third and fourth.
Manning received tremendous support from the Jets' locker room, winning the votes of nine players. Brady garnered one vote, and that tells you everything you need to know about the Jets-Patriots rivalry and the perception of Brady within the Jets' organization. As I polled the players, it didn't take long to realize their respect for Manning is second to none. Most of the Manning votes were quick and emphatic.
The Jets have engaged in several heated run-ins with Brady over the years, which probably explains their feelings toward him. Frankly, they don't love his on-field demeanor, which
Antonio Cromartie
famously articulated during an expletive-laced rant about Brady to a reporter in 2010.
In case you're wondering (honestly, why would you?), no player on the Jets received a nod from the 320 voters.
January, 16, 2014
Jan 16
10:00
AM ET
Our NFL Nation network of team reporters polled 320 players across the league -- 10 from each team -- to produce a confidential survey that covered eight probing questions/hot topics. Next up ...
Question
: Which player do you respect the most?
Winner
:
Peyton Manning
, quarterback,
Denver Broncos
.
Our take:
Manning was a landslide winner with 86 votes (26.8 percent), accumulating more than three times the number of votes as the second-place finishers,
New England Patriots
quarterback
Tom Brady
and
Minnesota Vikings
running back
Adrian Peterson
(24 each). The Manning-Brady dynamic is interesting. Brady has three Super Bowl rings to Manning's one, yet it's clear which quarterback is more popular among his peers. It makes for interesting discussion fodder, especially with a Manning-Brady showdown in the AFC Championship Game.
I can tell you this: Manning received the most votes (three) among the 10 Jets players who participated in the survey. Two players voted for
Arizona Cardinals
wide receiver
Larry Fitzgerald
. Five other players, including Peterson, received one vote apiece.
Only two Jets received votes from their peers around the league: safety
Ed Reed
(five) and linebacker
David Harris
(one). Obviously, Reed drew attention for his stellar years with the
Baltimore Ravens
, not his seven-game, hired-gun gig with the Jets. Players weren't allowed to vote for teammates. A total of 78 players received votes in this category.
February, 6, 2012
2/06/12
12:40
PM ET
Will the Colts and
Peyton Manning
reach a deal?
Liz Merrill weighs in
.
And if they don't ... you fill in the blank.
January, 16, 2012
1/16/12
9:36
PM ET
The idea of sharing New York/New Jersey with his older brother, Peyton -- perhaps even becoming neighbors -- is an intriguing scenario to Giants quarterback
Eli Manning
, even if he doesn't know if it would ever happen.
"Yeah, it would be fun," Manning joked on Monday, during his his weekly spot on ESPN New York 1050 radio. "We could probably commute to work maybe. We could come home, eat dinner together, have the kids playing ..."
"Have bunk beds, just like the old days?" host
Michael Kay
interjected.
"Exactly. Twin beds," Manning said. "We can share notes on opponents and watch some film together."
When asked if
Peyton Manning
would be coming to
Eli's town
if such a scenario were to take place, Manning replied with a laugh, "That's right. That's right."
On a serious note, Eli made it clear that he doesn't know if Peyton would ever end up as a New York Jet, and that he wasn't campaigning for it to happen.
"I don't know what is going to happen in that situation," Manning said. "Would it be fun? Yeah, I think it would be interesting to have your brother in the same city playing football together.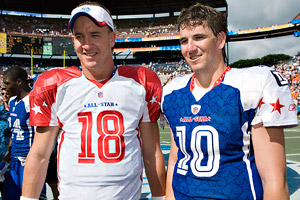 AP Photo/Marco GarciaWill Peyton Manning (left) leave Indianapolis? The rumor mill has been working overtime.
"It would be interesting. I am not saying it is going to happen or I want it to happen, but to have your brother that close to you and playing in New York would be very unique."
Manning, who will play in the NFC Championship Game against San Francisco and hopes to extend the finest season of his career, talked about the lofty expectations set for him because he shares a last name with Peyton, a four-time MVP.
"Maybe just because Peyton had a six-year head start on me," Eli said. "All of a sudden, his second year he got into playing in a high level, playing great football, and they were going to playoffs and making it to second and third round several times.
"All of the sudden people expect, 'Well, hey, here comes little brother.' and they are expecting the same thing to happen. He is going to automatically have immediate success and he is going to be in the playoffs every year.
"My first year starting, my second year in the NFL, we did make the playoffs," he continued. "Was I playing perfect football? No. But I was competing and learning and getting reps, and it is a process. I kept working on my craft and getting better and eventually it is coming around. You never know how long it is going to take."
January, 12, 2012
1/12/12
2:15
PM ET
With all the talk about about the QB situation, and whether some in the Jets locker room think
Peyton Manning
wouldn't have let this season go off the rails,
KC Joyner
looks at
whether Manning could be a cure for this offense
.
In his estimation, the real issues start at wide receiver, where the current Jets cast simply isn't good enough. And even Manning shows signs that he'd struggle if the Jets didn't fix that problem.
December, 26, 2011
12/26/11
7:15
PM ET
Rex Ryan doesn't want Peyton Manning. If magically given the choice during free agency this offseason, the Jets coach will stick with Mark Sanchez.
"There's no way we're looking to replace Mark Sanchez," Ryan said.
Ryan was asked by Stephen A. Smith on ESPN New York 1050's "The Michael Kay Show" if Ryan would consider the Colts' Super Bowl-winning quarterback. The Jets could vie for the rehabilitating quarterback if the Colts lose the last game of the season and wind up with the first pick of the draft. The Colts would be foolish not to choose quarterback Andrew Luck. Many, including Manning's father, Archie Manning, have said having two starting quarterbacks on the same team isn't fair to either. And it would be expensive.
In that situation, Manning might ask for an out.
"If they were both out there and you were starting a draft, would you take Peyton Manning?" Ryan asked. "Yeah, I'd take Peyton Manning over anybody. I'm not telling that lie; of course I would take him. But right now when you look at our football team and our franchise, we feel great about our quarterback situation.

"He's young," Ryan said of Sanchez. "Is he going to get better? He absolutely is. Is he perfect? Not by any stretch of the imagination and not any of us are. We think he has the ability to be special."
Ryan also said he thought Manning was the No. 1 quarterback in the NFL, over even Tom Brady, yet he won't be a Jet.
"Do I think it's even a consideration for us? No I don't," Ryan said.
Smith also asked why the Jets don't have a better backup quarterback in case of an injury to Sanchez, or even if he has a bad game. Ryan started by saying he had a lot of respect for Mark Brunell.
"Is he the Mark Brunell that he used to be in Jacksonville?" Ryan asked. "No. If he was, he'd be starting."
But Ryan later said he and general manager Mike Tannenbaum had decided to allocate the team's resources toward other positions.
"I think sometimes the way the money is, when you're divvying out who's making what for your team, you have to prioritize," Ryan said. "Are you better off with a starting offensive lineman than a backup quarterback? I know there are teams that have used a lot of resources in the backup quarterbacks. I think Mark [Sanchez] is durable as well. When Mike [Tannenbaum] and I look at building our team, we kind of put more emphasis in different positions other than backup quarterback."
Smith also asked Ryan about a report the Jets were having internal discussions about whether Sanchez was a good fit for the team long-term.
"I'm absolutely going to deny that, because it's just not true," Ryan said. "I've said repeatedly that this is my guy and there's no question as long as I'm here as a head coach. This is why we drafted him; he's got that great ability. He's tied an NFL record for most road victories in the playoffs. He's only played two years. This is his third season."
January, 8, 2011
1/08/11
11:16
PM ET
Recap
|
Box score
|
Photos
WHAT IT MEANS:
The New York Jets conquered their
Peyton Manning
demons with a thrilling 17-16 win over the Indianapolis Colts in an AFC wild-card game. The Jets have pulled out last-minute wins all season, using that formula when it mattered most. They always said those experiences would serve them well down the road, and they were right.
REX-ORCIST: Rex Ryan
, tormented by Manning throughout his coaching career, called this "personal." Well, Ryan finally beat Manning, and his defense was marvelous, holding the Colts to a touchdown and three field goals.
FOLK HERO: Nick Folk
, who nearly lost his job in November when he hit a slump, made one of the biggest field goals in Jets history -- a game-winning, 32-yarder as time expired. If he had missed, he would've been linked with
Doug Brien
, the kicking goat from the 2004 playoffs, but Folk delivered after a four-play, 40-yard drive by
Mark Sanchez
& Co.
GROUND AND POUND:
This was Rex Ryan football. The Jets dominated the Colts in the trenches, outrushing them 169-93. The Jets rushed for 64 yards in the third quarter, wearing down the Colts' undersized front seven with heavy doses of
LaDainian Tomlinson
and
Shonn Greene
. The two backs, benefiting from a week off, rushed for a combined total of 152 yards. The Colts' run defense (ranked 25th) had improved in recent weeks but was gashed between the tackles. The Jets sprinkled in some misdirection, dusting off the "swerve" play from early in the season. This was Tomlinson's best performance since October.
A TAJ GIFT:
A Colts receiver named
Taj Smith
will live in infamy, committing a running-into-the-kicker penalty on a punt by
Steve Weatherford
with 3:02 remaining in the fourth quarter. It came moments after a third-down drop by
Santonio Holmes
, and it gave the Jets a new set of downs and a chance to milk the clock. But they went three-and-out and punted back to Manning.
OFF THE MARK:
Sanchez, who played so well last season as a rookie in the postseason, didn't have his A game for 3½ quarters. But he rallied in crunch time, hitting
Braylon Edwards
and Holmes for big passes on the game-winning drive.
Prior to that, Sanchez (18-for-31, 189 yards and one pick) struggled with his accuracy, perhaps the result of rust. Remember, he didn't attempt any passes in last week's cameo appearance. Ryan wanted to protect his young quarterback and his ailing right shoulder, but it was a risk because he knew Sanchez's track record for struggling after extended layoffs.
Sanchez misfired on three straight passes at the end of the first half, overthrowing an open
Dustin Keller
at the goal line and compounding that with a horrible third-down pass that was intercepted at the goal line. The Colts dropped nine into coverage and Sanchez forced a ball across the field into traffic, breaking several Cardinal rules of quarterback. The Jets were in field goal range at the 19, and he should've just thrown it away and taken the three points.
BLOWN COVERAGE:
The Jets traded for
Antonio Cromartie
, in part, because they felt they needed another premier cornerback to beat the likes of Manning. So what happens? Cromartie came up small, partly responsible for a 57-yard touchdown pass to
Pierre Garcon
. This was a three-man breakdown by the Jets' secondary: Nickel back
Drew Coleman
failed to jam Garcon in the slot, Cromartie failed to pick him up in coverage and S
Brodney Pool
took a horrible angle on the catch-and-run. Afterward, Cromartie received an earful from Ryan on the Jets' bench. Unofficially, Cromartie surrendered five catches for 112 yards.
REVIS ISLAND:
Manning was afraid of CB
Darrelle Revis
. Yes, the Great Manning refused to throw the ball in Revis' area code. Revis covered WR
Reggie Wayne
the entire game, limiting him to one catch for one yard. Wayne was targeted only once. Mind you, Wayne averaged 11 targets per game during the regular season.
BIG PAIN:
All-purpose weapon
Brad Smith
suffered a quadriceps injury in the first quarter and didn't return until the third quarter. His prolonged absence was a significant blow to the Jets. That forced them to change part of their game plan on the fly. It meant they had to limit their Wildcat package, one of their offensive staples. The injury also cost them one of the league's top kickoff returners. For some reason, they let the hobbled Smith try a return even though Cromartie had a long return in his place.
WHAT'S AHEAD:
This is the rematch the Jets wanted -- another shot at the New England Patriots, who humiliated them 45-3 in Week 13. After the game, a defiant Ryan said he was ready to get back in the ring with the Patriots. Well, now he gets a chance to back up the big talk.
There will be no shortage of storylines for next Sunday's AFC divisional game, starting with Ryan. The Jets coach took a swipe at
Tom Brady
the other day, suggesting he's not as smart as Manning. We can also resurrect Ryan's famous line about
Bill Belichick
, the one about him refusing to kiss Belichick's Super Bowl rings. The Jets' defense, shredded by Brady, gets a chance for redemption. It also gets another crack at
Danny Woodhead
, the Jets castoff-turned-cult hero. There's nothing better than Jets-Patriots in the playoffs.