New York Jets:

Reggie Bush
October, 28, 2012
10/28/12
5:00
AM ET
Thoughts and observations on the Jets and the NFL:
1. No expiration date for hot sauce
:
Reggie Bush
never should've suggested that
Darrelle Revis
deserved to get hurt -- not cool -- but he had a right to be upset by Rex Ryan's "hot sauce" remark from Week 3. Consider the history: In a Saints-Ravens game in 2006, Bush was forced out when LB
Bart Scott
"twisted" his ankle late in the fourth quarter, according to an account in the Baltimore Sun.
[+] Enlarge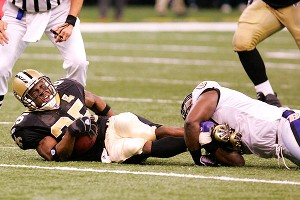 Matt Stamey/US PresswireThe bad blood over "hot sauce" dates back to 2006, when Reggie Bush's ankle was twisted by Bart Scott.
Afterward, Scott told the Sun, "The media darling -- a.k.a. the golden boy of the NFL -- tried to take a cheap shot at me, so I told him I was going to put a little extra on it ... I put a little hot sauce on that ankle."
Ryan was the Ravens' defensive coordinator at the time. So when Bush hurt his knee in Week 3, what was he supposed to think? Sunday's game will be super intense, and you can bet the NFL will be paying close attention. This week, Scott fessed up to the '06 incident. Too bad he won't play; he's out with a toe injury.
2. Diversionary tactic
: When the Jets were routed by the Patriots in 2010, Ryan buried the ball in the practice field -- an old high-school trick. This time, he buried the story. How's that? Some folks around the league believe he encouraged the week of trash talking to shift the focus away from last week's Patriots debacle and the unflattering storylines that emerged from the game -- questionable play calling, the blown lead by the defense, Sanchez/Tebow, etc. Those stories still garnered attention, but they became sidebars to the war of words. Maybe old Rex planned it that way. Clearly, he said something to his players behind closed doors that set them off.
3. Tony and Tim
: This is for the folks who think
Mark Sanchez
is one bad performance away from getting replaced by
Tim Tebow
: It ain't happening. Offensive coordinator Tony Sparano might think Tebow can be effective in the Wildcat (although we've yet to to see it), but he obviously doesn't believe in his quarterbacking abilities -- only two pass attempts. Here's further proof: Sparano coached Tebow at the 2010 Senior Bowl and, according to a league source, he was -- shall we say -- less than complimentary when discussing Tebow's passing skills with members of his Dolphins coaching staff.
4. Herm warfare
: Believe it or not, this week is the 10-year anniversary of Herm Edwards' famous "You play to win the game!" speech. I was there for that memorable news conference. The Jets were 2-5, preparing for a tough road game against the Chargers. Things were bleak. Judy Battista of the New York Times asked Edwards if he was worried about players giving up on the season, and that sparked one of the great diatribes of all time. Funny thing is, I don't recall it being a big story in the newspapers. TV made it a big story, and now it's legendary. Hey, made for a good beer commercial, right?
5. JK rolling
: Perhaps the biggest positive in the Jets' season has been the emergence of WR
Jeremy Kerley
. GM Mike Tannenbaum picked him by trading up in the fifth round of the 2011 draft, in large part, because of Kerley's punt-returning ability. He's so much more than a punt returner. Before the draft, then-OC Brian Schottenheimer worked out Kerley and his TCU teammate, QB
Andy Dalton
. Kerley said he didn't drop a ball in the workout. "I guess I caught their eye," he said.
Kerley is only 5-foot-9, 188 pounds, but he has what Tannenbaum calls "balance on contact. His lower-body strength is impressive. He doesn't go down easily." That explains why Kerley is averaging 4.9 yards after catch, according to ESPN Stats & Information, which happens to be almost a full yard better than the Giants'
Victor Cruz
.
6. Trader Mike
: The trading deadline is Tuesday. No, the Jets won't trade Tebow, but they should definitely explore the possibility of dealing for Rams RB
Steven Jackson
. The Rams are shopping him, according to a league source. Considering the health of the backfield, the Jets should make a deal if they can get him for a late-round pick. Jackson will be a free agent, so no team will give up the store. His running style is similar to that of
Shonn Greene
(also a free agent), except that Jackson is, well, better.
7. Cam jam:
How bad is it for Panther QB
Cam Newton
? He's struggling to complete short passes at the goal line. He has just as many completions (two) as interceptions in goal-to-go situations, according to ESPN Stats & Information. He's 2-for-12 and he got his GM, Marty Hurney, fired.
8. Eli-Ben revisited
: The Giants play the Steelers next week, and the
Eli Manning
/
Ben Roethlisberger
/Class of 2004 stories already are starting. Here's my succinct analysis: Manning has won two Super Bowls, Roethlisberger has won two Super Bowls. Both teams done good.
9. Paging Rob Lowe
: The Broncos are the league's best team in the fourth quarter, having outscored their opponents, 79-6. Gee, I wonder why that is. The quarterback, perhaps?
10. Patriots woes
: The Belichicks are racking up big numbers on offense; imagine what the numbers would look like if they actually held on to the ball. The Patriots have a league-high 18 drops, according to ESPN Stats. No, snickering, Jets fans. The Jets are close behind with 15 drops.
September, 24, 2012
9/24/12
10:36
AM ET
It is not expected the league will discipline
New York Jets
linebacker
Calvin Pace
for saying that the Jets "had to" knock
Reggie Bush
out of Sunday's game. The video of the play does not show anything illegal or unusual happening that would suggest an effort to injure Bush, according to a league official.
Pace intimated to the New York Post that Bush's knee injury Sunday was no accident. "Reggie, I guess he was doing his thing for a quarter or two," Pace said. "We had to put him on out. We didn't see him again."
September, 24, 2012
9/24/12
12:38
AM ET
MIAMI -- The Jets' injury report is headed by CB
Darrelle Revis
, who may have torn the ACL in his left knee in the third quarter.
Rex Ryan refused to characterize the severity of the injury, but a team source said late Sunday night the fear is that he tore the ACL -- which would be a season-ending injury.
Revis is scheduled Monday for an MRI exam.
WR
Stephen Hill
suffered an apparent hamstring injury late in the game. He tried to return, but went out again. CB
Antonio Cromartie
returned to the game after aggravating a shoulder injury he suffered in Week 1.
Dolphins RB
Reggie Bush
injured his knee in the second quarter and didn't return.
"Reggie, I guess he was doing his thing for a quarter or two," LB
Calvin Pace
said. "We had to put him on out, and we didn't see him again after that."
September, 20, 2012
9/20/12
3:09
PM ET
By
Dan Riccio | ESPN Stats & Information
After two weeks and a big surprise in New England on Sunday, the AFC East is up for grabs as the Jets fly to Miami for another division game in Week 3.


The story for the Dolphins this season has been
Reggie Bush
, who trails only Buffalo's
C.J. Spiller
for the NFL lead in yards from scrimmage. Expect Miami to command the run game on both offense and defense against the Jets in this matchup. The offense ranks third in the NFL with an average of 5.5 yards per rush while the Dolphins' defense ranks No. 1 in the league, allowing just 2.2 yards per rush through two games.
The Jets meanwhile hope to see the return of
Darrelle Revis
on defense. Let's take a look at three statistical keys to this game and start with the impact of missing Revis against the Steelers:
1.
After Week 1, the Jets ranked as the third-best defense in the NFL in Total QBR allowed on passes thrown outside the painted field numbers. The team led the NFL with three interceptions on those attempts, including one returned for a touchdown. Without Revis in Week 2, the Jets ranked as the third-worst NFL defense in Total QBR allowed on sideline passes. If the star cornerback returns, the Dolphins are in trouble not only on sideline passes but between the field numbers, where
Ryan Tannehill
ranks 32nd of 33 qualified quarterbacks in Total QBR.
2.
The Jets have dialed up aggressive pressure on defense this year and rank second in the NFL by sending five or more pass rushers on 47.6 percent of opponent dropbacks. For the Dolphins, Tannehill has thrown two interceptions against added pressure and trails only
Jay Cutler
(3) in the NFL this season. The rookie has also thrown nine pass attempts under duress or hit while throwing against five or more pass rushers, tied with
Michael Vick
for the most in the league.
3.
With a rookie at quarterback against a solid pass defense, the Dolphins could rely heavily on the run with Bush, who has at least 100 yards in five of his last six games. This season Bush leads the league in rush yards (104) and touchdowns (2, tied with
Frank Gore
) on attempts outside the tackles. Gang Green matches up well as the third-ranked defense allowing just 2.4 yards per rush on outside runs. If there is an opportunity for the Dolphins, however, it will be from poor tackling. The Jets have allowed the most yards after contact in the NFL this year.
September, 19, 2012
9/19/12
8:47
PM ET
FLORHAM PARK, N.J. —
Reggie Bush
got plenty of screen time on Hard Knocks in the offseason, and now that the show has run its course, he can say that the additional scrutiny wasn't necessarily a good thing.
"I don't think it helped us," Bush said. "It's a great show and I think it did a great job of capturing just what it takes to be in the NFL and go through an NFL season and training camp and the business side of things and the sports side of things. I think that's great for fans. As football players I don't think it makes or breaks us. I think a lot of guys would probably prefer not to have the show around because then you have to watch what you say and how you act, and speak differently and walk differently. Especially in this day and age you never know, especially when there are cameras around, what kinds of things get out there so you just want to err on the side of caution."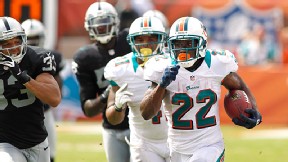 Robert Mayer/US PresswireReggie Bush accounted for 197 yards against the Raiders in Week 2.
Bush will be under the spotlight himself after a 197-yard performance against Oakland. He's had six 100-plus yard rushing games for the Dolphins in the last calendar year.
"Quick guy, definitely a home run hitter," Jets defensive lineman
Muhammad Wilkerson
said.
The Jets defense has definitely keyed on the running back and studied him as they prepare to take on Miami. They also experienced it first-hand last season.
"He's a guy who makes sharp cuts," Pouha said, "probably the sharpest anybody can make in the NFL. You think he'll hit one spot but then he'll cut somewhere else."
Safety
Yeremiah Bell
, who came to the Jets from Miami as a free agent, may be more familiar with Bush than many of his teammates, having gone against him in practice for a season.
"With a running back like that just make sure he doesn't get to the outside," Bell said. "He's a back who is looking to get to the outside, looking to get to the perimeter and get up the field. A big thing for us is going to be keeping him inside the tackles. Not putting guys in one-on-one situations because he can make guys miss I mean that's what he does, and we have to gang-tackle him. That's going to be a big thing."
And Bush knows that Miami's offense has to be mindful of the Jets as well.
"The biggest challenge for us I think with all the exotic fronts that they run on defense is just protect the quarterback," Bush said. "I think that's always probably one of the main challenges for any offense but any time you face a defense like the Jets defense where they bring in all pressures at you and a lot of different looks, you just want to make sure you're ID-ing the fronts right and make sure you're protecting the quarterback and limiting the hits on the quarterback."
December, 30, 2011
12/30/11
3:12
PM ET
The Friday injury report contained the surprising word that Dolphins running back Reggie Bush will not play in the Jets game on Sunday due to a knee injury.

By the time the news came out, the Jets' locker room was closed and Rex Ryan had already concluded his Friday news conference.

Ryan did note that CB Antonio Cromartie was an addition to the injury report with a hamstring injury. He also said that the Jets' safeties have taken a beating this season, and that Eric Smith (knee) isn't close to 100 percent. Smith has been injured ever since the Washington game.

The official Friday injury report:

JETS

Questionable: LB Garrett McIntyre (knee) limited.

Probable: CB Marquice Cole (knee), CB Antonio Cromartie (hamstring, limited in practice), DT Mike Devito (knee), T D'Brickashaw Ferguson (foot), RB Shonn Greene (rib), RB Joe McKnight (shoulder, elbow), G Brandon Moore (hip), DE Ropati Pitoitua (hand), S Eric Smith (knee, limited in practice), RB LaDainian Tomlinson (quadriceps), DE Muhammad Wilkerson (knee).

MIAMI

Out: RB Reggie Bush (knee) DNP.

Doubtful: CB Jimmy Wilson (hamstring) DNP.

Questionable: WR Edmond Gates (groin) Limited.

Probable and full practice: T Marc Colombo (ankle), LB Karlos Dansby (not injury related), CB Vontae Davis (elbow), TE Anthony Fasano (head), WR Brandon Marshall (knee), RB Daniel Thomas (knee).