November, 11, 2013
11/11/13
8:30
PM ET
FLORHAM PARK, N.J. -- Rex Ryan celebrated his win over the New Orleans Saints by visiting New Orleans during the bye week.
Mostly, it was a fact-finding mission, according to Ryan. The New York Jets' coach flew down to the Big Easy last weekend to spend a couple of days with his twin brother, Rob, the Saints' defensive coordinator, picking his brain for intel on the Buffalo Bills.
At least that was the company line.
The Saints defeated the Bills, 35-17, only two weeks ago, but who knows the Bills better than Rex Ryan? He's 7-2 against the Bills, including a 27-20 win in Week 3. Ryan admitted there may have been a ulterior motive for the trip, namely gumbo and jambalaya. He also wanted to see his nephew, a 6-foot-3, 285-pound high-school sophomore, play football.
Ryan maintained his usual bye-week approach, giving the team six consecutive days off. It hasn't worked too well in the past, as his Ryan is 1-3 in games after the bye week. A year ago, they lost to the Seattle Seahawks, 28-7.
This time, he doesn't expect a letdown because of the positive vibes he felt at the facility among players and staff.
"We were struggling (last year) and I don't know if I felt that energy," Ryan said.
We'll see. As Ryan likes to say, the proof will be in the pudding.
November, 1, 2013
11/01/13
6:00
PM ET
On paper, this screams, "Bad matchup!"
The
New York Jets
(4-4) are coming off one of the worst defensive performances of the Rex Ryan era and the
New Orleans Saints
(6-1), who have rediscovered their pre-Bountygate mojo, are producing crazy numbers on offense.
"This is the New Orleans Saints, so this is about as good as it gets in the NFL," Ryan said. "So if we find a way to get a win here, it would be huge. This is an outstanding football team. Again, we expect to win, but we also know it's a huge challenge. There's no doubt, it's going to be a huge challenge."
Huge, but not impossible. Kickoff is 1 p.m. Sunday at MetLife Stadium. What to watch for:
[+] Enlarge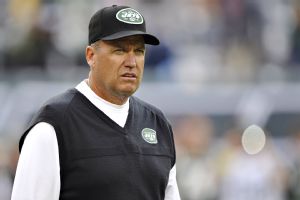 Robert Deutsch/USA TODAY SportsRex Ryan has shown the ability to get his team to bounce back from ugly performances.
1. The Rebound Effect
: If the Jets continue with the script -- 4-0 in odd weeks -- they should pull off one of the biggest upsets of the season. OK, now let's get serious: The odd-week thing is an anomaly, but there's no denying the Jets' resilience. They have a knack for rebounding from ugly losses. After getting blown out by the
Tennessee Titans
, they won impressively on the road against the
Atlanta Falcons
. After being pushed around by the
Pittsburgh Steelers
, they responded by stunning the
New England Patriots
.
It's a good quality to have, but it's a dangerous way to play a season. It can be mentally taxing on a team, and there's always the chance of doubt creeping into the psyche, especially after a stinker like the 40-point loss to the
Cincinnati Bengals
-- the season's largest margin of defeat in the NFL. We'll learn a lot about the Jets in this game.
2. Geno vs. Rex's evil twin:
Rookie QB
Geno Smith
faced a Ryan-coached defense every day in training camp; now he gets to play against Rex's identical twin, Rob, the Saints' defensive coordinator. Rob, who inherited one of the worst defenses in history (you can look it up), has turned the Saints into a playmaking unit. Led by DE
Cameron Jordan
(six sacks) and CB
Keenan Lewis
(three interceptions), the Saints have registered 24 sacks and 15 takeaways. They've allowed fewer than 20 points in six of seven games, and we all know the Jets have been held under 20 in five of eight games.
Rob Ryan isn't blitzing at an unusually high rate, but his blitzes are effective. In fact, the Saints' sack rate when sending five or more rushers is 14.5 percent, the best in the league. You can bet he will try to confuse Smith with new looks, forcing him to hold the ball. He can't fall into the trap of throwing late on sideline passes; he got burned twice last week on those, resulting in pick-sixes. Smith's turnover total is up to 16, the second-highest in the league.
[+] Enlarge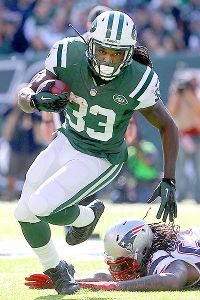 Ed Mulholland/USA TODAY SportsChris Ivory and the Jets running backs could have a big day against the Saints defense, which is allowing a league-high 4.8 yards per carry.
3. Just run, baby
: Rex and Rob look alike and sound alike, but their defenses are the exact opposite. The Jets defend the run better than any team in the league and the Saints are allowing a league-high 4.8 yards per carry. No doubt, the Jets will try to exploit that weakness. If they can control the clock and shorten the game by running the ball, they have a chance to win. This could be a big day for
Chris Ivory
, who should be highly motivated against his former team.
Offensive coordinator Marty Mornhinweg, hurting at tight end, will have to get creative with his approach to running the ball. He might want to use some of the wrinkles he employed against the Falcons -- a three-back formation, sprinkling in some Pistol looks. The trick is keeping it a close game. If the Jets fall behind and have to start throwing, they'll fall into the Saints' wheelhouse. And that won't be pretty.
4. Get physical with the receivers
: The Jets' secondary was atrocious last week, in part, because the corners were passive at the line, giving too much cushion. Whatever happened to bump-and-run coverage? DE
Muhammad Wilkerson
, usually not one to speak out, said the corners have to do a better job of holding up the receivers, allowing the pass rush to get home.
The spotlight will be on struggling rookie
Dee Milliner
, who will be targeted by
Drew Brees
the moment he steps on the field. Ryan stuck his neck out by talking up Milliner, predicting a strong second half of the season. It was a transparent attempt to bolster the kid's sagging confidence; let's see if it works. The Jets also need a better game from
Antonio Cromartie
, who could be involved in coverage plan for TE
Jimmy Graham
. Cromartie needs to be more aggressive in press man. If the secondary has a bad day, it'll be a 400-yard passing day for Brees, who averages 327 per game.
5. A Mo better effort:
The pass rush, frustrated by
Andy Dalton
's quick throws, stunk last week. There will be sack opportunities because Brees likes to push the ball downfield, meaning he's willing to hang in the pocket. He knows what he's doing, because he leads the league with eight touchdown passes of 20 yards or more. On the flip side, he hasn't faced a defensive line this good. Brees' pass protection is suspect -- already 18 sacks -- so this is a chance for the Jets' pass-rushers to redeem themselves after last week's no-show. Brees may not have his best lineman, standout G
Jahri Evans
(hip). If Brees gets in trouble, he can check down to super-quick RB
Darren Sproles
, a matchup nightmare for the Jets.
October, 31, 2013
10/31/13
9:00
PM ET
.
FLORHAM PARK, N.J. -- The
New York Jets
can upset the
New Orleans Saints
on Sunday -- yes, they can -- but they have to play the game on their terms. It has to be a street fight, old-school football, a game in the trenches. It can't be a basketball game, with
Drew Brees
leading the fast break, because the Jets aren't equipped to play that style.
The Saints are a finesse team, the model of what the NFL has become. The tenets that once shaped the game -- run the ball, stop the run -- don't apply to the Saints. They don't run it particularly well and they're giving up a league-high 4.8 yards per rush, but they're winning because they can throw it and catch it better than perhaps any team in the league.
The Jets recognize this. They respect the Saints, but they also believe they can knock them out of their comfort zone by playing big-boy football, smashing them in the mouth. Four weeks ago, they did it to the
Atlanta Falcons
, another team built around its skill players. The Jets see a lot of similarities between the Falcons and Saints, NFC South rivals.
[+] Enlarge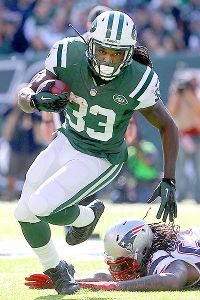 Ed Mulholland/USA TODAY SportsBruising back Chris Ivory of the Jets could do some damage against his former team.
"If we can handle Atlanta, we should, in theory, be able to handle New Orleans," linebacker
Calvin Pace
said Thursday.
It's not just a defensive thing. It's not just an offensive thing. It's an everything thing. The Jets have to set an early tone, on both sides of the ball, letting the Saints know it will be a two-chinstrap game, as coach Rex Ryan likes to say.
They can start by establishing a running attack, feeding
Bilal Powell
and ex-Saint
Chris Ivory
, who, no matter how much he downplays it, would love to rip a hole in his former team. Defensive coordinator Rob Ryan has done a nice job in his first season with the Saints, as his twin brother has pointed out every day this week, but it's hard to ignore that big, fat rushing stat: 4.8 yards per carry.
That's an engraved invitation for the Jets to impose their will on the Saints. They have to shorten the game, keep Brees on the sideline and make those New Orleans pass-rushers get dirty in the trenches, defending the run. They don't like to do that.
"Honestly, I feel like with the guys we have up front, we should be able to run the ball on everybody," right tackle
Austin Howard
said.
Everything the Saints do revolves around Brees and their high-scoring offense. When they jump to a quick lead, it allows Rob Ryan to be more aggressive on defense. It's easy to be a swashbuckling playcaller on defense when you have a 14-point lead every week. The Saints have 15 takeaways and 24 sacks, with 13 different players in the sack column.
"I think my brother is the only one without a sack on that team," Rex cracked.
For the Jets, it's all about Brees.
After getting shredded by a Brees wannabe, the
Cincinnati Bengals
'
Andy Dalton
, it's fair to wonder if they have what it takes to handle the real deal. The front four couldn't get close enough to Dalton to see the whites of his eyes, but it should have more chances against the Saints because of their vertical passing attack. Brees, looking downfield, will take deep dropbacks and hold the ball. There should be enough time for
Muhammad Wilkerson
& Co. to get home against the Saints' suspect line.
"We've shown we have one of the most explosive fronts in the game," linebacker
Demario Davis
said. "If we can cover for two or three seconds, and he's still holding the ball, I'm pretty sure somebody will be in his face."
Brees' favorite target is
Jimmy Graham
. He's a wide receiver in a tight end's body, and the Jets can't let him run freely through the secondary. He already has eight touchdown receptions, the same number as the entire Jets team. They want to get physical with him, show him the Bronx, so to speak. Cornerback
Antonio Cromartie
and safety
Antonio Allen
could take turns on Graham.
"I just have to get my hands on him and beat him up," said Allen, echoing the theme of the game plan.
The Jets have to play the game in the trenches, not on the perimeter. It's the only way to beat the Saints, a new-age team disproving the time-honored doctrines of the sport.
"I think the game has changed a little bit, obviously," Rex Ryan said. "When you're that prolific throwing the football, as they are -- and New England and Denver are -- that's how you get away with it."
The Jets have to turn back the calendar and go old school on the Saints. It's their only chance.
October, 30, 2013
10/30/13
8:30
PM ET
FLORHAM PARK, N.J. -- This time, Rex Ryan didn't try to impersonate his brother by wearing a long-haired wig and stuffing a pillow beneath his shirt. He did that before facing him in 2009. Ryan toned it down Wednesday, but he still managed a subtle jab with the help of a visual.
As he read the
New York Jets
' injury report at his daily news conference, Ryan held up a laminated sheet of paper. On the back, facing the room of reporters and cameras, were two photos: One of his brother, Rob, the
New Orleans' Saints
' defensive coordinator, grimacing when he lost three weeks ago on
Tom Brady
's last-second touchdown pass; the other photo was of himself, flashing a big, wide smile.
Under Rob's picture, it said: "Sorry about that Jets" -- a reference to how a Saints win over the
New England Patriots
would've helped the Jets in the AFC East standings.
Under Rex's photo, it said: "I wish I could look as good as my twin."
These days, Rex isn't nearly as theatrical as he once was, but he still had some fun with the whole brother thing. After all, this doesn't happen too often. This will mark the 10th time they've faced each other, but the first seven occurred in the college ranks. Rex is 2-0 in NFL meetings, 6-3 overall.
Asked which of them is better looking, Rex cracked, "Oh, please. It's pretty obvious the lap band has worked for me. I'm just going to say that, putting it out there."
Following Rex's lead, Rob decided to have the weight-reduction surgery. Clearly, he's more than a few pounds behind his brother.
Rex, relaying information he received from the New Orleans media, said one of the hottest-selling Halloween costumes in New Orleans is his brother's face.
"No surprise there," he said.
October, 15, 2013
10/15/13
12:00
PM ET
On Monday, a miffed Rex Ryan made a cryptic remark about the "so-called experts" who second-guessed his brother's strategy on the final play of the
New England Patriots
' last second-win Sunday in Foxborough. His brother, of course, is
New Orleans Saints
defensive coordinator Rob Ryan.
The Jets' coach didn't name names, but it's quite possible he was referring to former
Indianapolis Colts
coach Tony Dungy, a studio analyst on NBC's "Football Night in America."
Commenting Sunday night on the Saints, Dungy said: "The defense let them down. ... This is just not good, sound defense."
Dungy's sidekick, former Patriot
Rodney Harrison
, echoed that sentiment: "It's just not smart defense."
Ryan was quick to note that the Saints' defense, which allowed more yards last season than any team in history, has improved dramatically in its first season under his brother. The Saints are ranked 12th in total defense through six weeks.
"It's easy to say, 'Oh, you play anything but that,'" Rex Ryan said, alluding to the Saints' coverage on the final play. "After the fact, that's the only insight you're going to get from these so-called experts that I've seen get crushed before by (
Tom Brady
). Now, they're going to make the call? Yeah right. I'd put my chances with a Ryan over somebody else."
This wouldn't be the first time Ryan and Dungy have publicly disagreed. In 2010, Dungy was critical of Ryan's foul language in HBO's "Hard Knocks."
October, 4, 2013
10/04/13
6:00
AM ET
FLORHAM PARK, N.J. -- Rex Ryan may borrow a page from his brother's defensive playbook Monday night in an attempt to slow down
Atlanta Falcons
TE
Tony Gonzalez
.
In the season opener, Rob Ryan, defensive coordinator of the
New Orleans Saints
, shut down the most prolific tight end in history by jamming at the line with two players. They held him to three catches for 36 yards and a touchdown.
The
New England Patriots
used the same technique in the final minute of last Sunday night's game. The Falcons, down by a touchdown, had four shots from the Patriots' 13-yard line, but they failed to score. On three of the four plays, they double-jammed Gonzalez at the line. It was pretty remarkable; he was like a gunner being doubled on punt coverage. On the one play he wasn't doubled at the line, the Patriots used a two-man, bracket coverage -- an incomplete pass to Gonzalez.
Gonzalez finished with a career-high 149 yards, but he couldn't deliver in crunch time. The Falcons' red-zone woes continued, and they lost, 30-23.
Asked about the Gonzalez coverage on the final drive, Rex Ryan smiled.
"I certainly saw it against New Orleans as well," he said. "I saw that coverage. [The Patriots] might have seen it, too. So I think I'll give my brother credit for that one first."
Ryan doesn't have fond personal memories of Gonzalez. In the 14th game of the 2009 season, Gonzalez caught a 6-yard touchdown pass in the final minute, lifting the Falcons to a 10-7 win. Afterward, Ryan infamously proclaimed the Jets had been eliminated from playoff contention. He can laugh about now because they made it and reached the AFC Championship Game.
"I knew we'd make the playoffs that year," he joked. "It kind of worked out for us. Another guarantee that I made that never came out.
ICYMI:
The Jets are dealing with a
handful of key injuries
. On Thursday, WR
Santonio Holmes
, WR
Stephen Hill
, CB
Dee Milliner
and RB
Chris Ivory
didn't practice. Officially, no one has been ruled out, but Holmes is out for sure. Hill and Milliner are not expected to play. Ivory probably is less than 50-50. ...
Tone being Tone
: "I can't throw it to myself and catch it. Otherwise, I would." You get that? ... One last time, Ryan talks about the
color-coded wrist band
that won't see the light of day. ... As expected,
Muhammad Wilkerson
and
Quinton Coples
will appeal their fines
for the hit on
Tennessee Titans
QB
Jake Locker
. ... Check out the Week 5 "
Gang Green Report
," with insider stuff on Jets-Falcons.