New York Jets:

Sione Po'uha
August, 3, 2014
Aug 3
9:00
AM ET
CORTLAND, N.Y. -- After a few weeks in hibernation, the
New York Jets
Sunday notes are back:
1. Homeward bound?
It's early to be talking about next summer, but the Jets' Long Island-based fans will appreciate this. SUNY-Farmingdale is under consideration as the team's training-camp home in 2015, according to sources. In fact, Jets staffers already have checked out the Farmingdale facilities. The school doesn't have a football team -- therefore, no football field -- but it has intriguing potential because it has plenty of space for fields and extensive on-site parking. The Jets haven't made a final decision -- they're exploring options, including Cortland -- but I'm hearing that Farmingdale is gaining momentum.
It could come down to a football vs. marketing decision for the Jets. From a football standpoint, Cortland is ideal because of its facilities and remote location -- 200 miles from Florham Park, N.J., isolating the players and coaches from friends and family. That means fewer distractions, a great place to build team chemistry. Rex Ryan loves it here. On the downside, the Jets are a long way from their season-ticket holders, and returning to their Long Island roots would help them reconnect with a segment of the fan base that believes it has been ignored since the team bolted Hofstra in 2008. Farmingdale probably would draw bigger crowds than Cortland, and never forget this: The NFL is a business.
Po-uha
2. Cap relief:
The Jets received a $1.75 million salary-cap credit this year because of an injury grievance it settled with former nose tackle
Sione Po'uha
, who was released in March 2013. Let me explain. Pouha, whose 2013 salary ($5.0 million) was guaranteed against injury but not skill, filed the grievance because he believed his release was injury-related, sources said. A true warrior and team leader, he played with a severe back ailment in 2012, one that caused complications after the season.
When a grievance is pending, 40 percent of the player's salary counts against the cap, according to the collective bargaining agreement. In other words, Po'uha counted $2 million on the 2013 cap. Several months ago, he received a $250,000 settlement from the Jets, sources said. That amount was deducted from the $2 million hit in '13, resulting in the $1.75 million credit this year.
The Jets would have had a ton of cap space without the Po'uha verdict. Now they have even more, about $21 million. Po'uha, 35, who didn't play last season, is unofficially retired.
3. The nomads:
It always raises eyebrows when a player bounces around the league. In many cases, there's a story behind the story. The Jets added two such players -- cornerback
Dimitri Patterson
and pass rusher
Jason Babin
. Babin, with his seventh team in 12 years, is particularly interesting because he has been highly productive in the past -- and yet he's always on the move. Something is fishy.
Babin
"The guy's personality can over time wear out his welcome, and he's not real good vs. the run at the point of attack," one AFC personnel executive said.
The Jets plan to make Babin a situational pass rusher, so his inability (and/or desire) to play the run shouldn't be a major factor. But it will be interesting to see how he fits in with the others. The Jets have a tightly-knit group on defense, especially the linemen, and an outsider with attitude might not play well in the room.
When I asked Babin about his transient career, he said, "The cool thing was the opportunity I've gotten over the years, living in different places. It's really helped shape me as a man, a husband and a father. I appreciate all the different opportunities I've had."
4. No Holmes withdrawal
: The wide receiver room is a lot different without
Santonio Holmes
. The chemistry is better, from what I'm told. The elder statesman is
Eric Decker
, and he's still only 27. The current group of receivers is closer in age than the Holmes group, resulting in more interaction between the players in the meeting room. Holmes wasn't a loner -- he tried to help younger players if he was in the mood -- but, for the most part, he was high-maintenance. Said receivers coach Sanjay Lal: "This is a tight group. They've become good friends quickly."
Decker
5. Doubling Decker:
A popular theory floating around is that, unless another receiver option emerges, Decker will see a lot of double coverage. Obviously, that didn't happen often in Denver, not with
Demaryius Thomas
and
Wes Welker
on the field. The Jets have an answer: Decker will line up a lot on the same side as
Jeremy Kerley
, whom they believe is a weapon in the slot.
"How do you double-cover that?" Lal asked. "Schematically, you can dictate who gets double covered."
6. Catching up with Sanchize:
Based on the early reports out of Philadelphia,
Mark Sanchez
is having a terrific camp. People say his arm looks stronger than ever, which is interesting because people around the Jets believed he had lost arm strength in recent years. They noticed a drop-off late in 2010, when he suffered a shoulder injury against the
Pittsburgh Steelers
. He avoided surgery, but he was never really the same. In a crazy kind of way, maybe last year's shoulder surgery -- the result of an infamous preseason injury -- was a blessing in disguise. It allowed doctors to finally correct an ongoing issue that was having an impact his play.
7. Westhoff rips Milliner
: Suffice it to say, former special teams coach Mike Westhoff isn't a
Dee Milliner
fan, and he didn't care for Milliner's "best-cornerback" comment. "Man, I'm not sure he's the best cornerback up here in Cortland. And I might include the university," Westhoff said in a radio interview. Ouch.
Westhoff, visiting camp in his role as an analyst for ESPN New York 98.7 FM, remains in good standing with the Jets. In fact, he attends Ryan's daily news conferences and isn't shy about asking questions. He posed an insightful question the other day, noting how linebacker
Quinton Coples
failed to set the edge on a particular run to the outside. Ryan agreed with his former coordinator.
8. Wilkerson's contract situation
: Two first-rounders from the 2011 draft class -- cornerback
Patrick Peterson
and tackle
Tyron Smith
-- have received huge contract extensions. There has been a lot of speculation about the possibility of an extension for
Muhammad Wilkerson
, picked 30th in 2011. General manager John Idzik doesn't comment on contracts. One longtime league executive, asked if he thinks Wilkerson will get a new deal before the season, said, "John doesn't do anything unless he has to." In other words, sit tight, Mo; it might not happen until next year. He's signed through 2015.
9. The new Geno
:
Geno Smith
looks more at ease than last season, and it's not even close. That goes for on the field and off the field.
10. The new CJ2K
:
Chris Johnson
had 69 percent of the
Tennessee Titans
' total rushing yardage since 2008, the highest percentage of any player in the league. You can bet his percentage won't be that high with the Jets, not with
Chris Ivory
and
Bilal Powell
also in the backfield. I could see that number dropping to the 40-to-50-percent range.
July, 22, 2013
7/22/13
6:00
AM ET
Breaking down the Jets, position by position, as they prepare for training camp, which opens Thursday
:
Position
: Defensive line
Projected starters
:
Muhammad Wilkerson
,
Kenrick Ellis
,
Sheldon Richardson
.
[+] Enlarge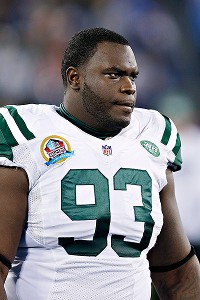 Joe Robbins/Getty ImagesKenrick Ellis is preparing for his third NFL season -- but his first as a starter. What kind of production will the Jets get from him?
Projected reserves
:
Antonio Garay
,
Damon Harrison
.
New faces
: Richardson, Garay.
The departed
:
Sione Po'uha
,
Mike DeVito
.
Player to watch
: Richardson. The Jets' scouts were so high on Richardson (No. 13 overall pick) that they rated him fourth on their draft board. He's an athletic lineman with a terrific motor, and he's expected to play a key role on the revamped line. The question is, does he fit Rex Ryan's 3-4 base defense? Richardson isn't accustomed to being a two-gap lineman, so there will be a transition period. Ryan won't get the best of Richardson if he lines him up as a 5-technique end in a straight 3-4 front, so he's likely to move him around, using him in 1- and 3-technique positions as well.
Potential strength
: Without question, this is the youngest and most athletic defensive line of the Ryan era. And it should be. After all, they've picked first-round linemen in the past three drafts -- Richardson, Wilkerson and
Quinton Coples
, who will be used in a hybrid role. Wilkerson, entering his third year, has a chance to be one of the best 3-4 DEs in the league; some say he's already there. The line started to get a bit creaky last season, especially with the banged-up Po'uha at nose tackle. The '13 group has a chance to be special if it realizes its potential.
Potential weakness
: Depth. A bad injury to one of the top four players would be devastating. The depth isn't as bad as it looks on paper, because they can use Coples,
Calvin Pace
,
Antwan Barnes
and
Garrett McIntyre
-- all outside linebackers -- at defensive end in certain fronts. Nevertheless, they still need a veteran backup to increase the comfort level.
Wild card
: Ellis. This is Year 3, so he's out of mulligans. After two years of adversity (injuries and legal problems), Ellis steps into a starting role, replacing the well-respected Po'uha. Basically, Ellis was handed the job based on his potential. He has the size (6-foot-4, 346 pounds) and raw ability to control the point of attack, but he's still green and needs technique work. His small-college background bought him a two-year honeymoon. Now it's time to deliver. If not, Garay could assume the starting job on the nose.
April, 25, 2013
4/25/13
10:15
PM ET
PICK:
First round (13th overall)
PLAYER
:
Sheldon Richardson
SCHOOL
: Missouri
POSITION
: Defensive tackle
HEIGHT
: 6-foot-2½
WEIGHT
: 294 pounds
What this means
: Rex Ryan apparently still has some influence in the draft room, as the Jets used their two first-round picks on defensive players. This marked the third straight draft in which they chose a defensive linemen in the first round. Richardson is a terrific talent, but many believe he's best suited to be a penetrating lineman in a one-gap scheme. That's not how the Jets play defense, but they could be planning to play more 4-3 fronts. Richardson had only one impact season, recording four sacks and 10.5 tackles for loss last season. He's a junior college transfer who played only two years at Missouri. He was suspended one game last season for violating an unspecified team rule. He's explosive and light on his feet, capable of blowing up blocking schemes.
How he fits the defensive scheme
: It'll be interesting to hear Ryan's explanation of Richardson's role. With Richardson,
Muhammad Wilkerson
and
Quinton Coples
, the Jets have the makings of a formidable front. And don't forget about NT
Kenrick Ellis
. It sure looks like Ryan and new coordinator Dennis Thurman will be calling more 4-3 fronts. In a 3-4, Richardson has the size to hold up as a 5-technique end. He also has the athleticism to be a third-down rusher. Ryan has options.
Projected impact:
The Jets' run defense plummeted to an embarrassing 26th last season -- and that was
with
Mike DeVito
and
Sione Po'uha
. They cut Po'uha and lost DeVito in free agency, signing veteran
Antonio Garay
as a stop-gap measure. But do you really want to go into a season with Garay and the still-unproven Ellis as your top interior linemen? Not really. Richardson should help immensely on first and second down, possibly on third. If Richardson, Wilkerson and Coples reach their potential, the Jets will have a premier line.
October, 26, 2012
10/26/12
5:17
PM ET
FLORHAM PARK, N.J. — Rex Ryan had some good news Friday: He thinks nose tackle
Sione Po'uha
will play on Sunday. It would be Po'uha's fourth game this season after sitting with a lower back injury.
Running back
Joe McKnight
(ankle sprain) did not practice, but said again Friday, "I'm playing." RB
Bilal Powell
said he did a little more on Friday than he has during other practices, but said the decision on whether he plays will be left to the Jets.
LB
Bart Scott
missed practice altogether, making it less likely he plays. His consecutive games streak currently stands at 119.

JETS
Doubtful:
DT
Kenrick Ellis
(knee), RB
Bilal Powell
(shoulder), LB
Bart Scott
(toe).
Questionable:
TE
Jeff Cumberland
(wrist), C
Nick Mangold
(ankle), RB
Joe McKnight
(ankle), DT
Sione Po'uha
(back), S
Eric Smith
(knee).
Probable:
G
Vladimir Ducasse
(knee), WR
Clyde Gates
(shoulder), WR
Jeremy Kerley
(finger), S
LaRon Landry
(heel), G
Brandon Moore
(hip), LB
Calvin Pace
(shin), QB
Mark Sanchez
(back), G
Matt Slauson
(knee), T
Jason Smith
(not injury related).

MIAMI
Out:
CB
Richard Marshall
(back)
Probable:
S
Reshad Jones
(heel), LB
Koa Misi
(hamstring), RB
Daniel Thomas
(concussion), DE
Cameron Wake
(neck), S
Jimmy Wilson
(ankle)
October, 20, 2012
10/20/12
4:31
PM ET
Nose tackle
Sione Po'uha
, running back
Bilal Powell
, safety
Eric Smith
and nose tackle
Kenrick Ellis
-- all of whom were listed as doubtful on the injury report -- won't play Sunday against the Patriots, the Jets announced Saturday.
As expected, none of the players accompanied the team on the trip to New England.
Running back
Joe McKnight
, listed as questionable with a high ankle sprain even though he didn't practice all week, made the trip. He will be a game-time decision. Po'uha, battling a significant back issue, was limited in practice Friday, fueling hope that he could return next week against the Dolphins.
So what does this all mean? The Jets are down to two healthy running backs,
Shonn Greene
and rookie
Jonathan Grimes
, who has no NFL experience. With McKnight iffy, Rex Ryan floated the idea of using
Tim Tebow
as a traditional running back, although that seems a remote possibility. Powell (dislocated shoulder) isn't expected to play for a few weeks.
With Po'uha and Ellis (sprained knee) out, the Jets will play for the second straight week without an experienced nose tackle. Chances are, they will employ a committee approach, with recently-signed
Daniel Muir
seeing some time on the nose.
Without Smith (sprained knee) for the second straight week, they will use rookies
Antonio Allen
and
Josh Bush
as their backup safeties.
October, 19, 2012
10/19/12
2:39
PM ET
FLORHAM PARK, N.J. --
Joe McKnight
will be a game-time decision against the Patriots on Sunday with his high ankle sprain, Jets coach Rex Ryan said Friday.
Asked about
Sione Pouha
, who has missed games with a lower back injury, Ryan said he was doubtful again this week -- even as the other option at nose tackle, Kenrick Eliis, will miss another game with a knee injury.
"You have to do what's in the best interest of the player as well and sometimes you don't want to have a young man step out there when maybe he's not fully healed," Ryan said. "That's something that we won't do. We want Sione in the long haul that's for sure."
Here is the official injury report:
JETS
Doubtful:
DT
Kenrick Ellis
(knee), DT Sione Pouha (back), RB
Bilal Powell
(shoulder), S
Eric Smith
(knee)
Questionable:
WR
Clyde Gates
(shoulder), C
Nick Mangold
(ankle), RB Joe McKnight (ankle)
Probable:
WR
Stephen Hill
(hamstring), TE
Dustin Keller
(hamstring), WR
Jeremy Kerley
(finger), S
LaRon Landry
(heel), G
Brandon Moore
(hip), LB
Calvin Pace
(shoulder), QB
Mark Sanchez
(back), LB
Bart Scott
(toe), G
Matt Slauson
(knee), LB
Bryan Thomas
(hamstring)
PATRIOTS
Out:
RB
Brandon Bolden
(knee), S
Steve Gregory
(hip), LB
Tracy White
(foot)
Questionable:
DT
Ron Brace
(back), S
Patrick Chung
(shoulder), WR
Julian Edelman
(hand), TE
Rob Gronkowski
(hip), TE
Aaron Hernandez
(ankle), LB
Dont'a Hightower
(hamstring), G
Logan Mankins
(calf, hip), C
Nick McDonald
(shoulder), CB
Sterling Moore
(knee), T
Sebastian Vollmer
(back, knee), WR
Wes Welker
(ankle)
Probable:
DT
Kyle Love
(knee)
October, 17, 2012
10/17/12
2:49
PM ET
October, 5, 2012
10/05/12
1:08
PM ET
FLORHAM PARK, N.J. -- When Rex Ryan met with his coaching staff early in the week, he put out a suggestion box, so to speak, asking for ideas on how to get the team out of its funk. OL coach Dave DeGuglielmo offered this:
An eight-minute period in practice in which the first-team offense faced the first-team defense -- the type of thing they do in training camp.
So they did it Thursday, and Ryan loved it. All but one play in the period was a run. They used running plays from their base, power and boss packages. It wasn't live tackling, but it was full-speed. It made sense, considering their problems running and stopping the run.
"I challenged our guys to compete against each other," Ryan said Friday. "The only way to get better is to go full-speed against each other. That's what we got back to."
INJURY UPDATE
: TE
Dustin Keller
(hamstring), WR
Stephen Hill
(hamstring), NT
Sione Po'uha
(back) and LB
Bryan Thomas
(hamstring) are expected to miss practice for the second straight day. There's virtually no chance of Hill playing Monday night against the Texans. Po'uha and Thomas are major question marks. Losing both players would be a big hit to the already beleaguered run defense.
September, 7, 2012
9/07/12
12:09
PM ET
FLORHAM PARK, N.J. -- Jets tight end
Dustin Keller
stretched, worked on the side and then ran some routes with the offense during the portion of Friday's practice open to the media.
Keller (hamstring) was limited Thursday, but believes he will play in Sunday's season opener versus Buffalo.
Also, defensive tackle
Sione Po'uha
participated in position drills. Like Keller, Po'uha (back) was also limited Thursday.
The Buffalo News reported that Bills wide receiver
Stevie Johnson
(groin) was on the field for Friday's practice.
August, 23, 2012
8/23/12
7:23
PM ET
FLORHAM PARK, N.J. -- There was action before, during and after practice on Thursday here at the Atlantic Health Jets Training Center.
Before practice, coach Rex Ryan revealed that
Wayne Hunter
has
lost his starting job at right tackle
in favor of
Austin Howard
.
After practice,
Santonio Holmes
declared himself
fit to play Sunday night
against the
Carolina Panthers
.
In between, the Jets worked out for 2½ hours Thursday afternoon in front of a few hundred fans as training camp winds to a close. They got to see Howard take all the reps with the first unit, and Holmes get a few live reps as well -- wearing a red no-contact jersey -- as he continues to recover from a rib injury.

In terms of other practice observations:
INJURY REPORT:
RB
Joe McKnight
, who missed Wednesday's practice with shin splints, was back on the field, but limited. S
LaRon Landry
was also limited for precautionary reasons. ... TE
Jeff Cumberland
, WR
Patrick Turner
, WR
Chaz Schilens
, DT
Sione Pouha
, CB
Ellis Lankster
and LB
Ricky Sapp
did not practice.
GROUND AND POUND:
The Jets worked extensively on their running game Thursday. Gang Green averaged just 1.8 yards per carry in Saturday night's preseason loss to the Giants, gaining 58 yards on 32 totes.
OPPOSITE SIDES:
The first-team offense and first-team defense rarely matched up against each other Thursday. The Jets were likely preparing for Sunday night's game against the Panthers, having the first-stringers face scout teams.
THE HIGHLIGHT?
Mark Sanchez
completed a beautiful pass over the middle to
Royce Pollard
on one of the few plays when both the first-team offense and first-team defense matched up against each other, in 11-on-11 drills. Pollard went high to reel in the ball, in between safeties
Yeremiah Bell
and
Josh Bush
. Sanchez was fired up after the play.
On the day, Sanchez completed four of seven passes against the first-team defense.
Tim Tebow
went 2-for-3 against them, with a sack.
In 7-on-7 drills, LB
David Harris
dropped a gimme interception thrown by Tebow. But he made up for it with a nice pick on a pass thrown by
Greg McElroy
. Rookie LB
Demario Davis
also had an interception late in practice, in 11-on-11 drills.
THE KICKING GAME:
Nick Folk
nailed all three of his field goal attempts at the end of practice, including one from 53 yards away.
Josh Brown
also connected from 53 yards, but missed a shorter attempt.
REMEMBER ME?
Former Jets offensive tackle
Damien Woody
, now an ESPN analyst, visited practice on Thursday, along with his two sons. Kind of ironic, considering this was the day the Jets made a switch at Woody's former position.
January, 24, 2011
1/24/11
1:33
AM ET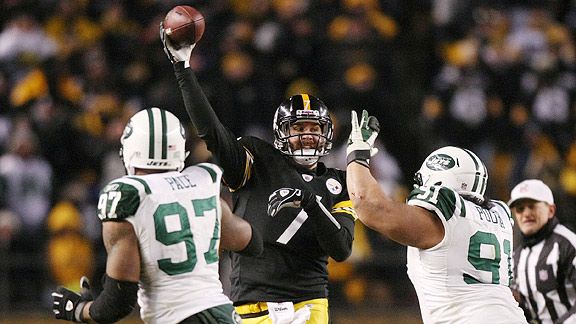 Jason Bridge/US PresswireBen Roethlisberger was able to complete his final pass, despite pressure from Sione Pouha.
It was a gutsy call by Pittsburgh Steelers coach
Mike Tomlin
-- gutsy because it worked. If it had failed, they'd be calling it a stupid decision in the Steel City.
With two minutes to play, the Steelers clinging to a five-point lead, Tomlin called a third-and-6 pass even though the New York Jets were out of timeouts. The Jets came oh-so-close to breaking it up, but there were breakdowns on the play.
First, the Jets' edge rushers let QB
Ben Roethlisberger
out of the pocket. That could be because they were playing for a run.
Rex Ryan
admitted that he was "shocked" the Steelers didn't run the ball in that situation. You let Big Ben out of the pocket, and he will make you pay more often than not.
Nose tackle
Sione Pouha
pressured Roethlisberger and got in his face.
"I hit him right when he threw the ball," Pouha said. "I tried to affect the throw, but obviously Ben is Ben. Right when I hit him, I was hoping to deter the throw somehow, but he's been in that situation so many times that it's second nature to him."
It was a brilliant throw on the run. The Jets dropped into a Cover-3 zone. Once Big Ben escape the pocket, the Jets applied their "plaster" coverage rules -- play man-to-man against the closest receiver in your zone. For linebacker
David Harris
, that meant wide receiver
Antonio Brown
. But that's a tough cover for a 250-pound linebacker.
"He was in my zone, so I pretty much had to match him," Harris explained. "I tried to stay with him the best I could, but he's a good athlete and he made a heck of a play. There was too much separation."
Brown made a sliding catch for 14 yards, giving the Steelers the first down they needed to run out the clock.
December, 30, 2010
12/30/10
12:37
PM ET
Jets quarterback Mark Sanchez did some light throwing and worked on foot drills during the portion of practice open to the Media Thursday afternoon. It appeared as if it was a normal practice day for Sanchez (right shoulder), who will most likely play Sunday, but it is not known yet to what extend (if any).

In other news, the three Jets who did not practice yesterday: DE Shaun Ellis (back); S James Ihedigbo (knee/ankle) and RT Damien Woody (knee) were not seen during the open portion. CB Antonio Cromartie (groin), DT Sione Pouha (back), DT Trevor Pryce (hip) and CB Darrelle Revis (hamstring) were all out on the field.

More information will be available later when the full practice report is revealed.