New York Jets:

St. Louis Rams
March, 24, 2014
Mar 24
8:50
AM ET
Sanchez
Former
New York Jets
quarterback
Mark Sanchez
has been unemployed for only three days, but he already knows there will be at least one suitor for his service -- the
St. Louis Rams
.
"I'd say that there is interest," Rams coach
Jeff Fisher told USA Today Sunday
at the owners meetings in Orlando. "I can't say how much. But there certainly would be interest. I don't have a backup with experience on the roster right now."
The Rams make sense on a number of levels. Starter
Sam Bradford
is coming off ACL surgery, his backup is the inexperienced
Austin Davis
and the coordinator is Brian Schottenheimer -- yep, that Brian Schottenheimer. He was the Jets' coordinator for Sanchez's first three seasons in the league. It also doesn't hurt that Fisher and Sanchez are USC alums.
Sanchez, in the final stages of his recovery from shoulder surgery, is expected to take his time before making a decision. The Jets cut Sanchez last Friday after five seasons with the team.
November, 19, 2012
11/19/12
3:08
PM ET
FLORHAM PARK, N.J. -- Offensive coordinator Tony Sparano has received plenty of criticism for the Jets' struggles, but he deserves a pat on the back for his play calling in Sunday's 27-13 win over the Rams. In fact, he got a high-five from Rex Ryan after the Jets' second touchdown.
All three Jets touchdowns were well-designed, well-executed plays called at precisely the right time. Sparano fooled the Rams on all three.
Let's put it this way: Sparano had a much better day than his predecessor, Brian Schottenheimer. Let's review the three TDs:
1. Chaz Schilens, 25-yard pass from Mark Sanchez
: This occurred in the second quarter, but it actually was set up on the second play of the game -- a bubble screen to
Jeremy Kerley
. Truth be told, they've thrown a lot of bubble screens in recent weeks to Kerley, and it looked like another one on second-and-7. Sanchez sold it with a quick pump fake to Kerley, who lined up next to Schilens. The Rams' DBs were in "off" coverage, but they came down hard, ready to play Kerley. Schilens ran for the flag, easily beating rookie nickel back
Trumaine Johnson
.
2. Bilal Powell, 5-yard run
: Sanchez was in shotgun on third down from the Rams' 5 -- an obvious passing situation. The Rams were thinking pass, as they rushed only three and dropped eight into coverage. Ah, but the Jets caught them by surprise, running a draw to Powell. He received nice blocks from C
Nick Mangold
, LG
Matt Slauson
and TE
Dustin Keller
, plowing into the end zone to give the Jets a 20-7 lead.
3. Powell, 11-yard TD
: It was another third down, except this time Sanchez wasn't in shotgun. He handed to Powell, the lone back, on a quick-hitting trap play. RG
Brandon Moore
delivered a crushing trap block, opening a hole. Mangold and LT
D'Brickashaw Ferguson
also made key blocks. Powell made the last few yards on his own, with a nice cutback to the left. He scored standing up.
MORE MISDIRECTION
: Another big play was the 18-yard throwback screen to TE
Konrad Reuland
. The Jets lined up with three tight ends to the left and WR
Stephen Hill
split to the right. It was third-and-3. Hill ran a quick slant and was open for an easy first down. Sanchez looked at Hill and clutched twice before pulling it down and going to Reuland on the left side.
Considering Hill's bout with butter fingers, it's fair to wonder if Sanchez didn't trust Hill in that case. Ryan insisted that wasn't the case, that the play was a designed throwback screen. If that's true, Sanchez did a great sell job because it sure looked like he wanted to go to Hill.
TEBOW TURNING POINT
: There probably isn't any rhyme or reason for this, but the Jets became more aggressive in the passing game after
Tim Tebow
's completion (for minus-1) on the unsuccessful fake punt in the second quarter. Get this:
In 12 dropbacks before the fake, Sanchez averaged 5.2 air yards/attempt and 3.5 yards/dropback, according to ESPN Stats & Information. In 12 dropbacks after the fake, he averaged 10.7 and 11.0, respectively.
Go figure.
PETTINE OUTSMARTS SCHOTTY
: DC Mike Pettine won his chess match against Schottenheimer. The Jets' defense got off to a shaky start, but they owned the Rams. In fact, they held the Rams to 195 total yards and 3-for-13 on third down on their final 11 possessions.
For the last three quarters, it resembled the early training-camp practices from 2009 to 2011, when the defense routinely dominated Schottenheimer's offense. Pettine was inside Schottenheimer's head, coming up with an answer for his every move.
The Jets mixed pressure and coverage. On
Muhammad Wilkerson
's strip sack, they rushed six. On
Eric Smith
's interception, they rushed only four -- a terrible throw by
Sam Bradford
, who developed a serious case of happy feet after the Wilkerson sack. At times, the Jets sent nickel back
Ellis Lankster
on slot blitzes.
When Bradford had an open receiver, he missed him. He averaged 3.9 yards-per-attempt, the second-lowest of his career. Granted, he doesn't have a lot of weapons, but he has RB
Steven Jackson
. For some reason, Schottenheimer bailed on the running game after early success. Speaking of curious decisions, why did Jeff Fisher try a two-point conversion, down 27-13? Made no sense.
November, 19, 2012
11/19/12
2:00
PM ET
The situation
: The Jets took over at their 37-yard line, leading by six points with 6:14 remaining in the third quarter.
The outcome
:
Mark Sanchez
orchestrated the Jets' longest drive of the game -- 12 plays, 63 yards, using 6:58 on the clock. It ended with
Bilal Powell
's 5-yard touchdown run.
The impact
: The Jets broke the Rams' will by eating clock and controlling the ball on the ground. After going 30, 28 and 33 yards for their first three scoring drives, the Jets dropped the hammer. Sanchez passed only three times, including an 18-yard throwback screen to TE
Konrad Reuland
. They lined up with three tight ends to the left and ran a play-action to the right, with Sanchez looking for
Stephen Hill
on a slant. He was open, but Sanchez pulled the ball down and looked back to the strong side, finding a wide-open Reuland. Two plays later, Powell scored. That was the dagger.
November, 19, 2012
11/19/12
12:32
PM ET
A look back at the Jets' 27-13 win over the Rams:
The Strip
. For the second straight week, DE
Muhammad Wilkerson
was involved in the biggest defensive play of the game. This time, he started it, sacking
Sam Bradford
from the blind side and forcing a fumble. This was a game changer.
Bart Scott
returned it 38 yards (he was run down by slow-footed TE
Matthew Mulligan
, a former Jet), giving the offense a short field.
[+] Enlarge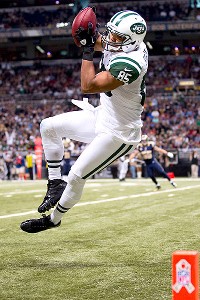 David Welker/Getty ImagesChaz Schilens' touchdown grab gave the Jets a lead they never relinquished.
A touchdown ... finally
. One play after Wilkerson's strip sack,
Mark Sanchez
threw a 25-yard scoring pass to
Chaz Schilens
, snapping a touchdown drought of five quarters. Schilens ran a hitch-and-go, beating is man soundly.
Dustin Keller
occupied the safety in the middle of the field and Sanchez gave a nice pump fake. Schilens was wide open and the Jets took a 10-7 lead.
Saved by the flag
. The Jets almost blew a 13-7 lead late in the second quarter.
Chris Givens
fielded a short kickoff by
Nick Folk
at the Rams' 2 and he ran around right end for an apparent 98-yard return, but it was called back because
Rodney McLeod
was flagged for holding Schilens at the 24. Naturally, Schilens said it was a good call. Rams coach Jeff Fisher disagreed. This much they agreed on: It was a huge play in the game. It would've given the Rams the lead at halftime, and who knows what might have happened from there.
The draw
. Tony Sparano made one of his best calls of the season on the second play of the fourth quarter, a third-down draw from the Rams' 5. Sanchez was shotgun for an apparent passing play. It was reminiscent of last week's play from the Seahawks' 6, which ended with an interception. This time, Sparano didn't take any chances. He made a conservative, yet perfect call, exploiting the Rams' aggressive front four.
Bilal Powell
slipped between the rush for a 5-yard scoring run, his first career touchdown, to give the Jets a 20-7 lead.
The screen
. Sparano was on his game. On a third-and-9 from the Rams' 25, he did it again to the Rams, making them pay for their aggressive pass rush. The Jets aren't a good screen-pass team, but they executed one to perfection, Sanchez finding Powell for an 11-yard gain. Two plays later, Powell scored again to put the game out of reach, 27-7.
November, 19, 2012
11/19/12
10:57
AM ET
A look back at the Jets' 27-13 win over the Rams:
THREE UP
Mark Sanchez
. Well, well, well, look what we have here: Sanchez, the most inaccurate passer in the league, completed 75 percent of his attempts. It could've been 85 percent, if not for drops by
Stephen Hill
and
Joe McKnight
. Sanchez managed the game wonderfully, committing no turnovers (for a change) and making good run checks at the line of scrimmage. He needed it; another poor performance might have put his job in jeopardy.
[+] Enlarge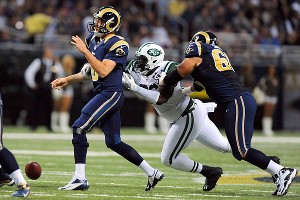 Jeff Curry/US PresswireMuhammad Wilkerson stripped the football from Sam Bradford on this second-quarter sack.
Muhammad Wilkerson
. Big Mo changed the mo' with his second-quarter strip sack of
Sam Bradford
. It changed the complexion of the game, putting some life into the Jets after a lethargic start. Wilkerson, who scored on a fumble return last week, has elevated his game in recent weeks.
Chaz Schilens
. We could go with
Bilal Powell
, who scored the first two touchdowns of his career, but Schilens gets a coveted spot on our list because of his all-around play. He caught a 25-yard touchdown pass, made two tackles on special teams and drew a holding call that nullified a 98-yard kickoff return. He did a nice sell job on the penalty, throwing his hands in the air. Hey, whatever works.
THREE DOWN
Stephen Hill
. The rookie's struggles continued. He didn't catch a ball for the second straight week, dropped another pass, committed a pass-interference penalty and lost a deep ball in the lights. Hill is experiencing a severe case of growing pains.
Tim Tebow
. He played in virtual anonymity. Get it? After a difficult week in which he was harshly (and unfairly) criticized by unnamed teammates in a newspaper story, Tebow deserved more than only three snaps on offense -- three ineffective plays. He completed a pass on a fake punt, but it lost a yard. Hey, look at the bright side: Tebow has completed six of seven passes, albeit for only 39 yards.
Brian Schottenheimer
. We usually don't mention opponents, but we'll make an exception because he spent six seasons with the Jets. The Rams' OC had his former team reeling on the first possession, but it turned real bad real fast for Schottenheimer. A third-and-1 pass out of an empty backfield? Really?
November, 18, 2012
11/18/12
8:26
PM ET
ST. LOUIS -- The quarterback who can't shoot straight found his target almost every time.
Emerging from a two-game funk,
Mark Sanchez
completed 75 percent of his passes -- his best percentage in nearly three years -- in leading the Jets to a 27-13 win over the Rams on Sunday at the Edward Jones Dome.
[+] Enlarge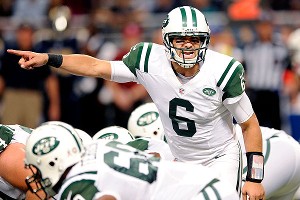 AP Photo/L.G. PattersonMark Sanchez led the Jets to their fourth victory.
Sanchez completed 15 of 20 attempts, with two incompletions coming on drops by
Stephen Hill
and
Joe McKnight
. It was the second-highest completion percentage of his career (Sanchez was 13 for 17 in the 2009 wild card game against the Bengals). This from a quarterback who began the day with a league-low 52-percent mark.
"It was a great performance by him," Rex Ryan said. "It's what we needed."
It's what Sanchez needed, considering his highly scrutinized job security. He may not have lost the starting job with a terrible performance -- it would've been tough to prepare
Tim Tebow
on a short week for Thursday night's game against the Patriots -- but it probably bought him some time.
Sanchez had no turnovers for only the third time this season (he recovered his own fumble on a sack), and he did a good job of managing the Jets' ball-control attack. He wasn't asked the throw downfield that often, but he made the most of his chances -- a 25-yard scoring pass to
Chaz Schilens
and a 32-yard seam pass to
Jeremy Kerley
.
Could it be a coincidence that Sanchez played well on a day in which Tebow saw only three plays on offense?
Sanchez can be an effective game manager -- when he protects the ball.
"That was part of the emphasis coming into the game, taking care of the football and being in control of those situations down in the red zone," he said.
Sanchez began the day with three red-zone interceptions, tied for most in the league. Offensive coordinator Tony Sparano attacked that problem by taking the ball out of his quarterbacks' hands. He didn't want to take any chances, not even against one of the most benign defenses in the NFL. The Rams haven't forced a turnover since Week 5.
The Jets ran 11 plays in the red zone, but Sanchez dropped back to pass only twice -- a sack and a seven-yard check-down pass to
Jeff Cumberland
. On third-down passing situations in the second half, Sparano called running plays, catching the Rams by surprise.
Bilal Powell
scored on runs of five and 11 yards. In another obvious passing situation, they called a screen pass to
Konrad Reuland
that picked up 18 yards.
Afterward, Ryan was thrilled with Sanchez. The coach has received a lot of criticism for standing by his starter, but his patience was rewarded with a 118.3 passer rating.
"When you look at our quarterback rating, in the NFL now that seems to be a big statistic when determining wins and losses," Ryan said.
Sanchez's counterpart,
Sam Bradford
, recorded a 67.4 rating.
November, 18, 2012
11/18/12
6:16
PM ET
By
Rob Rains
| ESPNNewYork.com
ST. LOUIS -- After being forced to leave last Sunday's game against Seattle because of a concussion and not being able to practice until Friday, Jets running back
Bilal Powell
was not certain how much of a factor he would be against the Rams on Sunday.
[+] Enlarge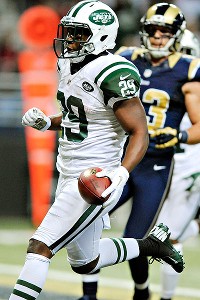 Jeff Curry/US PresswireBilal Powell caps his 11-yard TD run in the fourth quarter.
As it turned out, neither the concussion nor the lack of practice time proved to be much of a hurdle for Powell, who rushed 11 times for 42 yards and scored his first two career touchdowns. He also caught two passes for 18 yards in the Jets' 27-13 victory.
Powell scored on a 5-yard run on a draw play on the second play of the fourth quarter, and added an 11-yard TD run on a trap play six minutes later.
"I try to take full advantage of every opportunity I have to be out there, and I'm blessed to be back," said Powell, who had never had a concussion before during his football career. "I had no problems at all. The offensive line did a great job and it was two good play calls."
Both touchdowns came on third downs, with the first coming when the Jets were lined up in shotgun formation.
Coming into Sunday's game, the second-year pro from Louisville had only carried the ball 35 times for 138 yards in seven games. The 42 yards were three shy of his career high of 45 yards, on 10 carries, on Sept. 23 against Miami.
Shonn Greene
led the team with 64 yards on 18 carries on Sunday as the Jets rushed for a total of 124 yards on 41 attempts.
"Shonn did a great job," he said. "We had great preparation in our running game. We just went out and executed. Our game plan was to get a W. It was a good win for us."
Powell, who said he kept both of the balls from his touchdowns, had last recorded a touchdown in the Jets' preseason game last season against the Giants.
November, 18, 2012
11/18/12
4:04
PM ET
ST. LOUIS -- The Jets finally found an opponent worse than they are. Overcoming a week of controversy and off-the-field distractions,
they beat up on the lowly Rams
27-13, snapping a three-game losing streak Sunday at the Edward Jones Dome.


What it means:
The Jets (4-6) avoided the indignity of losing to their former offensive coordinator, Brian Schottenheimer. More importantly, they kept their playoff hopes on life support. But let's be real here: They beat a bad team. All this does is buy them more time; the Jets still have a long way to go before we should take them seriously again. But at least this should eliminate some of the dark clouds.
Sanchez can exhale
: Under mounting pressure,
Mark Sanchez
responded with one of his better games of the season. He was rattled early by the Rams' front four, but he got it under control with a 25-yard touchdown pass to
Chaz Schilens
, giving the Jets a 10-7 lead. Sanchez (15-for20, 178 yards, TD) completed passes to nine different receivers, picking apart a woeful secondary. Mind you, the Rams haven't forced a turnover since Week 5. This should quiet the Sanchez-
Tim Tebow
controversy -- for a few days, anyway.
Sparano vs. Schotty
: We know the Jets' offense isn't good. Now we know the Rams' offense is worse. The Jets outgained the Rams 289-281 in a battle of two lowly offenses, neither of which will produce a Pro Bowl player. But give Jets offensive coordinator Tony Sparano some credit: He made three good calls in scoring territory, all on third-and-long plays -- two running plays, both resulting in touchdown runs by
Bilal Powell
, and a screen pass to Powell. Clearly, Sparano didn't want Sanchez dropping back and throwing, considering his recent red zone mistakes.
A running back change?
Shonn Greene
hinted last week there should be a quarterback change (he claims he was misquoted). Considering Powell's performance (scoring runs of five and 11 yards), some might wonder whether there should be a change in the backfield. Greene (18 carries, 64 yards) was solid, but he was upstaged by Powell, who excelled -- finally -- as the third-down back.
Mo better defense
: For the second straight week, defensive end
Muhammad Wilkerson
made the biggest play of the game. This time, it was a strip sack that pumped life into the moribund offense. Wilkerson exploded into the backfield and stripped the ball from
Sam Bradford
.
Bart Scott
was there for the scoop-and-run. That set up the offense at the Rams' 28. One play later, Sanchez hit Schilens, ending a five-quarter TD drought. After a slow start, Wilkerson has been playing like a first-round pick the past few weeks.
Bad start, strong finish
: The Jets' defense shook off a horrible opening drive (13 plays, 86 yards and an easy touchdown pass for Bradford) and played lights-out. After the first drive, it held the Rams to 195 total yards for the remainder of the game and forced three turnovers. The Jets scored 14 points off the turnovers. They generated decent heat on Bradford (23-for-44, 170 yards, 2 TDs, 1 INT) and did a good job on WR
Danny Amendola
(seven catches, 41 yards), but a lot of it was just bad play by Bradford, who didn't look anything like a former No. 1 overall pick. It looks like Schottenheimer is reliving his Sanchez growing pains with Bradford.
Special teams -- bad
: The Jets haven't been this mistake-prone in ... like, since the Kotite years. They got stuffed on a fake punt that fooled absolutely no one (Tebow flipped a shovel pass to
Lex Hilliard
), and they allowed a blocked field goal for the second time in three games. The Jets have made seven huge blunders in the past four games. Oh, how the mighty have fallen. Fortunately for them,
Nick Folk
came up big with a couple of 51-yard field goals.
What's ahead
: The Jets have a quick turnaround, as they host the first-place Patriots on Thanksgiving night. The Jets lost the first meeting in overtime 29-26, blowing a late lead.
November, 18, 2012
11/18/12
2:45
PM ET
ST. LOUIS -- A quick take on the first half:
1.
Opportunistic defense.
The Jets' defense came to play, forcing two turnovers in the first half -- both in Rams territory. S
Eric Smith
made a nice interception at the Rams' 13, jumping an "out" route. DE
Muhammad Wilkerson
, continuing to play at a high level, recorded a strip sack. It was a scoop and run for LB
Bart Scott
, allowing the offense to set up at the Rams' 28. Save for a poor opening drive, the defense responded nicely, pressuring QB
Sam Bradford
.


2. Minor miracle -- a touchdown
. After producing only nine points in their previous two games, the Jets erupted for 13 points. That's sarcasm, folks. Capitalizing on the short field after the Wilkerson strip sack, QB
Mark Sanchez
hit an open
Chaz Schilens
for a 25-yard TD to give the Jets a 10-7 lead. Sanchez played well in the first half. He completed nine for 13 passes for 118 yards -- victimized by two drops, including another killer by rookie WR
Stephen Hill
.
3. Lineup shakeups
. The Jets rotated their wide receivers more than usual, giving most of the playing time to Schilens and
Clyde Gates
. Kerley, bothered by hamstring and heel injuries, played less than usual. At running back,
Shonn Greene
started but was replaced by stretches by
Joe McKnight
, who provided more burst. And, oh yes, the Jets used CB
Antonio Cromartie
for four plays at receiver.
4. Brutal special teams
. The Jets' kicking units haven't been this bad in a long, long time. They were unsuccessful on perhaps the worst fake punt in history. Up-back
Tim Tebow
took the snap and flipped a shovel pass to
Lex Hilliard
, who was stopped for a one-yard loss. Wait, there was more: There was a blocked FG on a 26-yard attempt by
Nick Folk
, who also had two 51-yarders. The Jets caught a huge break when a 95-yard kickoff return by the Rams was nullified by a holding penalty.
5. Sparano vs. Schotty
. Neither offense played great in the anticipated showdown between Tony Sparano and former Jets OC Brian Schottenheimer. The Jets outgained the Rams, 154-143, but the Rams lost their best weapon, WR
Danny Amendola
(foot) in the second quarter. Bradford looked lost without him.
November, 18, 2012
11/18/12
12:06
PM ET
ST. LOUIS -- Well, at least the Jets have this going for them: They will be at full strength Sunday against the Rams.
WR
Jeremy Kerley
(hamstring, heel), RB
Bilal Powell
(concussion) and RB/KR
Joe McKnight
(ankle), all of whom were listed as questionable, are active for the Jets. McKnight missed one game. In fact, they will dress five running backs, including the newly signed
Kahlil Bell
.
NT
Kenrick Ellis
also is active, returning from a four-game knee injury.
The Jets' inactives are QB
Greg McElroy
, TE
Hayden Smith
, G
Caleb Schlauderaff
, G
Hayworth Hicks
, NT
Damon Harrison
and LB
Marcus Dowtin
, who didn't make the trip despite not being injured.
They have only six inactives because there are just 52 players on the roster. They didn't fill the spot this week after a flurry of roster moves.
The Rams' inactives are QB
Austin Davis
, former Giants WR
Steve Smith
, S
Darian Stewart
, former Jets RB
Terrance Ganaway
, FB
Brit Miller
, G
Chris Williams
and DT
Matt Conrath
.
November, 17, 2012
11/17/12
10:01
AM ET
This is one of those weeks where the Jets really miss
Darrelle Revis
.
The Jets would've assigned their star cornerback to Rams WR
Danny Amendola
, and it would've eliminated
Sam Bradford
's go-to guy from the passing game.
Antonio Cromartie
likely will cover Amendola when he lines up on the outside, but Cromartie doesn't cover receivers in the slot -- and that's where Amendola does a lot of his damage.
This could be problematic for the Jets.
Nickel back
Isaiah Trufant
, who wrested the job from
Ellis Lankster
three games ago, suffered a season-ending knee injury last week in Seattle. The injury didn't make headlines, not with all the other stuff going on around the team, but Trufant's absence will be felt. They can go back to Lankster and perhaps even use
Kyle Wilson
on Amendola in the slot.
To say Bradford relies heavily on Amendola would be an understatement. In five games, he has been targeted 61 times -- an average of 12 per game. (He missed four games with a broken collarbone.) In last week's tie with the 49ers, he was targeted 12 times -- and he caught 11 of them. In the season opener against the Redskins, he was targeted 16 times -- and caught 15.
That's interesting. In his six years as the Jets' offensive coordinator, Brian Schottenheimer always tried to make sure the ball was spread evenly. Now he's running a one-man show. The Jets have to be a show stopper in order to win Sunday in St. Louis.
November, 14, 2012
11/14/12
1:44
PM ET
FLORHAM PARK, N.J. --
St. Louis Rams
head coach Jeff Fisher took a small jab at Jets quarterback
Mark Sanchez
on a conference call Wednesday, acknowledging that getting the ball to the receivers can be an issue for New York.
"So the (wide receivers) can make plays, and it's just a matter of getting the football to them," Fisher said.


The Jets' wide receivers have come under fire this year for failing to make big plays. That's part of the problem when a group is as raw as the Jets' unit, but the quarterback hasn't been helping them either.
Sanchez is completing just 52 percent of his passes, a career low for the fourth-year player. While it could certainly be argued that his receivers aren't creating space for Sanchez to throw to them, the heat always falls on the quarterback for not making plays.
While it's rare for an opposing coach to criticize a team it's playing in an upcoming week, Fisher seemed higher on the Jets' receivers than most.
"They're productive. Young, but productive with different types of abilities," said Fisher, who specifically praised
Jeremy Kerley
and rookie
Stephen Hill
. "You've got guys with a run-after-catch ability, you've got good route-runners, and I think that they've probably been unfairly criticized because this is a group that can make plays."
HERE'S SCHOTTY:
The Jets will face former offensive coordinator Brian Schottenheimer on Sunday. He now serves in that role for St. Louis.
Schottenheimer served as the Jets' offensive coordinator from 2006-11 before leaving the team following the end of the last year's 8-8 campaign. His play-calling and offensive schemes came into question last season as it seemed Sanchez regressed.
"What I was excited about was that he was available," Fisher said about hiring Schottenheimer. "What happened in the past is the past. Brian's moved on. We've moved on together. We have a great staff that has a great working relationship and we expect to have a lot of success in the future."
Fisher added: "He's done an outstanding job thus far. I was very excited when I found out that he was available. We hit the ground running. He's a big influence, I say, to this early turnaround of this football team."
WAYNE WATCH:
The Jets will also get to see former right tackle
Wayne Hunter
, who they traded for tackle
Jason Smith
in August. Hunter drew the fans' ire for his poor play before the team sent him to St. Louis. He has been replaced by
Austin Howard
, and Smith is an extra tackle who plays sparingly.
Hunter has played in seven games for St. Louis and has battled a back injury.
"This was a good deal for all four parties," Fisher said. "For Jason, for Wayne, for the Rams and the Jets. And that's why we did it."