New York Jets:

Stephen Ross
November, 29, 2013
11/29/13
10:00
AM ET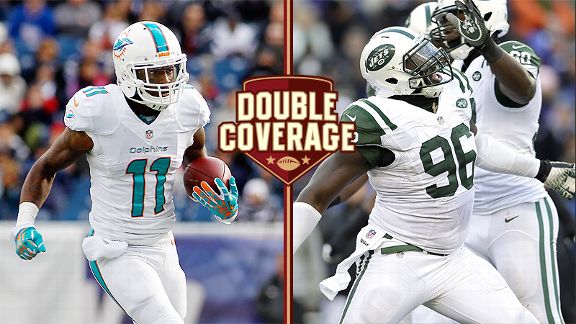 AP Photo, USA Today Sports ImagesMike Wallace's Dolphins and Muhammad Wilkerson's Jets are battling to stay in the AFC playoff race.
The final wild card in the AFC is up for grabs as the
Miami Dolphins
(5-6) travel to face the
New York Jets
(5-6) in what is essentially a playoff eliminator. The winner will get to .500 and have an inside track in the crowded wild-card race. The loser will take a major step back with four games remaining.
Which AFC East team will win this crucial game? ESPN Dolphins reporter James Walker and ESPN Jets reporter Rich Cimini weigh in.
James Walker:
The Dolphins and Jets will square off twice in December and it looks like both games will be meaningful. I think the common link between these teams has been general inconsistency. The Dolphins started 3-0 in September but are 2-6 since. Their season has been hanging by a thread for quite some time with uneven play on the field and controversy off it, thanks to the
Richie Incognito
-
Jonathan Martin
bullying scandal. Sunday is the kind of game that could make or break the rest of Miami's season.
Rich, the Jets have been just as inconsistent, losing three of their past four games. How vulnerable are they?
Rich Cimini:
Pretty vulnerable, James. When you can't score, you're vulnerable in my book. The offense has produced only one touchdown in its last 31 possessions with
Geno Smith
at quarterback -- yet he remains the starter. I really believe the Jets have reached a crossroads. A win over the Dolphins could springboard them into the final quarter of the season. If they lose their third straight, it could break them. Frustration is building in the locker room. They're at the tipping point.
The Dolphins aren't lighting up scoreboards, either. What's the deal with their offense?
Walker:
The Dolphins can't run, can't pass, can't block and can't score touchdowns with any consistency. At times you see flashes in one or two areas. For example, quarterback
Ryan Tannehill
finally hit a couple of deep balls to receiver
Mike Wallace
last week, which hasn't been the case all season. If those two can make some big plays each week, the Dolphins have a chance to score more points. But the offensive line has been an issue all year, and it's not helping that they lost two starters in Incognito and Martin. The line has allowed 44 sacks and the running game is 26th in the NFL. The red-zone offense also has been horrendous. The Dolphins haven't scored more than 27 points in a game all season. That's why they are in close games nearly every week.
Rich, Rex Ryan's stock has been all over the place this year. He was projected to be a lame duck in the preseason. Then, a solid start improved his job security. Where does Ryan currently stand?
Cimini:
Personally, I think Ryan is doing a good job, considering the circumstances -- turnover-prone rookie at quarterback, second-rate talent at the skill positions and seven new starters on defense. New general manager John Idzik has been complimentary of Ryan in the few interviews he has given, but no one really knows what he's thinking. If the Jets finish with at least seven wins, I think Ryan will be back. He ended the past two seasons on three-game losing streaks, so he obviously has a problem finishing.
I'll shoot the coach question back at you: Is Joe Philbin toast?
Walker:
That's a tough question, Rich. There are so many factors involved, such as the future of general manager Jeff Ireland and the NFL's ongoing investigation of Martin's accusations. If Philbin and his coaching staff had any knowledge of the Martin situation -- and that's a big question -- it could lead to his demise. There is more to it than X's and O's. This would be a scandal that happened on Philbin's watch, and the NFL's findings will weigh heavily with Dolphins owner Stephen Ross.
But strictly on the field, most coaches get three years to implement their programs. A strong finish by Philbin makes a case for him to stay. Ireland is almost certain to be let go if the Dolphins do not make the playoffs. That could lead to the new general manager wanting to pick his own coach or going the Jets' route, where the holdover coach gets one more year to prove himself.
Finally, Rich, why is this Jets team so much better at home? It cannot be only due to the home crowd.
Cimini:
You're right, James, it's more than the home crowd. I can't figure it out. It's weird because in the first two seasons under Ryan, they were a mediocre home team and very good on the road. Now they've flipped the script. You can't say they've feasted on an easy home schedule because they beat the
New Orleans Saints
and
New England Patriots
. Go figure. I will say this: They benefited from a couple of fortuitous calls at home, including the rare "push" penalty by the Patriots while attempting to block a Jets field goal attempt. Most of all, their defensive line has dominated at home -- 21 sacks in five games, holding opponents to an average of 78 yards on the ground. The old saying "defense travels" doesn't really apply to the Jets.
November, 16, 2013
11/16/13
8:00
AM ET
Our weekly Q & A is with Hall of Fame running back Curtis Martin, who was in the news recently. He accepted an invitation by
Miami Dolphins
owner Stephen Ross to serve on an advisory committee to review the Dolphins' conduct policies and make recommendations in the aftermath of the
Richie Incognito
-
Jonathan Martin
bullying scandal:
How does a former Jets great end up on a Dolphins committee?
Martin
: It doesn't have anything to do with it being the Miami Dolphins; this is a universal problem. It's this situation. You know all about the turmoil it has caused. Stephen wanted to pick out individuals he trusted, people like (former Dolphins)
Jason Taylor
and
Dan Marino
. I'm more of an outside point of view.
You don't see anything weird about it?
[+] Enlarge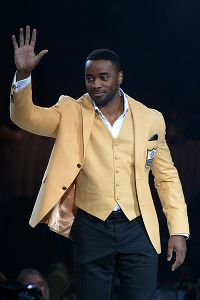 Kirby Lee/USA TODAY SportsCurtis Martin is going to serve on an advisory committee to review the Dolphins' conduct policies in the aftermath of the Jonathan Martin-Richie Incognito situation.
Martin:
No. At the end of the day, the NFL is part of my family now. It wouldn't matter what team it was. This is something I wanted to do. It's a very important issue.
In all the years you played, did you ever witness this type of bullying?
Martin:
No, I've never seen anything like it, personally. I'll be really interested to see the final facts. In a situation like this, you have to get all the facts and make a judgment. When I was playing, there's no way I'd be aware of a situation like this and not address it. I take this issue very seriously. I hear a lot of people saying a lot of things. People say [the Dolphins] had to know it was going on, but that's not necessarily true. Really, I'd rather wait until we have all the facts before I say anything more about it.
How did you get to know Stephen Ross?
Martin
: We've had some interactions in the past. I definitely have a lot of respect for him. From his words, I think he appreciates the way I think about things.
When you retired in 2007, you said you were close to becoming involved in the ownership of an NFL team A short time later, Ross purchased the Dolphins. Were you talking to him about becoming a part owner of the Dolphins?
Martin:
When I was freshly retired and looking to buy into team, he was one of the guys generous enough to give me good advice. I was seeking out the expertise and experience from different owners. I wanted to talk to some owners who had been around a long time, and I wanted to talk to new owners.
Let's talk about the Jets. Are you surprised they're doing so well?
Martin
: I don't necessarily feel surprised about it. I always like to see how things play out. I'm glad they're doing well. Say what you want, but 5-4 is encouraging. There's a lot of potential there. Geno [Smith] is growing and growing.
What do you think their record would be if Mark Sanchez still were the quarterback?
Martin:
That's a real guess. To be honest, if I knew, I'd say. Sanchez has had pretty decent years, but I like Geno's talent. He's versatile. He has escapability, along with a pretty good arm. Once this kid totally understands the game … I equate it to chess. When I started to learn to play chess, I made some good moves, but I didn't have a sense of the whole board. It's the same thing with playing quarterback. You have to know where everybody is on the field. That will come in time. Geno will be very dangerous as he develops that quality.
You're also a member of the Super Bowl XLVIII committee. How's that going?
Martin:
It's been a learning experience. I always thought the teams just showed up at the game, there was more traffic and that was all there was to the Super Bowl. But it's so much more than that. You have to work with the lighting on the field, transportation, sponsorships. What if it snows? It's really a huge, huge task to put on a Super Bowl. Woody Johnson wanted me to sit in on the committee, on hehalf of the Jets, and I consider it a tremendous honor. This is going to be one of the biggest, best Super Bowls ever.