New York Jets:

Super Bowl XLVII
February, 4, 2013
2/04/13
11:55
PM ET
The NFL is a copycat league, but I don't think the Ravens' 34-31 win over the 49ers in Super Bowl XLVII will spark any new trends in 2013.
Let's face it, the Ravens were outplayed in some respects. I don't think GMs and coaches will look at the Ravens' winning formula and say, "That's what we need to do." After all, they were outgained by 100 yards and allowed a 300-yard passer, a 100-yard rusher and two 100-yard receivers -- not recommended for consistent winning.
However, we can extract a few things from the game that can be applied to the current plight of the Jets. For instance:

1. All about the quarterbacks:
Unlike the Jets, who have coached around
Mark Sanchez
for the better part of four years, the Ravens and 49ers made
Joe Flacco
and
Colin Kaepernick
the focal point of their respective offenses. They weren't game managers, they were game changers -- Flacco with his pocket passing, Kaepernick with his dual-threat skills. Kaepernick began the day with only nine career starts, but he certainly wasn't babied by coach
Jim Harbaugh
. On championship teams, the quarterback is the catalyst, not a complementary player. If the Jets don't feel that way about Sanchez, they need to find a new QB -- and they might.
2. Leadership matters:
The Ravens were built on strong leadership, from old war horses (
Ray Lewis
and
Ed Reed
) to young, ascending stars (like Flacco). That served them well in the third quarter, when the 49ers reeled off 17 unanswered points to make it a game. Instead of panicking, the Ravens regrouped and finished the job. Every championship team has a few good men. The Jets used to have a bunch of them, but they eliminated too many leaders over the last couple of years. This should be a point of emphasis for new GM John Idzik.
3. Revis Island in the Bay area:
If
Darrelle Revis
is put on the trading block, the 49ers should waste no time in calling the Jets. Flacco torched the 49ers' secondary for 287 yards, averaging 13 yards per completion. The secondary didn't get much help from the pass rush -- where did you go,
Aldon Smith
? -- and the back end wasn't up to the challenge. The 49ers did a nice job on vertical threat
Torrey Smith
, but they didn't have a physical corner who could bang inside with
Anquan Boldin
(six catches for 104 yards). He was money on third down, catching all four passes thrown to him, including a TD. Imagine if they had Revis; Harbaugh wouldn't be whining and the 49ers would be preparing for a victory parade.
4. The pistol has pop:
Rex Ryan said after the season that he'd like to incorporate the "pistol" formation into the Jets' offensive repertoire. Most of the 49ers' rushing attack came out of the pistol. Unofficially, they racked up 124 of their 182 rushing yards on 20 designed rushes in which Kaepernick took a direct snap and handed off. The pistol is more unpredictable than the shotgun because the running back is directly behind the quarterback, not to his side, making it harder for the defense to anticipate which way he'll run. This would be a nice wrinkle for the Jets' ground game.
5. Defensive depth is important:
Let's face it, neither team played a vintage defensive game. The Ravens and 49ers allowed a combined total of 835 yards, perhaps because fatigue was a factor. The 49ers used primarily only 13 players on defense, a remarkably low number in this era of specialization. The Ravens used 16, closer to the norm but still not an overly high number. With so many teams employing spread offenses, it's imperative that teams develop a deep defensive roster, especially on the back end.
January, 22, 2013
1/22/13
2:00
PM ET
In less than two weeks, the
Baltimore Ravens
and
San Francisco 49ers
will meet in Super Bowl XLVII.
Here are some connections the
New York Jets
will have to the game.
NINERS CONNECTIONS
• Niners center
Jonathan Goodwin
played for the Jets from 2002-05.
• Niners defensive coordinator Vic Fangio and offensive coordinator Greg Roman were both on the Ravens staff at the same time as Jets head coach Rex Ryan and (soon-to-be) defensive coordinator Dennis Thurman.
[+] Enlarge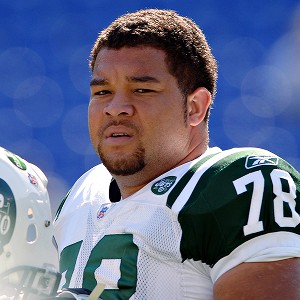 George Bridges/Getty ImagesNiners center Jonathan Goodwin started his NFL career with the Jets.
• Niners secondary coach Ed Donatell served as the Jets secondary coach from 1990-94 and was a special assistant on the 2007 staff.
• Brad Seely, the 49ers assistant head coach/special teams coordinator, served as the Jets' special teams coach in 1994.
• Niners senior offensive assistant Paul Wulff played on the offensive line for the Jets in 1990.
• Niners quarterback
Alex Smith
and Jets defensive tackle
Sione Po'uha
were teammates at Utah.
• Niners defensive tackle
Ray McDonald
and Jets quarterback
Tim Tebow
played together at Florida.
• Niners defensive tackle
Ricky Jean-Francois
and Jets safety
LaRon Landry
were teammates at LSU.
• Niners receiver
A.J. Jenkins
and Jets tight end
Jeff Cumberland
played together at Illinois.
• Jets running back coach
Anthony Lynn
played for the Niners from 1995-96.
• Jets tight end
Konrad Reuland
was on the Niners practice squad in 2011.
• Jets free agent wide receiver
Braylon Edwards
played for the Niners in 2011.
• New Jets offensive coordinator Marty Mornhinweg served as the Niners' offensive coordinator/quarterbacks from coach 1997-2000.
• Jets wide receiver
Santonio Holmes
and center
Nick Mangold
played with Niners safety
Donte Whitner
, receiver
Ted Ginn Jr.
and guard/tackle
Alex Boone
at Ohio State.
• Jets offensive lineman
D'Brickashaw Ferguson
was teammates with Niners linebacker
Ahmad Brooks
at Virginia.
• Jets linebacker
David Harris
and Niners receiver
Mario Manningham
played together at Michigan.
RAVENS CONNECTIONS
• Ryan and Thurman both coached on the Ravens' staff.
• Jets linebacker
Bart Scott
played for the Ravens from 2002-08.
• Ravens safety
James Ihedigbo
played for the Jets from 2007-10.
• Ravens safety
Emanuel Cook
played from the Jets from 2010-11.
• Ravens wide receivers coach Jim Hostler served as the Jets' quarterbacks/wide receivers coach from 2003-04.
• Ravens scout
Lonnie Young
started out with the Jets in 2002.
• Ravens rookie running back
Bernard Pierce
and Jets defensive lineman
Muhammad Wilkerson
were teammates at Temple.
• Ravens linebacker
Courtney Upshaw
and Jets quarterback
Greg McElroy
played together at Alabama.
• Jets running back
Bilal Powell
and Ravens running back
Anthony Allen
played together at Louisville. Allen transferred to Georgia Tech, where he played with Jets receiver
Stephen Hill
.
• Jets rookie safety
Antonio Allen
and Cook were teammates at South Carolina.
• Jets rookie defensive lineman
Quinton Coples
and Ravens linebacker Michael McAdoo were teammates at North Carolina.
• Jets free agent running back
Shonn Greene
and Ravens offensive lineman
Marshal Yanda
played together at Iowa.
• Jets rookie linebacker
Demario Davis
and Ravens defensive tackle
Bryan Hall
were teammates at Arkansas State.
• Tebow and Ravens wide receiver
Deonte Thompson
played together at Florida.