New York Jets:

Super Bowl XLVIII
February, 3, 2014
2/03/14
1:11
AM ET
EAST RUTHERFORD, N.J. -- Nineteen years before his confetti shower Sunday night at Super Bowl XLVIII, Pete Carroll was a guy without a job. It was early January 1995, and he walked into his owner's office, carrying a binder that included his offseason plan for the
New York Jets
.
Carroll had gone 6-10 in his first season as head coach, but he had worked a week of 15-hour days when the season ended. Now he was looking forward to presenting his strategy to 80-year-old Leon Hess, best known for his expertise in oil, not football. Carroll sat in an anteroom with colleagues; it was like being outside the curtain, waiting to see the Great Oz.
His meeting with Hess lasted only 45 seconds, according to a person who was there -- a dark chapter Carroll has refused to discuss.
"I'm done," a stunned Carroll told a friend as he walked out.
Rock, meet bottom.
Carroll rebounded from that low point, reaching the top of his profession on the same plot of swamp land in New Jersey on which he failed in his first head-coaching gig. The Super Bowl was over almost as quickly as his meeting with Hess all those years ago, as the
Seattle Seahawks
jumped
Peyton Manning
and cruised to a
43-8 rout
of the
Denver Broncos
at MetLife Stadium.
A nice guy finished first.
Afterward, Carroll stood at an interview podium, with two pieces of green confetti shimmering in his silver hair. At 62, he was the third-oldest coach in history to win a Super Bowl, a twice-fired NFL head coach who bolted his USC dynasty before the NCAA posse arrived in town.
Now, he's a Super Bowl champion.
"Is this vindication for the 'spike' play?" he asked, alluding to
Dan Marino
's legendary fake spike in November 1994 -- the play that doomed Carroll.
Looking into the cameras, Carroll said, "Hey, Marino, you got a lucky freaking play, all right? It happened. That was a long time ago."
Carroll never got a chance to use that meticulously prepared plan in New York, but he saved it and -- with help from general manager John Schneider -- rebuilt the Seahawks with that very blueprint. It was on display on the sport's biggest stage. To say the Seahawks dominated would be like saying their owner, Paul Allen, is rich.
The Seahawks captured their first Super Bowl with a performance that reflected Carroll's personality. They were loose and confident, energetic and California cool -- not bad for a team that had no players with previous Super Bowl experience.
Carroll set an early tone with trickeration, an end around for
Percy Harvin
and a throwback pass to quarterback
Russell Wilson
. The latter didn't work, but it sent a message.
Carroll, all about having fun, was going to play this game the same way. Hey, maybe he learned something from funny man Robin Williams, an old high school classmate. In contrast, the Broncos were tight, and it showed on the first play -- a miscommunication that resulted in an errant shotgun snap and a safety.
Twelve seconds into the game, the score was 2-0.
It felt like 22-0.
Before it was over, the Seahawks had scored almost every way imaginable -- a safety, an interception return and a kickoff return. All three phases contributed to a monster performance.
"That's exactly how we try to play," Carroll said. "We've put that up pretty consistently for a lot of years -- not just [in Seattle], but for a lot of years. I'm thrilled that it came out so clearly, so obviously, because that's how we wanted to put a stamp on a world championship."
Throughout the blowout, Carroll never stopped being Carroll, bouncing around, patting rears and slapping shoulder pads. Back in the day, he was mocked for his player-friendly style, and critics claimed he was too nice to be a leader of men.
The criticism resurfaced in 1999, when he was fired by the
New England Patriots
after three seasons. The daunting challenge of succeeding Bill Parcells proved too great for Carroll. It ended with another owner, another meeting and another pink slip.
[+] Enlarge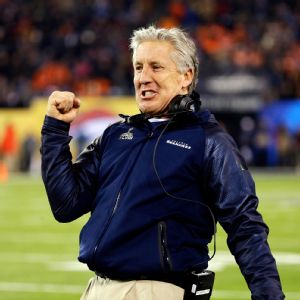 AP Photo/Matt SlocumSeahawks coach Pete Carroll stayed true to his coaching beliefs -- despite a couple of NFL pink slips -- to earn his first Super Bowl title Sunday night.
Carroll never changed his ways. He just became an older version of himself. He wore a badge of that enthusiasm on his left cheek, a three-inch scratch. He revealed that it occurred in Friday's practice, when he volunteered to return a kickoff in a drill. He stepped in because he wanted to give Harvin a rest, and -- sans helmet -- he received a glancing blow from
Derrick Coleman
.
He laughed about it. Why not? Carroll became the third coach in history to win a Super Bowl and an Associated Press national title in college. He joined Barry Switzer and Jimmy Johnson in that small fraternity.
"It feels very much the same," said Carroll, comparing a bowl win with a Super Bowl win.
Carroll put the Seahawks in the right frame of mind by balancing fun and X's and O's. Not known as a micromanager, he actually practiced halftime in Friday's practice. That's right, they orchestrated the entire thing, minute by minute, familiarizing the players and staff with the longer-than-usual halftime for the Super Bowl.
"I think Pete does a great job of making every day seem like a championship," cornerback
Byron Maxwell
said.
The "score" was 14-14 when they did it in practice. On Sunday, the halftime score was 22-0, which became 29-0 when Harvin returned the second-half kickoff 87 yards for a touchdown. That came with 12 seconds gone, same as the safety at the start of the game.
It truly was a testament to the 12th Man, Seattle's home crowd.
"He's the most forward-thinking coach for the players of today that I've ever seen," said Allen, marveling at Carroll's halftime prep.
Carroll was thinking that way in 1994, when the Jets -- a backward franchise at the time -- took their forward-thinking coach and sent him packing with a "You're fired!" that was so quick and cold that it would've made Donald Trump blush.
January, 31, 2014
1/31/14
1:15
PM ET
NEW YORK -- Yeah, Rex Ryan likes
Richard Sherman
as a cornerback. But he's no
Darrelle Revis
.
Obviously, the
New York Jets
' coach is biased when it comes to the Great Cornerback Debate, but he claimed that Revis' performances in 2009 and 2010 were superior to what Sherman did this season for the
Seattle Seahawks
.
Sherman
Revis
"Sherman's probably a guy who has played as well as any corner in the league this year," Ryan said Friday during a promotional appearance on Super Bowl Boulevard in Manhattan. "But, overall, the year that Revis had the first two years I was here, I don't think Richard Sherman or anybody could compare to the years Revis had."
Ryan gave a technical explanation, saying they were so confident in Revis' man-to-man coverage ability that they put him in difficult situations week after week.
"What we did with him, how we played defense, we put him on the No. 1 guy and locked him down, and rolled our coverage and played loaded zones away from him constantly," said Ryan, who coached Revis from 2009 to 2012. "I'm not sure that's ever been duplicated."
But the Jets traded him anyway, sending Revis to the
Tampa Bay Buccaneers
last offseason.
In case you're wondering, Ryan picked the
Denver Broncos
to beat the Seahawks.
Ryan said he likes having the Super Bowl in New York/New Jersey. Obviously, he wishes the Jets could be playing, but, "(It) could be worse. New England could be in it. I think it kind of fuels it a little bit. You realize how bad you want it, how bad you want to be in it."
Ryan said he'll watch Sunday from home.
"I thought about going to the game," he said, "but I don't know if I could handle it."
January, 30, 2014
1/30/14
3:00
PM ET
JERSEY CITY, N.J. -- When he played for the
New York Jets
in 2005, tight end
Joel Dreessen
experienced perhaps the most tumultuous quarterback season in team history. The Jets used five quarterbacks that year --
Chad Pennington
,
Jay Fiedler
,
Vinny Testaverde
,
Brooks Bollinger
and
Kliff Kingsbury
.
[+] Enlarge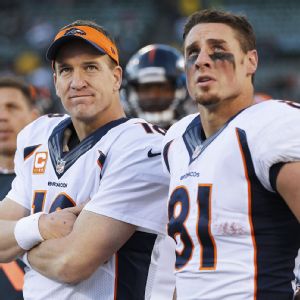 AP Photo/Marcio Jose SanchezFormer Jets tight end Joel Dreessen, right, described Broncos teammate Peyton Manning as an extraordinarily demanding and tireless worker.
Now he has one --
Peyton Manning
.
Dreessen, a sixth-round pick of the Jets in '05, has gone from a mess to a football messiah. In an inteview Thursday with ESPNNewYork.com, he provided insight into what it's like playing with one of the best quarterbacks in history.
Dreessen described Manning as an extraordinarily demanding and tireless worker who never accepts excuses for failure:
"If you drop a pass, he'll try to settle you and say, 'You have to make that play, you have to make that play,'" said Dreessen, who signed with the
Denver Broncos
in 2012. "It's not like he's trying to embarrass you or make you feel like crap. There was one time, I dropped a pass. It was in Mile High, a regular-season game. The sun was in my eyes and I couldn't see it and I couldn't bring in the ball. He yelled at me and I said, 'Man, I can't see.' The whole next week at practice, he was giving me grief for the sun being in my eyes. Basically, it was like, 'You have to learn to catch the ball even when the sun is in your eyes.
"When we miss a throw in practice, you can expect to stay after to do it again, even if it's just on air. He wants to walk off the field feeling good about every play.
"On game day, he's pretty serious. He doesn't joke in the huddle or on the sideline. He'll joke around in meetings at times, but I can't think of any game day where he did. Actually, I remember one game where he smiled. It was the opener [Manning's seven-touchdown performance]. I was inactive because I was hurt. He had just thrown touchdown No. 5 against the Ravens and I greeted him on the sideline. I said, 'Five touchdowns?!' He was smiling a little and, under his breath, he said, 'There might be more.' He was right.
"He's a machine. It makes you feel like, if you're in another offense or have another quarterback, you're beating your head against the wall because they can't do what he does as far as getting us in the best play every time. Really, he's like a scientist, except he's 6-foot-5 and he throws the ball amazingly accurate.
"He's going to put it most of the time where you -- and only you -- can catch it. When I first got here, I was frustrated because if I was wide open, most quarterbacks would put the ball right on me. But he's going to keep leading you so you can run underneath it and have more room to run after the catch, keeping it further away from the defender. It's a very catchable ball, a very accurate ball. Even when it's not, he expects you to catch it.
"You definitely want to match his work ethic and preparation. It kind of gets to be a competition: Who can know more about the opponent than Peyton? Who can know the offense better than Peyton? He'll go around the room and quiz guys about their assignments on particular plays. It happens all the time. He makes sure you're on top of it. He really does raise the expectation level at every position. Same with the coaches. He wants information from the coaches. Before he starts his preparation, he wants breakdowns and statistics. It's not just the players he raises up, it's the coaches, too.
"I always come in on Tuesday [our day off] to do some weight lifting. By the time I leave around lunch time, he's coming in early to get a jump-start with the coaches on the game plan. His day off is really not a day off. He truly honors all six months of the season. He takes a few hours off here and there, but I've never seen him take a full day off.
"Honestly, I can say he's not preparing any different for this game than he would a preseason game. I kid you not. Every game is important. To say he's preparing harder for the Super Bowl would be an insult because that would suggest he wasn't preparting as hard as he could for the other games.
"Some day, if I'm telling my grandchildren about Peyton Manning, I'd probably describe how gifted a person he is as far as his intelligence and his technique and his accuracy. I'd describe those things and add to it his work ethic. He's gifted, but he worked at it."
January, 29, 2014
1/29/14
7:30
PM ET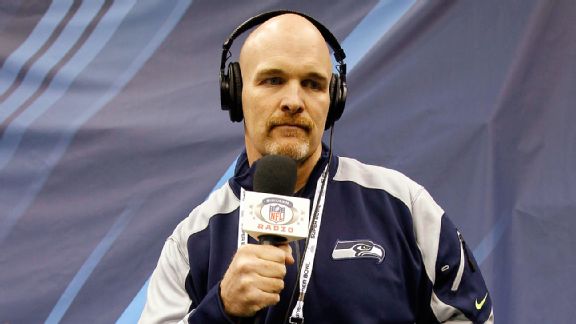 Adam Hunger/USA TODAY SportsSeahawks defensive coordinator Dan Quinn has been in demand.
JERSEY CITY, N.J. -- Dan Quinn is a Jersey Guy. He grew up in a five-bedroom colonial in Morristown, listening to Bon Jovi and rooting for the
New York Giants
of Parcells and Taylor and Carson. He lived for the Jersey Shore, long before it was a TV show, and he dreamed of one day of coming home to coach football.
Quinn did it for two years, in 2007 and 2008, coaching the defensive line for Eric Mangini's
New York Jets
. You never know, maybe there will be more green in his future, because if Rex Ryan disappoints in 2014 and gets fired, Quinn will be high on general manager John Idzik's list of replacement candidates.
But that's crystal ball talk, especially this week, with Quinn back home for Super Bowl XLVIII. He's the defensive coordinator of the
Seattle Seahawks
, and his job is to figure out what so many others have tried (and failed) to do this season: Make
Denver Broncos
star
Peyton Manning
play like a mortal quarterback.
Quinn, 43, isn't coming into this with decades of been-there, done-that experience, that's for sure, but he has worked for several respected coaches in a relatively short amount of time. Pete Carroll. Nick Saban. Steve Mariucci. And the late Joe Gardi, the former Hofstra coach who made his bones as a Jets defensive assistant during the heyday of the New York Sack Exchange.
"It was one of the most awesome places to come up as a young coach," Quinn said of his five years at Hofstra (1996-2000), which produced NFL players
Wayne Chrebet
,
Willie Colon
,
Lance Schulters
and
Marques Colston
before the university's suits decided to shut down the football program.
After jobs with the
San Francisco 49ers
and
Miami Dolphins
, Quinn ended up back on the Hofstra campus, except it was to work for the Jets, who trained at the Long Island school before moving to Florham Park, N.J., in 2008. He saw a lot in a short amount of time with the Jets, experiencing one of the most talked-about years in team history.
[+] Enlarge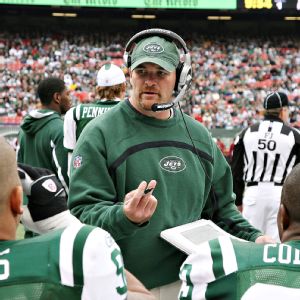 Al Pereira/Getty ImagesQuinn, who spent two seasons coaching the Jets' defensive line, is no stranger to working in East Rutherford, N.J., site of Sunday's Super Bowl.
Brett Favre
, 2008.
Quinn said the quarterbacks had a small basketball hoop in their meeting room and that, during breaks, Favre organized games. He described the future Hall of Famer as ultra competitive.
"He was one of the most fun guys to be around," Quinn said, smiling. "He had a great energy about him in terms of the way he conducted himself."
Unfortunately for the Jets, Favre's arm gave out, the team collapsed in the home stretch, it missed the playoffs, and Mangini was fired.
In came Ryan, who cleared out almost the entire coaching staff, including Quinn. But there was something different about Quinn's departure. People remember how a variety of staffers, from the video department to the grounds crew, showed up to say goodbye -- a reflection of his popularity.
Quinn went to Seattle, where he was introduced to Idzik, then a Seahawks executive. Quinn stayed for two years and returned this season, with a two-year stint as the University of Florida defensive coordinator sandwiched in between. He was Carroll's immediate choice to replace Gus Bradley, who left to become the
Jacksonville Jaguars
' coach.
Under Quinn, the Seahawks improved, going from No. 4 to No. 1 in total defense. Obviously, he inherited a tremendous amount of talent, but there's something to be said for not messing up a good thing. In some ways, he made it better, especially against the pass.
"He represents our mentality and our approach really well, that's why we were so excited to get him back," Carroll said. "He's everything beyond what I thought he'd be. He was able to not just capture [our philosophy], but accent it, doing it in his fashion."
Quinn has worked for polar opposites in Carroll and Mangini. Carroll is laid back, the epitome of California cool. Mangini is rigid and uptight, a micromanager. But Quinn liked his time with Mangini, praising his organizational skills and saying "there was an upper level of thinking with Eric."
Carroll has a Mr. Nice Guy reputation, but he challenges his assistants in the meeting room, seeing how they respond in hypothetical game situations. Of course, there's a soft edge.
"There are a lot of different ways to do the job," Quinn said.
Quinn has drawn attention around the league. During the Seahawks' playoff bye, he interviewed for the
Cleveland Browns
' head-coach vacancy. He might have landed the job, but he was penalized by the Seahawks' success. The Browns didn't want to wait for Quinn, so they hired Mike Pettine.
"No complaints on my end," said Quinn, who will be a hot candidate next year.
What's to complain about? He's preparing for a Super Bowl in East Rutherford, N.J., where he spent part of his youth cheering for his champions. If he wins Sunday, he'll walk among them.
January, 29, 2014
1/29/14
5:00
PM ET
JERSEY CITY, N.J. -- The
New York Jets
haven't received this many compliments since they made the playoffs in 2010. Their 6-year-old training facility in Florham Park, N.J., is drawing rave reviews from the
Denver Broncos
, who have been practicing there this week.
"It's a beautiful facility. The locker room is tremendous," Broncos coach John Fox said Wednesday. "Their people have been great and have bent over to make sure we have everything we need."
On Monday, the Broncos practiced on the outdoor turf field, not the field house. On Wednesday, they were scheduled for a padded practice, with Fox predicting they'd go outside again. It's 28 miles from Jersey City, where the Broncos are staying, to Florham Park. Unlike commuters, who have to deal with traffic snarls on Interstate 78 and Route 24, the Broncos have a police escort.
Fox said his players are getting accustomed to the transit system, taking trips into Manhattan, but it's time to wear their game faces. The preparation was ratcheted up Wednesday, traditionally the most important practice day of the week.
"We've let them enjoy it and they've had a good time," Fox said. "We're kind of toning it down a little bit now. They had a curfew [Tuesday] night. They'll have another curfew tonight, so now we're getting back into game mode and we'll treat this Wednesday much like any Wednesday during the regular season or playoff season for our preparation. But the New York/New Jersey people have been great. We expected that. I knew they would be."
January, 28, 2014
1/28/14
7:30
PM ET
Cue the dream sequence.
NEWARK, N.J. -- Peyton Manning arrives at the Prudential Center for Super Bowl XLVIII media day, sharing a few laughs with his coach, Rex Ryan, as he walks to his designated interview podium. Manning, wearing a white and green-trimmed No. 18 New York Jets jersey, appears totally at home.

Because he is.

Manning is only 30 minutes from the Jets facility in Florham Park -- a.k.a. Peyton's Place, where he hopes to add a third Lombardi Trophy to the showcase. Coincidentally, the Jets' team hotel is the Manning Tower in Jersey City -- a breathtaking high rise on the Hudson that he co-owns with his not-so-silent partner and close friend, Donald Trump. Manning, as you might know, inhabits the entire 18th floor.

"I'm excited to be in another Super Bowl, representing the New York Jets," Manning begins.
* * *
Well, it could've happened.
[+] Enlarge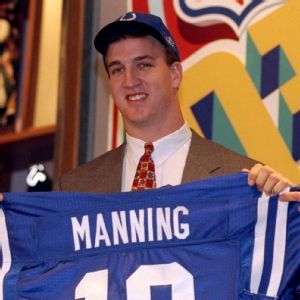 Ezra C. Shaw/AllsportWhat would have happened if Peyton Manning was holding a Jets jersey instead of this Colts one?
In the winter of 1997, Manning ostensibly snubbed the Jets by deciding to stay in school for another year. The Jets owned the No. 1 overall pick, and Bill Parcells, new on the job, could've started one of the most daunting rebuilding projects in NFL history by drafting Manning and making him the centerpiece.
After much consideration, Manning decided he'd rather remain a Tennessee Vol than a Parcells volunteer.
In the tortured history of the Jets, it remains one of the most haunting what-if questions: What if Manning had turned pro in '97? By staying true to his school, he altered the landscape of the league.
Parcells, in an interview this week with ESPNNewYork.com, said he didn't try to convince Manning to leave school because of a "strong mandate" by the league, which didn't want teams attempting to influence underclassmen.
"I kind of laugh when people say I should've talked him into it," Parcells said. "I wasn't capable of doing that."
Why didn't he attempt to recruit Manning through his father, Archie? Parcells paused.
"I think they had a pretty good idea of what would've happened if they came out," Parcells said.
The Hall of Fame coach hasn't revealed too much over the years about that chapter -- some believe he would've traded the pick to accumulate extra draft choices -- but he strongly hinted he would've selected Manning.
"Obviously, we had an interest in a quarterback, so, had he been available, I'm certain he would've been very, very strongly in the mix," said Parcells, claiming he always had a "gut feeling" that Manning would stay at Tennessee.
But Manning kept people guessing, which fueled hope among Jets fans, many of whom already were tired of Neil O'Donnell after one season. On the morning of his announcement, the local paper in Knoxville, Tenn., ran a front-page headline that said its favorite son was prepared to jump to the NFL.
A poker-faced Manning added to the drama in his news conference, speaking of Tennessee in the past tense as he made his opening remarks. After about a minute, he cracked a smile and declared his intention to stay. The room exploded with applause. There were mini-eruptions across the campus, which stopped to watch the announcement on closed-circuit TV. Remember, this was long before Twitter.
At the same time, Manning crushed Jets Nation.
"There are times when good fortune strikes, and there are times when it doesn't," said Parcells, who eventually traded the pick and selected linebacker
James Farrior
at No. 8 overall.
Not surprisingly, Manning has always taken the high road, claiming that Parcells' arrival in New York that winter actually complicated the decision for him.
"Parcells shook things up for me a little, but when he was hired there, it made this decision a lot tougher, knowing he was there." Manning said at the time. "I had no negative thoughts about the Jets whatsoever."
Manning went No. 1 overall in 1998, and things have worked out quite nicely for him. If he beats the
Seattle Seahawks
for this second Super Bowl title, he will fuel debate on whether he's the greatest quarterback in history.
Parcells is an admirer, for sure, but he wasn't ready to anoint Manning back in the day. Asked if he knew Manning would be special, the old coach showed his gruff side.
"I'm not too quick to judge guys," he said. "The guy picked right behind him [
Ryan Leaf
], somebody thought he was going to be special, too."
The football business is inexact, and it's difficult to predict how players would fare in different situations, but let's be real: Manning would've been huge in the New York market.
"I think he would've had a long, long run there," said agent Leigh Steinberg, who once represented the biggest quarterback stars in the sport. "He would've been very dominant in New York, probably the biggest football personality in that city since Joe Namath."
The Jets have been searching for the next Namath for 40 years. Two years ago, they made another pass at Manning, but it was a brief flirtation. It lasted as long as a belch.
When the
Indianapolis Colts
released Manning in March 2012, then-general manager Mike Tannenbaum placed a call to Manning's agent, Tom Condon.
"It was a quick, cursory call," recalled Tannenbaum, performing due diligence. "We had a young quarterback [
Mark Sanchez
] we felt good about, but when a player like Peyton Manning becomes available, you have to check it out. I had a very good sense right away that he knew what he wanted to do."
In other words, Manning wanted no part of the Jets.
Again.
Later that day, the Jets announced they had signed Sanchez to a contract extension, an affirmation that backfired.
This week, Manning is practicing at the Jets' facility as the
Denver Broncos
prepare for Sunday's game at MetLife Stadium.
Some blows never stop stinging.
January, 27, 2014
1/27/14
1:15
PM ET
New York Jets
owner Woody Johnson is a busy man these days, bouncing around New York and New Jersey in Super Bowl-related events, but he paused for a few moments Monday to answer a couple of questions about his football team -- his first comments since Rex Ryan signed his contract extension.
"Oh, yeah, I mean, you can't beat Rex," Johnson said after a Manhattan news conference conducted by the Super Bowl XLVIII host committee. "Rex is a great coach, as I've said many times. Great D. He's grown in the role immeasurably."
Johnson touched on a couple of other items:
"
Training camp
: He reiterated what the team announced last week -- it's exploring location options -- but he said "we'll probably be" at SUNY-Cortland again this summer. Contractually, the Jets have an option.
"
On hosting the Broncos in Florham Park
: Johnson said "it's bittersweet" because he wanted the Jets to be in the Super Bowl, but he said they'd extend a warm welcome to the AFC champions, who will start practicing Monday at the Jets' facility. Asked if it would've been uncomfortable hosting the
New England Patriots
, Johnson said, "We'd rather not have somebody in our division."
Johnson echoed the sentiment that
New York Giants
co-owner John Mara had expressed only minutes earlier. Asked how it felt to be hosting the
Seattle Seahawks
, Mara cracked, "It could've been worse" -- meaning a division opponent such as the
Dallas Cowboys
.
" No logos
: In preparation for the Broncos' arrival, the Jets were required to cover their logos and various team-related placards that appear on the walls in the facility -- mainly around the locker room and the weight room. The idea is to make the Broncos feel like they're practicing at a neutral facility.
" Cold-weather Super Bowl
: Naturally, Johnson was excited about hosting the first outdoor, cold-weather Super Bowl in history. He said the owners "broke the ice barrier" when they awarded the game to the New York/New Jersey region.
"I think it's important to have an outside Super Bowl," Johnson said. "I don't want to use the word 'no-brainer,' but we've had 47 of these indoors and in the South. It's about time we played a Super Bowl in conditions, the way the game is routinely played."
January, 27, 2014
1/27/14
12:15
AM ET
Welcome to the Super Bowl, coach. Now about that game you lost 20 years ago. ...
That's pretty much how it went Sunday night for
Seattle Seahawks
coach Pete Carroll, who arrived in New Jersey and -- eight questions into his first news conference -- was asked about his ill-fated season as the
New York Jets
' head coach, 1994. The turning point, as every tortured Jets fan knows, was
Dan Marino
's game-winning fake spike play in the 12th game.

Carroll
"It could have been entirely different had we just hung on and won that game," Carroll said.
Quick history lesson: The Jets were 6-5, playing the
Miami Dolphins
for a share of first place in the AFC East. The Jets blew a 24-6 lead and lost in the final seconds, when Marino duped the Jets into thinking it was a "clock" play -- except he threw the game-winning touchdown pass to Mark Ingram. Carroll lost the next four games, finished 6-10 and got fired. In came Rich Kotite, who lost 28 of his 32 games.
The fake spike is regarded as one of the pivotal moments in Jets history.
"It didn't have to be," Carroll said. "When you look back on it, that's what you would point to because we lost four games after that as well. There was a time in that game when we were ahead and doing great, and it just kind of went south on us. That play has been a pretty famous play, and I'm glad for Dan. That's the only guy I'm glad for, that he pulled it off. It was a moment when things turned."
Carroll hasn't talked much over the years about his bitter divorce from the Jets, but on the first official night of Super Bowl hype -- before a packed news conference comprised of many local reporters -- he took the high road. He spoke glowingly of his five seasons with the Jets, the first four as the defensive coordinator.
No, he didn't think about it on the long plane ride, "but I have thought about it quite a bit," he said. "It has come up in the week's preparation already. I've always loved playing in New York. I loved the fact that I had a chance to be here for five years. To have a chance to be a head coach in New York is an extraordinary honor because of the history and the following and all that goes along with that.
"Unfortunately it didn't last very long, but it still was a great experience and I remember it well. I'm really proud to come back here and coach in a game like this, this status, in places we once lived and worked. It's a special honor to do that."
Well played.
January, 21, 2014
1/21/14
3:05
PM ET
Pete Carroll doesn't have fond memories of his time with the
New York Jets
, and that's understandable. He went 6-10 in his only season as the head coach and was unceremoniously fired, replaced by Rich Kotite.
Now Carroll returns to New Jersey for Super Bowl XLVIII, coaching the NFC champion
Seattle Seahawks
. On Monday, he was asked if it's a "full-circle" moment for him.
"I think my first time in New York as a head coach was kind of in the middle of the circle somewhere or maybe it wasn't even a circle, it might have been some other shape," Carroll joked. "It was kind of a hairy time."
Carroll's abrupt firing, and the infamous Dan Marino fake spike play that triggered the late-season collapse, overshadowed some good work as the Jets' defensive coordinator. From 1990 to 1993, the Jets ranked 23rd, 12th, 16th and eighth in total defense, respectively. They were even better in points allowed, finishing 17th, 10th, 18th and sixth.
Carroll demonstrated promise as a coach and then things got ... well, hairy, when owner Leon Hess decided he absolutely had to hire Kotite. The Jets went from hairy to scary.
January, 29, 2013
1/29/13
3:26
PM ET
Super Bowl XLVIII is barely one year away.

The big game will be played on Feb. 2, 2014, at MetLife Stadium in East Rutherford, N.J.

In the week leading up to kickoff, several events will be held in the New York/New Jersey area. Let's take a look:

• Super Bowl Boulevard, the sports and entertainment hub of Super Bowl week, will stretch from 44th Street -- in the middle of Times Square -- down Broadway to 34th Street from Jan. 29-Feb. 1. It will be a free festival open to fans from around the world.

Thanks to an assortment of interactive activities, fans can throw a touchdown, catch a pass or kick a field goal. Fans also will be able to see the Lombardi Trophy on display, attend nightly concerts, take part in football clinics and competitions, obtain autographs from players and visit NFL-themed exhibits.

• The Super Bowl Media Center will be held at the Sheraton Hotel in midtown. More than 5,000 media will be credentialed for the event.

• The Friday Night Party and the annual NFL Honors awards show will take place in New York on Jan. 31.

• The NFL will work out of its league headquarters on Park Avenue.

• In New Jersey, there will be a series of activities. Media Day will be held at Prudential Center in Newark on Jan. 28. The NFL's Tailgate Party will be held at the Grandstand at the Meadowlands Racetrack in the final hours before kickoff.

• Both teams will stay at hotels in New Jersey. The NFC team will practice at the Giants' facility in East Rutherford, while the AFC team will practice at the Jets' facility in Florham Park.