July, 13, 2014
Jul 13
8:00
AM ET
Breaking down the New York Jets' roster, unit by unit, in preparation for training camp, which starts July 23.
Position
: quarterback
Smith
Projected starter
:
Geno Smith
.
Projected reserves
:
Michael Vick
,
Tajh Boyd
.
Notable on the bubble
:
Matt Simms
.
Player to watch
: Obviously, it's Smith. He'll be under a daily microscope, with everyone -- coaches, media, fans -- looking to see if he has improved as much as the Jets said he has throughout the spring. He'll get about 70 to 75 percent of the first-team reps in practice, which means two things: The coaches are planning to structure training camp in a way that will allow Smith to claim the starting job if he performs at a competent level. But instead of giving him the typical share of starter reps (roughly 90 percent), they're hedging their bet, trying to get Vick ready in case Smith flops. It's a delicate balancing act, but there shouldn't be any issues as long as Smith doesn't blow it.
Top storyline
: The Smith-Vick dynamic will be a fascinating watch. Smith has a great deal of respect for Vick, certainly more than he had for
Mark Sanchez
, but he also knows Vick represents a legitimate threat to his job. Vick already is popular among his new teammates, and his candid style will make him a media favorite as well. How will young Geno handle that?
Training camp will be a success if ...
Reporters aren't asking Rex Ryan before the final preseason game why he hasn't named a starting quarterback. If they are, it means the Jets are waffling. Worse, it could mean there's an injury to consider (shades of last summer). The best-case scenario, from the team's perspective, is that Smith plays so well that the announcement is anticlimactic. If that's the case, Ryan could reveal his choice before the third game. Technically, Smith hasn't been named anything even though he has 16 starts on his résumé.
Wild card
: General manager John Idzik. We know how he feels about competition. We also know how that backfired last preseason -- i.e., Sanchez's pointless injury. Idzik should have a minimal role in the quarterback decision, leaving it up to the coaches.
By the numbers:
Smith has to do a better job under a heavy pass rush. When pressured, he completed only 28.7 percent of his passes (27-for-94) with one touchdown, five interceptions and a 28.5 passer rating, which ranked 38th in the league, per ESPN Stats & Information.
June, 15, 2014
Jun 15
5:00
AM ET
A few thoughts on the
New York Jets
as we head into the final week of the offseason:
1. Song remains the same:
Rex Ryan's remarks the other day about the
New England Patriots
(in response to
Calvin Pryor
's "hate" quote) triggered a memory. Ryan's comments -- "[Pryor] knows who the enemy is" -- came almost five years to the day in which he uttered his famous line: "I never came here to kiss Bill Belichick's rings." The takeaway: Five years later, not much has changed.
No one knows how the rest of the Ryan era will play out, but it's quite possible he could be remembered one day as a good coach who failed to rise above also-ran status because he was in the same division as the winningest coach-quarterback combination in history. Ryan hasn't been able to conquer Belichick and
Tom Brady
. No one has, as the Patriots have won the AFC East every year since Ryan took over the Jets in 2009 -- and a whole bunch of years before that. The same thing happened to the New York Knicks in the 1990s; they had some terrific teams, but couldn't get past Michael Jordan.
The Jets have been respectable under Ryan (42-38), the eighth-best record in the AFC over that span, but the Patriots are a league-best 61-19. The Jets finished four games behind the Patriots last season, and there's no reason to think they will overtake their longtime nemesis this season. With Brady expected to play a few more years, Ryan could be playing catch-up for the rest of the Brady-Belichick era -- if he lasts that long. Lousy timing for Ryan? Yeah, you could say that, but he also knew what he was signing up for in '09.
[+] Enlarge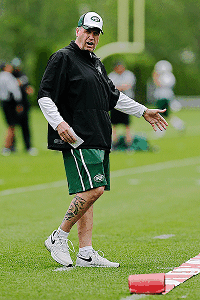 AP Photo/Julie JacobsonRex Ryan took some heat this past week after skipping the Jets' final OTA session in favor of taking his team on a bowling excursion.
2. Misplaced criticism
: Ryan's decision to cancel the final OTA practice in favor of a trip to a bowling alley fueled some mild backlash on social media. Actually, it's not unusual for a coach to skip the last day. Belichick, of all people, canceled his final OTA practices in 2012 and 2013.
He also took the Patriots to the movies late last season
. The criticism of Ryan is off base. It's June, for crying out loud! It's not like he took the team to Dave & Buster's on the eve of a big game. Oh, wait ...
3. A delivery of Flowers?:
Despite all the happy talk from the Jets about their cornerback situation, I think they should explore the possibility of signing
Brandon Flowers
, who was released Friday by the
Kansas City Chiefs
. The question is, will they? As of Saturday morning, they hadn't reached out to Flowers, according to a league source. Then again, John Idzik isn't a hurry-up kind of general manager, so you never know. In the end, I'd be surprised if the Jets show serious interest despite a need (in my opinion) at the position.
Despite a Pro Bowl appearance, Flowers is coming off a disappointing season in which he was demoted to nickelback. He was rated 87th out of 110 cornerbacks last season, according to ProFootballFocus. That he struggled under former Jets defensive coordinator Bob Sutton, whose system is similar to that of Ryan's, is worth noting. We also know Idzik is reluctant to spend significant money for another team's trash. But we're also talking about a 28-year-old player with a substantial body of work, someone who could benefit by a change of scenery. If they paid $3 million for the injury-prone
Dimitri Patterson
, why not make a run at Flowers, who would be an upgrade? They have about $21 million in cap room.
4. Goodson's future:
Flowers may have sealed his fate by not attending OTA practices, which are voluntary (wink, wink). The Jets'
Mike Goodson
did the same, prompting some fans to wonder why the Jets haven't cut ties with the troubled running back. Goodson's situation is complicated by his legal problems and perhaps personal issues. Remember, he was slapped with a four-game suspension last year for violating the league's substance-abuse policy. I find it hard to believe he'd deliberately stay from the team, jeopardizing his roster spot, unless there's an extenuating circumstance. His agent hasn't returned calls or emails seeking comment, and the Jets have been tight-lipped, except Ryan saying he hasn't heard from Goodson. Ryan said he expects Goodson to attend next week's mandatory minicamp.
5. New kid on the block
: Right tackle
Breno Giacomini
has spent his entire career on zone-blocking teams -- the
Green Bay Packers
and the
Seattle Seahawks
, his most recent team. The Jets run a mix of zone and gap blocking schemes, which will require a transition for Giacomini. Before signing him as a free agent, the Jets studied tape of how he fared against common opponents, and they came away convinced he could adapt to the specific style they use against certain teams.
6. Big Mike
: To improve his oft-questioned durability, quarterback
Michael Vick
added four pounds of "solid muscle," he told The Daily Press of Newport News, Virginia, his hometown. He told the newspaper he felt great throughout OTAs, proudly noting he scored a rushing touchdown last week.
"Still can move," Vick said. "Doesn't seem like any of my skills have diminished. … I still feel like I can play at a high level. That may be tested at some point this season, and I look forward to it."
Vick described himself as a "trendsetter," saying the mobile quarterbacks of today are continuing the style he brought to the league more than a decade ago. He added: "I was kind of the originator. That's something I can take to the grave."
7. Sheldon wants 'Mo money for Wilkerson
:
Muhammad Wilkerson
is taking a low-key approach to his looming contract negotiations, refusing to make public demands. Teammate
Sheldon Richardson
is doing the talking for him, telling the New York Post, "Hopefully, they do the right thing and pay the man." Oh, they will. The question is when. After exercising a fifth-year option, the Jets have Wilkerson under contract through 2015, so there's no sense of urgency.
Richardson has a personal stake in the matter because in two years, he'll be in the same boat as Wilkerson. If the Jets renegotiate with Wilkerson before his fourth season, it'll set a precedent for Richardson and other former first-round picks.
8. Picture of the week
: Here's
soccer star Cristiano Ronaldo receiving a throwing lesson
from wide receiver
David Nelson
. No Tebow jokes allowed.
9. The anti-Rex:
Can there be two coaches more dissimilar than Ryan and Jurgen Klinsmann? Klinsmann says it's not possible for his team -- the United States -- to win the World Cup. Ryan goes into every game telling his team they
will
win -- and I honestly think he believes it. Call me traditional, but I like Ryan's approach. Klinsmann might be right, but no one wants to hear that jive. It's a good thing we didn't have a guy like him coaching the 1980 U.S. hockey team.
10. Farewell to a champion
: The NFL lost a legend Friday night with the passing of former
Pittsburgh Steelers
coach Chuck Noll, who won four Super Bowls. Two Noll disciples became important figures in Jets history -- the late Bud Carson and retired personnel director Dick Haley. Carson, the Jets' defensive coordinator from 1985-88, ran the defense for Noll during the iconic Steel Curtain era. Haley, who worked for the Jets from 1991-2002, was one of the architects of the great Steeler drafts in the 1970s.
May, 25, 2014
May 25
9:00
AM ET
The
New York Jets
have nine of 12 draft picks under contract. The only unsigned players are safety
Calvin Pryor
(first round), cornerback
Dexter McDougle
(third) and cornerback
Brandon Dixon
(sixth). The process is moving along quickly because of the slotting system.
Let's take a look at the nine contracts:
Jace Amaro, tight end, second round --
Total value
: Four years, $4.29 million.
Total guaranteed
: $2.45 million.
Signing bonus:
$1.44 million.
2014 cap charge
: $780,545.
Base salaries
: 2014 -- $420,000 (fully guaranteed), 2015 -- $615,136 (fully guaranteed), 2016 -- $810,272, 2017 -- $1,005,408.
Jalen Saunders, wide receiver, fourth round
--
Total value
: Four years, $2.70 million.
Total guaranteed
: $481,448.
Signing bonus
: $481,448.
2014 cap charge
: $540,362.
Base salaries
: 2014 -- $420,000, 2015 -- $510,000, 2016 -- $600,000, 2017 -- $690,000.
Shaq Evans, wide receiver, fourth round
--
Total value
: Four years, $2.67 million.
Total guaranteed
: $450,900.
Signing bonus
: $450,900.
2014 cap charge
: $532,725. Base salaries: 2014 -- $420,000, 2015 -- $510,000, 2016 -- $600,000, 2017 -- $690,000.
Dakota Dozier, guard, fourth round
--
Total value
: Four years, $2.52 million.
Total guaranteed
: $300,584.
Signing bonus
: $300,584.
2014 cap charge
: $495,146.
Base salaries
: 2014 -- $420,000, 2015 -- $510,000, 2016 -- $600,000, 2017 -- $690,000.
Jeremiah George, linebacker, fifth round
--
Total value
: Four years, $2.41 million.
Total guaranteed
: $191,752.
Signing bonus
: $191,752.
2014 cap charge
: $467,938.
Base salaries
: 2014 -- $420,000, 2015 -- $510,000, 2016 -- $600,000, 2017 -- $690,000.
Quincy Enunwa, wide receiver, sixth round
--
Total value
: Four years, $2.3 million.
Total guaranteed
: $78,680.
Signing bonus
: $78,680.
2014 cap charge
: $439,670.
Base salaries
: 2014 -- $420,000, 2015 -- $510,000, 2016 -- $600,000, 2017 -- $690,000.
IK Enemkpali, linebacker, sixth round
--
Total value
: Four years, $2.3 million.
Total guaranteed
: $78,680.
Signing bonus
: $78,680.
2014 cap charge
: $439,670.
Base salaries
: 2014 -- $420,000, 2015 -- $510,000, 2016 -- $600,000, 2017 -- $690,000.
Tajh Boyd, quarterback, sixth round
--
Total value
: Four years, $2.3 million.
Total guaranteed
: $78,690.
Signing bonus
: $78,680.
2014 cap charge
: $439,670.
Base salaries
: 2014 -- $420,000, 2015 -- $510,000, 2016 -- $600,000, 2017 -- $690,000.
Trevor Reilly, linebacker, seventh round
--
Total value
: Four years, $2.28 million.
Total guaranteed
: $56,848.
Signing bonus
: $56,848.
2014 cap charge
: $434,212.
Base salaries
: 2014 -- $420,000, 2015 -- $510,000, 2016 -- $600,000, 2017 -- $690,000.
May, 20, 2014
May 20
12:00
PM ET
If
Tajh Boyd
is on the field this season, it's a bad sign for the
New York Jets
.
Nothing against Boyd, a record-setting college quarterback who seems like a terrific young man, but he's starting out as No. 4 on the depth chart. He will compete with
Matt Simms
for No. 3, meaning the ideal scenario for Boyd is a season of clipboard-holding duty. And yet there's something intriguing about the former Clemson star. It's probably because he's a quarterback, and we tend to obsess over quarterbacks. But there's more to it than that. Here's a player who, going into his senior year, was regarded as a potential high draft pick. He tumbled all the way to the sixth round, the kind of fall that always prompts two contrasting questions:
[+] Enlarge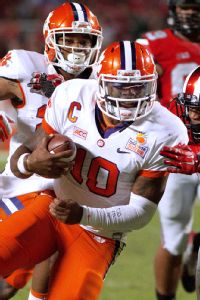 Joshua S. Kelly/USA TODAY SportsCurrently the No. 4 quarterback on the roster, Tajh Boyd has a long road ahead of him if he wants to be the starter for the Jets.
What's wrong with him?
Did the team get a steal?
Boyd said he was sitting in the Jets' cafeteria the other day when a couple of his new teammates asked if he regretted returning to school for his senior year. Tough crowd, huh?
"I don't regret the decision at all," Boyd told reporters at last weekend's rookie camp. "I wanted to finish."
He wanted to win the national championship and the Heisman Trophy, neither of which happened. His motivation was admirable, but the extra year allowed pro teams to dissect the perceived flaws in his game. Among the criticisms:
1. Disappointing senior year
: Boyd is puzzled by this school of thought. "My stats were actually better this year than my junior year," he said. He's right. He improved his accuracy (67.2 percent to 68.5) and cut down on his interceptions (13 to 11).
2. Mechanics need work
. Boyd has a funky delivery, sometime throwing sidearm or three-quarters. He sometimes did it out of necessity, but quarterbacks coach David Lee -- a stickler on fundamentals -- is working with Boyd to get him to throw over the top.
3. Height:
Officially, he's a shade under 6-foot-1. No amount of coaching can change that.
4. Benefited from an outstanding supporting cast
: No doubt, Boyd was surrounded by a lot of talent at Clemson, but he doesn't believe that should count against him. "In my eyes, everybody has to have somebody to throw to," he said. "My guy just happened to be
Sammy Watkins
" -- the top receiver in the draft.
Boyd has a lot of work ahead of him, trying to learn the nuances of a pro-style offense. Much like
Geno Smith
last year, he has to get comfortable under center, a big transition after playing almost exclusively in shotgun. Boyd said he's surprised that Smith, Simms and
Michael Vick
have been so helpful. His figured the NFL is such a cut-throat business that he wouldn't get much positive input from players at his own position.
"It has a certain perception, aura of what you think is going to happen," Boyd said. "When I got here, it was totally different, like those guys were pretty excited that I was in the room."
The Jets will be excited if Boyd develops into an NFL-caliber quarterback, but the odds are against him.
Tom Brady
came out of the sixth round in 2000, but he's a once-in-a-generation player. Over the last 20 years, the Jets have drafted five quarterbacks in the fourth round or later, none of whom did much in the league --
Greg McElroy
(seventh round, 2011),
Erik Ainge
(fifth, 2008),
Brooks Bollinger
(sixth, 2003),
Chuck Clements
(sixth, 1997) and
Glenn Foley
(seventh, 1994).
Their last late-round quarterback pick to make an impact was
Jeff Blake
(sixth, 1992) -- and that happened with the
Cincinnati Bengals
.
May, 18, 2014
May 18
4:30
PM ET
Thoughts and observations on the
New York Jets
(better late than never):
1. No, Johnny, no
:
Johnny Manziel
never was a consideration for the Jets with the 18th pick. Never. Their target was safety
Calvin Pryor
. When the
Baltimore Ravens
selected lineback
C.J. Mosley
at 17, the Jets' draft room "erupted," general manager John Idzik said in a radio interview. They were ecstatic because they thought the Ravens might take Pryor. Unlike the
Dallas Cowboys
, the Jets didn't have a Manziel discussion when they were on the clock. They simply didn't buy into Johnny Football, according to a person familiar with the team's thinking. No doubt, there were non-football reasons as well. Idzik wasn't going to buy a ticket to that circus, no way. The Jets are happy with Pryor. They believe he's smart enough to quarterback the secondary as a rookie. Rex Ryan always talks up his rookies, but he's particularly smitten with Pryor.
[+] Enlarge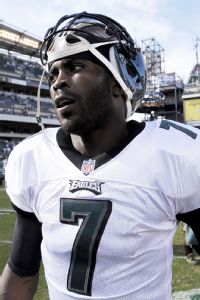 AP Photo/Michael PerezIf Michael Vick is the better choice at starter, will the Jets really stand behind quarterback Geno Smith?
2. Pettine's Law
: Can't help but think that
Cleveland Browns
coach Mike Pettine is cracking down on the media access to Manziel because of what he learned from witnessing the
Tim Tebow
debacle in 2012. Pettine was the Jets' defensive coordinator that year, and he saw first-hand how the Jets let Tebow mania get out of control. It was a "How-not-to-manage-a- phenomenon" clinic. I'm not saying I agree with everything Pettine is doing, but he has seen the other approach and he apparently wants to stay as far away from that as possible.
2a. Johnny's everywhere
: My local butcher always likes to talk football -- usually Jets -- when I stop in. On Sunday morning, I expected a question about the Jets' draft or
Geno Smith
vs.
Michael Vick
. Instead, he greeted me with this question: "How do you think Johnny Manziel will do in Cleveland?" That tells you everything you need to know about the impact of Johnny Football.
3. A keg of dynamite?
Joe Namath is right: Vick is better than Smith -- right now. It's indisputable, which is why the Jets have a potentially volatile quarterback situation. If the same perception exists in late August, and they go ahead and name Smith the starter anyway (they clearly want him to be the guy), it will send a bad message and could create issues in the locker room. In theory, the best player should play, right? You'd like to think the decision-makers will put ego aside -- i.e. Idzik and his investment in Smith -- and start the quarterback that gives them the best chance to win. You have to figure a tie goes to Smith, but what if Vick is a notch better than Smith? Idzik and Ryan dodged The Decision last year because
Mark Sanchez
got hurt, giving Smith the job by default. This year, they might actually have to pick one.
4. Ryan supports DC:
Ryan
offered strong public support
of defensive coordinator Dennis Thurman. Some might question it from a public-relations standpoint -- Ryan gave legs to the story with his second-day, unsolicited defense of Thurman's character -- but he was sticking up for a friend. Ryan is fiercely loyal to his assistants, especially Thurman. Blind loyalty can be a slippery slope -- Ryan admitted he doesn't know the particulars of the case -- but his strong reaction is one of the reasons why he's so popular among his players. He has the back of those around him.
Other than the accuser's friend, no one has come forward to corroborate their version of the events -- that Thurman slapped a 28-year-old woman in the face at a restaurant bar. Meanwhile, a handful of witnesses have spoken to various media outlets, refuting the allegations. Bottom line: No charges by the Morristown, N.J., police department and no further investigation.
5. Tajh is a quarterback
: Ryan made it clear he has no intention of using sixth-round pick
Tajh Boyd
in any other role except quarterback. "Right now, it's 100 percent quarterback," he said. Ryan didn't rule out the possibility of expanding his role in the future, maximizing his athleticism, but it's not on the frontburner. It's a moot point this season because, even if Boyd makes the 53-man roster, he'll never be active as long as Smith and Vick are healthy. The Jets are following the Geno script with Boyd, converting a shotgun college quarterback into a pro-style passer. They won't clutter his mind by giving him a gimmick role.
5a. Humble QB
: Boyd may never play a down for the Jets, but it's hard not to like his attitude. Boyd, who set 57 Clemson and ACC records, said it dawned on him the other day as he was reading his playbook, "You're just a small fish in a big pond." Love it.
6. Seeing double:
It's too bad the Jets don't play the
New Orleans Saints
again this year, because there could be a great photo op. Naturally, you'd have the Ryan brothers, Rex and Rob, the Saints' defensive coordinator. You also could have the Dixon twins, Brandon and Brian. The Jets drafted Brandon, a cornerback in the sixth round, from Northwest Missouri State. The Saints signed Brian as an undrafted free agent. He, too, played corner at Northwest Missouri State. This is the first time in their lives they're not playing in the same secondary.
7. The stable grows
: Picking up
Daryl Richardson
on waivers was a good, no-risk move. He has talent, evidenced by a promising rookie year in 2012. The question is whether he's healthy. Richardson battled toe turf last season for the
St. Louis Rams
, causing him to miss the final eight games. He became expendable when the Rams drafted
Tre Mason
in the third round. The Jets have a crowded backfield, but Richardson could challenge for the third or fourth spot, jeopardizing
Mike Goodson
's place. Richardson already has a comfort level in the AFC East; he averaged 5.9 yards per carry against the division in 2012.
8. Like Mike
: Boyd already has talked about how he grew up admiring Vick; he's not the only draft pick in that boat. Wide receiver
Jalen Saunders
was a quarterback in high school -- a left-handed quarterback and a dual threat, same as Vick. Just the other day, Saunders got a chance to meet him in the locker room. "It was great to meet somebody you idolized growing up," Saunders said. No, he didn't share his childhood secret with Vick. Said the rookie: "I wouldn't tell him that. We're both grown men now."
9. Welcome back, E. Smitty
: After sitting out last season, former Jets safety
Eric Smith
is back with the team -- as a coaching intern. As a player, Smith was an overachiever who relied on his smarts. He was always one of the sharpest guys in the room, and now he'll get a chance to apply himself as a coach. "I think he's the smartest coach we've got," Ryan said. "I think he's got a chance to be a great one."
10. 'Mayhem' says goodbye
: Former
Buffalo Bills
first-round bust
Aaron Maybin
, who played with the Jets in 2010 and 2011, announced his retirement last week at the age of 26. He had a strange run with the Jets. He was a sparkplug in 2011, recording six sacks. The following year, he was utterly ineffective and was fired in the middle of the season. His nickname was "Microphone" because his booming voice traveled across the locker room when he gave interviews. His football career never panned out, but Maybin has a promising career as an artist.
May, 17, 2014
May 17
2:35
PM ET
FLORHAM PARK, N.J. -- The
New York Jets
practiced for two hours Saturday under sunny skies. A few takeaways from Day 2 of rookie camp:
Pryor
Good to the last drop
: In the what has become a rite of spring around the Jets, the receivers struggled with drops throughout practice. All three draft picks dropped at least one pass --
Jalen Saunders
,
Shaq Evans
and
Quincy Enunwa
. Not even tight end
Jace Amaro
, a sure-handed pass-catcher, was immune. Many of the drops came against "air," which can be attributed to a lack of concentration. It was a particularly tough day for Saunders, who dropped a long ball and a well-thrown pass on a crossing route. The dropsie epidemic strikes the Jets every spring. This time, coach Rex Ryan wasn't critical. He chalked it up to rookies being rookies. "Their heads are spinning," he said. The Jets need one of these rookies to stand out from the crowd, emerging as a contributor.
Calvin a quick study
: First-round pick
Calvin Pryor
didn't make any eye-catching plays (remember, these are non-contact practices), but he continued to impress the coaches with his knowledge of the defense. Ryan praised the hard-hitting safety for being a quick study, calling him the most impressive player in camp. Specifically, he said the former Louisville standout has "great pattern recognition." Pryor definitely has a swagger, admitting afterward that he loves to talk trash. Nothing wrong with that; the Jets could use a little more of that attitude on defense.
Boyd can relate to Geno
:
Tajh Boyd
is experiencing what
Geno Smith
went through a year ago, learning a pro-style offense after playing almost exclusively in the shotgun in college. The footwork is different. So is the timing of the pass routes. It's not an easy transition, which explains why Boyd has struggled with his accuracy in this camp. There were some hiccups on short and intermediate routes, but say this for Boyd: He throws a good deep ball. He was victimized by a couple of drops on long passes. Speaking to him afterward, Boyd came across as confident and charismatic. It's easy to see why he was considered such a good leader at Clemson.
Odds and ends:
Safety
Rontez Miles
, who spent most of last season on the practice squad, is attending the camp, but he's still not 100 percent after offseason hip surgery. ... Running back
Alex Green
remains on the roster. On Friday night, he sent out a tweet that suggested he had been released. He apparently thought he was toasted after the Jets acquired
Daryl Richardson
on waivers. Ryan said Green made an incorrect assumption. ... Ryan felt they were "loaded at running back" before picking up Richardson, but he believes that Richardson upgrades the position. They have five veterans at running back. ... Pryor switched his number, changing to 25.
May, 16, 2014
May 16
5:00
AM ET
The
New York Jets
' largest draft class since 1998 will participate in a three-day rookie camp, starting Friday. Only the first two days are open to the media. No portion is open to the public. What we might see from the Idzik 12:
Pryor
1. The Louisville Slugger
: First-round pick
Calvin Pryor
won't generate as much rookie-camp buzz as
Geno Smith
did last year, but that's because he's a safety, not a quarterback. Because he's a safety known for his physical style of play, Pryor probably won't get a chance to show everyone why they called him the "Louisville Slugger" in college. After all, it's a non-contact camp. Nevertheless, it'll be interesting to see his movement skills and how well he responds in pass coverage. That wasn't his forte in college.
2. The catcher
: By the nature of his position and college résumé, second-round pick
Jace Amaro
, a record-setting tight end at Texas Tech, will draw the most attention in camp. He put up video-game numbers in the Big 12, which plays no defense, so it'll be fascinating to see if he's the real deal. There will be a learning curve, as he attempts to get acclimated in a pro-style offense. The matchup everyone wants to see, of course, is Amaro vs. Pryor in a one-on-one coverage drill.
3. A mini-Senior Bowl
: The Jets devoted nearly half their 12-player draft to wide receivers and cornerbacks -- three receivers (
Jalen Saunders
,
Shaq Evans
and
Quincy Enunwa
) and two corners (
Dexter McDougle
and
Brandon Dixon
). There will be ample head-to-head opportunities, turning rookie camp into scaled-down version of an all-star game. It'll be ideal for evaluation purposes. McDougle, who underwent shoulder surgery last September and missed the season, could be limited.
4. The Tajh Show
: Quarterback
Tajh Boyd
was surprised he lasted until the sixth round; he felt he was a first-round talent. Well, now he gets a chance to prove the skeptics wrong. It won't happen in one weekend, as this will mark the start of a long, arduous process, but you know what they say about first impressions. The former Clemson star has a lot of work ahead of him, learning a pro-style offense and cleaning up mechanical flaws in his delivery.
5. Big Mac
: This will be the media's first chance to see new special teams coordinator Thomas McGaughey, who replaces Ben Kotwica.
May, 15, 2014
May 15
10:45
PM ET
They're more than halfway home.
The
New York Jets
signed fourth-round wide receiver
Shaq Evans
(UCLA) and sixth-round quarterback
Tajh Boyd
(Clemson) on Thursday, meaning seven of their 12 draft picks are under contract.
Boyd, who passed for more than 11,000 yards in his record-setting college career, signed a four-year contract for $2.3 million, including a $79,000 signing bonus. Evans, who led the Bruins with 47 catches, signed a four-year deal for $2.67 million, including a $450,000 signing bonus.
May, 13, 2014
May 13
3:15
PM ET
Let's take a look at the
New York Jets
' draft class through the prism of projected roles for 2014. I see only two significant contributors at the outset, but that number likely will grow as the season progresses. You will see many of the draft picks involved in special teams. A closer look:
Calvin Pryor, safety, first round
: He should be a Day 1 starter. If not, something is wrong. The roster is filled with strong safeties, so it'll be up to Rex Ryan to mix and match. Right now, the best tandem is Pryor and
Dawan Landry
, with
Antonio Allen
playing in certain sub packages.
Jace Amaro, tight end, second round:
He doesn't block well enough to be an every-down player, but he should be on the field for about 50 percent of the snaps. If he can make a relatively seamless transition to a pro-style offense, Amaro could be the tight end in the three-receiver/one-tight end personnel package on passing downs in addition to joining
Jeff Cumberland
in two-tight end sets.
Dex McDougle, cornerback, third round
: If his surgically repaired shoulder is OK, McDougle has a chance to work his way up the depth chart. Other than
Dee Milliner
, no one is entrenched at any of the cornerback spots. He should be the No. 4 corner at the very least. If he's good enough to start, it can allow
Dimitri Patterson
to play the slot, which wouldn't bode well for
Kyle Wilson
.
Jalen Saunders, wide receiver, fourth round
:
Jeremy Kerley
is the slot receiver, so Saunders' best chance to make an immediate contribution will come as a punt returner. In terms of the pecking order at receiver, he's probably looking at the No. 4 or No. 5 spot.
Shaq Evans, wide receiver, fourth round:
The situation at receiver is similar to that of cornerback. Except for Kerley and
Eric Decker
, the depth chart is fluid. Realistically, the best-case scenario for Evans is No. 5 receiver. He'd increase his value if he starts returning kickoffs.
Dakota Dozier, guard, fourth round:
He has upside, but there are two factors working against him -- he comes from a small school (Furman) and he's learning a new position (guard). There will be a learning curve. Don't be surprised if he ends up with the Idzik Red-Shirts -- i.e. the bottom-of-the-roster players who remain inactive every week.
Jeremiah George, linebacker, fifth round
: He probably will back up at the 'Mike' and 'Will' linebacker spots, joining
Nick Bellore
as the top reserves. Obviously, George will get a chance to be a significant contributor on special teams.
Brandon Dixon, cornerback, sixth round
: This is a huge leap for Dixon, who played at NW Missouri State. He's a raw, developmental prospect who could join the Red-Shirts or perhaps the practice squad.
Quincy Enunwa, wide receiver, sixth round:
See Evans.
IK Enemkpali, outside linebacker, sixth round
: He played defensive end at Louisiana Tech, but the Jets are listing him as a linebacker. If that's where he plays, it'll be a major transition. Hello, practice squad.
Tajh Boyd, quarterback, sixth round
: He will battle
Matt Simms
for the No. 3 job. Boyd has some intriguing traits, but he has to learn a pro-style offense and clean up some mechanical flaws.
Trevor Reilly, outside linebacker, seventh round:
The Jets have four veterans ahead of him, so it'll be tough to make the team. There's always room at the Inn for a pass-rusher and a big-time special-teams player, so he'll have to excel in those areas.
May, 11, 2014
May 11
12:45
PM ET
Thoughts and observations on the
New York Jets
' most prolific draft in 16 years:
1. Cheaper by the dozen
: The history books will show that the Jets and
San Francisco 49ers
tied for the most selections -- 12. In terms of volume, this was the Jets' biggest haul since 1998, when Bill Parcells was running the show and drafted 12 players. They'd better hope this one turns out better than '98, which produced only one quality player -- tackle Jason Fabini.
2. Balanced attack
: The Jets selected six players on offense, six on defense. So everybody in the building is happy.
[+] Enlarge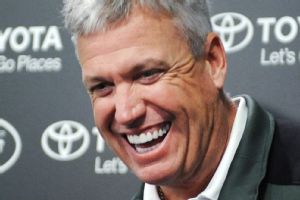 AP Photo/Bill Kostroun"I think we have a lot of excellent football players here, and I know our organization's excited about these players," said Rex Ryan about the Jets' draft.
3. Needy Jets:
They always talk about taking the proverbial "best player available," but this smacks of a "need" draft. Basically, the Jets devoted half the draft to their two biggest needs, picking three defensive backs (two corners and one safety) and three wide receivers. The last time they took three receivers was 1990, when they drafted Reggie Rembert (traded before the opener), Terance Mathis and Dale Dawkins.
4. Enough speed?
The prevailing thought going into the draft was they needed to pick a burner at wide receiver, a home run threat to play opposite
Eric Decker
. It's still an issue, as they passed on the high-profile prospects. Who are the starting receivers? Decker and ...
Jeremy Kerley
? He's better in the slot.
Stephen Hill
? Come on. The Jets are hoping one (or more) of their three receiver picks can develop into that kind of player.
Jalen Saunders
(fourth round) is small and shifty.
Shaq Evans
(fourth) had five touchdown catches of 54-plus yards in his career.
Quincy Enunwa
(sixth) set a Nebraska single-season record with 12 touchdowns, including a 99-yarder in the Gator Bowl. So we'll see.
5. John the deliberate:
There were 27 trades during the draft, but the Jets were one of only seven teams that didn't get involved. General manager John Idzik took a passive approach, letting the draft come to him, as they like to say. That's unfortunate, because the Jets -- armed with eight tradable picks at the outset -- wasted an opportunity to jump up and grab players they really liked. You're not going to have 12 rookies on your opening-day roster, so why not use some of the picks to improve your draft position? Instead of attacking, they played a read-and-react style. I wonder if everyone in the draft room was comfortable with that strategy.
6. Mission impossible:
We live in a world of instant analysis, so draft experts and folks like me are required to assign grades as soon as the draft is complete. In most cases, it's a pointless exercise. For the record, ESPN's Mel Kiper Jr. gave the Jets a B, same grade as last year. The Jets received generally favorable reviews from the so-called gurus, yet it's interesting to note that only two picks (
Calvin Pryor
and
Jace Amaro
) appeared in the pre-draft top-100 lists of Kiper, Todd McShay, Mike Mayock and Scouts Inc. As a matter of fact, eight of their picks were ranked 200 or lower on the Scouts Inc. list. Hmm.
7. Rex the restrained:
Rex Ryan, who famously gloated last season that the 2013 draft was an "A-plus" for the Jets, refrained from making any over-the-top declarations -- well, kind of. "To say it's an A-plus now, I'm not going to do that," he said. "But I think give us the season, let that thing run out, then I'll be more than happy to. But I wouldn't be surprised if it's an A-plus again because I think we have a lot of excellent football players here, and I know our organization's excited about these players." Last year's draft produced five starters; that won't happen this year.
8. Coach Mac attack:
The happiest guy in the building might have been new special teams coach Thomas McGaughey. Except for quarterback
Tajh Boyd
, the draft is filled with prime candidates for special teams. That should help improve the overall athleticism on a unit that showed signs of decay last season. The most dynamic addition is Saunders, who scored on two punt returns last season and averaged 15.4 yards.
9. I.K. is OK:
I never thought defensive
Michael Sam
was a serious possibility for the Jets because, at 6-foot-2, 261 pounds, he's not an ideal scheme fit in Ryan's base 3-4. But in the sixth round, the Jets drafted defensive end
I.K. Enemkpali
, who is 6-1, 261 pounds. Not only is Enemkpali slower than Sam, based on their reported 40-yard dash times, but his level of competition in college doesn't match that of Sam -- Louisiana Tech and Missouri, respectively.
"I don't know that we'll get into guys that we would have considered and comparing them against ours," said Idzik, when asked why he took Enemkpali over Sam. "Obviously, we felt very good about I.K. and he has a chance to fit a role here, come in and compete." The Jets did Sam a favor by not picking him. The media attention in New York would've been crazy, a major distraction for him and the team. Sam landed in the ideal place. Kudos to the
St. Louis Rams
.
10. Character issues:
At least three of the 12 picks were arrested in college. Enemkpali was arrested in the spring of 2011, and charged with disturbing the peace and battery of a police officer. He received a school suspension. In March 2012, Amaro was arrested on felony credit card fraud; the charges were eventually dropped. In December 2012, Saunders was arrested for marijuana possession. The charge was dropped when a teammate took responsibility.
11. Two firsts:
Enemkpali became the first player from Louisiana Tech drafted by the Jets. Ditto for cornerback
Brandon Dixon
, from NW Missouri State.
12. Different strokes, different folks:
Under Idzik, the Jets have drafted 19 players in two years. His predecessor, Mike Tannenbaum, selected 21 players in his last four drafts.
13. Matty Iced:
If I'm
Matt Simms
, I'm feeling a bit concerned about my job security. Ryan made it quite clear he was the driving force behind the Boyd selection.
14. The Black Holes:
I found it interesting the Jets used their first two picks on positions in which they haven't had much drafting success -- safety and tight end. The last drafted tight end to make the Pro Bowl was Mickey Shuler (1978, third round) and the last safety was Erik McMillan (1988, third round).
15. Quote of the draft:
From Ryan's post-draft news conference: "Did we get everybody we wanted? As far as you guys know, we did."
May, 10, 2014
May 10
6:07
PM ET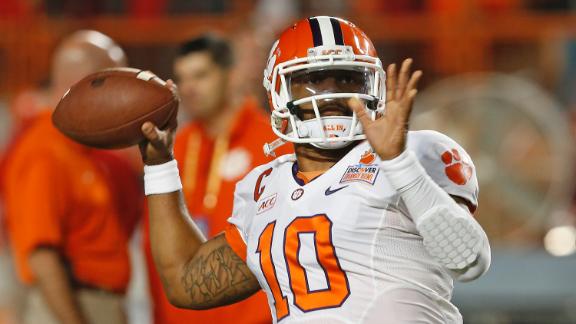 FLORHAM PARK, N.J. --
The pick
:
Tajh Boyd
, quarterback, Clemson
My take:
The Jets' interest in Boyd was one of the worst-kept secrets in the draft. They did extensive work on Boyd, starting at the Senior Bowl. It also didn't hurt that Rex Ryan's son, Seth, is a wide receiver at Clemson. Obviously, they had inside intel on Boyd, one of the most accomplished quarterbacks in the draft. He was a three-year starter on one of the biggest stages in college football, throwing at least 30 touchdowns in all three seasons. He's a winner (37-8 as a starter) and a good leader, but there are major questions. He's short (a shade under 6-foot-1) and his throwing mechanics are inconsistent, including a low release point. He's not as efficient inside the pocket as you'd like, but he passed for more than 11,000 yards in college. So why not? This made this selection with a compensatory choice.
Four's a crowd
: This probably isn't a happy day in the
Matt Simms
household. After making nice strides last season as a developmental quarterback, Simms will now have to battle Boyd for the No. 3 job, behind
Geno Smith
and
Michael Vick
. The Boyd pick was so John Idzik; he preaches competition and he subscribes to the theory that you can't have too many quarterbacks. Boyd doesn't have No. 1 potential, according to scouts, but if he takes to David Lee's coaching, he could emerge as a competent backup in the future.
April, 28, 2014
Apr 28
9:00
AM ET
This is the first installment in a position-by-position analysis of the New York Jets as they prepare for the draft
:
Position
: Quarterback
Vick
Smith
Current personnel
:
Geno Smith
(signed through 2016),
Michael Vick
(2014),
Matt Simms
(2014).
Projected starter
: Smith.
Newcomers
: Vick.
Departures
:
Mark Sanchez
(released/
Philadelphia Eagles
),
David Garrard
(free agent).
Top salary-cap charge
: Vick, $4 million.
Scouting report
: Welcome to the hottest story on the team. The Smith-Vick battle in training camp will make most of the headlines, and with good reason. Right now, Vick is a better quarterback than Smith, especially since he's already familiar with Marty Mornhinweg's system, but the playing field is tilted in Smith's favor because he's a lot younger and could be the future of the franchise. Key words:
Could be.
They won't be as patient with him as they were last season, when, by all rights, he should've been benched. Smith fought through the adversity to finish on an upbeat note, but there needs to be a carryover. Ball security will be key, as both quarterbacks have struggled with turnovers. Since 2011, Vick has committed one turnover for every 28 dropbacks (not good). For Smith, it was one every 21 dropbacks as a rookie (not good at all).
The last time
: The Jets stopped Smith's free fall last spring, drafting him in the second round and changing the landscape of the position.
Potential targets
: With Smith, Vick and Simms, the Jets have quarterbacks at three different levels of experience, so they don't feel an overwhelming need at the position. But you can never rule out a middle- or late-round pick, especially with a total of 12 choices, including three in the fourth round.
Jimmy Garoppolo
(Eastern Illinois) and
Logan Thomas
(Virginia Tech) visited the Jets' facility. They've also been paying a lot of attention to
Tajh Boyd
(Clemson) throughout the scouting process, engaging in multiple meetings and a private workout. Boyd is an inconsistent thrower, but he's a winner. If they pick a quarterback on the first or second day, it would send a message to Smith.
Need rating (scale of 1 to 10):
5