New York Jets:

Tanner Purdum
May, 3, 2014
May 3
6:00
AM ET
This is the sixth installment in a position-by-position analysis of the New York Jets as they prepare for the draft
:
Position
: Special teams.
Current personnel
: PK
Nick Folk
(signed through 2017), P
Ryan Quigley
(2005), LS
Tanner Purdum
(2014), KR
Jacoby Ford
(2014), PR
Jeremy Kerley
(2014), PR
Kyle Wilson
(2014), KR
Clyde Gates
(2014).
Newcomers:
Ford (
Oakland Raiders
).
Departures
: KR
Josh Cribbs
(free agent), KR
Antonio Cromartie
(cut/
Arizona Cardinals
), KR
Darius Reynaud
(free agent).
Top salary-cap charge
: Folk, $3.6 million.
Scouting report:
It's a mixed bag. The Jets were happy to retain Folk, who signed a four-year, $12 million contract, but there are concerns for new special-teams coordinator Thomas McGaughey. The once-formidable unit needs an upgrade in a few areas, a sentiment shared by former STC Mike Westhoff, who criticized the talent level at the end of last season. "The personnel is limited -- and I'm being kind," he said.
Coverage and return units are populated by players in the bottom third of the roster, and the bottom third has eroded over the years. This offseason, they lost their third-leading tackler,
Isaiah Trufant
(
Cleveland Browns
), who served as a gunner and played 233 snaps on special teams. They finished in the middle of the pack (17th) in overall performance, according to a formula used by ESPN Stats & Information, but it should be higher. The addition of Ford, who scored on three kickoffs in 2010 for the Raiders, should bring some sizzle -- if he's healthy. McGaughey said he'd like to import competition for Ford. He also said his No. 1 objective is to improve the punt coverage.
Potential targets
: The Jets need more run-and-hit athletes. With 12 draft picks, including nine in Rounds 4-7, they have plenty of ammo. By the time they get done drafting and signing college free agents, they'll be stocked up on receivers, tight ends, linebackers and defensive backs. Remember these names:
Kadron Boone
and James Wright, former LSU receivers. They won't be drafted, but they were two of McGaughey's top special-teamers at LSU. The draft's top returners are
Dri Archer
(Kent State) and
De'Anthony Thomas
(Oregon), both running backs. They're small, but fast. Wide receiver
Odell Beckham Jr
. (LSU) also has exciting return ability.
Need rating (scale 1 to 10):
6.
December, 17, 2013
12/17/13
4:10
PM ET
Special-teams guru Mike Westhoff had no problems with the
New York Jets
' unconventional strategy that resulted in a blocked punt Sunday against the
Carolina Panthers
. He said it was a sound call, with minimal risk. He just believes the players --
Zach Sudfeld
, in particular -- did a poor job of executing.
The Jets' former special teams coordinator, in a phone interview Tuesday, said he used the same three-flyer scheme on occasion. He recalled one time against the
New England Patriots
, when Bill Belichick was running down the sideline calling for a timeout because he thought the Jets were planning to run a fake.
Westhoff knows why Ben Kotwica, his former protege, used three flyers (or "gunners"). It was to get more speed on the field to combat
Ted Ginn
, one of the league's top punt returners. Frankly, I think the coaching staff also may have been haunted by the Ginn nightmare from 2009, when he burned the Jets with two touchdowns on kickoff returns as a member of the
Miami Dolphins
.
The risk with three flyers is that, according to the rules, it permits the opponent to place a player directly over the long snapper. The Jets didn't use three flyers against other top punter returners -- namely
Antonio Brown
(
Pittsburgh Steelers
) and
Jacoby Jones
(
Baltimore Ravens
) -- but they employed the scheme on the first two punts to Ginn and held him to two fair catches. On the third punt, they stacked the line to block a 10-man rush.
On the fourth punt, they went back to three flyers and disaster struck.
Jason Williams
covered the long snapper Tannen Purdum and rushed the A gap, between Purdum and the left guard (Sudfeld), who were lined up in a tight split -- only six inches apart. Williams changed up his rush, this time attacking away from the uncovered right guard (
Garrett McIntyre
) and toward the overload. The Jets still had the numbers in their favor -- seven players blocking six rushers -- but there was a technique breakdown and Williams came free to block
Ryan Quigley
's punt. It changed the game.
"You should be able to block that very easily," said Westhoff, who works as an ESPN radio analyst. "It's not some crazy look."
The Jets are a man-to-man team in punt protection, but they also employed a zone technique on that play, according to Westhoff. Instead of firing out of his stance to block the man in front of him, Sudfeld should've set himself to help on Williams, who shot the gap with a swim move.
"Never jump out to your man," said Westhoff, adding that Sudfeld, Purdum and McIntyre should've formed a "cup" in protecting the middle.
If there's a criticism of the strategy, it's that the Jets used it three times, allowing the Panthers to adjust. Westhoff didn't disagree with that, saying "you don't necessarily need a steady dose" of the three-flyer look. It's likely they were spooked by the third punt, which Ginn returned 24 yards. (It was nullified by a penalty.)
Westhoff's biggest beef was the quality of the personnel on special teams. Indeed, Sudfeld is a weak-blocking tight end, hardly ideal in that position on the punt team. He was moved into that role only recently because of a season-ending injury to
Konrad Reuland
.
"The Jets are limited in personnel," Westhoff said. "And I'm being kind."
The blocked punt will be remembered as one of the killer plays of the season.
"It devastated me and I'm not even coaching there anymore," Westhoff said. "I was sick."
December, 15, 2013
12/15/13
10:00
PM ET
By
Joe Menzer
| Special to ESPN.com
CHARLOTTE, N.C. -- Momentum seemed to swing in favor of the
New York Jets
heading into the fourth quarter Sunday at Bank of America Stadium.
Then, it flipped on the Jets in the instant that Carolina's
Jason Williams
burst through the Jets' line untouched and blocked a
Ryan Quigley
punt just over three minutes into the fourth quarter. The block gave the Panthers the ball at the Jets' 14-yard line, setting up a 1-yard touchdown run by
Mike Tolbert
four plays later that turned a narrow 16-13 Panthers' lead into a comfortable 23-13 advantage.
The Jets never recovered as the Panthers went on to win,
30-20
.
[+] Enlarge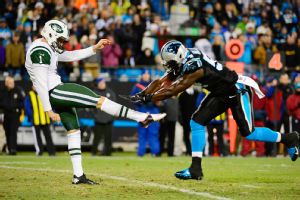 Bob Donnan/USA TODAY SportsRyan Quigley had his punt blocked in the fourth quarter, quickly changing the Jets' momentum.
"They just made a good call. We had gone into a certain formation that they adjusted to, and he just got a good jump off the ball," Jets long-snapper
Tanner Purdum
said of Williams.
Coach Rex Ryan admitted the Jets got caught in a vulnerable formation, going with an extra gunner -- Ryan referred to it as "a flyer" -- on the outside that permitted the Panthers, by NFL rule, to place a rusher over center. Having been burned in the past by Carolina punt returner
Ted Ginn
, Ryan put an extra coverage man in play to prevent a big return by Ginn -- who in 2009, while with Miami, returned a pair of kickoffs for touchdowns against the Jets, from 101 and 100 yards, no less.
"We were trying to take advantage of our speed," Ryan said. "Obviously they have one of the premier returners in the game in Ted Ginn. But when you do that, you obviously cover up the center. The guy had a good rush on us. That's exactly what happened."
A dejected Purdum insisted there wasn't much he could have done to stop Williams in that situation.
"There was nothing we could have done differently in that formation. Not that I know of," Purdum admitted.
Quigley tried to shift some of the blame onto himself.
"It's on me. When it comes down to it, you've got to get the ball off faster," Quigley said.
But then he said Williams was upon him so fast that it would have been very difficult. He also pointed out the Jets had not previously had a punt blocked all season.
"We've been using different formations all year. We've been mixing it up, and obviously we've run that formation this season, so they might have seen it," Quigley said. "And obviously whatever they did, it worked. ... It's just unfortunate that it happened at that point in the game, where it switched the momentum.
"Anytime that happens, it's tough. That was a very tough spot for us to put our defense in."
Quigley said mishaps on special teams are always magnified, and understandably so.
"I was out there four times tonight, and you've got to be perfect all four times," he said.
March, 18, 2013
3/18/13
4:07
PM ET
The Jets filled a hole in their roster by re-signing long snapper
Tanner Purdum
, the team announced. Purdum signed a two-year contract, according to his agent, Rob Roche.
Purdum has been a steady long snapper since 2010. He was a non-tendered restricted free agent, meaning the Jets opted not to place the low tender ($1.32 million) on him with the hope of re-signing him at a lower price. Which is exactly what happened.
The Jets have another experienced long snapper on the roster, Travis Tripuka.
March, 7, 2013
3/07/13
2:51
PM ET
Everything you need to know about free agency, analyzing the Jets' unrestricted and restricted free agents, with positional grades (scale of a 100) and rankings by Scouts, Inc.:
MOST LIKELY TO STAY PUT
DE Mike DeVito:
He's a blue-collar lineman with scheme versatility, so he should draw considerable interest from other teams. The Jets want to re-sign DeVito, but with
Quinton Coples
poised for a larger role, it might be a financial squeeze to bring him back as the fourth linemen -- unless they're planning to play more 4-3 fronts. The Chiefs could be interested.
Grade
: 64.
Rank
: 15.
PK Nick Folk:
The Jets have kept him off the market the last two years with one-year contracts before free agency, but it looks like they're prepared to let him test the waters. They'd better be careful; Folk is an under-rated kicker and could get scooped up.
Grade
: 66.
Rank
: 5.
[+] Enlarge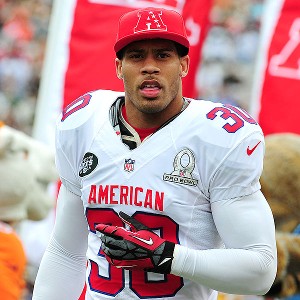 Scott Cunningham/Getty ImagesLaRon Landry was elected to the Pro Bowl in his first -- and possibly only -- season as a Jet.
MAYBE, MAYBE NOT
TE Dustin Keller:
He's expected to hit the open market, as the Jets have shown little interest in re-signing him. They will let the market dictate his value. He'd be an ideal fit in Marty Mornhinweg's West Coast offense. This offense should be collecting playmakers, not sending them away.
Grade
: 77.
Rank
: 4.
G Matt Slauson:
He won't command big bucks on the open market, so there's always a chance he could return. The Jets made Slauson take a pay cut last season and rotated him with
Vladimir Ducasse
, but he's better than Ducasse. Maybe new GM John Idzik will recognize that. Slauson may draw interest from the Cowboys and Raiders.
Grade
: 69.
Rank
: 6
WR Braylon Edwards:
He's a journeyman player at this point in his career. The Jets need size and depth in the receiving corps, but there's no sense of urgency with Edwards, who could be a post-draft option.
Grade
: 66.
Rank
: 17.
S Yeremiah Bell:
They have no experienced safeties under contract, so there's an obvious need. Bell was a nice hold-the-fort player last season, but he's 35. He could be another post-draft option.
Grade
: 69.
Rank
: 16.
GOING, GOING ...
S LaRon Landry:
He bet on himself last year, signing only a one-year contract -- and he won. Landry stayed healthy, made his first Pro Bowl and figures to cash in. The Jets would like to re-sign him, but they won't pay $6 million a year. Chances are, it'll be one-and-done.
Grade
: 78.
Rank
: 4.
RB Shonn Greene:
He's a between-the-tackles thumper, and the Jets need a No. 1 back with breakaway speed and pass-catching skills to excel in Mornhinweg's offense. Greene could draw interest from the Broncos and Falcons. There's little chance of him returning.
Grade
: 76.
Rank
: 4.
G Brandon Moore:
Their longest-tenured player on offense probably will move on, and that's too bad because Moore has been one of the Jets' most consistent and durable players. He'll be 33 before the season, so age is an issue. He could draw interest from the Bills, Cowboys and Raiders.
Grade
: 81.
Rank
: 1.
THANKS FOR THE MEMORIES
LB Bryan Thomas:
Their longest-tenured player is a true warrior, but injuries and age (34 in June) are concerns. It's time to say goodbye.
Grade
: 64.
Rank
: 13.
WR Chaz Schilens:
Well, he was always good for a sarcastic quote.
Grade
: 58.
Rank
: 35.
FB Lex Hilliard:
He was a midseason fill-in who played like a midseason fill-in. Adios.
Grade
: 56.
Rank
: 37.
RESTRICTED FREE AGENTS
RT Austin Howard:
The Jets really like his upside. They're deciding whether to make him a first-round tender ($2.86 million) or a second-round tender ($2.02 million).
Grade
: 68.
Rank
: 17.
TE Jeff Cumberland:
If he receives the second-round tender, it means Keller is a goner. The Jets could take the cheap route and assign the low tender ($1.32 million), which would give the team the right of first refusal but no draft-pick compensation.
Grade
: 61.
Rank
: 22.
LB Josh Mauga:
He missed most of last season with a torn biceps. He won't be tendered a contract.
Grade
: 20.
Rank
: 86.
LS Tanner Purdum:
A very good long snapper, but there's little chance of him getting even the low tender ($1.3 million).
Grade
: 59.
Rank
: 8.
September, 14, 2012
9/14/12
2:57
PM ET
By
Ian Begley
| ESPNNewYork.com
FLORHAM PARK, N.J. -- The Raiders' special teams nightmare on Monday won't happen to the Jets, according to Mike Westhoff.
The Raiders were stuck in a tough scenario when long snapper
Jon Condo
left the game in the second quarter with a head injury.
The Oakland backup,
Travis Goethel
, is a middle linebacker by trade.
[+] Enlarge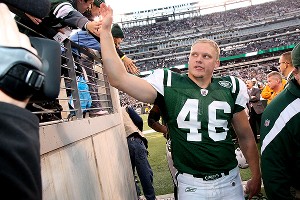 Al Pereira/Getty ImagesThe Jets prefer that Tanner Purdum stay healthy. But if he's injured, they have backup plans.
And he struggled -- to put it mildly -- making snaps.
Goethel bounced his first snap and the Chargers were able to get to Raiders punter
Shane Lechler
. It set up a San Diego field goal.
Early in the fourth, Goethel rolled a snap to Lechler, and the Chargers took over at the Oakland 43. That set up another San Diego field goal.
Westhoff woke up around 4 a.m. on Tuesday morning and saw Goethel's performance.
"It kept me up the rest of the night," the Jets' longtime special teams coordinator said.
But Westhoff says the Jets will be prepared if long-snapper
Tanner Purdum
gets hurt.
Nick Mangold
and
Marcus Dixon
are prepared to take over.
But, as Westhoff said, it's not an easy skill to master.
"It's not like you can throw another Tanner Purdum out there," he said. "We only have one."
PETTINE ADDRESSES MISSED TACKLES:
Ideally, the Jets defense will play intense and mistake-free, regardless of the score. But that wasn't the case in Week 1.
The Jets held Buffalo in check in the first half, but gave up 21 second-half points, including a TD run to
C.J. Spiller
in which multiple Jets missed tackles.
Defensive coordinator Mike Pettine said he addressed the issue with his defense on Monday.
"It's a good lesson for our guys that in this league, you have to maintain your focus throughout the whole game," the coordinator said.
SPARANO PRAISES SANCHEZ:
What impressed offensive coordinator Tony Sparano most about
Mark Sanchez
's game against the Bills?
His ability to bounce back.
Sanchez was able to put an ugly turnover on the Jets' opening drive behind him immediately, leading Gang Green to a touchdown on the next drive.
"That's probably the thing I was most impressed with," Sparano said, "because it was something that I hadn't been through with him."
October, 2, 2010
10/02/10
7:56
PM ET
The Bills always have one of the best special teams units in the game and will provide a good challenge for Gang Green this weekend. First-round pick C. J. Spiller returned a kickoff for a touchdown against New England last weekend and Roscoe Parrish is one of the best punt returners in the game. Punter Brian Moorman is also one of the best in the league.

Special teams coordinator Mike Westhoff met with the media Friday and discussed a variety of topics. While he didn't delve into much about Buffalo's special teams, other than talking about their tendency to draft top returners from college and praising Buffalo's returners and unit as a whole, here are some of the highlights from his talk.

OH SNAP: Westhoff praised second-year long snapper Tanner Purdum's technique, saying he could always snap, but the questions were always whether he could block. He also applauded his work habits.

"He's got better and better and we've really challenged him going all the way back to the minicamps," Westhoff said. "We made it very difficult for him, every day and he's reacted very well. He's got stronger. We have him on a special program to get him stronger and he's improved it."

UP AND AWAY: Westhoff said that punter Steve Weatherford has improved his directional punting, his hang time is better and he's been more explosive this year. Weatherford is averaging 46.2 yards per punt, and he has a long of 61 yards in 14 attempts.

While Westhoff didn't make a direct correlation, he said he's seen a more explosive Weatherford this offseason following his cardiac ablation procedure. Weatherford had the procedure done in the offseason to prevent irregular heartbeats, as he missed Jets Wild Card round victory over the Cincinnati Bengals because of the medical condition.

Westhoff said Weatherford has been able to move forward with his workout regiment, compared to previously "take two steps forward and a step back." He started noticing in March that his punter "looked different" in the offseason. Westhoff said Weatherford has gone from averaging 4.3 seconds of hang time in practice to 4.65 to 4.7 seconds.

"He's able to maximize his abilities and he's done it in the games and he did in the preseason so hopefully he'll continue," Westhoff said. "But to me it's a matter of I see how he's improved physically, that's what I've seen but the whole package has been a good package. (The punts) not all perfect, he doesn't hit them all perfect, but he's done a nice job.

PRACTICE MAKES PERFECT: Eric Smith's blocked punt against Miami on Saturday was the result of practice, practice and more practice. The special teams unit had seen that the Dolphins were a little aggressive and the Jets practiced that scenario and Smith ended up with the block. Westhoff said Brad Smith set it up for Eric Smith.

"Eric Smith is a very gifted athlete. He just has a knack and I don't think I've been around anybody that worked harder at practice of doing it every single day when he rushes," Westhoff said. "He gives our guys fits. Who ever we try to get to block him has a hard time. Every day he works at it. "

JOKE TIME: Speaking of Brad Smith, Westhoff had the line of the day about the Jets Mr. do-it-all.

Said Westhoff: "Brad leaves, I'm leaving."

Westhoff added that Brad Smith allows the team to do to a lot of things, and any time he has a football in his hands, he's a dangerous weapon. He also praised him as a return man.