New York Jets:

Terry Bradway
April, 30, 2014
Apr 30
6:30
PM ET
FLORHAM PARK, N.J. -- Remember last year in free agency, when the
New York Jets
lost
LaRon Landry
,
Dustin Keller
,
Mike DeVito
and
Shonn Greene
?
General manager John Idzik, who took a lot of criticism for the exodus, admitted Wednesday that the decision to let those players walk was based, in part, on knowing they'd receive compensatory draft picks for the losses.
The Jets ended up receiving the maximum number of compensatory picks (four), giving them a total of 12 picks in next week's draft.
"The compensatory draft-pick system is always in your mind," Idzik said at the team's pre-draft news conference. "It's a factor. It's not the determinant, but it's a factor."
A number of well-respected teams, namely the
New England Patriots
,
Green Bay Packers
and
Baltimore Ravens
, have maximized their compensatory picks. Now the Jets get a chance to cash in. The third day of the draft (rounds four to seven) will be hectic, as the Jets have nine picks over the final four rounds.
Not everyone is a fan of collecting compensatory picks.
"We never went into free agency saying, 'Let's let Bobby and Billy go so we can get a compensatory pick to replace them,'" said ESPN analyst Jon Gruden, a former coach. "We never said, 'Let's not sign a free agent because it will hurt our ability to get a compensatory pick.'"
The Jets' compensatory picks: Fourth round (No. 137 overall), sixth round (No. 209), sixth round (No. 210) and sixth round (No. 213).
Numbers game
: A lot of work goes into a draft. It takes almost a full year for the entire scouting process. Former GM Terry Bradway, the senior director of college scouting, provided his annual numbers breakdown, illustrating the point:
Number of schools visited: 263.
Number of school visits: 575.
Number of players written up in scouting reports: 1,372.
Number of player evaluations: 3,500.
Player interviews: 635.
Pro days attended: 115.
College games attended: 120.
The numbers remain fairly steady from year to year, and you can bet every other team is doing the same amount of homework.
April, 30, 2014
Apr 30
4:45
PM ET
FLORHAM PARK, N.J. -- The
New York Jets
will have plenty of cooks in the kitchen during next week's draft. That's because it'll be a bigger kitchen.
The Jets did some remodeling at their facility, expanding the draft room in terms of actual space. The room also will include more technology, allowing the decision makers to punch up relevant intel in a matter of seconds. Cynics will argue that Woody Johnson should've spent more money on free agents instead of interior decorating, but that's a story for another day.
"We want (the room) to be more inclusive, to get more people in there without sitting on top of each other," general manager John Idzik said Wednesday at the team's pre-draft news conference. "We have a lot more technology in the room. We have the ability to get things on the screen instead of shuffling through papers. The general direction is to get more efficient."
That, of course, is the bottom line. Fans don't care if the GM makes the picks from the men's room -- as long as they're the right picks. Idzik's first draft, led by NFL Defensive Rookie of the Year
Sheldon Richardson
, was solid. Now, with 12 draft picks, Idzik has a chance to make a killing, especially if he uses the picks as bargaining chips to wheel and deal, targeting specific players.
Idzik provided no clues about the team's draft plans. He and his top draft lieutenants, Terry Bradway and Jeff Bauer, were more guarded than usual during a 30-minute session with reporters. In other words, he was willing to talk about the actual draft room, but nothing that will happen inside the walls.
Will they trade up from 18th? He didn't rule it out. Will they trade down? He didn't rule it out. Could he pick a quarterback in the first round? He didn't rule it out. Then again, he didn't rule out any position.
"We'll go in open minded," Idzik said about the prospect of moving from 18. "The nice thing about having 12 picks is it does give you flexibility and maneauverability in the draft. With fewer picks, you're less apt to do that."
They wouldn't discuss specific prospects. They wouldn't discuss positions in general. They wouldn't even acknowledge the worst-kept secret in football, that they will pick a wide receiver at some point.
"I wouldn't say it's safe to say anything at this point," Idzik said. "We're going to take the draft one pick at a time and add the best players."
It's unlikely they will pick at quarterback at 18, even if one of the Big Three slides. The Jets have spent the offseason talking up
Geno Smith
, even as they were wooing and signing
Michael Vick
, so it's hard to imagine them bailing on him after one year. But ...
"Geno has a year under his belt, but if a new guy comes in, we'd expect him to add to that competition," Idzik said. "That's going to make everybody better, not only the rookie, not only Matt (Simms), but only Mike, but also Geno."
Many experts are calling this one of the deepest drafts in years. Bradway allowed, "We probably have more draftable players (on our board) than we've had in a few years." It's particularly deep at wide receiver, one of the Jets' biggest needs.
"It's hard for me to compare year to year, but it's a good group," said the usually expansive Bradway, biting his tongue.
Idzik acknowledged that he feels more comfortable in the big chair than last year, when he was new on the scene. It allowed him to spend more time on the road, scouting. After being hired in January, 2013, he stayed mostly at the facility, supervising the transition.
"I didn't get the benefit of scouting the college season with the Jets' staff," said Idzik, who ended up replacing some of those scouts. He added, "This year, there was definitely a higher comfort level."
Especially in the draft room.
February, 16, 2014
Feb 16
11:00
AM ET
Catching up with the
New York Jets
:
[+] Enlarge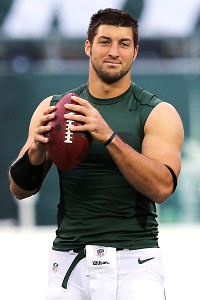 Debby Wong/USA TODAY SportsThe Jets didn't handle the Tim Tebow circus particularly well, so how would they handle prospect Michael Sam?
1. Welcome mat?
Curiously, the Jets' players were relatively quiet on Twitter when
Michael Sam
made his announcement last Sunday. How would they feel about an openly gay player on their team?
Sheldon Richardson
spoke highly of Sam, his former college teammate, in a TV interview. Another player, speaking on the condition of anonymity, told me, "Besides the amount of media, you're dealing with some guys who might not be comfortable with it. He was the Defensive Player of the Year in the SEC, so, obviously, the guy can play some ball. At the end of the day, it's all about playing football. If we could use him, I don't see why not. I think we'd welcome him. We know he's a heckuva player."
As the player noted, the media factor would be significant. Anybody who doesn't think it wouldn't be a distraction is fooling themselves. Some teams handle distractions well; some don't. The Jets didn't exactly stage a clinic during the
Tim Tebow
circus in 2012. The team has yet to comment on Sam, but general manager John Idzik and Rex Ryan will address the media Thursday at the scouting combine in Indianapolis.
1a. Not a Jets fan
: Six days ago, I examined the possibility of whether the Jets
might be interested in Michael Sam
. Maybe the question should be, why should Sam be interested in the Jets? A Sam acquaintance -- Cyd Zeigler, co-founder of OutSports.com -- doesn't think the Jets would be a good landing spot for Sam. Zeigler, who was involved with Sam's agents and publicists in the strategic planning of his announcement, trashed the Jets and other teams in an interview with a CBS radio affiliate in Washington, D.C.
"He can work on any team with decent leadership," Zeigler said. "I pray to God he doesn't end up on the
Dallas Cowboys
, the New York Jets or the
Washington Redskins
. I think those three teams -- they have poor leadership, but most of the other teams in the NFL have guys -- the coaching staff, the front office and locker room -- who are equipped to deal with this."
2. Under the microscope
: Aside from the social and cultural aspect to the story, Sam's football skills will be under intense scrutiny, starting this week at the combine. He'll generate more attention than any middle-round projection in history. Many scouts will be looking to see if he has the athleticism to make the conversion from 4-3 defensive end to 3-4 outside linebacker. One NFC scout, who watched Sam closely at the Senior Bowl, doesn't think he can do it.
"He's not a linebacker," the scout said. "He doesn't have the instincts or the movement skills. ... He's a tenacious, tough kid, but he's not a space guy."
The scout also was surprised to see Sam play defensive end in the Senior Bowl game after practicing primarily at linebacker during the week. He took that as a sign that Sam doesn't feel comfortable at linebacker. If the Jets agree with the assessment that he can't play linebacker, it's hard to imagine them drafting a defensive end whose size (6-1 5/8, 255 pounds) isn't a fit in their scheme. Besides, they don't have a pressing need for an edge player.
The scout also said "there's no question in my mind" that Sam's sexual orientation will have an impact on his draft position. "I know it's the 21st century, but you still have people who were brought up a certain way," he said. "Forget about the coaches and administrators, what about the players? You have to think twice about putting the player in your locker room."
3. Double-E
: The pre-draft speculation has focused on the Jets' need at wide receiver, but let's not forget, their tight-end depth chart is almost barren. Word is they're very intrigued by North Carolina tight end
Eric Ebron
. Projected as a mid-first-round pick, Ebron will be linked to the Jets in plenty of mock drafts over the next 2 1/2 months. He's the kind of pass-catching threat they need, but there are some questions. "I don't think he's tough enough to run down the seam and catch the ball in the middle," an AFC personnel executive said. "Is he a great athlete? Yes. Does he have good hands? Yes. Can he catch the ball in traffic? I don't think so." Ebron is the kind of athlete that will wow evaluators at the combine and workouts, but teams will have to rely on game tape to determine if the toughness questions are accurate.
4. The Idzik way
: Under general manager John Idzik, the Jets have tweaked some of their player-scouting methods. Terry Bradway, the team's senior director of college scouting, told the team web site, "We're putting a huge emphasis on the person and the character issues, both football and personal. We've done that in the past, but there's an added emphasis." Holding true to that philosophy, they didn't take any significant gambles in last year's draft -- at least not in terms character questions.
5. Say hello to T-Mac
: There hasn't been much written about new Jets special teams coach Thomas McGaughey (the team hasn't made him available to the media), but I talked to someone who worked with him on an NFL team and the feedback was positive. He was described to me as, "A really sharp guy ... a straight shooter ... takes a lot of pride in his work." McGaughey (pronounced: Mc-GAY-hee) spent the last three seasons as LSU's special-teams coach. His insight into SEC players will be valuable during the pre-draft evaluation process. Remember this name: Odell Beckham, Jr. He was a top receiver/kick returner for LSU, and McGaughey is said to be very high on him. A postscript on McGaughey: He interviewed with the Jets in 2008, when Mike Westhoff took a medical leave of absence.
6. Down on Geno
: Former longtime
Chicago Bears
general manager Jerry Angelo, who interviewed for the Jets' job last season, offers an insightful quarterback analysis on
sidelineview.com
. Grading players on a nine-point scale, the way teams grade college players on their draft board, Angelo rates Geno Smith as the 29th quarterback. He puts Smith in the 6.0-6.4 grouping, which he describes as: "Can start and compete with him with a good supporting cast and quality coaching, but lacks something, i.e., arm talent (strength or accuracy), poise, instincts. Not good enough. To win with him 2 of the 3 of the phases have to be dominate or surround him with high caliber players."
Commenting specifically on Smith, Angelo says, "Got a lot of playing time, which may have helped him or hurt him. Too many interceptions and negative plays. His numbers were terrible. His progress will depend on his learning from this year's struggles. Otherwise, defensive coordinators will have a field day with him. Quarterbacks make a living from the neck on up, not the neck on down." I agree. We know Smith has the physical talent; now we'll see how well he can process what he learned last season.
7. Brown and green:
The
Cleveland Browns
' dysfunction (clown car, anyone?) reminds me of the turn-of-the-century Jets. In a span of 364 days, from Jan. 3, 2000 to Dec. 31, 2000, they saw three head coaches quit -- Bill Parcells, Bill Belichick and Al Groh. Ah, memories. The Browns are on their third coach and third GM in three years. Former Jets defensive coordinator Mike Pettine is a promising, young coach, but you wonder if he'll get swallowed up by the Browns' ineptitude.
April, 16, 2010
4/16/10
9:50
AM ET
Mike Tannenbaum was asked yesterday if he would be trading up this year, and he didn't even try to be cagey about it.
"I told these guys we are not trading up this year," said Tannenbaum, flanked by head scout Joey Clinkscales and Terry Bradway. "No matter what happens, grab the phones! I don't want to trade up, but we'll see what happens. I think we're happy with where we are, but we'll let the board dictate what we do. I like where we are. I want to keep our first two picks where we are.
"We should get two good football players that can help us. We know what their salaries reasonably should be. We try to put that into the budget the next two or three years. As we make these other acquisitions, those picks are going to be important for us for strategic planning purposes moving forward."
But can Tannenbaum help himself? For the right pass rusher? For the right safety?
There are certain players we identify as guys that within reason if they got to a certain point we'd consider to try to go up and get," Bradway said. "So you play that out in the first round, because you don't know who is going to be there in the second or third round. It's interesting. We have some good conversations. Mike's done a great job in being aggressive and getting players. I think at one point he was a quantity versus quality guy, now he's come around to the other side."
In other news, The Smoking Gun documents from the Ben Roethlisberger investigation are disturbing. If Pittsburgh dropped WR Santonio Holmes for his substance and other off-the-field issues, it's hard to think they keep their QB given what's in there.
Fans can be pretty tolerant regarding the misbehavior of their own players (see Barry Bonds), but Roethlisberger may have crossed even that line.