New York Jets:

Training camp
August, 14, 2013
8/14/13
10:01
PM ET
CORTLAND, N.Y. -- In his final news conference in Cortland, Rex Ryan opened with a joke.
"That was a beautiful December day," he said, calling it the coldest training-camp day he's ever experienced.
Ryan used that as a jumping-off point to rip his offense. The weather, he said, was "almost as chilly as the offensive performance."
He's right, it was a rough day.
Geno Smith
threw three interceptions in team drills, plus a near-interception.
Mark Sanchez
almost had a shovel pass intercepted. (
Bubby Brister
, anyone?) There were a couple of costly dropped passes as well.
"Not a good day at all for the offense, so obviously we have to straighten at lot of things out before we play the game against Jacksonville," Ryan said. "So (I'm) disappointed. I thought we had been doing some good things out there. It was a good day for the defense, bad day for the offense. I don't know what else to say about it."
BAD BACK
: Ryan didn't seem overly concerned by
Kenrick Ellis
' back injury, but he learned last season to be wary of nose tackles with back issues.
Sione Po'uha
was a diminished player because of a serious back injury.
"I know it's a day-to-day thing, so I'm certainly hopeful it's not as bad as Sione," Ryan said. "That kept Sione out of a lot of training camp, so hopefully it's not like that. To me it's just a day-to-day type injury."
Ellis, hurt in the weight room, has missed two straight days. He rode a stationary bike during practice.
DAVID THE GOLIATH
: Ryan likes what he sees so far from a slimmed-down
David Harris
. With
Bart Scott
gone, Harris may have to take on a bigger leadership role.
"He's been fantastic," Ryan said. "I mean, he really has taken over that leadership. He's more vocal and everyone on this team respects him. Everybody respects David Harris. And not just because he's a good player, but he's a true professional, and I think everybody recognizes that.
DeMario [Davis]
has some leadership ability of his own, but I see that he does lean on David as well."
August, 14, 2013
8/14/13
7:29
PM ET
CORTLAND, N.Y. -- Observations from the press box:
1. No coddling Geno
: The Jets were criticized for coddling
Mark Sanchez
in his formative years. You can't accuse them of the same with
Geno Smith
, not after Wednesday. Granted, he suffered his worst day of training camp, but it's not often you hear a coach use the word "brutal" to describe a day by a rookie. By dropping the 'B' word, Ryan turned a run-of-the-mill, bad-practice story into a national headline. Maybe he did it because he wants to test Smith's mettle. Regardless of his motivation, Ryan showed there will be no kid-glove treatment.
2. Why not rest him?:
No doubt, the Jets will be criticized for not giving Smith a couple of days off to rest his sore ankle. Now there's a chance they may have to sit him Saturday night, which could cause them to alter The Quarterback Plan. I think Ryan had the big picture in mind by sending out Smith the last four days. Here's a quarterback whose intangibles were questioned before, during and after the draft. It happened again this week, with the stories out of West Virginia. By taking a Parcells-ian approach, Ryan allowed Smith to show his teammates he's willing to play hurt. That will build his stature in the locker room, which ultimately will benefit him.
3. Conspiracy theory
: Because we're talking about the Jets, a team that does weird things at the quarterback position, it's fair to wonder if there are hidden subplots at work. It's not farfetched to think that Ryan and GM John Idzik have conflicting agendas. Ryan needs to win now and Idzik, the man who drafted Smith, has the luxury of thinking long term. Ryan didn't sound like a big Geno Smith fan Wednesday, so perhaps he'd like to take his chances with Sanchez as his starting quarterback. I'm not trying to spark a controversy here. Just saying.
August, 12, 2013
8/12/13
6:26
PM ET
CORTLAND, N.Y. -- Somehow, Rex Ryan got it into his mind that second-year LB
Demario Davis
was labeled a bust. Hey, sometimes coaches take a perceived slight and turn it into a rallying point. On Monday, Ryan delivered a strong defense of Davis, predicting a big season for the former third-round pick.
"Really, okay, we'll see if he's a bust," Ryan said. "Now he gets to prove it. The guy can cover, he can run, he can blitz, he can do all. ... He is everything we thought he was, but that will be proved out as this year goes on. That will definitely be proved out.
Davis, who backed up
Bart Scott
last season, is slated to start at inside linebacker. He will get more preseason reps than other starters because he needs game experience.
NO GUSHING
: Other than his horrendous interception for a touchdown in the opener, QB
Mark Sanchez
has played reasonably well over the last week to 10 days. Reminded of that, Ryan gave a positive, if not enthusiastic evaluation of Sanchez.
"He's had some good days, and he's strung some good days back-to-back-to-back, so that's been encouraging," Ryan said. "The one day when everyone had a bad practice, he had a great one, so that was good."
And that was that.
CUP OF JOE
: Ryan was asked if he's exasperated by
Joe McKnight
various issues -- dehydration, traffic arrest, migraines, etc. Ryan gave a tactful answer, but it wasn't hard to read between the lines: His lack of dependability could cost him.
"These are young men and ... some things come up," Ryan said. "There's nobody that's perfect. But where he's at from a reliability standpoint ... durability is a big thing in this league, so there's no question about it. Has Joe had his moments here? Absolutely he has. When you look at it from a statistical standpoint, Joe averaged over six yards a carry last year, has led this league in kick return [average]. So we know when he's healthy, Joe can be a good contributor for our football team. But right now we've just got to get him healthy."
J.J. GETS A SHOT
: Ryan didn't hand the starting free-safety job to
Jaiquawn Jarrett
, but he said Jarrett will start Saturday against the Jaguars.
"He'll start this week, but I'm not talking about for the season," Ryan said. "I mean, there's some great competition there, there's no doubt. Both those guys played well, but Jaiquawn, I'm like, 'You know what? Let's put him out there, let him work with the [starters] as well, where he gets communication with
[Dawan] Landry
, and then
Antonio [Allen]
will get communication with
[Josh] Bush
and we'll just see what happens.'"
August, 11, 2013
8/11/13
3:46
PM ET
CORTLAND, N.Y. -- Despite a noticeable limp, rookie
Geno Smith
took the majority of the practice reps Sunday, per the Jets' quarterback rotation. Smith was exceptionally sharp -- except for one bad play.
Smith misread a play in the red zone, throwing into the middle of the end zone for WR
Ryan Spadola
. He didn't see CB
Antonio Cromartie
, who made the interception. Only a few days ago, Rex Ryan emphasized the importance of avoiding turnovers in the red zone.
That was Smith's only hiccup. Working with the first unit, he completed seven of 10 passes (one drop), with four touchdowns. Two TDs came on 25-yard strikes to TE
Jeff Cumberland
, who beat OLB
Calvin Pace
both times. The other two came in a goal-line drill, both rollouts in which Smith found TE
Konrad Reuland
in the back corner of the end zone. Offensive coordinator Marty Mornhinweg kept calling rollouts despite Smith's mildly sprained right ankle. Afterward, Smith admitted he was less than 100 percent.
Smith was sacked one time, by NT
Kenrick Ellis
. He received an earful from Mornhinweg, who wanted Smith to get rid of the ball. That has been an ongoing issue with Smith.
It wasn't a particularly good day for Sanchez, who went 3-for-9 (one drop), with one TD and one sack. In the goal-line drill, he hit TE
Chris Pantale
for three yards on a rollout. On a similar play, he missed an open TE
Hayden Smith
in the back of the end zone.
TOUGH DAY FOR BRAY
: WR
Braylon Edwards
dropped a pass and, earlier, incurred the wrath of Mornhinweg for not finishing two plays in a one-on-one drill. On the second one, Edwards responded, telling Mornhinweg he stopped because a flag was thrown. Mornhinweg didn't care. Essentially, he told Edwards this wasn't a Pro Bowl practice and that he needed to hustle for the duration of the play. Edwards declined an interview request after practice.
ATTENDANCE REPORT
: RB
Chris Ivory
(hamstring) took part in positional drills, but stayed out of team drills. He has yet to practice fully. ... RB
Joe McKnight
, who missed a few days with a head injury, returned on a limited basis. He wore the red jersey (non-contact), as did FB
Lex Hilliard
(ribs). ... OLB
Garrett McIntyre
, who hurt his knee in the game, practiced. ... LB
Josh Mauga
(back), WR
Titus Ryan
(hamstring) and C
Dalton Freeman
(ankle) didn't practice. ... TE
Kellen Winslow
rested.
ODDS AND ENDS
: As expected, S
Jaiquawn Jarrett
moved up to first-team defense. ... WR
Stephen Hill
, continuing his strong camp, made a 50-yard reception in 7-on-7. Nice throw from Smith. ... QB
Matt Simms
threw a long TD pass to Hayden Smith. Later, in 7-on-7, Simms was intercepted by CB
Mike Edwards
. ... Rex Ryan, who was criticized for not watching the offense during the preseason opener, spent the first portion of practice on the offensive side of the field.
August, 4, 2013
8/04/13
9:20
PM ET
CORTLAND, N.Y. -- Looking to add depth in the backfield, the Jets signed former Bucs RB
Mossis Madu
on Sunday.
Madu, who made the Bucs' roster last season as an undrafted free agent out of Oklahoma, rushed for only 55 yards on 15 carries (3.7 average). But he showed an ability to catch the ball, finishing with 10 receptions for 72 yards in nine games.
The Jets are hurting in the backfield.
Chris Ivory
(hamstring) still hasn't practiced,
Mike Goodson
isn't in camp and
Joe McKnight
missed Saturday night's scrimmage with concussion-like symptoms.
Bilal Powell
did a nice job in the scrimmage, but they still needed a body.
The Jets also re-signed WR Michael Campbell (training camp, 2012) and they signed C
Erik Cook
, a seventh-round pick of the Redskins in 2010. He also spent time with the Eagles. He has six games played, including two starts. They needed a body with rookie C
Dalton Freeman
sidelined with a high-ankle sprain. Backup
Caleb Schlauderaff
didn't fare well in the scrimmage.
In other roster moves, the Jets waived former seventh-round WR
Jordan White
(injury settlement) and CB
Eric Crocker
, who made an interception but also was burned for a 47-yard TD pass in the scrimmage.
August, 4, 2013
8/04/13
6:00
AM ET
CORTLAND, N.Y. -- The Jets are off Sunday. The coaches will use the day to evaluate Saturday night's scrimmage, perhaps tweaking the depth chart before returning Monday morning to the practice field.
Some issues surrounding the team:
1. Mark vs. Geno
: Based on the current quarterback rotation,
Mark Sanchez
will lead the starters Monday and Tuesday,
Geno Smith
on Wednesday. The coaches, of course, could tweak the rotation, based on which quarterback they plan to start in the first preseason game, next Friday in Detroit.
2. Running-back depth
:
Bilal Powell
was the unofficial MVP of the scrimmage, but the coaches will feel a lot better about the backfield when
Chris Ivory
(hamstring) returns. The hope is he can return early in the week. Also remember,
Joe McKnight
is suffering from concussion-like symptoms and could miss a couple of days, maybe more. Powell and
John Griffin
will continue to get most of the reps.
3. Summer of Vlad
: You can't get rid of
Vladimir Ducasse
. With
Stephen Peterman
(shoulder) and rookie
Brian Winters
(ankle) nursing injuries -- Winters was hurt in the scrimmage -- Ducasse could see first-team reps at left guard in practice. Speaking of line depth, they could be scrambling for a backup center.
Dalton Freeman
, an impressive undrafted rookie, is out indefinitely with a high-ankle sprain.
Caleb Schlauderaff
, one of former GM Mike Tannenbaum's favorite players, looked awful in the scrimmage, sailing a shotgun snap way out of Sanchez's reach. They need
Nick Mangold
insurance.
4. Dee's role
: After missing the offseason due to shoulder surgery, and the first few days of camp because of a contract dispute, first-round CB
Dee Milliner
is on the fast track. He's already involved in the starting nickel package. He could have an increased role in the base, challenging
Kyle Wilson
.
July, 29, 2013
7/29/13
4:15
PM ET
CORTLAND, N.Y. -- The Jets have invested a lot of resources in their defensive line -- three No. 1 picks -- and now they're expecting a big payoff. The goal, according to
Quinton Coples
, is to be the scourge of the NFL.
[+] Enlarge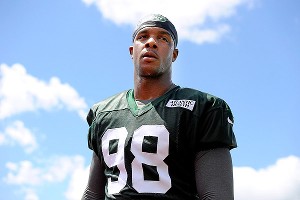 Rich Barnes/USA TODAY SportsQuinton Coples has high aspirations for the Jets' defensive line.
"No disrespect or discredit to any defensive front out there, but we want to be the best and make our own name," Coples said Monday.
Confident man, Coples.
"Why wouldn't I be?" he asked. "I see what we have, I see the talent we have. ... The sky is the limit."
The line has tremendous potential, but it's important to keep it in perspective. The only proven player among the projected starters is
Muhammad Wilkerson
, who felt he should've made the Pro Bowl last season. After two years, he's already considered one of the top 3-4 defensive ends in the league.
Coples posted a team-high 5.5 sacks as a rookie, but he's still learning. (Technically he's no longer listed as a defensive lineman, but he still lines up on the line in the nickel package.) Rookie
Sheldon Richardson
, selected 13th overall, has impressed in the early practices, but he played only two years at the major-college level.
Rex Ryan, a former defensive-line coach, loves the unit's potential. But he was careful not to gush too much.
"We have a
long
road before we say (it's the best)," he said. "How 'bout we play a couple of games? But they certainly are a talented group. They're a talented group, no question. You want your guys to have that kind of confidence, but to be the best, you have to show up every day."
Ryan added: "It'll be interesting to see this group grow together. Could it be one of the best? If they keep working, I certainly hope so."
The projected starters are Wilkerson, Richardson and NT
Kenrick Ellis
, a first-year starter. The elder statesman,
Antonio Garay
, said Ellis "hasn't even scratched the surface yet of how good he can be." Garay, who played with the Bears in 2006 and 2007, said Richardson reminds him of former Chicago DT
Tommie Harris
. Nice compliment. Garay, the wise vet, believes in the unit. But he's not ready to anoint it as the next Steel Curtain.
"Coaches and media tell us how good we can be, but it's not as good as we can be," he said. "Right now, we have all the potential in the world, but that doesn't mean anything without hard work."
July, 25, 2013
7/25/13
6:00
AM ET
Year 5 of the Rex Ryan era begins in 3 ... 2 ... 1 ...
On Thursday, the Jets report to training camp at SUNY-Cortland, where they trained in 2009, 2010 and 2012. (In 2011, they stayed in Florham Park, N.J., because of the lockout.) They break camp Aug. 14.
While in Cortland, they will conduct 14 practices plus the annual Green & White scrimmage on Aug. 3. The first practice is Friday, from 10 a.m. to noon (open to the public). The first two practices are in shells; the players won't be in full pads until Sunday.
Thursday is check-in day, when players and coaches arrive and report for their dorm assignments. It's always an interesting sight, millionaire athletes checking into college dorms. Athletes from the other major team sports never have to rough it like this.
Rex Ryan and the players will be available to the media. The Day 1 hot-button topics:
1. The QB battle
:
Mark Sanchez
and
Geno Smith
did a lot of chirping during the six-week hiatus; now it's time to walk the walk. Smith will be grilled about his no-show at "Jets West" and his recent "great shot" comment about winning the starting job. Was that a great shot at Sanchez?
2. Contract issues:
Their top draft pick, CB
Dee Milliner
, remains unsigned. Fellow first-rounder, DT
Sheldon Richardson
, is on the verge of a four-year, $10.05 million deal and is expected in Cortland. Milliner's surgically repaired shoulder bears watching. He missed the offseason and will be eased in slowly, perhaps starting on the injured list.
3. Cleveland East
: WR
Braylon Edwards
is expected to sign a one-year contract and will be in Cortland, marking his third stint with the team. He will be reunited with TE
Kellen Winslow
, a former teammate with the Browns. They formed a lethal tandem in 2007, combining for 162 catches, 2,395 yards and 21 touchdowns. But in the NFL, that was forever ago.
4. Rex on the hot seat
: This could be Ryan's final season with the Jets. No doubt, he'll have something to say about that. He already talked plenty
in an interview with ESPNNewYork.com.
5. Tone Time
: WR
Santonio Holmes
(foot) opens camp on the physically-unable-to-perform list. This was known for months; the question is, how long before he's cleared to practice?
June, 25, 2013
6/25/13
8:00
PM ET
2013 NEW YORK JETS TRAINING CAMP PUBLIC PRACTICE SCHEDULE

All dates and times are subject to change.

In Cortland, for every practice listed below, gates and Jets Fest will be open from 9 a.m. to 1 p.m.. For the Green & White practice, gates and Jets Fest will be open from 4 p.m. to 8:30 p.m.

Friday, July 26: 10 a.m. (Shells)

Saturday, July 27: 10 a.m. (Shells)

Sunday, July 28: 10 a.m. (Pads)

Monday, July 29: 10 a.m. (Pads)

Wednesday, July 31: 10 a.m. (Pads)

Thursday, Aug. 1: 10 a.m. (Pads)

Friday, Aug. 2: 10 a.m. (Pads)

Saturday, Aug. 3: Green & White Practice at 6 p.m. (Pads)

Monday, Aug. 5: 10 a.m. (Pads)

Tuesday, Aug. 6: 10 a.m. (Pads)

Wednesday, Aug. 7: 10 a.m. (Pads)

Sunday, Aug. 11: 10 a.m. (Pads)

Monday, Aug. 12: 10 a.m. (Pads)

Tuesday, Aug. 13: 10 a.m. (Pads)

Wednesday, Aug. 14: 10 a.m. (Pads)

Atlantic Health Jets Training Center practices:

Tuesday, Aug. 20: Exclusive Season Ticket Holder Practice, 12:30 p.m. (Gates/Jets Fest at 11:30 a.m. to 3:30 p.m.)

Wednesday, Aug. 21: Open practice at Atlantic Health Jets Training Center, 11:15 a.m. (Gates/Jets Fest at 10:15 a.m. to 2:15 p.m.)

August, 4, 2012
8/04/12
10:46
PM ET

CORTLAND, N.Y. -- It was clear who was the people's choice at quarterback during the
New York Jets
' scrimmage Saturday night. You can hear fans yelling "Tebow! Tebow! Tebow!" at different points of the night from the crowd of 9,200.
But Jets starting quarterback
Mark Sanchez
looked unfazed by Tebow's big reception and huge cheers. Instead, Sanchez did the talking with his arm.
Sanchez had a very good outing, completing 11-of-16 passes and a touchdown in New York's first team-wide scrimmage. Sanchez was decisive and accurate. One of his five incompletions was a drop by receiver
Santonio Holmes
, who injured his ribs during the scrimmage.
The performance creates separation and some breathing room for Sanchez, who can definitely use it. Sanchez clearly looked like the better quarterback on this day, as the Jets prepare for next week's preseason opener against the
Cincinnati Bengals
.
"It was good for us to get moving again and see things full speed. ... It was more like a game and we keep inching closer to that," said Sanchez, who felt good about his performance.
Meanwhile, Tebow struggled. He was 0-for-3 with two bobbled snaps. Tebow did put together a couple of nice runs. But overall New York's offense looked shaky when Tebow was under center. To be fair, Tebow played with the second-team offense, while Sanchez played for the first team.
But Tebow didn't show much during this scrimmage to worry Sanchez. He didn't complete a pass, although his first deep ball was a good one that just missed backup receiver
Dexter Jackson
.
Still, no player received more cheers on the night than Tebow. After Sanchez's first drive ended and Tebow's second-team offense entered the game, Tebow received the loudest ovation of the night.
"It felt great," Tebow said after the scrimmage. "You have a lot of great, passionate fans out here."
Sanchez is not the people's champ, but he was by far the better quarterback in this scrimmage. Sanchez needs more outings like Saturday's to prevent a quarterback controversy and keep Tebow Nation at bay.
June, 13, 2012
6/13/12
9:50
AM ET
As expected, the Jets will report to training camp in Cortland, N.Y., on July 26, the team announced Wednesday.

The team didn't provide a full camp schedule, only a few key dates. The first open practice is July 28, the annual Hofstra practice is Aug. 21 and two practices in Florham Park, N.J., are open to the public -- Aug. 23 and 24.