September, 30, 2014
Sep 30
6:27
PM ET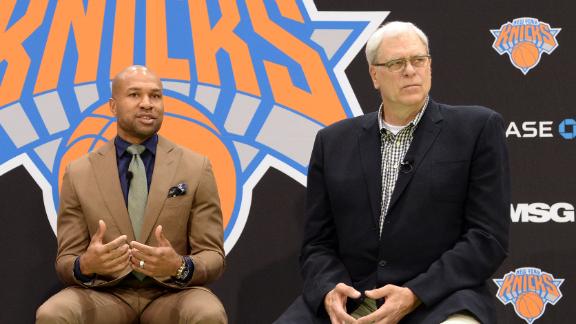 WEST POINT, N.Y. -- With Phil Jackson seated on the sideline next to executives, Derek Fisher's first-ever practice as a head coach lasted nearly three hours.
And there wasn't a single drill devoted to the triangle.
The Fisher-Phil era began in West Point, where the Knicks focused on nothing but defense in their first practice of the season. The triangle will be taught plenty this camp. But Fisher wants to build his foundation on something the Knicks of the '90s hung their hard hats on.
"Fish's message is very clear the way he wants us to play,"
Carmelo Anthony
said at Christl Arena, where the Knicks are practicing this week at the U.S. Military Academy. "Our focus today was total D, 100 percent defensive-minded."
Fisher obviously is built in the mold of his mentor. He believes in Jackson's team principles and the triangle. But he is the first to say, "I'm not Phil Jackson."
For Fisher to be successful, he will have to be able to do things his way and how he sees fit. Like the Knicks, he has to form his own identity.
[+] Enlarge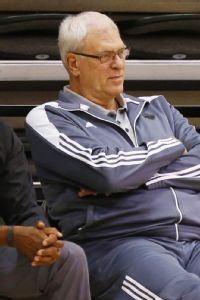 AP Photo/Mike GrollKnicks president Phil Jackson observed Derek Fisher and the Knicks' first day of practice.
And that process started on Tuesday.
"He's got it," Anthony said of the players' respect for Fisher, despite the fact that he's never coached before and recently retired as a player. "That's not even a question. He's got our respect.
"Just his mentality and what he's about. He made that message clear last night [at the team dinner], he made it clear this morning. And we get it."
With
Tyson Chandler
no longer roaming the paint,
J.R. Smith
said the Knicks "are going to push everything to the sideline" and keep "people out of our middle, [whereas] last year it was more forcing people to the middle."
"That there is a mindset that eliminates people not helping and who is supposed to be where and what," Smith explained. "The attention to detail and the drills that we are doing, everybody understands where they are supposed to be on the defensive end."
"Brilliant" is how
Amar'e Stoudemire
described Fisher's tactic of going all defense for the first practice. Certainly, Fisher will have growing pains. He hasn't even called his first timeout yet in a regular-season game, let alone diagramed a last-second, game-winning basket.
Jason Kidd went through the same thing last season with the Nets, who got off to a rocky 10-21 start. But unlike Kidd, Fisher has a luxury no other coach in the NBA has –- the Zen Master.
Fisher can turn to a man who earned 11 championship rings as a coach for advice anytime he wants. Kidd had Lawrence Frank as a mentor, but their relationship soured and didn't even last to Christmas.
It's in Jackson's best interest to groom Fisher. His first choice may have been Steve Kerr, but Jackson will do everything possible to make sure his protégé succeeds.
[+] Enlarge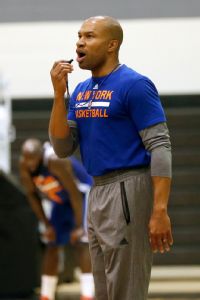 AP Photo/Mike GrollInstallation of the triangle didn't make the cut in Derek Fisher's first practice as a head coach.
"No, I don't think it's very disconcerting having Phil around," Fisher said. "There's definitely some pressure to try to do things in a way that are consistent with success.
"Other than that, it's the best I think to also be a young coach and to have arguably the greatest to ever do it right there, monitoring, observing, but carefully and respectfully offering any suggestions or advice along the way."
It's impossible not to notice or feel Jackson's presence at practice. There's an aura to Jackson, who commands respect in any room he steps into and not just because of his 6-foot-8 stature.
But Anthony said there's no confusion as to whom to go to when direction and coaching is needed. They'll turn to Fisher and the assistants for that. When they need wisdom, perspective or something on a nuance of the triangle, the Knicks can always look to Jackson.
"I think for the most part right now, our focus is really going to Fish and letting Fish coach us," Anthony said. "If we have questions on the outside, Phil's office is always open and he'll talk to us."
At the team's camp opening dinner on Monday night, Fisher reflected on the franchise's long history and "success of the past." He then spun it forward to how the Knicks can create their own special history with team work and attention to the most minor of details.
The Knicks coach will try to do the same himself. He will look to Jackson's storied legacy as a measuring stick and proof of how to win.
But Fisher will try to create his own history, and that process started Tuesday with defense.