October, 21, 2014
Oct 21
1:30
PM ET
By
Mark Simon
| ESPNNewYork.com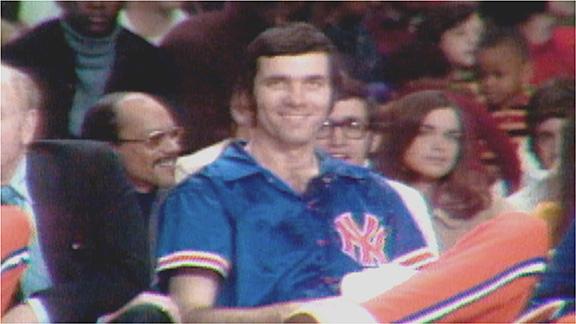 Originally published April 22, 2014; updated Oct. 21, 2014
Phil Jackson is known for giving homework assignments to his players and staff both during the season and in the offseason.
Don't be surprised if a viewing or DVRing of "When the Garden was Eden" is on the list for tonight.
Michael Rapaport's film, based on the book by New York Times writer Harvey Araton, debuted at the Tribeca Film Festival in April. It debuts tonight at 9 on ESPN.
"The reason the movie was made is that the new Knicks haven't won," Rapaport said after one of the Tribeca screenings, which got a standing ovation from a near-full house at the AMC Loews Village in downtown Manhattan. "The old Knicks are like wine. What they did was something special."
The film focuses on the Knicks' championship teams of 1970 and 1973 and features interviews with all of the key participants, including Jackson, who was at one of the screenings and gave the film a thumbs-up.
The movie has in-depth interviews with everyone from Willis Reed, Bill Bradley and Walt Frazier to key reserves Jerry Lucas and Dean Meminger (who died last year while the movie was still being made).
"We cast a shadow over the Knicks," Frazier said during the film. "If they win, they talk about us. If they lose, they talk about us. There's no way to escape it."
The film also includes rare footage, such as that of Reed punching Rudy LaRusso in a famous fight, and the 1973 championship parade and welcoming at City Hall.
The younger fan will be able to relate to the arrival of Bradley to the team, as Frazier compared it to the Linsanity that Knicks fans dealt with a few years ago with the appearance of Jeremy Lin.
Expect to hear a lot of talk about the old Knicks in Jackson's tenure as team president.
"The thing that was really important to the fans was that we were a part of the city," Jackson said.
That figures to be a priority for this team moving forward.
October, 20, 2014
Oct 20
11:25
PM ET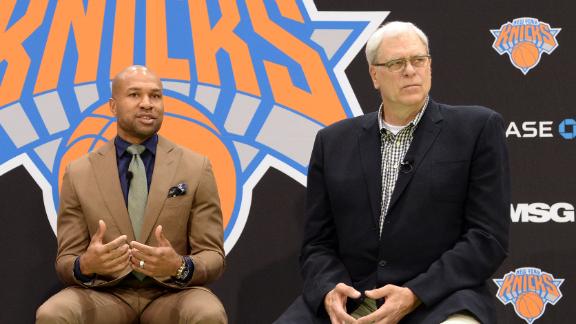 NEW YORK -- As Jason Kidd spoke in a hallway at Madison Square Garden before playing the Knicks, the new Bucks coach recognized a face in the middle of the media throng in front of him.
Derek Fisher stopped by to greet Kidd, who cracked that the new Knicks coach should have had a microphone on him.
"That's what the league wants, they want you to wear a mike all day," Kidd joked.
"C'mon rookie coach!"
A year ago, Kidd was the rookie of all rookie head coaches -- a player who traded in his uniform and sneakers for a clipboard and suit, despite having never coached a single minute in his life.
And Fisher watched with great interest.
"I think it was groundbreaking," Fisher said of Kidd going straight from playing to coaching. "Anytime you have almost like a first or at least in recent years as far as us being able to recall a player that went directly into becoming a head coach before his jersey was even dry, that was unique.
[+] Enlarge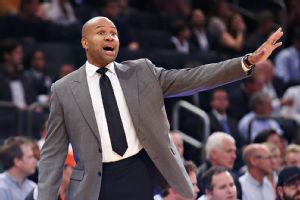 AP Photo/John MinchilloDerek Fisher will follow in Jason Kidd's footsteps, transitioning from NBA player to NBA coach without having prior experience.
"It kind of opens everybody's minds to what's possible."
A year later, the Knicks are about to see the possibilities with Fisher following in Kidd's footsteps. In many ways, Kidd helped pave the way for Fisher, who signed a five-year, $25 million deal despite never having drawn up a play before.
If anyone knows what Fisher is about to experience, it's Kidd. Fisher can learn a great deal from what Kidd went through in a roller-coaster season with the Nets.
The two men share some similarities. Both played point guard and were floor generals for nearly two decades with championship experience. And while Kidd may not have coached the Knicks, he played for them with the core of this current roster. He also understands the intense glare of the New York spotlight shining on your every decision and blunder.
Naturally, when Fisher sought advice before his first training camp, he dialed Kidd's number.
It's a good bet Kidd didn't tell Fisher to spill soda onto the court if he runs out of timeouts late in a game.
"To send the media Christmas gifts, birthday gifts, that might help," Kidd joked when asked what his advice to Fisher was. "Just kidding. I [talked] patience, that's what I told him. And I said you'll be fine.
"You understand what you're trying to do so patience is the first thing you have to deal with. He couldn't ask for a better [boss in Phil Jackson]. He has patience. He understands the system. He understands that it takes a little time to get going."
Fisher has one major luxury Kidd never had as a first-time head coach -- Phil Jackson.
Whenever Fisher has a question or needs advice, he can turn to the Zen Master and all his rings and wisdom. Fisher will need that guidance, as he will certainly experience some turbulence while teaching the Knicks the triangle offense for the first time.
Jackson is going to do everything he can to make sure his apprentice succeeds. Jackson's reputation as an executive will be judged in part by how his first coaching hire does and how well the triangle works in New York.
And while Kidd had to learn on the go with the enormous pressure of coaching a $197 million roster designed to win now, Fisher has the benefit of having a year to grow with a star like
Carmelo Anthony
in his prime before Jackson can overhaul the roster next summer.
"It helps in a lot of different ways," Kidd said of Fisher having Phil on his side. "[Jackson has] sat in that seat as a young coach, as a coach that's won championships. When you have that type of person to lean on or to ask ... he has someone to draw from, from different experiences of how to handle different situations."
"I think when you look at Derek, you look at management, they understand how to do that quite well," Kidd later added. "He has a good mentor to do that."
The Nets knew how vital it was for Kidd to have that mentor. That's why they paid Lawrence Frank approximately $6 million for six seasons to be Kidd's assistant. Unfortunately, the Kidd-Frank relationship didn't make it to Christmas.
That was the lowest point of a disastrous 10-21 start that saw Kidd struggle through key injuries, a soda-spilling gaffe and a split with his mentor to go with several embarrassing losses.
Kidd even admitted he had to learn little things, such as when his team needed him to stand on the sideline and show emotion. He eventually found his coaching style and confidence, helping the Nets go 34-17 after Jan. 1. The Nets won a Game 7 on the road in Toronto before bowing out to Miami in the second round.
Kidd's success certainly was enough proof for the Knicks and Warriors to take chances on newbies like Fisher and Steve Kerr.
But the Kidd-Nets relationship blew up with Kidd seeking personnel control, according to sources, though the Bucks coach denies asking for more power. Kidd would be granted permission to talk to Milwaukee before being traded to the Bucks for two second-round picks.
On Sunday, Kidd was asked if he wanted to be traded by Brooklyn, and he alluded to reports by ESPNNewYork.com and Yahoo! Sports about how Nets management considered firing him during the 10-21 start. Ultimately, ownership felt Kidd still had the backing of his players and stuck by the coach at that time.
"Did I want to be traded?" Kidd said. "I think once [the Nets] OK'd the talk to Milwaukee, that just showed, whatever you want to call it, rumors or no rumors [of] that they wanted to fire me in December had to have some legs."
If there is one thing Fisher -- and even the Knicks -- can learn from Kidd's rookie coaching experience, it's to heed Kidd's advice.
There probably wasn't nearly enough patience between both Kidd and the Nets to work.
October, 20, 2014
Oct 20
10:47
PM ET
Associated Press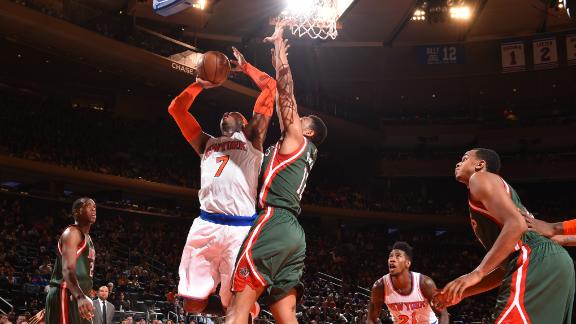 NEW YORK -- Reserve guard O.J. Mayo scored a team-high 24 points, and Giannis Antentokounmpo added 14 as the Milwaukee Bucks beat the New York Knicks 120-107 in a preseason game on Monday night.
Carmelo Anthony led the Knicks with 24 points, and Tim Hardaway came off the bench to score 20.
Jared Dudley had 14 points in a reserve role for Milwaukee, and rookie Jabari Parker chipped in. The Bucks made 59.7 percent of their shots from the field and 12 of 24 3-point attempts.
Knicks starting point guard Jose Calderon leave the court just three minutes into the game because of a strained right calf muscle and never returned. The Spaniard, often plagued by injuries during his career, is expected to be a key figure in the new triangle system installed by new team president Phil Jackson and new coach Derek Fisher.
October, 20, 2014
Oct 20
10:09
PM ET
By
Ian Begley
| ESPNNewYork.com
Amar'e Stoudemire
has a new outlook on life in the NBA now that he's fully healthy.
"My joy is there. My love of the game is there," Stoudemire said before the Knicks' preseason game Monday. "I feel like I'm 19 again, as far as how much I love to play the game of basketball. I feel youthful. To have that type of feeling again, as I had my rookie year, to want to play and just want to be out there and get better as a player is pretty encouraging."
Stoudemire said he'd lost a certain sense of joy due to various injuries over the past few years.
[+] Enlarge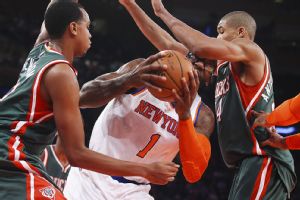 AP Photo/John MinchilloA refreshed Amar'e Stoudemire scored 14 points in 24 minutes of action Monday against the Bucks.
For the first time in years, Amar'e is entering this season
fully healthy
; that health has given Stoudemire the confidence to make some bold predictions. He said he wants to return to
All-Star form
and get back to being
"dominant"
-- as he was in the first half of his first season in New York.
Stoudemire added another goal to his list Monday.
"My goal this year is to become a better defensive player and be known as a defensive player," he said.
Stoudemire hasn't been known as a strong defender in recent seasons. Last year, the 31-year-old ranked 87th out of 88 power forwards in defensive real plus-minus, a stat that measures a player's defensive impact. This past season, the Knicks allowed five fewer points per 100 possessions when Stoudemire was not on the floor.
"It's a challenge I've got to accept, and I'm willing to accept it," Stoudemire said.
Stoudemire revealed his defensive goals during a conversation about playing defense as a center, which is where he started Monday's game.
Derek Fisher wanted to experiment with Stoudemire at center on Monday and started him alongside Quincy Acy at power forward.
"The game's changed a lot in the last several years, and [there are] very few prototypical centers in terms of size and build," Fisher said. "Amar'e's still physically imposing, even though he's not 7-feet tall. We kind of feel good about some things he might be able to do for us offensively and defensively at that position. We've seen it in practice some. We thought it was a great chance to take a look."
Question: What are your expectations for Stoudemire this season? Do you think he can fulfill his goal of improving on the defensive end? Do you think the Knicks should give him a look at center?
You can follow Ian Begley on Twitter.
October, 20, 2014
Oct 20
2:47
PM ET
By
Ian Begley
| ESPNNewYork.com
Travis Wear
may not end up on the Knicks' regular season roster. But it sounds as if he has a future with the organization.
Knicks head coach Derek Fisher has been impressed with Wear's play in the preseason.
[+] Enlarge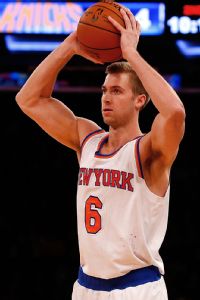 Jim McIsaac/Getty ImagesWear has scored 3.25 points with 2.25 rebounds in 10 minutes per game during preseason.
"He works hard every single day. He has some natural talents and some natural gifts that you can't coach," Fisher said on Sunday. "He's extremely athletic. And he has a feel for the game of basketball and he's helped us in the minutes that he has gotten out on the floor."
The Knicks signed Wear to a training camp contract that contained a partial guarantee. He has had a solid preseason, scoring 3.25 points and pulling down 2.25 rebounds in 10 minutes per game.
"He has definitely proven in a short segment that he has some potential," Fisher said. "So we're excited by it."
Wear will likely get caught up in a numbers game at the end of the preseason, though. The Knicks have 15 players under guaranteed contracts. They'd have to release one of those players to create a roster spot for Wear.
That means that they'd have to be willing to eat money to keep Wear. While this doesn't make much fiscal sense, it's a move that's being considered elsewhere in the NBA.
In Dallas, the Mavericks may keep veteran
Charlie Villanueva
on the regular-season roster. Villanueva has a non-guaranteed deal. To keep him, the Mavs would have to cut a player that has already been guaranteed money.
Would the Knicks be willing to do the same?
That's unclear at this point. The most likely candidate to be cut to make room for Wear would seem to be
Travis Outlaw
.
Outlaw is on the books for $3 million this season.

For what it's worth, it doesn't seem as if Wear is overly worried about his future. "I'm just trying to work every day and just do the best I can and not worry about all that stuff and just play," he said on Sunday.
One of the biggest adjustments to NBA life for Wear has been spending time apart from his twin brother, David. The Wear brothers were top-notch recruits out of Mater Dei HS in California. They spent a year at North Carolina before transferring to UCLA.
"Honestly, I don't think that we've ever spent more than a few days apart, maybe 20 days," Wear said.
David spent training camp and part of the preseason with Sacramento but was released on Sunday.
If Travis Wear meets the same fate with the Knicks, he can possibly end up with the Knicks' D League team in Westchester. At that point, Wear would be free to sign with any NBA team.
Fisher hinted that that's the direction the Knicks were leaning when he said this of Wear on Sunday: "In terms of where he might fit into our roster, we'll continue to evaluate that and we have a lot of veteran guys that are already on our roster and you know it might be tough for him to break through that."
So if Wear ends up in Westchester, his comfort level in the triangle offense would make him a valuable piece for the D League club – and a player who may have a future in the organization.
Question: What do you think about what you've seen from Wear thus far? Should the Knicks keep him on the regular season roster?

You can follow Ian Begley on Twitter.
October, 20, 2014
Oct 20
10:00
AM ET
By
Ian Begley
| ESPNNewYork.com
New York Knicks
rookie
Travis Wear
is trying to make his way in the NBA.
So in addition to spending time at the team's facility during practice, Wear is often on the court in the morning working on his craft. He also stays after practice to take extra shots.
And if the Knicks are off, he'll head to the facility to work out with a few other players.
Each time Ware sets foot in the facility, he sees the same set of faces: Derek Fisher and those of his coaching staff.
"They're in here all the time," Wear says.
Fisher has had to make several adjustments in his transition from championship player to rookie head coach.
Calling plays, setting lineups, implementing a new offense -- it's all new to Fisher, who is in his first days as Knicks head coach following an 18-year playing career.
Something else Fisher has had to get acclimated to? The schedule of a head coach.
There are outliers, but NBA players generally start their day in the mid-morning for practice, which usually lasts no more than three hours. Some players show up early, some stay late. But the hours required on a run-of-the-mill practice day aren't all that taxing.
[+] Enlarge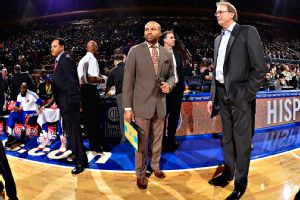 David Dow/NBAE/Getty ImagesDerek Fisher has adjust well to life as a head coach.
For coaches, it's a different story.
"You basically see one time on the clock and the only thing that changes is the a.m. and p.m. So you see the 6:30 a.m. and you see the 6:30 p.m. and everything in between that is just a blur," Fisher says. "It's one thing after another. But it's been great though."
Fisher, who averaged 17.6 minutes per game with Oklahoma City last season, is still in impeccable shape. He's as trim and chiseled as he was in his playing days.
Heck, Fisher would surely be able to crack the Knicks' rotation if he were still in uniform. Not that he has any desire to do so.
Fisher says that he hasn't even been playing pickup since training camp started.
"No, no. That's one thing I probably won't do a lot of going forward," said Fisher, who will coach his second game at MSG on Monday. "I was very fortunate to, other than a right foot injury 14 or 15 years ago, [to have] no other major injuries during my career.
"And I am not going to injure myself seriously playing basketball after my basketball career, that's for sure. So I might injure myself doing something else, but it won't be trying to hustle around playing pick up."
Fisher hasn't discarded all aspects of his life as an athlete, though.
He still spends time in the gym -- though he may not be as meticulous as he was during his playing days.
"Trying to keep the body active and alive and keep some muscle tone so it doesn't disappear," Fisher says. "But you won't catch me out there after hours shooting pickup, that's for sure."
An athlete's transition into retirement can sometimes be messy. There can be second thoughts, impulses to return to the field that are hard to ignore (Brett Favre and Roger Clemens to name two examples).
But Fisher, who retired in May and agreed a few weeks later to a five-year, $25 million contract to coach the Knicks, so far looks completely at ease with his decision.
"My body feels great, that's for sure," Fisher says with a smile. "Maybe not [getting] as much sleep [as a coach]. But my body feels absolutely wonderful and to be able to say on that on Oct. 19, that's a pretty good feeling.
"I'm not longing for doing everything that these guys [players] are doing on a daily basis. If I had made that choice, I would be loving every minute of it. I made the choice to be right here where I am and I'm enjoying every minute of this as well," Fisher says. "No time to really think about what else I could have been doing, it's all about this job."
You can follow Ian Begley on Twitter.
October, 19, 2014
Oct 19
4:05
PM ET
By
Ian Begley
| ESPNNewYork.com
GREENBURGH, N.Y. -- For the first time in a long time,
Amar'e Stoudemire
is not playing with a minutes restriction.
Stoudemire has played with minutes restrictions for most of the past two seasons. Much of last season, he wasn't permitted by the Knicks' medical staff to play in both games of a back-to-back. He also couldn't play more than 30 minutes in a game for the first 50-plus games.
The restrictions were in place in an effort to keep Stoudemire healthy. His knees have given him trouble throughout his career; he had three knee procedures over a 10-month span.
This year, the medical staff and coaching staff has a plan in place to try to keep Stoudemire healthy. But a minutes restriction -- at this point -- is not part of that plan.
"Right now there aren't any minute restrictions, or he can only play the front of a back to back, or any of that," coach Derek Fisher said after practice on Sunday.
Fisher called the development "great news" for both Stoudemire and the Knicks.
He said the staff has predetermined rest days in place for Stoudemire. But other than the "recovery days" already on the calendar, the expectation is that Stoudemire will be available.
"If we can find ways to be consistent in [scheduling the rest days] then we don't have to judge in the game whether or not it's too many minutes or whether he can start or [not based on minutes restrictions]," Fisher said. "So we're excited that we can go into the season with an open mind in that regard and it's worked well so far. The days we've had as recovery days for him, he's looked great coming back the next day and we think it's something that will work once the season starts."
Stoudemire said before training camp that he felt 100 percent healthy and predicted that he'd be able to play more than 30 minutes per night. He also revealed last week that he's been bathing in red wine in an effort to keep healthy. Just where Stoudemire fits into the Knicks' rotation is unclear at this point.
Andrea Bargnani
started the Knicks' preseason opener at power forward, and
Quincy Acy
has started the previous three games with Bargnani out due to a hamstring injury.
It is unclear who will start at power forward on Monday in the Knicks' preseason game against the Bucks.
Fisher, though, has said that he'll look to create lineups based on which players mesh well together and give the Knicks a chance to compete on both ends of the floor.
In four preseason games, Stoudemire has averaged five points on 34 percent shooting in 16 minutes per game.
You can follow Ian Begley on Twitter.
October, 19, 2014
Oct 19
2:37
PM ET
By
Ian Begley
| ESPNNewYork.com
GREENBURGH, N.Y. --
Andrea Bargnani
will miss his third straight game due to a hamstring ailment, Knicks coach Derek Fisher said Sunday.
"He hasn't been able to practice the last few days so it wouldn't be smart to jeopardize him by putting him into game action tomorrow," Fisher said.
The coach was hoping to have a better handle on lineups and rotations entering Monday's game against Milwaukee. But Bargnani's absence has made it difficult for Fisher to make a true evaluation.
Fisher had started
Quincy Acy
at power forward in the last three games, which coincided with Bargnani's absence. It's unclear at this point who will start at power forward on Monday.
Starting 5 in flux:
Fisher will huddle with his coaches on Sunday night to determine the starting five for Monday's game.
"We're kind of looking at some things," the coach said after practice on Sunday. "We'll talk about the last four days as coaches, kind of what we observed during a lot of our scrimmages this week and a lot of our five-man activities. We've mixed the groups up a lot and we have some different guys in the frontcourt at times, different guys in the backcourt so we'll kind of reassess who has been effective this week and try to put a good lineup together."
The biggest lineup uncertainties are at power forward and shooting guard.
Iman Shumpert
has started for the past three games at shooting guard. Based on playing time and lineups, it would appear that Shumpert has an edge in the competition for the starting position. Tim Hardaway Jr. and
J.R. Smith
are also candidates to start.
At power forward,
Jason Smith
has impressed the coaching staff in the past two games.
Last Tuesday in Syracuse, Smith had 14 points and five rebounds in 24 minutes in the Knicks' win over Philly.
"It wasn't just me, it was my teammates hitting me on good passes, working the ball around throughout the offense, going through good pace," Smith said. "It wasn't just one-on-one basketball. It was definitely moving the ball, pick-and-pop stuff, which that's generally my game. It's a credit to our team, really learning the offense, getting with the triangle offense, and running it smoothly."
Smith said he isn't overly concerned with starting or coming off of the bench. His shooting and willingness to battle with opposing big men in the paint and around the rim make him valuable.
"Anytime you have a big guy who can shoot mid-range, or really help and space the defense out, it's gonna be great, especially with this offense. It's just gonna help our team that much more," Smith said.
Smith, Bargnani, Amar'e Stoudemire and Acy are battling for minutes at power forward. Bargnani, who missed 42 games last season with an elbow injury, is expected back sometime later this week.
Stoudemire, another player with a history of injuries, has remained healthy throughout camp.
Fisher said the minutes restrictions placed on Stoudemire by the team's medical staff will not factor into whether he is a starter or comes off the bench.
"We're excited that we can go into the season with an open mind in that regard and it's worked well so far," Fisher said.
Question: If you were Derek Fisher, how would you handle the minutes at power forward between Jason Smith, Stoudemire, Acy and Bargnani?
You can follow Ian Begley on Twitter.
October, 18, 2014
Oct 18
6:09
PM ET
By
Ian Begley
| ESPNNewYork.com
GREENBURGH, N.Y. -- If it were up to
Carmelo Anthony
, teams would play fewer sets of consecutive games.
"I don't know if that will ever happen, but that's the dream," Anthony said after practice Saturday. "Maybe it will happen 10 years from now when I'm out of the league."
The Knicks play 20 back-to-backs this season.
Anthony
LeBron James
and
Dirk Nowitzki
made similar suggestions earlier this week when they said they'd prefer fewer games in the schedule.
Said Anthony: "Fewer back-to-backs is something we should be talking about."
The conversation over minutes and games was sparked by the NBA's decision to play a 44-minute preseason game -- which will be held Sunday at Brooklyn's Barclays Center.
To Anthony, the issue doesn't lie as much with the minutes in a game than it does with the amount of back-to-backs.
"You go on a road trip and you come back, and you're gone for 10, 11 days 12 days, and you've got a back-to-back the last two days, it's always that last game that someway, somehow we always seem to get a TV game that last game. So it affects you," he said.
Cole DNPs 'not a demotion':
Derek Fisher explained why he decided not to play
Cole Aldrich
in the past two preseason games. The coach said it had nothing to do with Aldrich's performance and everything to do with wanting to see
Jason Smith
, who missed the first two games while his wife gave birth.
"Jason Smith originally was out for personal reasons, so once Jason was back, Cole had played some, it was important that we got Jason some minutes so we could see how he might be able to help us," Fisher said. "[Cole's absence] was just a byproduct of that, nothing else. Cole's been solid and has done everything we're asking him to do, so it wasn't a demotion or any reason related to his performance, just continuing to try and find the best way to put our team together."
Not Fishing for trouble:
For those wondering, Fisher said he hasn't played any pickup basketball recently. But Fisher, who retired from playing last season following an 18-year playing career, is still working out. "I was very fortunate to, other than a right foot injury 14 or 15 years ago, [to have] no other major injuries during my career," Fisher said. "And I am not going to injure myself seriously playing basketball after my basketball career. That's for sure."
STAT sits out:
Andrea Bargnani
,
Travis Outlaw
and
Amar'e Stoudemire
missed practice Saturday. Stoudemire was out for a recovery day. Bargnani has missed the past three games because of a hamstring injury. His status for Monday's game is unclear.
You can follow Ian Begley on Twitter.
October, 18, 2014
Oct 18
4:25
PM ET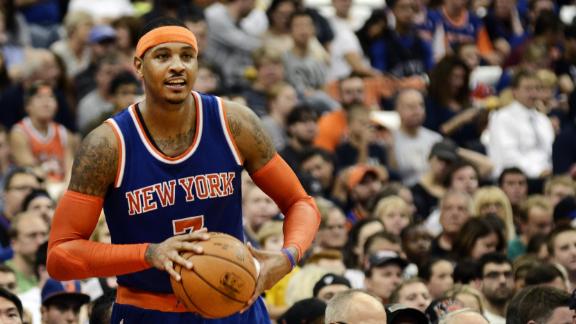 GREENBURGH, N.Y. -- Carmelo Anthony doesn't expect to win the NBA scoring title this season, his first in the triangle offense.
In fact, he suggested Saturday that he may score less and take fewer shots in the Knicks' new offense.
"I don't think I'll be the scoring champ. Especially with this system, the way we're playing -- the way that it's going to be well-balanced, the style of play we're going to have, I don't think I'll have to lead the league in scoring this year," Anthony said after the Knicks' practice.
Anthony has established himself as one of the top scorers in the NBA over his 11 seasons in the league. He won the scoring title in 2012-13 by averaging 28.7 points per game, two-tenths fewer than his career high. Last season, he finished second to Kevin Durant.
Anthony has averaged 21.8 field goal attempts per game over the past two seasons. He suggested that number, along with his scoring, may dip this season thanks to the triangle offense, which the Knicks hope will produce quality shots for Anthony's teammates.
"I think shots will be fewer," Anthony said. "I think it will be more effective shots. So if that means taking fewer shots, then that's what's going to happen.
"But I really don't know. We've been playing preseason; it's still early. It's not until you get in the flow of the game that you start knowing the minutes you're going to play, knowing the group you're going to be out there with most of the time. Until you find that rhythm, you're not going to really understand."
October, 18, 2014
Oct 18
12:26
PM ET
By
Ian Begley
| ESPNNewYork.com
Quincy Acy
has started at power forward in the Knicks' past three preseason games. But it seems there remains an open competition for the job.
Derek Fisher reiterated Friday that "things are still open and fluid" with his starting lineups. One of the biggest question marks surrounds the starting power forward.
Acy has played well in the past three games. But
Jason Smith
has also impressed the coaching staff.

"Jason Smith has played some good minutes for us the last couple games since he's been back, and there's no reason why he couldn't maybe crack into that [starting lineup]," Fisher said Friday.
Smith missed the first two preseason games because of the birth of his daughter. He had 14 points and five rebounds in 24 minutes in the Knicks' win over Philly on Tuesday.
Smith is competing with Acy,
Amar'e Stoudemire
and
Andrea Bargnani
for minutes at power forward.
Bargnani has missed all but one of the Knicks' preseason games because of a hamstring injury.
Fisher has said that Bargnani's injury makes it difficult to evaluate his options at power forward.
The coach praised the starting lineup featuring Acy on Friday but hinted that he may change the lineup for Monday's preseason game against Milwaukee.
"Depending on how things materialize with Andrea over the next few days, we may or may not keep it the same," Fisher said.
Fisher impressed with J.R.:
J.R. Smith
has made some news recently by saying it will take the Knicks a few months to learn the triangle (he's right). But Smith's adjustment to the system thus far has impressed his head coach.
"Jay has been great from day one. He's engaged, he's asking questions. He wants to get this right," Fisher said. "And we as a staff, we appreciate it and value it tremendously. The more guys we have like that the better. And so you can see on a daily basis, he's picking more things up. The type of questions he asks are with understanding of most of it, and then maybe there's one thing to add to it. But he's coming along really well and we're looking forward to what he can do for us as he gets more comfortable."
Fisher was asked Friday if he felt the need to address the issue of maturity or off-court conduct with Smith, as ex-coach Mike Woodson had over the past two seasons when Smith got into trouble with the league and the team.
"What I've tried to do with all of our guys, not just J.R., is kind of manage our relationship based on our relationship and not the relationships they have may have had with other people and other coaches," Smith said. "I can only measure our relationship on our experiences, and so far it hasn't been necessary to address anyone about maturity and accountability and trying to be one of the many leaders that we'll need within our team. J's been great in that fashion, and I don't see any reason why he wouldn't continue. He's a smart player, and he's continuing to figure out ways to be effective within what we're doing."
Question: Do you think Jason Smith should start at power forward?
You can follow Ian Begley on Twitter.