January, 27, 2015
Jan 27
1:45
PM ET
J.R. Smith
thinks Cleveland is "the best situation" for him and it's not just because
LeBron James
is there.
The way Smith sees it, the shooter might be able to find more consistency in his game in a city like Cleveland where there isn't as much of a nightlife as New York City.
In a conversation with NBA.com's David Aldridge, Smith said living in Cleveland should help his game.
"Consistency has been something that ... I wouldn't say lacked, but it's just been stints where I get hot, and then you go cold for two, three games, whatever the case may be," Smith said. "Just staying consistent, and that involves staying in the gym. So for me, I got my brother here with me, so we're in the gym every night, playing one-on-one, or whatever the case may be, as well as me getting my rest.
"I think this is the best situation for me, 'cause there's nothing but basketball. There's nothing you expect but basketball. There's nothing, there's no going out, there's no late nights. There's video games, basketball and basketball."
The former Knick, who was traded along with
Iman Shumpert
to the Cavs in a three-team deal earlier this month, said living in Cleveland reminds him of what life was like when he was younger.
"It's a great thing, 'cause I go back to where I came from," said Smith, who grew up in New Jersey. "When I grew up, I never, I wasn't allowed to go out. I missed my prom because I went to an AAU tournament, and all that stuff. For me, it was basketball, basketball, basketball.
"And then when I got in the situation where I was at an early age, it was more, all right, let me see what this life is about, as opposed to just keep going. So now, I get the chance to get back to my roots."
Smith is averaging 15.2 points in his first 10 games in Cleveland after scoring 10.9 per game as a Knick this season. He admits that the Manhattan nightlife was not the best thing for his game.
"Especially from the standpoint of making me better," Smith said. "I always made myself better by staying in the gym. When you replace that with stuff off the court, then you're taking away from what made you who you are, or what got you to a certain point. It was kind of pulling me down in a sense, of not getting enough rest, not doing things you're supposed to be doing, things you're used to doing."
Smith said the toughest part of being traded is no longer playing with
Carmelo Anthony
, who had been teammates with Smith in Denver and New York.
"We played together nine years," Smith said. "The bond, the camaraderie, the brotherhood that we gained, it's, I wouldn't say over, it's just discontinued. When you're playing with a person like Melo, you depend on him a lot, from on the court and off the court.
"I can always go to him for advice, just everyday life things, as well as stuff on the court. So I think that's the toughest part. But fortunately, coming to a team like this, I've also got him in a different person, between him and LeBron. It's pretty much the same concepts and stuff like that; it's just coming from a different voice."
Smith said he really wanted to succeed in the triangle offense. But he understands what Phil Jackson is trying to do in New York.
"They made the right decision," Smith said. "You have to take the car apart in order for it to be what you want it to be."
January, 27, 2015
Jan 27
1:05
PM ET
[+] Enlarge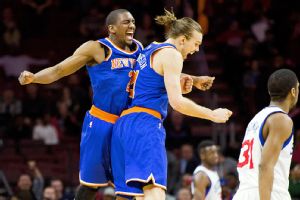 Bill Streicher/USA TODAY SportsKnicks coach Derek Fisher has credited players like Langston Galloway, left, and Lou Amundson for changing the atmosphere in the locker room.
NEW YORK -- The Knicks have agreed to a contract with point guard Langston Galloway for the remainder of this season and the 2015-16 season, league sources told ESPNNewYork.com.
The Knicks confirmed Tuesday afternoon that they had signed Galloway for the remainder of the season but didn't include any information on his contract status for the 2015-16 season.
Galloway's second 10-day contract with the Knicks expired earlier Tuesday, so he had been free to sign with any team.
His contract for the 2015-16 season contains a partial guarantee, according to league sources. Galloway has impressed the Knicks' coaches since being signed to his first 10-day contract Jan. 7.
Galloway, who played with the Knicks' summer league team and their D-League team in Westchester, is averaging 12 points per game in his first eight games with the team. He is also producing three assists and pulling down four rebounds per game while shooting 43 percent from the field.
January, 26, 2015
Jan 26
9:23
PM ET
The biggest challenge of
Derek Fisher
's young coaching career might surprise you.
It has nothing to do with all the
New York Knicks
' losses or the unfulfilled expectations. It's about getting his players "excited to play the game."
"Probably what jumps out the most is you still have to work pretty hard to motivate and inspire guys at this level," Fisher said late last week. "[For] a guy who came into the league in 1996 [as Fisher did], that wasn't required. If you weren't self-driven and self-motivated, you couldn't get on the floor.
"As a coach [in today's NBA], you still have to find ways to push buttons and get guys excited about playing the game. As a player for 18 years, my brain worked that way. It's one area that continues to evolve -- find ways to help my guys be more inspired and more motivated."
Fisher didn't name names when talking about players who weren't self-motivated. But he's noted recently that the players on 10-day contracts --
Langston Galloway
,
Lou Amundson
and
Lance Thomas
-- have brought a renewed energy to the Knicks' locker room.
The implication, of course, is the locker room lacked passion when
J.R. Smith
,
Iman Shumpert
and
Samuel Dalembert
inhabited it. Fisher would never say that publicly, but it's at least fair to wonder if that's what he is implying.
Ticket prices taking a hit:
Most of the time, a Knicks-Lakers game at Madison Square Garden is an expensive ticket. This season, its value has taken a hit on the secondary ticket market -- along with that of the rest of the games left on the Knicks' schedule.
The average price of a ticket for the Knicks' game against the Lakers on Feb. 1 has fallen by 37 percent in the past two months, according to the website TiqIQ.
That's a common theme for the struggling Knicks.
The average price of 15 of the Knicks' final 18 games has dropped by more than 30 percent the past two months, according to TiqIQ. (This does not include the rescheduled Knicks-Kings game.)
Since the beginning of the season, the average price for a Knicks ticket on the secondary market has dropped by 27 percent.
That's what happens when you're 8-37.
Of course, the Knicks continue to sell out home games. So the drop in ticket value on the secondary market doesn't have a direct impact on the team's ticket revenue.
Still, it's interesting to note the average ticket price this season on secondary markets (201.19) is the lowest in at least five years.
Starks chipping in for charity:
Ex-Knick John Starks will be a celebrity coach at an event to raise money for diabetes research.
Starks will coach along with
CC Sabathia
, rapper Fat Joe and sports executive Shawn Pecas at the Hard 2 Guard 2015 Celebrity All-Star Game. The game will be played at 7:30 p.m. Feb. 10 at Baruch College.
Part of the proceeds will be donated to diabetes research.
"Diabetes is a big part of our community. It's really touched so many of us," said Rickey Rivers, the founder of Fun Sport, which co-hosts the event. "This is a perfect opportunity to put some emphasis on the disease."
January, 26, 2015
Jan 26
1:22
PM ET
[+] Enlarge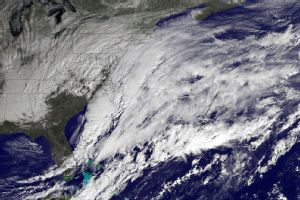 NOAA/Getty ImagesForecasts project 20 to 30 inches of snow to fall in New York City and surrounding areas over the next two days.
With one of the largest snowstorms in recent history bearing down on the New York City area, the NBA has postponed the New York Knicks' and Brooklyn Nets' home games scheduled for Monday night.
With the National Weather Service describing this storm as a "crippling and potentially historic" blizzard, New York Gov. Andrew Cuomo declared a state of emergency on Monday. Forecast projections for New York City and areas surrounding it predict that up to 20 to 30 inches of snow could hit the area over the next two days.
The Knicks' game against the Sacramento Kings has been rescheduled for March 3. The Nets' game against the Portland Trail Blazers has been rescheduled for April 6.
New Jersey Gov. Chris Christie also declared a state of emergency for New Jersey. New York Mayor Bill de Blasio said in a news conference Monday afternoon that all non-emergency vehicles are ordered off the streets of New York at 11 p.m. and that city schools are closed for Tuesday.
January, 26, 2015
Jan 26
6:00
AM ET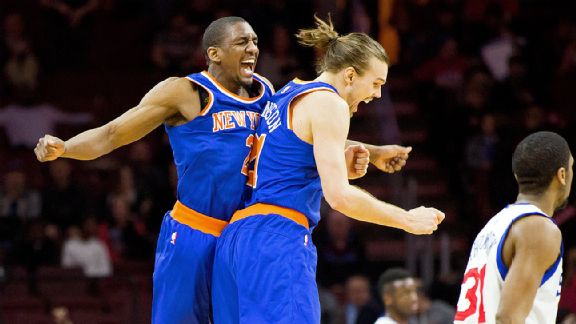 Bill Streicher/USA TODAY SportsIs tanking the answer in New York? Some second-half success could hurt the Knicks' lottery hopes.
NEW YORK --
Langston Galloway
gathered the ball in the deepest corner of the court with two seconds left on the shot clock late Wednesday night. With the Knicks up by four in a game they were desperate to win, Galloway squared up and knocked down a seemingly impossible 25-foot fadeaway over 6-foot-8 forward
Jerami Grant
.
The shot, which sealed the Knicks' first set of consecutive wins in nearly three months, set off a wild celebration.
Players on the Knicks' bench erupted. Galloway streaked down the court and met
Lou Amundson
in midair for a chest bump to put an exclamation point on the play -- and the rare Knicks win.

In a season full of misery, this was a moment in which the Knicks could revel.
Shortly after the win, point guard
Jose Calderon
tried to explain what exactly had gone right for the Knicks in the final minutes.
"I think we did a better job executing than we're used to doing," Calderon said. "And we're getting better."
In a normal season, this would be a welcome development for an NBA team. But this season has been anything but normal for New York.
When Phil Jackson decided to trade
Iman Shumpert
and
J.R. Smith
to Cleveland for a 2019 second-round pick and two trade exceptions, he changed the calculus on the Knicks' 2014-15 season.
With that move, Jackson made it clear that he was focused on clearing as much cap space as possible for the 2015 offseason.
The Knicks also own their first-round draft pick this season. So, naturally, the feeling among most people around the league is that the Knicks are tanking to gain a top pick in June's draft.
Of course, no one associated with the Knicks will say that the team wants to lose games to improve its lottery standing.
"I think that's a bad mentality to have,"
Carmelo Anthony
said last week.
But the writing is on the wall.
And that's what makes nights like Wednesday such a double-edged sword for New York.
Each win the rest of the way can hurt the Knicks' chances of landing the top pick.
The team that finishes with the fewest wins has the best chance (25 percent) to land the top pick in the draft.
Entering play Monday, the Knicks (8-37) own the second-worst record in the NBA. They are percentage points ahead of the Timberwolves (7-36) and have one more loss than the Sixers (8-36).
Unless things change significantly for either team, all three will jockey for position in a race for last place the rest of the way.
And the stakes are high.
The club that finishes with the second-worst record has a 19.9 percent chance of landing the top pick; the third-worst team has a 15.6 percent chance.
It's worth noting, though, that finishing with the worst record doesn't guarantee anything.
Since the lottery moved to its present format in 1994, the team with (or tied for) the best odds has won three of the 20 lotteries. (Philadelphia took
Allen Iverson
in 1996; Cleveland selected
LeBron James
in 2003; Orlando picked
Dwight Howard
in 2004.)
The team with the second-best odds has won the lottery twice, and the teams with the third- and fifth-best odds have won it four times each.
So no matter how many games the Knicks lose, there's no way to ensure that they'll land the No. 1 pick.
Also, it's not exactly the end of the world for the Knicks if they don't land the top pick, particularly in a draft that's likely to feature more than one elite prospect (
Jahlil Okafor
,
Emmanuel Mudiay
,
Karl-Anthony Towns
).
Remember, franchise-altering players have been taken second (
Kevin Durant
, 2007), third (Carmelo Anthony, 2003) and fourth (
Russell Westbrook
, 2008) in recent drafts.
Maybe that's one reason Derek Fisher dismissed a question about tanking earlier this week.
"You're asking the wrong person about that," Fisher said. "... The only way I know how to approach a game is to try to win it every time."
Question: Do you think the Knicks should tank the season to land a top pick?
January, 25, 2015
Jan 25
9:22
PM ET
NEW YORK -- It wasn't exactly a recruiting pitch, more of a casual greeting.
Jahlil Okafor was walking through a back hallway in the bowels of Madison Square Garden on Sunday when he passed
Carmelo Anthony
and
Cleanthony Early
.
Anthony briefly greeted Okafor -- and a few other Duke players -- as they crossed paths.
[+] Enlarge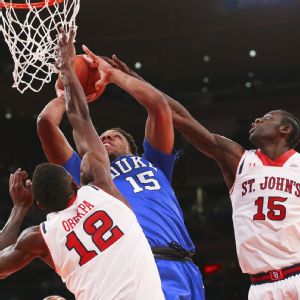 Anthony Gruppuso/USA TODAY SportsDuke's Jahlil Okafor had 17 points and 10 rebounds in a win over St. John's Sunday at Madison Square Garden.
For a moment, Okafor appeared star struck.
"I'm still 19 years old and Carmelo Anthony is one of the best players to play basketball," he said. "I'm a big fan of him."
Anthony wasn't the only Knicks employee at the Garden on Sunday to watch Okafor and Duke play St. John's.
Knicks president Phil Jackson, general manager Steve Mills, assistant general manager Allan Houston and director of scouting Kristian Peteseric were also on hand to watch Okafor, the player many consider to be the best pro prospect in college basketball.
"I like him," Anthony said after Okafor scored 17 points and grabbed 10 rebounds in Duke's win. "He's got a great feel for the game and a great touch. He's a big body for sure down there. He's a load."
Okafor had a strong, if uneven, showing in front of the Knicks' hierarchy.
He hit 7 of 10 shots, including two key baskets in Duke's 18-2 run in the second half that allowed the Blue Devils to take control and earn coach Mike Krzyzewski his 1,000th career win. He also had five turnovers.
Afterward, Krzyzewski accentuated the positive.
"He's a remarkable player and needs the attention of an entire team to neutralize him," Krzyzewski said. "He'll be a franchise player and a franchise person for whoever's lucky enough to get him."
There's a vocal contingent of fans who hope the Knicks are that franchise.
"Choke More for Okafor" is a phrase that has become popular among a segment of the team's fan base.
Okafor said he has received Twitter and Instagram comments from Knicks fans about playing for the team in 2015.
"Just supporting their team on my Instagram page and on Twitter," he said.
You can excuse Knicks fans from trying to influence the 19-year-old Okafor.
ESPN's Chad Ford ranks Okafor as the top prospect in the draft thanks to his soft touch around the basket and strong midrange shot. Okafor, 6-foot-11 with a 7-5 wingspan, is drawing comparisons from draft experts to future Hall of Famer
Tim Duncan
.
But he's far from perfect.
Ford writes that Okafor's weaknesses include a lack of lateral quickness and a lazy approach at times on defense. He doesn't yet defend the pick-and-roll well and has a penchant to allow easy looks at the rim.
Still, Okafor's potential is undeniable.
"He has the biggest upside in college basketball," Krzyzewski said.
That's why so many members of the Knicks' front office were at the game on Sunday.
Okafor said he didn't notice Anthony or Jackson in the stands but he appreciated the atmosphere at the Garden.
"This is my first time playing here," Okafor said. "I can't believe I'm actually here in Madison Square Garden making history."
If the pingpong balls favor this Knicks in a few months, Okafor may be making history for the home team some day.
January, 24, 2015
Jan 24
9:44
PM ET
Associated Press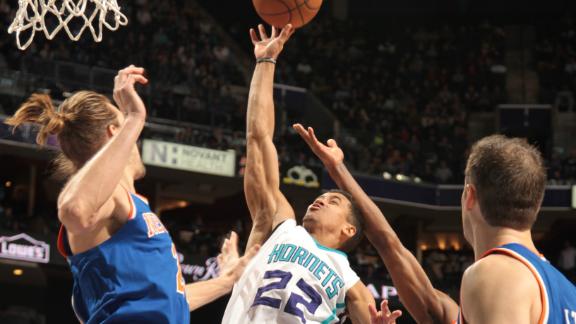 CHARLOTTE, N.C. -- Brian Roberts scored 17 points, and the Charlotte Hornets beat the New York Knicks 76-71 Saturday night for their ninth victory in the last 11 games.
Roberts, who started in place of the injured Kemba Walker, was 5 of 9 from the field and made all six free throws as the Hornets snapped the Knicks' three-game win streak.
The Knicks played without Carmelo Anthony, who was held out to rest his knee on the second night of a back-to-back.
Tim Hardaway Jr. led the Knicks with 25 points and Lance Thomas had 16 points and eight rebounds.
Walker missed his third game in the last five after his knee flared up.
The injury news got worse for the Hornets when big men Marvin Williams (concussion) and Bismack Biyombo (knee bruise) left the game early with injuries and did not return.
January, 24, 2015
Jan 24
12:12
PM ET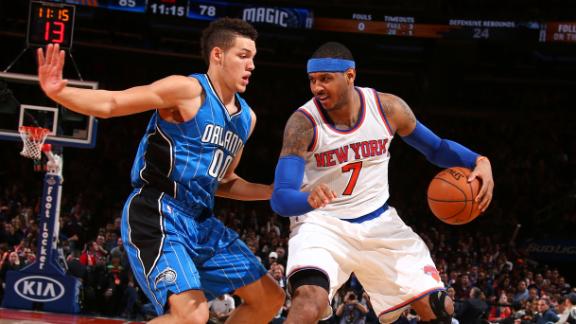 NEW YORK -- His Knicks team has the worst record in the Eastern Conference, an unimaginable 28 games below .500. And they needed to win three straight games just to get to that mark.
So no, this probably isn't the way
Carmelo Anthony
expected to spend the one-year anniversary of one of the best games of his career.
Twelve months ago to the day, Carmelo scored a franchise-record 62 points in a win over the then-Charlotte Bobcats.
"It's been a year. I can't believe it's been a year already since that time," Anthony said late Friday night.
Not much has gone as planned for Anthony or the Knicks since that date.
They missed the playoffs last season for the first time since trading for Anthony. This year, after re-signing him to a five-year, $124 million contract, the Knicks have been a colossal disappointment.
They've endured losing streaks of 10 and 16 games and are on pace to win just 15 games -- which would be a franchise low.
And Anthony has played through soreness in his left knee for most of the season. He thinks he'll eventually need surgery to repair the injury.
So it's understandable that the 62-point anniversary wasn't the first thing on his mind late Friday night.
"I could give a damn about 62 right now. But four, the number four does sound good," Anthony said after the Knicks' win over Orlando.
Four is a reference to the four-game winning streak the Knicks would put together with a victory over Charlotte on Saturday night. That would be a season high.
"It's been a good feeling these last couple of days," Anthony said.
Good feelings, of course, have been in short supply for the Knicks.
There are several factors behind New York's struggles this year.
One issue seems to be a lack of easy baskets in the triangle offense.
A league-high 26.3 percent of the Knicks' points come from mid-range field goals, according to ESPN Stats & Information's Steve Martinez. For comparison's sake, New York was tied for 18th in that category when it made the playoffs in 2012-13 (17.6 percent).
Offense, obviously, isn't the only issue for the Knicks this season.
They have the second-worst defensive rating in the NBA and they rank 26th in rebounding rate.
Now, with the team out of contention, fans have begun to turn their attention to the draft lottery.
This is where the team's poor record will be a benefit.
ESPN's Basketball Power Index gives the Knicks a 91.3 percent chance at landing a top-five pick, something they haven't had since 1986.
New York also hopes to be active in free agency this summer.
With just four players under contract for 2015-16, the club is projected to have nearly $30 million in cap space in the offseason.
But that's a little more than five months away.
In between now and then, there probably won't be much to celebrate.
On Saturday, at least Anthony can reminisce about 62.
January, 23, 2015
Jan 23
10:35
PM ET
Associated Press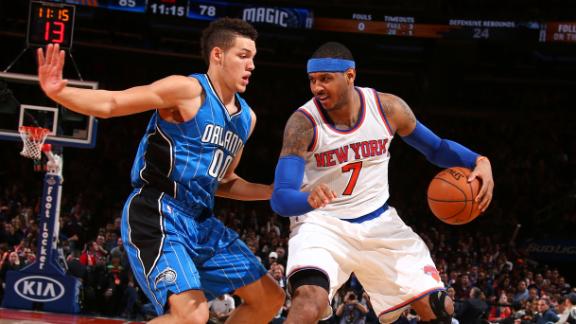 NEW YORK -- Carmelo Anthony scored 25 points and the New York Knicks extended their season-high winning streak to three games with a 113-106 victory over the Orlando Magic on Friday night.
Jason Smith added a season-best 19 points for the Knicks, who improved to 8-36. Lance Thomas had 16 points, and Langston Galloway 15; both are in the midst of their second 10-day contract.
Nikola Vucevic led the way for the Magic (15-31) with 34 points and 18 rebounds. Elfrid Payton finished with 11 assists.
Orlando led 96-94 with 4:01 left after Tobias Harris completed a three-point play, but Galloway gave the Knicks the lead right back with a 3-pointer.
The Raptors reclaimed the advantage on Vucevic's basket, making it 98-97 with 3:31 remaining. But Anthony's driving layup put New York back on top and the Knicks went on a 6-0 run and led the rest of the way.
January, 22, 2015
Jan 22
9:07
PM ET
New York Knicks
forward
Carmelo Anthony
was voted in as a starter on the Eastern Conference All-Star team. In a development that will surprise no one, Charles Barkley has a problem with that.
Barkley, a noted Knicks agitator, said on Thursday night that Anthony doesn't deserve to start the All-Star Game because the Knicks have struggled so mightily this season.
[+] Enlarge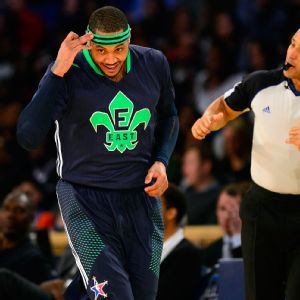 Bob Donnan/USA TODAY SportsCarmelo Anthony has the fourth-highest scoring average (21.1 points) in All-Star history.
New York (7-36) has the worst record in the NBA.
"I do have a problem with that," Barkley said on TNT. "I just don't understand. ... If I'm a fan, you have to be honest and realistic."
Anthony edged Washington's
Marcin Gortat
(647,005 votes to 570,005) for the third and final spot among frontcourt players in the East. He said in a statement posted on the team's website that he is honored to represent New York at Madison Square Garden, which will host the game on Feb. 15.
"For me to be the face of New York, representing New York during All-Star Weekend is a special moment you really can't put into words," Anthony said.
This is Anthony's eighth All-Star appearance. He has the fourth-highest scoring average (21.1 points) in All-Star history, shooting 54 percent from the floor and 42.9 percent behind the arc. Anthony is the 10th player to earn four All-Star selections with two different teams (Denver, New York).
Last year, he scored 30 points, including a record eight 3-pointers in New Orleans.
In 24 games this season, Anthony is scoring 24 points per game on 45 percent shooting to go along with 6.7 rebounds and 3.1 assists.
Anthony recently sat out six games to rest his injured left knee. But he has played the past three games following the two-week rest, leading the Knicks to two straight wins this week.
It is unclear how much longer Anthony will be on the floor this season, though. He has said that he will eventually need surgery to repair the knee injury.
There is speculation -- unfounded, so far -- that Anthony will have surgery shortly after the All-Star Game.
This isn't the first time this season that Barkley has been critical of the Knicks.
Last month, Barkley and team president Phil Jackson got into a
a war of words
over Barkley's critique of the triangle offense.
Question: Do you agree with Barkely? Or do you think Carmelo deserves a spot in the starting lineup?
January, 22, 2015
Jan 22
7:33
PM ET
ESPN.com news services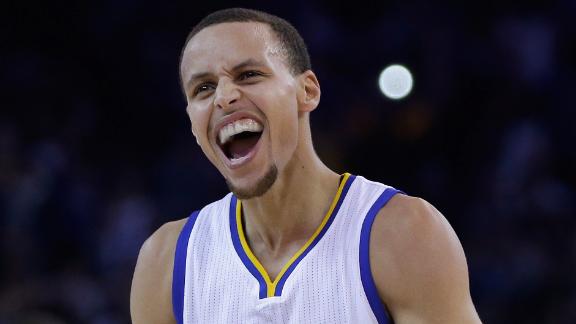 The Warriors' Stephen Curry has dethroned The King.
Curry made a late surge to pass LeBron James as the overall leading vote-getter for the NBA All-Star Game, the league announced Thursday.
"This means a lot; it's something that I don't take for granted," Curry said in a statement. "To have support of fans not only in the Bay Area but across the nation and across the world, supporting not only myself but our team, it means a lot. I want to represent the Warriors the best way I know how, every single game, and will do that proudly in New York thanks to the fans and their votes. Something that's definitely a dream come true, and to be two times in a row, I'm proud of that."
The star of the NBA-leading Warriors, Curry ended up with more than 1.5 million votes, more than 42,000 ahead of James, who had a 13,285-vote lead over the sharpshooter at the previous update. James was the leading vote-getter last year, preceded by Kobe Bryant in 2013. Curry, who just two years ago was an All-Star snub, becomes the first Warriors player elected to consecutive starts since Chris Mullin in 1991-92.
To his credit, James didn't seem too bothered about being unseated by Curry as the top vote-getter.
"It doesn't [get old] when it comes from the fans," James said Friday. "The fans, they create us, they help us, they love and cry and smile when we do things great, when we do things bad and all of that. So the least we can do is give them an opportunity to feel like they're huge part of our game by giving them the votes. So it's great to know that my fans have put me in the game."
January, 22, 2015
Jan 22
12:11
AM ET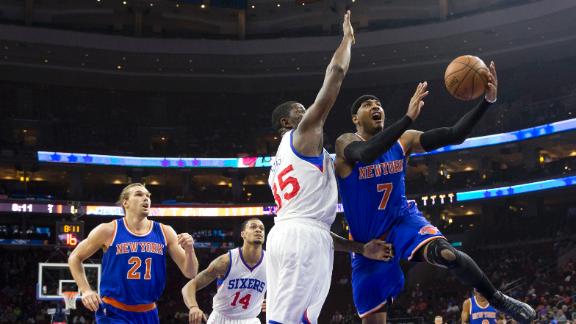 PHILADELPHIA -- Some New York Knicks fans want to see the team tank the season to land a top pick in the NBA draft.
But to star forward Carmelo Anthony, that is a "bad mentality to have."
"I don't know how to have that mindset," Anthony said Wednesday night after the Knicks beat the Philadelphia 76ers 98-91 to improve to 7-36. "Having that mindset as a basketball player, as a competitor, it's just hard to do unless you don't care about the game, what happens and your performance. To say that we're going to go out there and we want to lose a basketball game, I think that's a bad mentality to have."
The Knicks have won two straight for the first time since Nov. 2 but still have the NBA's worst record.
The team that ends the season with the worst record has a 25 percent chance of landing the top pick in the draft. It is guaranteed to pick no lower than fourth. The team that finishes with the second-fewest wins has a 19.9 percent chance of landing the top pick; the third-worst team has a 14.7 percent chance.
New York is percentage points behind the Sixers (8-34) and the Minnesota Timberwolves (7-34).
Knicks president Phil Jackson essentially pulled the plug on the season when he traded J.R. Smith and Iman Shumpert for a 2019 second-round pick and two trade exceptions earlier this month. So the focus for the Knicks has turned to free agency and the upcoming draft.