March, 4, 2015
Mar 4
9:40
PM ET
Associated Press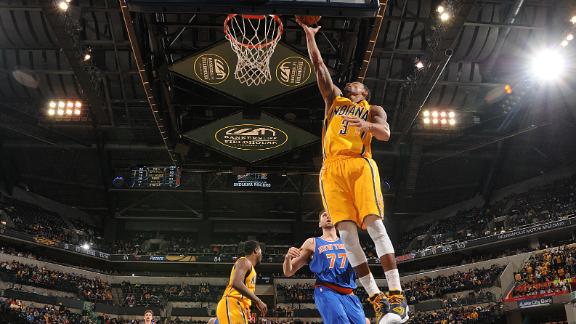 INDIANAPOLIS -- George Hill scored a season-high 21 points, and Rodney Stuckey added 17 to help Indiana rout the struggling Knicks 105-82 on Wednesday night.
The Pacers (26-34) won their third straight, matching their longest winning streak of the season. And with nine wins in 11 games, Indiana also moved a little closer to the final playoff spot in the East.
Andrea Bargnani led New York (12-48) with 25 points and Tim Hardaway Jr. had 13, but the Knicks have lost 10 of their last 12.
This one was never really close. Indiana jumped to 30-19 lead after one quarter, methodically pulled away in the second and closed the half on a 9-2 spurt to take a 65-41 lead.
New York got as close as 15 early in the third quarter, but Indiana answered with six straight. New York never got closer than 18 again.
March, 4, 2015
Mar 4
9:23
PM ET
NEW YORK –- Like many of Anthony Mason's former teammates, Patrick Ewing has plenty of Mase stories.
"I don't think a lot of them can be put in the paper," Ewing said with a chuckle on Wednesday.
Over the next two days at the wake and funeral for Mason in New York, many family members, friends and former teammates will certainly share tales of the beloved former
New York Knick
with the intimidating scowl and muscular build of an NFL linebacker.
[+] Enlarge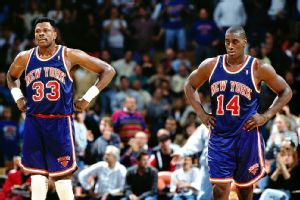 Lou Capozzola/NBAE/Getty ImagesPatrick Ewing and Anthony Mason were teammates for five seasons.
Mason, who embodied much of what those gritty and physical 1990s Knicks teams represented, died last Saturday at the age of 48 due to congestive heart failure.
Ewing, now the associate head coach of the
Charlotte Hornets
, will fly back to New York on Friday for Mason's funeral before returning to Charlotte, North Carolina, for a game that night.
"One of the stories I remember is one of [former coach Pat Riley's] first practices, with [
Charles Oakley
], [Xavier McDaniel], Mase and myself and just how physical the practice got," Ewing said before the Hornets faced the
Brooklyn Nets
at Barclays Center on Wednesday. "It really got out of hand, and then a big brawl broke out with X [McDaniel] and Mase and all of us trying to break it up."
As legend has it, Riley, the master motivator, wanted to let Mason and McDaniel continue the brawl, setting a tone for the Knicks in terms of how hard they would work and not back down from any fight.
"Yeah," Ewing said, when asked about Riley wanting to let Mason and McDaniel keep fighting. "But we tried to break it up. No one won. It was a tie."
Ewing played with Mason for five seasons, from 1991 to 1996, before the versatile forward was traded to Charlotte for Larry Johnson. He said he'll never forget how Mason would be beside himself if he didn't get the ball when he thought he should have.
"Mase is very -- I am trying to think of the word … when you miss him and he thinks he should get the ball and he doesn't get it -- he is one of those guys that doesn't mince his words," Ewing said, chuckling again. "'Man, you missed me!' Or one of those things."
The Knicks won an average of 54 games per season with Mason on their roster. It wasn't always a smooth ride, but Ewing will always look back fondly at having Mason by his side.
"We played five years together," Ewing said. "It was one of the highlights of being with the Knicks. Those teams, we felt we had an opportunity or a chance to go real far.
"It was great to share those moments with him," Ewing added. "It is sad to see him at that early age that he is not going to be with us anymore."
March, 4, 2015
Mar 4
12:36
PM ET
We're video chatting at 2 p.m. ET ...


March, 4, 2015
Mar 4
12:38
AM ET
NEW YORK -- Some loyal
New York Knicks
fans probably feel a little like Tom Hanks' character in "Castaway" this season.
Rooting for a team that's been as bad as the Knicks can make you feel all alone.
[+] Enlarge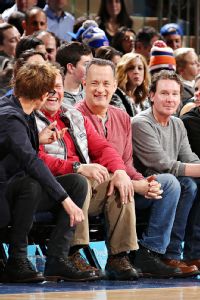 Nathaniel S. Butler/NBAE/Getty ImagesThe presence of Tom Hanks provided the Madison Square Garden crowd with needed levity Tuesday during the Knicks' 124-86 loss to the Kings.
Fortunately, Hanks himself was on hand at Madison Square Garden on Tuesday to provide a little levity.
With Hanks seated courtside, the Knicks fell behind the
Sacramento Kings
by more than 40 points in the second half. The home crowd was desperate for something to cheer about.
So they turned their attention to Hanks and started chanting "Tom Hanks!" on and off throughout the half.
Hanks appeared to appreciate the cheers, as seen in
this Vine
posted by SB Nation's Seth Rosenthal.
Aside from Hanks, there wasn't much for the Garden faithful to cheer about on Tuesday.
New York (12-47) trailed by 16 in the first quarter and 26 at halftime. The club missed all 12 of its 3-point attempts in the first half.
The Knicks were down by 44 points in the second half and ended up losing by 38, their worst defeat of the season.
After the game, coach Derek Fisher said he was disappointed by his team's lack of "character" and "integrity." The coach said the Knicks have shown both traits on most nights, win or lose.
"That was the most disappointing part," Fisher said. "It's not necessarily losing the game, but the way collectively, as a group, we couldn't find a way to compete against this team tonight."
Fortunately, the crowd found a way to have a good time -- thanks to Tom Hanks.
March, 4, 2015
Mar 4
12:12
AM ET
NEW YORK –- With little to play for this season, the Knicks franchise might be counting down the days to the lottery and free agency to begin rebuilding.
But Derek Fisher was reminded on Tuesday that a head coach can never get too cozy, no matter what the circumstances.
Earlier in the day, Brian Shaw, a former Lakers teammate of Fisher's and fellow Phil Jackson disciple, was fired as coach of the
Denver Nuggets
with just more than a month remaining in the season.
"Brian will be fine," Fisher said. "I am sure he is disappointed in the decision, but for any of us that know his life story and his family story, losing a job temporarily doesn't really equal up to much adversity."
Fisher offered an additional thought on the matter later on: "I don't think running the triangle was the problem for him."
Shaw's dismissal would happen hours before Fisher's Knicks failed to show up and were destroyed 124-86 by the
Sacramento Kings
, who were playing just their sixth game with George Karl at the helm.
Fisher didn't need to look any farther than across the court to see how life for an NBA coach can change as quickly as a new
Andrea Bargnani
injury can pop up. Karl is the third coach the Kings have had this season.
It's why Fisher knows he can never get too comfortable, even if he is Jackson's handpicked coach to shepherd the Knicks through a massive rebuilding project.
Still, the Knicks need to give Fisher at least another two seasons to see what he can do. Tuesday's effort against the Kings was inexcusable, and Fisher has to shoulder some of the blame. But consider what he's working with.
This season and the next won't be enough time to know what Fisher is capable of. This season really has Fisher taking his first crack at coaching with training wheels on. The roster has been stripped down, and the franchise is armed to reload in the offseason.
[+] Enlarge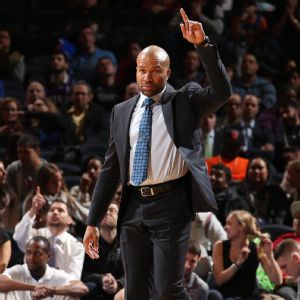 Nathaniel S. Butler/NBAE/Getty ImagesAfter seeing former teammate and fellow Phil Jackson disciple Brian Shaw get fired on Tuesday, Derek Fisher knows there's no being comfortable as an NBA coach.
Even when Fisher gets talent to coach, he may need two seasons with that core to see what he can do. Assuming that Jackson can get difference-makers in free agency, the draft and trades this summer, Fisher still has to teach that new group how to play the triangle.
That will take time to develop. And along with all of it,
Carmelo Anthony
will be returning from surgery. We may not know how good the newly assembled group can be until the following season, which would be Fisher's third as a coach.
Fisher, though, knows he can't take anything for granted, such as making it even halfway through his lucrative five-year contract, especially after seeing Shaw fail to last two seasons in Denver. Fisher was asked before his team fell behind by 44 points to the Kings if he feels comfortable that he will receive the necessary time to turn the Knicks around.
"Comfortable?" Fisher asked in an almost Jim Mora-like baffled tone. "The word does not exist in professional sports. There is no such thing as comfortable. My dad taught me that a long, long, long time ago –- that comfort and complacency will get you guys passed by pretty quickly."
Fisher said he wants to be here working until the Knicks can become "the best organization in the world, in all sports."
That would likely take a lot longer to reach than the length of Fisher's contract. Franchises like the
San Antonio Spurs
aren't built in two or three years. It takes patience, smart management, vision, cohesion and some luck (see
Tim Duncan
).
Heck, it remains to be seen if Jackson will last his entire five-year contract, whether because of his health or Jim Dolan, or if he even has the patience to keep doing this. Being fined by the league for recently commenting about Ohio State freshman D'Angelo Russell on a scouting trip certainly has to be somewhat of an annoyance for the Zen Master.
The jury still is out on whether Jackson's and Fisher's triangle will work in New York. Shaw's dismissal certainly will give more ammo to Jackson's detractors.
Of six notable head coaches who were either an assistant or player for Jackson, only first-year Golden State coach Steve Kerr has posted a winning percentage over .400 out of a group that includes Fisher, Shaw, Bill Cartwright and current Knicks assistants Jim Cleamons and Kurt Rambis.
Shaw didn't get much of a chance, lasting a total of 141 games. Fisher needs to be shown much more patience by the Knicks than that. And so far, Dolan appears willing to do that.
"They're getting better at [the triangle]," Karl, who previously was an ESPN analyst, said before the game. "They're getting cute at it. They're getting some easy baskets."
Karl would later elaborate on the Knicks.
"You know, fans don't respect getting better in a losing situation," he said. "There's no way. It just doesn't happen. When you have a bad record, they think you're a bad coach. But I think this team has gotten to be a better team over the last couple weeks."
There are only a few positives that can come out of this nightmarish season for the Knicks: a very high lottery pick, ample cap space and the hope that Fisher learned and got better on the job.
If they are going to really rebuild, the Knicks and Dolan have to do it right and stay committed -- and get a little lucky, too.
"I'm just hopeful that we can continue to make the right decisions along the way, no matter how long it takes, that we don't sacrifice and become shortsighted and we really do turn this thing around the way it deserves to be," Fisher said. "This can be the best organization in the world, in all sports. And that's what we have to wake up thinking about every day."
Fisher will wake up as Knicks coach on Wednesday even after a 38-point home loss to Sacramento that saw bored fans start a Tom Hanks chant. With "Captain Phillips" sitting across the court from him, Fisher knows there's always the chance that there could be a new captain steering the Knicks' ship. That's why he won't relax -- something that will fuel his work ethic but also allow him not to stress out over things he can't control.
"I will never be comfortable," Fisher said. "But that doesn't mean I am going to lose sleep at night worrying about whether Phil is going to call me at the wrong time of night."
March, 3, 2015
Mar 3
10:45
PM ET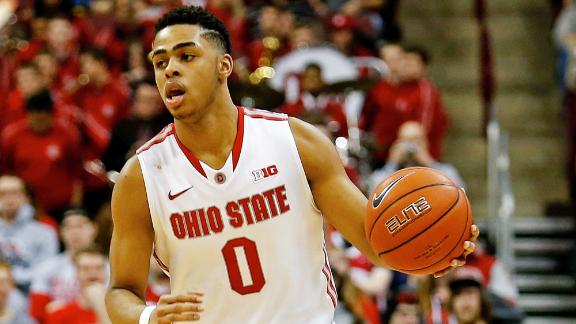 The NBA has fined the New York Knicks an undisclosed amount for president Phil Jackson's public comments on Ohio State freshman D'Angelo Russell, NBA spokesman Tim Frank confirmed Tuesday.
Jackson called Russell "a great-looking kid" and a "great prospect" last week while in attendance at the Ohio State-Nebraska game, according to Cleveland.com. The NBA prohibits team and league officials from publicly commenting on amateur players who have not declared for the NBA draft.
This is the second fine related to Jackson as Knicks president. He was fined $25,000 by the league for tampering with then-Oklahoma City Thunder guard Derek Fisher.
Before he hired Fisher as Knicks coach, Jackson said he was "a person that's on my list of guys that could be very good candidate for this job."
League rules prohibit teams from direct or indirect expressions of interest in other teams' impending free agents. At the time of Jackson's comments, Fisher was still an active player and pending free agent.
Jackson was at Ohio State last week to scout college players, presumably Russell in particular, as the Knicks are expected to have a top pick in June's NBA draft.
At 12-47, the Knicks have the worst record in the NBA. The team that finishes with the worst record has a 25 percent chance of landing the top pick in the draft lottery. That team is also guaranteed a top-four pick.
Yahoo! Sports had earlier reported that the league had fined the Knicks.
March, 3, 2015
Mar 3
10:02
PM ET
Associated Press
NEW YORK -- Rudy Gay scored 25 points, DeMarcus Cousins had 22 and Ben McLemore finished with 20 and the Sacramento Kings handed the New York Knicks their worst loss of the season Tuesday, 124-86.
The Kings scored the first four points and never trailed. They built the lead to 16 after the first quarter and to as many as 30 in the second and eventually won by 38.
Alexey Shved led the Knicks with 15 points. Jason Smith and Shane Larkin had 13 each.
After shooting only 35 percent (7-for-20) from the field in the first quarter, the Knicks were even worse in the second, going 6-for-24 for 25 percent.
Their previous worst loss was by 28 points to Charlotte, 110-82, on Jan. 10.
March, 3, 2015
Mar 3
4:54
PM ET
NEW YORK -- George Karl is the coach of the
Sacramento Kings
, not the president of the New York Knicks.
But if Karl had Phil Jackson's job, he would surround
Carmelo Anthony
with an elite point guard.
"I would go get a great point guard and then find some good big guys. I think you have a stud scorer [in Anthony] -- get me a brain, get me a quarterback and then fill in the pieces with maybe second-tier big guys," Karl said in an interview with ESPN New York on Tuesday morning. "The efficiency of big men in this league, there's only about five or six of them."
Karl, who coached Anthony for parts of seven seasons in Denver, says that, in his experience, Anthony is at his best when paired with a strong point guard.
[+] Enlarge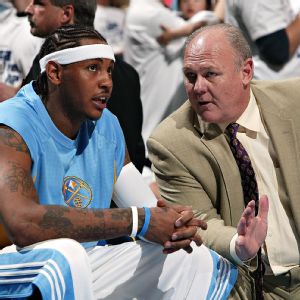 Garrett W. Ellwood/NBAE/Getty ImagesMelo and Coach Karl had success in Denver together.
"We had the most success when we had Andre [Miller] and/or Chauncey [Billups] -- when we had a point guard that kind of orchestrated the rhythm of the offense," Karl said. "And I just think, I've said for two years now, I think the NBA is a lot like the NFL. You get a quarterback and a good coach and you win games. And then the other pieces, you figure it out. I think Melo is still top three, top four, top five. I don't know, some people put him in the top three. I personally wouldn't put him in the top three. If he has a good orchestrator, he's going to be a helluva scorer for you."
Karl also believes that Anthony can have success in the triangle, but he will need to sacrifice a bit to do so.
"Carmelo is a very bright basketball IQ guy, so the triangle is going to be different for him. I think it can enhance some of his skills and I think he's going to have sacrifice some of his commitment to playing the way maybe he's played in the past," Karl said. "But I've never seen that resentment there. I think people at times harshly judged Melo because a scorer at times does look selfish. But I can't complain. Melo helped the Denver Nuggets when I was with them win 50 games consistently."
Karl's theory about pairing Anthony with a point guard raises an interesting question about the Knicks' plans for free agency: Should Phil Jackson & Co. go after an elite point guard, like
Goran Dragic
or
Rajon Rondo
? Or should they go after strong two-way players such as
Draymond Green
, Wes Matthews and
Jimmy Butler
? What about trying to sign a top-tier big man such as
Marc Gasol
or
Greg Monroe
?
For what it's worth, Jackson's championship teams in Los Angeles and Chicago never had what most NBA observers would consider a ball-dominant point guard.
This summer's free agency, of course, is key for Jackson.
New York is expected to have at least $25 million in cap space to spend in free agency. The club is also projected to have a top pick in June's draft. So Jackson and the organization hope to build -- or start to build -- the foundation of a contending team this summer.
The idea for Jackson and the front office is to build around Anthony, who is coming off major knee surgery and has four years left on his $124 million contract.
Karl said Tuesday that he believes it's possible to build a winner around the 30-year-old Anthony. That's a bit of a departure from the tone Karl has taken in the past on Anthony; after Carmelo's ugly divorce in Denver, Karl was critical of his former star. More recently, in his work as an NBA analyst for ESPN, Karl questioned whether Anthony was a fit for
Jackson's offense
. He also wondered whether Anthony understood how to
properly approach his job
as a team's best player.
On Tuesday, Karl said there was no question the Knicks could build a winner around Anthony. The key, Karl said, is to make sure Anthony doesn't feel the need to be as ball dominant as he has in the past.
"We were a 50-win team because of Melo, and [the Knicks] were a 50-win team here at least one year. So that's a sarcastic criticism of a guy that can score and at times looks a little bit selfish," Karl said when asked if it is difficult to build a winner around Anthony. "Melo knows how to play basketball. He's very aware of the aspects of defense and rebounding and passing. It's just his forte, probably his passion, is to score. But he knows how to play, so if you put a team [around him] that he has to be a little less dominant [with], I think you'll find that he'll be very, very ready for it and very happy to have it."
While playing for Karl, Anthony and the Nuggets won 60 percent of their regular-season games (an average of 50 wins per season). They advanced past the first round of the playoffs just once.
Karl touched on a few other Knicks-related topics Tuesday:
How will Phil handle the future?
"I think we all know that he's a very bright man. Very basketball-savvy, intelligent," Karl said. "He made the triangle work when no one else has ever made the triangle work.
"I expect him to come up with a formula. And I'm sure he's analyzing and studying the league -- to what's going to work in the next four or five years. The league has changed. It's getting to be a guard-oriented league a little bit. It's getting to be a 3-point shooting league a little bit. I know the East is a little bit different, but the 3-point line has had a tremendous effect, and actually the last time the Knicks were good [in 2012-13], they were a tremendous 3-point-shooting team.
"So I'm sure he's analyzing, and then what can you get [in free agency]? I still think the Garden has a mystique to it. ... I don't know, maybe the younger generation doesn't have the attraction and the love as the older guys do, but it's still a very fun place to come to and to win in."
Can the triangle work in today's NBA?
"I'm a believer that anything can work in this league; you've just got to make a commitment to it," Karl said. "You've just got to get players that want to commit to it. I think the Knicks are in a stage where they can get the talent and then figure out what the philosophy of the team is going to be.
"[The success of the offense also depends on] the talent of the player. The triangle was kind of an equal opportunity offense, and nowadays the post-up game is just not as efficient as the outside game. And even the teams that posted up, they were usually low-scoring teams. So you've got to have a balance. ... A lot of offense that we run in the NBA has pieces of the triangle, just not the beginning concepts of the triangle."
Are you surprised how far the Knicks have fallen since 2012-13?

"Yeah, I can't deny that. Two years ago they were a 54-win team," Karl said. "To fall this fast, this quickly, is definitely a surprise to me. I didn't see it coming. And then it came it came faster than I thought it was going to happen."
Question: Do you agree with Karl? Should the Knicks go after a point guard to pair with Anthony?
March, 2, 2015
Mar 2
6:02
PM ET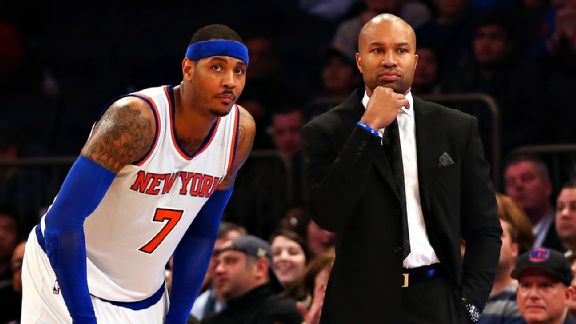 Anthony Gruppuso/USA TODAY SportsDerek Fisher still believes New York will be an attractive destination for top free agents this summer.
GREENBURGH, N.Y. -- The way head coach Derek Fisher sees it, brighter days are just four months away for the
New York Knicks
.
Fisher believes the Knicks will be able to retool quickly through the draft and free agency this offseason and put themselves in a "really good situation" heading into 2015-16.
New York is projected to have a top pick in the draft and expects to have more than $25 million to spend in free agency this summer. This combination of assets would appear to put the Knicks in good position to rebuild.
But some analysts and fans wonder whether the Knicks –- and first-year president Phil Jackson –- will be able to attract top talent to a team that has won just 12 games this season.
Fisher doesn't see that as a problem.
"There will be a ton of really, really good players that -- based on where they are in their careers -- they would be interested in something that is being built from the ground up with some really successful people involved that have been able to build success in the past," Fisher said after practice on Monday. ".... We have some numbers going into free agency; we'll be able to sign some really good players."
Fisher also believes the Knicks will get a quality player in June's draft.
"And I think when you put that together, we're going to be in a really good situation as we go forward," the coach said.
Earlier this season, Jackson expressed concern that the Knicks' poor record would dissuade free agents from signing in New York. But, more recently,
he backed off that stance
.
Possible free-agent targets this summer include Wesley Matthews (Portland),
Greg Monroe
(Detroit) and
Paul Millsap
(Atlanta), all of whom will be unrestricted free agents.
The Knicks may also target restricted free agents such as
Reggie Jackson
,
Draymond Green
and
Jimmy Butler
. Chicago has said that it plans to match any offers for Butler; Detroit's stance on Jackson is less clear, as is Golden State's with Green.
Goran Dragic
(Miami),
LaMarcus Aldridge
(Portland),
Marc Gasol
(Memphis) and
Kevin Love
(Cleveland) will also be on the market but the general expectation is that all four players will remain with their respective teams.
Fisher was asked on Monday if the team would make one position a priority over others in free agency.
"I don't think we're trying to prioritize a position per se," Fisher said. "We obviously have money and resources invested in Carmelo [Anthony] at the wing position so that's covered. But I think everywhere else, we're not looking at our system as if we have to have that prototypical, dominant point guard. We don't have to have the new era Wilt Chamberlain. It's really just putting together a team that has the right balance."
Calderon out at least two weeks:
The Knicks say they will re-evaluate point guard
Jose Calderon
in two weeks. Calderon has missed the last two games with a left Achilles strain.
The Knicks have three guards on the roster who can handle the ball (
Shane Larkin
,
Langston Galloway
,
Alexey Shved
). So it wouldn't be a surprise if they looked to add a player on a 10-day contract. New York has an open roster spot to add someone if it chooses. Calderon said Monday that he is committed to returning to the court once he is healthy.
Meanwhile, Fisher reiterated that he hopes Anthony can spend time around the team in the near future. Anthony underwent surgery on Feb. 19. Fisher said Anthony is on crutches but has started to put weight on his surgically repaired knee.
March, 1, 2015
Mar 1
12:41
AM ET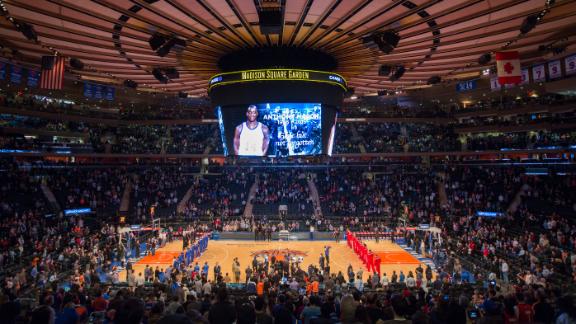 NEW YORK -- Anthony Mason last wore a Knicks uniform in 1996. But he maintained relationships with many in the organization long after his final home game at Madison Square Garden.
Mason had no official title with the organization, but he attended games regularly and made frequent appearances at team functions. In that capacity, Mason developed relationships with several players who starred at the Garden in recent seasons.
Start with
J.R. Smith
.
In a ceremony before a playoff game at the Garden in 2013, Smith was presented with the Sixth Man Award at center court. Mason and
John Starks
, the Knicks' two previous Sixth Man Award winners, were standing beside Smith to congratulate him as the Garden crowd reached a deafening decibel.
Smith posted
a picture of the moment
on his Instagram account on Saturday afternoon.
"Man I don't even know what to say... Thank you for your inspiration! Thank you for your guidance! Thank you for [those] long conversations!" Smith wrote. "Thank you for holding me down at all times! Real life Uncle s--t you did for me! Nothing but love for you an the family! Not only did we [lose] one hell of a player but a person as well! Never forget you boss! #RIPMASE"
Carmelo Anthony
and
Iman Shumpert
also
posted
tributes
of their own on social media.
Shumpert wrote about Mason helping him deal with day-to-day life as an NBA player in New York City.
"Mase always made sure I was straight with my mental playing in this league. Not only did we lose a Knick great but we lost a great man and a great friend," Shumpert wrote. "Thank you for all you taught me Mase."
Current Knick
Tim Hardaway Jr
. knew Mason in a different capacity. Hardaway Jr. first met Mason he was 9 years old and Mason was playing alongside his father, Tim Hardaway Sr.
"He'd always take care of me, always talked to me," Hardaway Jr. said Saturday night. "... He just treated me like I was one of his. All I know is every time I was around him, he had great energy, he had great passion and great love. He was just a kindhearted person."
Another Knick,
Lance Thomas
, got the same impression of Mason during a brief encounter a few years ago at the Garden.
Thomas, then with Duke University, had just played St. John's at MSG when he ran into Mason after the game.
Mason was on hand to watch his son, Anthony Mason Jr., play.
"It was one of those moments where you try to act cool and not be starstruck. He was just a New York legend," Thomas said on Saturday. "It was a very brief interaction, but it meant more to me because I grew up watching him."
Thomas was too young to live and die with the mid-1990s Knicks. But he was raised in a house full of Knicks fans and knew all about Mason's exploits -- from the gritty play in the paint to the entertaining hair.
"Those guys were getting after it. The city was getting in a buzz," Thomas said. "... Hopefully we can get the franchise back to that point."
The Knicks are far from where they were during Mason's run in the 1990s.
But, judging by the reaction on Saturday, Mason was never far from the franchise.
Maybe that's why the title the organization used in its Mason tribute on Saturday night was so fitting: "Gone but not forgotten."
Phil watches Kentucky game:
Knicks president Phil Jackson continued to scout top college prospects in person on Saturday. He was shown by television cameras in the stands at the Kentucky-Arkansas game. The Knicks are on pace to get a high pick in June's NBA draft. Kentucky's Karl-Anthony Towns is projected as a top pick. Many draft experts put fellow Kentucky big man Willie Cauley-Stein in the same echelon. Jackson likely had his eyes on those two.
Earlier this week, the Knicks president attended Ohio State's game against Nebraska and
he commented on Ohio State guard D'Angelo Russell.
The NBA will likely fine Jackson for his comments. According to a source, several teams complained about the comment. It is against league rules for personnel to comment on players who haven't declared for the NBA draft. ... The Knicks beat the Raptors on Saturday to win back-to-back games for the first time in a month. Hardaway Jr. led the team with 22 points.