New York Knicks:

Deron Williams
November, 8, 2014
Nov 8
2:51
AM ET
NEW YORK -- There was plenty of blame to go around after the
New York Knicks
' lopsided loss to the
Brooklyn Nets
.
But guard
Iman Shumpert
accepted full responsibility for the defeat.
"I'm gonna take this one.
Deron Williams
got to do whatever he wanted out there," said Shumpert, who was matched up against the Nets point guard Friday.
"I got to get better with controlling the ball after him coming off the ball screen. I didn't do a good job of that tonight. As a reflection of that, our bigs got in foul trouble [and the Nets] hit 3s from everywhere on the court because he kept getting into that paint. I got to do a better job of getting over the ball screens and not letting him get into our defense. ... Tonight, he had his way with me. I'll take that."
Williams scored a game-high 29 points on 10-for-15 shooting and recorded six assists. He didn't score all of his points on Shumpert, but Shumpert was primarily matched up against Williams.
Shumpert, who is known as a strong perimeter defender, played lead guard for the Knicks on Friday because
Jose Calderon
(calf) and
Pablo Prigioni
(ankle) were out.
Carmelo Anthony
didn't want Shumpert to take all of the blame for the loss.
"I know how much he loves to play defense, and how much he loves matchups, so him saying that it's his fault, you need to take that with a grain of salt and help him out," Anthony said. "We're all in the NBA, no one person can stop another one person. We gotta help him out and do a better job."
Fish says Knicks' effort needs to improve:
Knicks coach Derek Fisher told his team that it needed to play with more effort after the ugly loss to Brooklyn.
"He was saying that we can just play harder,"
Shane Larkin
said. "He was like, 'We know the triangle is going to take time. We can't blame it on the triangle; the triangle is going to take time. We've got to come out here and play hard.'"
Larkin added, "Brooklyn's a talented team but there's no way Brooklyn should run us off the court like that. There's no way Detroit should be up by 17 on us like that [as it was on Wednesday]. We've just got to come out and play a lot harder. ... As a point guard, I can come out with more energy, so that's one thing I can do to help improve the team."
Question: What do you think is the Knicks' biggest issue right now?

You can follow Ian Begley on Twitter.
November, 7, 2014
Nov 7
10:23
PM ET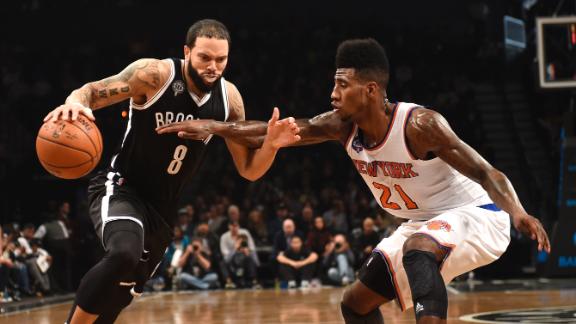 NEW YORK -- Forget about being the worst team in New York -- the
New York Knicks
looked like one of the worst teams in the NBA on Friday night.
Carmelo Anthony
& Co. were dominated by the rival
Brooklyn Nets
in a 110-99 loss that wasn't nearly as close as the score indicated.
New York looked disoriented at times on both ends of the floor and trailed by as many as 22 in the second half. The Knicks have lost three straight -- the past two in embarrassing fashion -- and it appears any warm feelings from that win in Cleveland are long gone.
Stat of the night:
46. That's the number of shots Anthony has missed in the past three games combined. He shot 5-for-20 against Brooklyn and scored 19 points. The lone bright spot was that he got to the line nine times.
Anthony is 18-for-64 (28 percent) in his past three games. Prior to that, he'd made 50 percent of his field goals. The Knicks aren't going to win many games with Anthony shooting so poorly.
Stat of the night 2.0:
85.7. The Nets hit 85.7 percent of their 3s in the first quarter (6-for-7) to build a 10-point lead and take control of the game. Brooklyn finished 14-for-24 from beyond the arc and hit 51 percent of its shots overall.
The Knicks also struggled to contain Brooklyn inside the arc.
With
Jose Calderon
(calf) and
Pablo Prigioni
(ankle) out, Derek Fisher started
Iman Shumpert
at point guard. Shumpert had a strong game on offense (11 points on 4-for-8 shooting) but struggled to defend
Deron Williams
.
Not all of Williams' points were on Shumpert, but Williams had 29 on the night and Shumpert was his primary defender. Williams hit 10 of 15 shots and handed out six assists.
Dunk of the night:
Knicks rookie
Cleanthony Early
had a strong finish in transition over
Brook Lopez
in the fourth quarter. Early finished with 12 points in 15 minutes and was one of the few Knicks who had a highlight play on Friday.
In his first game back from a one-game suspension,
J.R. Smith
had eight points, five assists and four rebounds in 24 minutes.
Question: What do you think is going on with Carmelo Anthony's shot?

You can follow Ian Begley on Twitter.