New York Knicks:

John Starks
August, 15, 2013
8/15/13
12:00
PM ET
One of the biggest unknowns of this Knicks season is the state of
Amar'e Stoudemire
.
Will Stoudemire's knees remain healthy enough to allow him to contribute? Or will he suffer through another injury-plagued year this season, just as he did in 2012-13?
Obviously, there's no way to predict Amar'e's health. But one member of the Knicks organization is confident that Stoudemire can have a strong year.
"He'll fit in very well,"
John Starks
, an ex-Knick who serves as an Alumni Relations advisor with the organization, said by phone. "People forget, he's a team player. I've been around this team for quite some time with Amare. I can honestly say he's a team player; he's going to do what he has to do in order to win. He understands where he's at from a physical standpoint. Coach [Mike] Woodson knows where he wants Amar'e to fit in and we'll see where it goes."
Another potential issue for Stoudemire is the presence of
Andrea Bargnani
. Bargnani could usurp Stoudemire's minutes this season. It depends on who Woodson includes in his starting lineup. If both Bargnani and Stoudemire are coming off the bench, it could be difficult for Woodson to find minutes for Stoudemire.
No matter what role Woodson chooses for Stoudemire, Starks is confident that the 11-year veteran will accept his role.
"He's got a championship heart and that's what you have to have," said Starks, who spoke with ESPNNewYork.com courtesy of Ektio, a sneaker brand which makes a shoe that offers unique ankle support for its users and is endorsed by Starks. "Guys have to sacrifice; he's probably sacrificed more than anybody else on the team. He understands what the goal is -- that's why he came to New York and my hat's off to him because he's been doing everything that coach asked him to do."
Stoudemire averaged 14.2 points and five rebounds on 57 percent shooting last season. He was limited to just 29 regular season games last season due to two knee surgeries and missed 32 games due to various injuries the season before.
He will play on a minutes restriction this season. It is unclear at this point what the restriction will be, but last season Stoudemire was limited to 20 minutes per game.
QUESTION:
How do you think Amar'e fits in with this year's team? Do you think he can have a successful year?
You can follow Ian Begley on Twitter.
November, 14, 2012
11/14/12
12:25
PM ET
By
Jared Zwerling
| ESPNNewYork.com
Recently,
Raymond Felton
said the last time he was on a close-knit team like this season's Knicks was in 2005, when his North Carolina Tar Heels won the national championship.
As
John Starks
told ESPNNewYork.com recently, the players have accepted Mike Woodson's system, and it's enabled them to get off to the only undefeated start in the NBA.
"Everybody's buying in from Carmelo all the way down to the 12th man on the bench," said Starks, who currently has gigs with the Knicks and MSG Network. "It's amazing when you make a couple of changes and you bring in some solid player. But I think the key is Carmelo, the way he's playing, coming off the summer that he had obviously over in the Olympics and being in the type of shape that he's in and his willingness to go out there and play the brand of basketball coach Woodson wants him to play. So it's been great."
Starks said defense has been "the most impressive thing" about the Knicks' early run. They're holding opponents to a league-best 87.8 points per game.
"I think Coach Woodson having a full training camp to really implement his style of play that he wants to play, and obviously
Jason Kidd
and then Raymond Felton at the point-guard position to solidify that position, really has made a big difference," he said. "People talk about the ball movement, but when you've got two natural point guards out there on the court, you're going to have ball movement, and that's what you see right now."
When asked if he could remember a previous two-point-guard backcourt, Starks said no. Because of Felton and Kidd's effectiveness, the Knicks rank No. 1 in assist-to-turnover ratio (1.87), even a slight nod above the Heat (1.86), which features
LeBron James
,
Dwyane Wade
and plenty of worthy shooters.
"It's pretty unusual and Coach Woodson likes veteran guys, because veteran guys pick things up real quick," Starks said. "You don't have to go over things a long time in order to get things accomplished."
The more the Knicks keep winning, the more fans are going to plead for
Amar'e Stoudemire
to come off the bench when he returns. Woodson also said on Monday that he's "very happy" with the first unit right now, comprising Felton, Kidd,
Ronnie Brewer
, Anthony and
Tyson Chandler
.
On Stoudemire, Starks said he didn't know what Woodson is planning.
"That's going to be totally up to coach Woodson. That's not my call," he said. "We just look forward to having him back and when he comes back, we hope that he's ready to go."
You can follow Jared Zwerling on
Twitter.
November, 10, 2012
11/10/12
6:45
PM ET
By
Jared Zwerling
| ESPNNewYork.com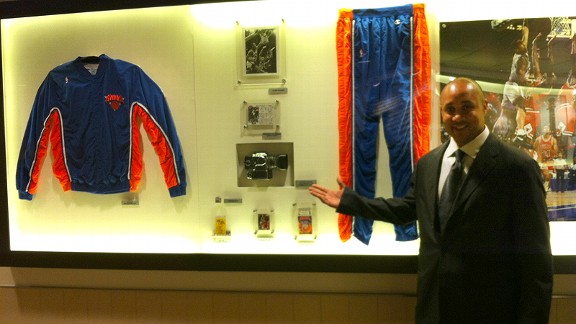 Courtesy of Jared ZwerlingJohn Starks stands beside "The Dunk" exhibit before the Knicks hosted the Mavericks on Friday night.
If you've had a chance to walk around the revamped sixth floor at the Garden, you may have noticed a wall display featuring John Starks' old pregame warmups. They are the same ones from the night he threw down the famous "The Dunk" in Game 2 of the 1993 Eastern Conference finals against the Bulls.
The exhibit, one of the arena's 10 "Defining Moments," pays homage to Starks' personal career highlight. He hadn't seen it until Friday before the Mavericks game, when he gave ESPNNewYork.com his first impressions and reflections on the play.
Here's the conversation:
So what do you think?
"It's amazing to be a part of such the famous arena, the best all-time in my book, and to be able to be immortalized here in the hallways is just amazing."
What does it mean for fans to see exhibits like this throughout the Garden?
"It means a lot. Obviously the fabric of New York is sports and to have moments like this captured, where fans can really appreciate it as they walk through the Garden, is just what makes this place so special. To be one of the athletes that has one of the defining moments over the course of the Garden life is just amazing."
Did you supply the warmups?
"Yeah, I still had the warmups and I had plenty of those cards right there. I didn't have the camera. I still had a couple of the schedules and obviously the picture. When you look back throughout your career, you don't think about certain plays that you did until you're retired and people keep bringing up this certain play. When that happened, I didn't think nothing of it because I had dunked many times and dunked on many people during my career, and so you don't think nothing of it."
How often do people bring it up?
"Every day. Every day since it happened, people have been talking about that particular play. It was a very special play, no getting around it."
Take me through the play, from what you remember.
"The expressions on B.J. Armstrong and Bill Cartwright are priceless. B.J. Armstrong was cheating the play when me and Patrick (Ewing) came to set a pick-and-roll. When I mean by cheating the play is that when he knew Patirck was coming to set the pick, he would jump to my high side and get ready for the pick to push me down baseline where Bill Cartwright is usually waiting.
"That particular play, when I came down and I saw that Bill Cartwright wasn't down on the baseline like he normally was, I just cut my eyes a little bit early. B.J. Armstrong was watching my eyes, and he knew the pick was coming, so he jumped like I thought he would to my high side, and it left the baseline open, and I just took off."
Now you were on the right side, but you dunked lefty?
"Actually I jumped better that way, going right to left. Some right-handers go better leaning with their right. I do better leaning with my left, and I jump the highest. I didn't see Michael (Jordan). All I saw was Horace Grant. I knew I had to go in strong and be the play."
Did you ever find out how high you jumped?
"They say when I did that play right there it was like 42 inches off the ground."
How did the dunk change things for you?
"It was kind of like a statement play. Every player has a defining moment in their career, and that was probably the defining moment for me in the standpoint of I wasn't a household name at the time. After that play, I became a household name, so I think that's what made it special."
Do you ever get on MJ and Horace about it?
"We kid each other about it. I don't see Horace as much. I see Michael more now. Michael always states that I didn't dunk on him, but I said I've got a picture showing that I did. He's off the ground and he tried for the block."
If you had to pick one, what's your second defining moment?
"I would think (against) Indiana, Game 7 (in the 1994 Eastern Conference finals), where we beat them to get to the championship was obviously my second biggest moment, as a player and as a team, because we worked so hard in the past four years to be able to have an opportunity to play for a championship.
"Plus, Patrick Ewing kind of saved me, too, to win that game because the last shot I went up and I was going to try to do the same thing (like "The Dunk"). But I was just coming off knee surgery and when I went to go jump, it wasn't enough. I just kind of got it off the backboard and Patrick was there, as he usually is, and came in and followed it up, and dunked it."
You can follow Jared Zwerling on
Twitter.
May, 6, 2012
5/06/12
10:02
PM ET
By
Christopher Hunt
| ESPNNewYork.com
No one ever said that J.R. Smith was shy about shooting the ball. He also takes the kind of off-balance shots that make fans and coaches cringe.

He took that kind of shot when he got a steal midway through the third quarter, when he intercepted an outlet pass from Chris Bosh and let go a quick 3-pointer in the left corner before anyone could get back.

Smith hit the shot -- the only one of eight 3-pointers he attempted -- but the score cut Miami's lead to one, and seemed to change the complexion of the game.

Interim coach Mike Woodson said "the steal that J.R. had and then the three in the corner really jump-started us, got the fans really back into it and we never looked back."

Woodson started Smith in the second half ahead of Landry Fields because the coach said he was searching for offense. Smith was aggressive looking for his shot but never found it. He shot 3-for-15 from the field and 1-for-8 behind the arc, drawing comparisons to John Starks' 2-for-18 outing in Game 7 of the NBA Finals against the Houston Rockets.

There wasn't quite the same at stake in Game 4 of the first round Sunday but Smith revealed a Starks-like mentality after the game.

"We just got to keep shooting, especially for me, as long as I keep shooting," Smith said. "When it's not falling, you have to believe that the next one is gonna fall. I think that's for the rest of our teammates, for myself, Steve (Novak), Mike (Bibby), once one or two fall we'll be fine."

He also said later: "I've had games where I went 9-for-10 and games where I went 1-for-20 so it's just a matter of keep playing. Being a shooter, you have to have a short-term memory so I don't really focus on it too much."
May, 4, 2012
5/04/12
11:06
PM ET
By
Scott Turken, Special to ESPNNewYork.com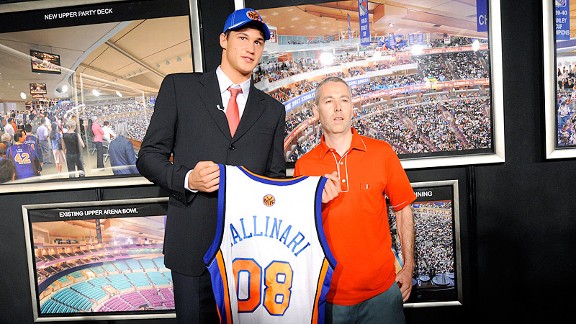 David Dow/Getty ImagesThe late Adam Yauch -- aka MCA of the Beastie Boys -- was a lifelong Knicks fan. Here he poses with Danilo Gallinari at the 2008 NBA draft at Madison Square Garden.
While you're at the job working nine to five
The Beastie Boys at the Garden, cold kickin' it live
-- "No Sleep Till Brooklyn"
Few teams commanded the attention of The Garden crowd more than the Beastie Boys. But one of the key stars from the legendary New York trio is gone.
Adam Yauch
died Friday after a long bout with cancer
. He was 47.
The Beasties are inexorably linked with the city and its teams, especially those of the '80s and '90s. Coincidentally, the seminal rap album
Licensed to Ill
was released in 1986 -- the same year the bad-boy Mets shocked the Red Sox and the sports world. The album and the team remain two of the most important icons of '80s pop culture in the Big Apple.
In 1994, at the height of Knicks and Rangers glory, the Beasties debuted at No. 1 on the charts with
Ill Communication
. For many, the brilliant tracks on that album are the perfect mix tape for those halcyon spring days of sports. A line from the track "Get it Together" said it all: "I got heart like
John Starks
, hitting mad sparks, pass me the mic, and I'll be rocking the whole park."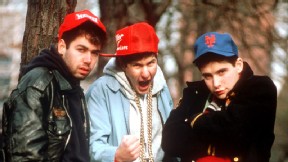 Michael Ochs Archives/Getty ImagesThe Beastie Boys' vast canon is littered with references to New York City hoops.
Yauch, known to fans as MCA, was a basketball junkie -- and the Beasties had many famous lyrics with hat tips to hoops.
Ad-Rock's
line, "I'm like Clyde, and I'm rockin' steady," from
Check Your Head
is as close to lyrical perfection as it gets in NYC. Yauch displayed his own frustrations as a Knicks fan on 1998's
Hello Nasty
: "Would someone on the Knicks please drive the lane?"
Throughout the vast catalogue of Beasties hits, there are references to
Patrick Ewing
,
Latrell Sprewell
,
Anthony Mason
,
Harthorne Wingo
and
Phil Rizzuto
.
The band's influence, it can be said, sometimes trumped even sports itself. In 2011, after the Knicks were blown out by the Celtics in the first round of the playoffs, the group debuted their album
Hot Sauce Committee Part Two
during a Livestream broadcast. The next day, a Yahoo! headline read:
"Beastie Boys Outplay the Knicks at Madison Square Garden."
Yauch remained true to the Knicks to the end, attending games and the NBA draft. He directed a critically acclaimed hoops documentary in 2008 --
Gunnin' for That #1 Spot
-- about the best high school players in the country playing in the Elite 24 All-Star Game.
And his hoops legacy will live on. As another hip-hop icon was planning to move his team to MCA's native Brooklyn, Nets owner
Jay-Z
sampled from the Beasties with his own "Hello Brooklyn 2.0."
To honor the late MCA on Friday night, eight Mets starters took the plate to a Beastie Boys song.
MCA would have dug that -- because when it came to sports, he always seemed to be "rocking this party eight days a week."
Scott Turken is a producer with ESPN's Production Migration unit, which powers the video on ESPN's local sites. Send feedback to scott.turken@espn.com. Follow him on Twitter @Turk0219
July, 7, 2011
7/07/11
6:31
PM ET
By
Jared Zwerling
| ESPNNewYork.com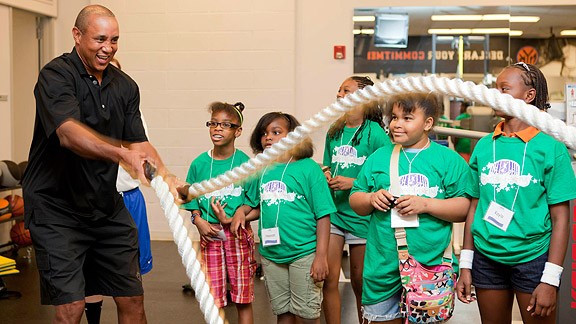 Courtesy of MSG Photos
Starks' quick hands as an NBA All-Defensive player helped out when he manned the jump ropes for 40 disadvantaged middle school kids taking part in the Garden of Dreams Foundation's "Dream Week."
If you think the Knicks training facility is quiet during a lockout, guess again -- especially not when the third-annual Garden of Dreams Foundation's "Dream Week" strolls into 711 Old Saw Mill River Road in Greenburgh, N.Y.
This morning, former Knick
John Starks
led 40 kids (ages 10 to 12) from SCO Family of Services, a Garden of Dreams partner, through the team's training facility. He played basketball, pool and ping-pong with them, and guided a tour of the locker room, player's lounge and weight room, where they met Knicks strength and conditioning coach
Greg Brittenham
. The kids also interacted with Knicks assistant coaches
Herb Williams
,
Phil Weber
and
Dan D'Antoni
, as well as ex-player
John Wallace
.
During Starks' busy schedule, which even included some jump-roping, I spoke to him about his involvement with "Dream Week," his summer plans and a passion you may never knew he had: cigars. We also reminisced about his offseason training during his NBA career.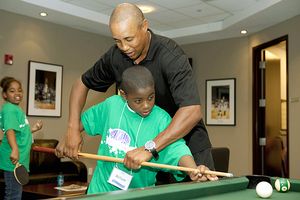 Courtesy of MSG Photos
Starks showed the kids how to shoot pool in the player's lounge at the Knicks training facility.


Zwerling: You've been involved with many youth events in your career. How was this one unique?
Starks: They're always special. A lot of these kids don't get a chance to interact and see guys, such as myself, [former Knick]
John Wallace
, [assistant coach]
Herb Williams
and the coaching staff. It always feels good when they get a chance to meet us and we can show them a little bit about the game of basketball. A lot of them come from disadvantaged homes, so this is a very special treat for them to be able to come to the practice facility and see where the Knicks, Liberty and Rangers work out and get better. They were extremely excited. They were just fascinated by what it takes in order for guys to get in shape.
JZ: What does it mean for you to be a part of the Garden of Dreams Foundation through your years with the Knicks?
JS: The Garden of Dreams Foundation was obviously set up to really give back to the community, because the community has given so much to us. This is a charitable way to help others who are in need and to give kids and adults the experience that a lot of them are not given -- come to a Knicks game, go to Radio City Music Hall and other venues that are under the MSG umbrella. It's always fascinating to see the smiles on their faces when they get a chance to meet the players and get the chance to tour the facilities.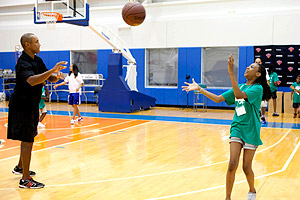 Courtesy of MSG Photos
Starks stressed fundamentals during the event's basketball clinic.


JZ: With the clinics, what skills do you stress to the kids at that age level?
JS: Just fundamentals. Basketball is a fun game, so we try to keep it fun and show them the fundamentals of dribbling, shooting, passing -- that type of thing.
JZ: Do you have any events planned for the summer with your own foundation?
JS: I had the bowling event in February as well as the casino-cigar night in the city in May at Hudson Terrace. Then we have a big finale with a golf tournament at Fairview Country Club in Greenwich, Conn., on September 13th. We have a lot of celebrities that come there for that. We've been very fortunate, very blessed, that we've been having great sponsors over the number of years that the foundation has been in existence. We're excited about the growth and where it's heading and what we're doing to help high school students realize their dreams and help them move on to college.
JZ: I know you're a big golfer and obviously golf and cigars go hand-in-hand. What are some of your favorite ones?
JS: I make my own cigars over in the Dominican Republic. I had been doing charity work over in the Dominican Republic with one of my business partners and just kind of fell into it actually. We have a factory over in Santiago. It's been going on for about three years now. We have the Dominican Legend cigar and a couple others. We have mild, medium and full-bodied cigars. I like the medium or full-bodied cigars. We actually have a lot of veteran cigar smokers smoke our cigars and they love them over a lot of the high-end brands that you're used to hearing about [
Check out stamfordcigarlounge.com for more info
].
JZ: How's your overall summer going?
JS: It's been very good, very rewarding. I got a chance to do some traveling. Cabarete is a spot over in the Dominican Republic. They're building a beautiful five-star resort over there called Amber Dune, which I'm a part of. I haven't gotten a chance to go anywhere outside of that.
JZ: You're like the president of the DR.
JS: [
laughs
] I'm pretty known down there. I feel in love with the DR after one of my business partner's customers, who's from the DR, asked me to come down to do some charity work with him there. It was a nice country. The golf courses are great down there.
JZ: Before I let you go, I wanted to reminisce with you about your offseason days training for the next season. What kinds of things would you do?
JS: Resting is first and foremost once the season is over with. You have to let things heal properly before you get back to training. I would normally take about two weeks off and then I'd just get into some light weight lighting. As the summer progressed, I'd pick it up a little bit more. I probably wouldn't touch a ball for about a month after the season was over with and sometime after that month, I would start going back and playing and going through my shooting drills and what have you. Obviously when the season approached, I just amped everything up.
JZ: Did you have a personal trainer?
JS: In the beginning, I didn't have a personal trainer; I just did it on my own. As you get older, you kind of need a personal trainer just to kind of motivate you a little bit more.
JZ: Any memorable pick-up runs you got into during the summer?
JS: I played in a lot of the semi-pro leagues during the summer and stuff like that. I played with a lot of Dallas players, like [former Knick]
Larry Johnson
and guys like that.
JZ: So what's next for you?
JS: I'll be working the Knicks camp that starts up next week and I'll actually be traveling over to China for the NBA tour. I'll be working a lot of clinics.
Today's event at the Knicks training facility was only one of many treats for the kids. This week, they will also enjoy activities planned by the Rangers, Liberty, MSG Networks, MSG Sports Properties, MSG Entertainment and Fuse at various locations throughout the tri-state area, including Radio City Music Hall, Red Bull Arena, Prudential Center and the USTA.
You can follow Jared Zwerling on
Twitter.
February, 16, 2011
2/16/11
7:02
PM ET
By
Jared Zwerling
| ESPNNewYork.com
John Starks
never stopped hustling on the basketball court, so it's not a surprise that he has brought that same tenacity to his life after playing. Of course, you can find him at Knicks home games as the team's alumni and fan development advisor. But beyond that, he is a busy man, always on the cutting edge of something new. He is the co-founder of Zipway warm-up pants featuring patented zipper technology; the celebrity spokesman for Ektio basketball sneakers featuring built-in ankle braces; and, what is most dear to his heart, the founder and president of The John Starks Foundation, which continues to grow in its 17th year.
Last night, Starks was lacing up a different kind of shoes: bowling shoes. At New York City's Lucky Strike Lanes, he was hosting his second annual celebrity bowling tournament with all proceeds benefiting his foundation, which provides college scholarships to disadvantaged high school students. Those in attendence included
Ronny Turiaf
, Knicks assistant coach
Herb Williams
, ex-Knicks
Allan Houston
and
Charles Smith
, New York Giant
Justin Tuck
, Atlanta Hawks
Maurice Evans
and
Etan Thomas
, and former NBA player
Cliff Robinson
.
After Starks was done bowling and handing out his autographed memorabilia to several lucky winners, we took a seat by one of the bowling lanes and chatted about the event, Black History Month, the Knicks and, of course,
Carmelo Anthony
.
How did you enjoy tonight?
It's been fabulous. The first year was a very successful one and everybody couldn't stop talking about it, so I decided to bring it back here. Obviously the atmosphere is great and it's a grown-up atmosphere, so it's great.
I know you're a golfer and also host a celebrity golf tournament. How's your bowler side?
[laughs] The bowler … so-so. I'm a little bit better out there on the golf course, but you know what? It's just about having fun, raising a lot of money for a lot of needy kids and, as you can see, everybody had a great time.
What was your high game today, by the way?
[laughs] 87.
I saw you had a strike in the first frame of your first game.
Yeah. It's like golf, you know. When you get a birdie on the first hole, they always, "You're going straight downhill." Same thing in bowling.
But the good thing is you can't lose your ball out here.
That's true, that's true.
Since you started the foundation in 1994, what's impressed you about its growth and where do you see it going from here?
Well, what's been so beautiful is that everything has been progressing year after year since we started the foundation in '94. The events have gotten bigger; we've added more events.
Jennifer Alpert
came on board and has been the executive of the foundation, and it just kind of skyrocketed after that. We're excited about what the future holds for the foundation. We'll get more and more people interested in what we're doing, and I think that's how we'll continue to grow it.
Recognizing Black History Month, what messages are important to send to kids in the African-American community?
Well, the most important thing is really education, especially within the African-American community, as well as the minority community in general. You can't give up on it. I think so many kids get discouraged about what goes on, especially within the school system. They don't see it as a future for them, but that is the future and they have to really, truly understand that without a good education, there's nowhere you're going to go in life. So we try to continue to instill that and continue to push that message through.
How many scholarships have you awarded?
Oh, man. Since the inception of the foundation, I think we've given over 200 scholarships, which is good. We want to do more. We want to do a lot more. We want to give a lot more money to these kids.
Thinking about the African-American athletes who were pioneers in making it possible for others to be successful, who were some of the guys you idolized growing up?
Well,
Dr. J
was a guy who I looked up to growing up.
Michael Jordan
, obviously, when I was in college was another one of the guys. But Dr. J really was a guy who really inspired me to continue to play basketball.
So let's talk about the Knicks. What are your thoughts on the season so far?
I love it. Obviously the year could be a lot better, but right now they're sitting in sixth place, which is great considering where we've been over the last five or six years. The team is really accepting to what's going on in the city, and the city really has grabbed a hold of the excitement that's building over at the Garden. These are all new faces here, and you've got some guys, like
Wilson Chandler
, who are really having a breakout season this year. You look at
Landry Fields
who came in here out of nowhere and who possibly would have been the Rookie of the Year this year [if not for]
Blake Griffin
. Then you're talking about
Amare Stoudemire
who's a superstar and who really took a big step to be a part of something that's moving in the right direction. And then you bring in
Raymond Felton
, a very solid point guard. So I think we've got a making of a great team. Obviously they have to continue to play forward, as they say, in this league. You can't think about what's going on behind you. You just have to look towards the future, and right now this team is sitting in sixth place going into the All-Star break. Hopefully they'll get a win tonight against the Hawks, and come out of here with a fresh new start in the second half of the season.
Do you see a little bit of your '90s Knicks teams in this year's group?
Yeah, I see the excitement, I really do. I see the excitement building and the fans are really behind them right now. You hear the chants of defense now going, and they wanted to do that for the longest time.
You also hear "Go NY Go NY Go!" That's from your days.
Exactly. It's a lot fun, man. I'm really enjoying it and watching this thing continue to build.
As far as Carmelo Anthony goes, how did you deal with any trade rumors when you were a player? Were they ever on your mind?
Nah, nah, you don't think about it. Maybe when you're sitting at home and you hear about it. But once you take the floor, you don't think about it. You just go out there and you play your game, and really focus on what you need to do in order to get a win. If you go out there thinking about it, you're letting your teammates down, so you can't do that.
Do you think something might happen before the February 24th trade deadline?
I'm not sure. It's really up to what goes down. You've got a couple of teams that are involved in that whole process, and you just have to wait and see the situation.
You can follow Jared Zwerling on Twitter.