New York Knicks:

New York Giants
February, 25, 2014
2/25/14
5:18
PM ET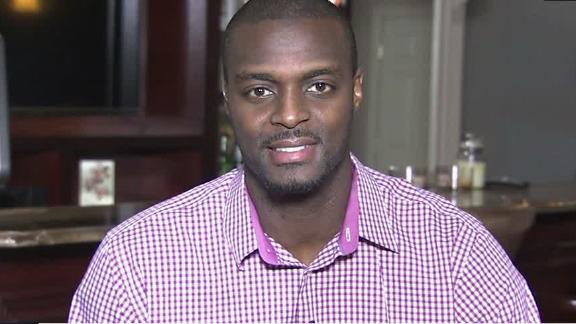 Plaxico Burress
doesn't know all the facts surrounding
Raymond Felton
's arrest on gun charges.
But if there is one person who knows how seriously New York takes its gun laws, it's Burress, who served 20 months in prison after possessing, and accidentally shooting himself in the leg with, an unlicensed handgun in a Manhattan nightclub.
[+] Enlarge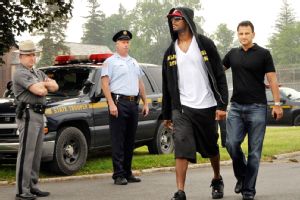 AP Photo/Heather AinsworthFormer Giants wideout Plaxico Burress spent 20 months in prison after possessing, and accidentally shooting himself in the leg with, an unlicensed handgun in a New York nightclub.
"I just thought immediately that it was an unfortunate situation for Raymond Felton because I had been through something of that nature," Burress said on ESPN's "Outside The Lines" of his initial reaction to Felton's situation. "I don't really know the facts of what exactly he is going through or what happened.
"But it is just one of those things where I think the support system will come together and support him," Burress added. "I believe that the city of New York [the fans] will support him. It may not be easy but I believe that he will get through it."
Felton turned himself in to police after an attorney for Felton's wife, Ariane Raymondo-Felton, turned over a Belgian-made FN Herstal pistol at a Manhattan police precinct, according to police spokesman Sgt. Lee Jones. Felton was charged with second- and third-degree criminal possession of a firearm -- both are felonies -- and fourth-degree possession of a firearm, which is a misdemeanor, a police spokesman told ESPNNewYork.com.
Police said Felton was in possession of a gun he wasn't registered to own.
Burress reiterated that while he doesn't know all the facts surrounding Felton's situation, the former Giants and Jets wide receiver found one positive from the latest New York athlete to get in trouble with authorities over a firearm.
"I don't know the extent of what he is going through right now or what the facts are," Burress said. "But I believe he had a firearm in his home or something. I don't know if there is anything wrong with that but nobody was hurt from it. I think that is the positive of it all."
Burress said he would have never carried his firearm into New York City if he had known the New York law.
"I had been a gun owner since 2000," Burress said. "To be honest, at that time didn't see anything wrong with owning a firearm at the time because it was done the right way. I had a license to carry the firearm, it was registered in the state of Florida. But coming here to New York City, not being aware of the laws or what could have happened to me if something of that nature happened, I don't think I would have made the same decision."
On "Outside The Lines," a clip was shown of Burress speaking at an engagement to prevent gun violence, saying "I no longer own a firearm, I don't want to be associated with them."
"If I would have known [the laws], my situation would have never happened," Burress said on the program. "It was over five and half years ago, it is just one of those things. I own it [the mistake]. I could have made a better decision then. I try my best to move on from it. ... Going through that really let me understand the people who cared about me and I am a better person because of that."
The Steelers placed Burress, 36, on injured reserve last August with a torn rotator cuff. He says he has been rehabbing and hopes to make one last effort to play again.
"I believe I do," Burress said when asked if he has any football left in him. "I am rehabbing three or four days a week and I may go out and give it one more big push and that is the competitor in me. Right now I am in an entrepreneur mindset, owning my own sock company, The Plaxico Burress Collection, and focusing on those things and trying to get healthy, get back to playing football and selling socks."
December, 6, 2012
12/06/12
4:36
PM ET
EAST RUTHERFORD, N.J. --
Victor Cruz
has some pointers on how to salsa for his good friend
J.R. Smith
, who did Cruz's patented dance after hitting a game-winning shot at the buzzer to beat Charlotte on Wednesday.
"We got to go to the drawing board a little bit, it was a little stiff at the end," Cruz joked. "We'll get that squared away."
Cruz and Smith grew up in New Jersey and even played AAU ball together when they were teenagers. After practice Wednesday, Cruz tuned in to watch Smith and the Knicks take on the Bobcats. With the game tied at 98-98, Smith hit a fadeaway buzzer-beater to give the Knicks the 100-98 win. Smith scored 13 points on 6-of-16 shooting Wednesday, including 1-of-9 from 3.
"When he hit it I almost jumped off the couch and then when he was coming off the court I saw him do the salsa and I was like 'Oh man,'" Cruz said. "I was waiting for my phone to blow up and literally four seconds after that my phone started going crazy."
Cruz texted Smith after the game, telling his former teammate: "You didn't have to salsa on them like that. LOL." When they talked afterward, the Knicks' shooting guard asked the receiver if he approved of his impression of the dance and told Cruz that he just had to do the salsa to celebrate.
"It's good to see," Cruz said. "It's not every day you hit a game-winner and he gets to salsa on them a little bit. I was happy for him."