February, 24, 2015
Feb 24
10:00
AM ET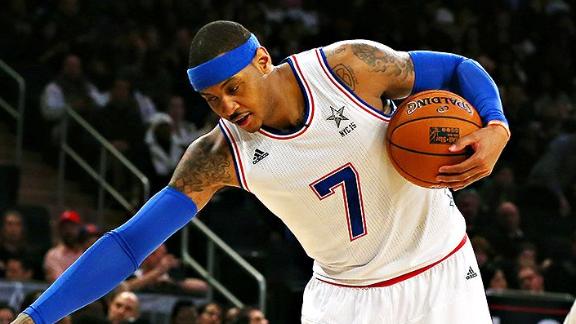 NEW YORK -- The Knicks have more than $100 million invested in
Carmelo Anthony
's long-term health.
So, naturally, there is some concern in the organization about Anthony's ability to return to form following his recent knee surgery.
Knicks president Phil Jackson voiced those concerns last week when asked if he had any misgivings about Anthony's surgery given his age (30) and years of NBA service (12 seasons).
"Yeah," Jackson said, "We all do."
Jackson then quickly expressed confidence that Anthony would be fine.
But it's fair for Jackson -- and everyone with a stake in Anthony's long-term viability -- to wonder how he will fare after surgery.
There's no way to predict how going under the knife can affect Anthony, of course.
But at least one medical expert has concerns about his ability to return to full health.
[+] Enlarge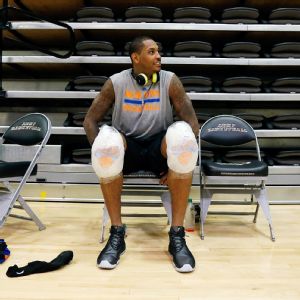 AP Photo/Mike GrollWith a floe of ice no longer enough, Carmelo Anthony has undergone surgery that ended his season.
"I find that older athletes with this issue and surgery continue to have some pain and disability," ESPN medical expert Dr. Mark Adickes says. "That is why my preferred treatment method is conservative (injections and therapy) unless a large tear occurs. Surgery does not SOLVE this problem."
Recent history supports Adickes' point.
Dwyane Wade
and
Danny Granger
-- two players who have had Anthony's procedure recently (a left knee patellar tendon debridement and repair) -- have had issues post-surgery.
Wade had a patellar tendon debridement in May 2007. He played well in the season following surgery, averaging 24.6 points per game, but was held out of the final 21 games because of ongoing problems with his surgically repaired knee.
He elected to undergo a powerful shock-wave treatment -- dubbed the OssaTron treatment -- to fix the problem.
Wade played regularly over the next three seasons but knee trouble flared up in the 2011-12 season. He played in just 49 regular-season games because of various injuries -- including issues with his knee.
[+] Enlarge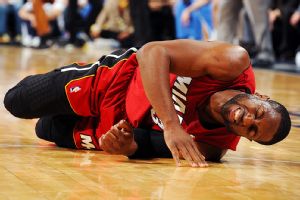 Bart Young/NBAE/Getty ImagesDwyane Wade has picked himself off the court many times after surgeries and remained productive.
In the 2012 playoffs, he had his left knee drained. Wade then had arthroscopic surgery on his left knee following the season.
Wade had a relatively strong 2012-13 season, playing 35 minutes per game and shooting 52 percent from the field in 69 games. But he was affected by knee issues again late in the season and into the playoffs. After the 2013 Finals, he elected to again undergo the powerful shock-wave treatment to treat tendinitis in his surgically-repaired knee.
Will Anthony have the same issues? No one knows. No two surgeries are alike. And no two players are alike. But Wade's ex-teammate, Granger, also had issues following a patellar debridement and repair.
Granger had the surgery late in the 2012-13 season and missed the rest of the Pacers' season and its run in the playoffs. He then needed a second knee surgery in the 2014 offseason.
Knee issues have severely hindered Granger. He's appeared in just 71 of his last 135 games. He's playing 20 minutes per game this season, down from 33 minutes per game in the season prior to his injury.
Players needing additional surgery following a debridement is common.
Jeff Stotts, an injury analyst at Rotowire.com and the founder of Instreetclothes.com, estimates that 45 percent of the 70 players that required the surgery over the past nine seasons underwent an additional surgery on the same leg later in their career.
None of this is being pointed out to suggest that Anthony will have the same issues following his most recent surgery. We actually don't know exactly what was done to Anthony's knee yet. But the injury history of Wade and Granger is worth noting as you think about what Anthony may face in the final four years of his Knicks contract.
Also worth noting: Anthony, 30, has played 12 seasons -- and logged 30,000 minutes -- in the NBA.
Players who fit that profile have had various degrees of success in the next four years of their career.
Let's take
Dirk Nowitzki
, who entered the NBA at 20 years old, one year older than Carmelo.
He scored 23 points per game and won an NBA title with the Mavericks in his 13th season. His scoring dipped below his career average of 22 in the next three seasons and he played in 195 of a possible 246 regular-season games.
How about
Paul Pierce
? Pierce's scoring remained consistent in the three years following his 12th season. He also continued to play 33-plus minutes per game. Pierce experienced a significant dropoff in year 16, which would be the final year of Anthony's contract.
Is this what Knicks fans have to look forward to over the life of Carmelo's five-year contract that expires in 2019? Only time will tell.