The Knicks had one of their best offensive nights of the season on Tuesday.
They shot a season-best 60 percent from the floor and hit nine of their 18 3-point attempts. Their leading scorer, Carmelo Anthony, missed just five shots all night and they handed out 24 assists on 42 makes.
"We made shots," Mike D'Antoni said. "That's the biggest thing."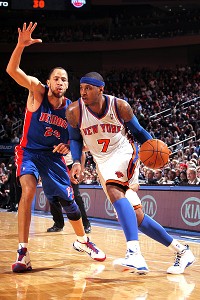 Nathaniel S. Butler/NBAE/Getty Images
Carmelo Anthony's return provided a boost, but how will the Knicks perform the rest of the week?
And that's great.
But anyone who wants to declare the Knicks back from the brink should first consider Tuesday's opponent.
Detroit came into town with a 4-18 record, having lost five games this month by at least 20 points. The Pistons are a mess on defense; they rank 29th in both defensive efficiency and opponent field goal percentage.
So the Knicks' breakout night game against a team that's broken.
The real test will come on Thursday when New York (8-13) welcomes the Eastern Conference-leading Chicago Bulls into the Garden. That's the first of three games in three nights for the Knicks, who won for just the second time in 11 games on Tuesday.
"Thursday we find out," D'Antoni said. "That's the next step."
What you saw Tuesday was a small step in the right direction.
The ball moved. Open shots were hit. The spacing was there.
And it's no coincidence that it all happened with a relatively healthy Anthony on the floor.
The small forward returned to action against Detroit (4-19) on Tuesday after sitting out two games due to various injuries.
He came out hot, knocking down four of his first five shots, including two behind the arc, to finish with 10 points in the first quarter. At the end of the night, Anthony had 25 points on 9-for-14 shooting and six assists. It was the first full game that he shot at least 50 percent from the field since Jan. 4.
"We've got to play off him," D'Antoni said.
In his six games prior to Tuesday, Anthony had shot just 31.7 percent (40-for-126.)
He and the Knicks' medical staff decided to shut him down for the final two games of the team's road trip last week.
"My legs felt great and I felt refreshed," Anthony said late Tuesday night. "Taking these days off really helped me out big time."
What really helped the Knicks out were Anthony's six assists, all of which came in the first half as they built a 12-point lead.
Anthony drew the defense and dished, often creating open looks for teammates.
Landry Fields had one of his best games since the Anthony trade, scoring 18 points on 7-of-10 shooting. Tyson Chandler had 17 (5-for-6 from the field, 7-for-10 from the line) and Amare Stoudemire added 15.
"We made shots ... that was a big key for us," Anthony said. "Everyone played with confidence out there -- we started from the beginning."
But will that continue Thursday against Chicago? And then Friday in Boston? What about Saturday against New Jersey?
After all, one win over the worst teams in the NBA doesn't cure all that ails the Knicks.
Just ask the coach.
"We've got to build on this," D'Antoni said. "This was one game."
You can follow Ian Begley on Twitter.