NBA fans have voted Carmelo Anthony as an All-Star starter for the fourth time. It will be his first All-Star appearance since joining the New York Knicks in a blockbuster trade last February.
Anthony was named to the Eastern Conference All-Star team Thursday night on a pregame special on TNT. He was the only Knick in the starting five.
"I'm excited about it. It's an honor, a blessing," Anthony said. "It's my first one here in New York. Thanks to the fans for voting me in. I appreciate that.
"It will be a good time, especially after the short season, the lockout. It will give the fans a chance to come together for once at All Star weekend and have a good time."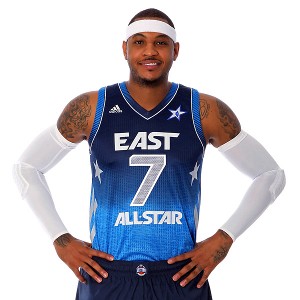 Nathaniel S. Butler/NBAE/Getty Images
Carmelo Anthony will make his fifth overall appearance in the NBA's All-Star Game.
The other starters on the East are Orlando's Dwight Howard at center and Miami's LeBron James at forward, with Dwyane Wade Chicago's Derrick Rose at the guard spots.
Anthony was named to the All-Star team for the fifth time overall ('07, '08, '10, '11, '12).
Fans worldwide voted for the All-Star Game starters. The game will be held at Orlando's Amway Center on Feb. 26.
Anthony has had an uneven season thus far, as have his Knicks.
The small forward entered play on Thursday averaging 23.7 point per game, the fifth-best in the league. But he's also shooting a career-low 40 percent. He was also pulling down seven rebounds and handing out four assists per game and had five games of 30 points or more.
Anthony struggled mightily with his shot while trying to play through various injuries last month. He sat out two games with ankle and wrist injuries but admittedly rushed his way back for a Jan. 16 tilt against the Orlando Magic.
Over the next six games (all Knicks losses), Anthony shot 40-for-126. He and the Knicks' medical staff decided to shut it down for the next two games. Anthony returned to the floor on Tuesday against Detroit looking refreshed. He scored 25 points on 9-of-14 shooting.
All-Star reserves will be announced Feb. 9. They are voted on by NBA coaches. Knicks power forward Amare Stoudemire was third among East forwards in the fan vote despite a subpar season.
Stoudemire was asked on Tuesday if he'd rather have the weekend off or play in the game. He laughed.
"Anytime you get time off it would be great," he said. "But All-Star weekend in Florida is always fun. Back in my hometown, my friends and family are already calling. But I'm not focused on that. It's moreso about trying to get us on the right track and get us in the playoff hunt."
Stoudemire later added: "Right now is a delicate moment for us because we're tying to get over the hump and trying to get back in the winning column."
Overall, the Knicks enter play Thursday at 8-13. They've lost nine of their last 11, falling woefully short of preseason expectations.