GREENBURGH, N.Y. -- More than two months into the season, by virtue of opportunity and hard work, the stars have finally aligned for the Knicks' point guard situation.
After shuffling between Toney Douglas, Iman Shumpert and Mike Bibby, Mike D'Antoni has found his rotation in starter Jeremy Lin, who took advantage of extra minutes, and backup Baron Davis, who trained aggressively to return from a near career-ending injury.
Wednesday night, in the Knicks' 120-103 rout over the Cavaliers, Lin and Davis played their most efficient floor games in a Knicks uniform, accounting for 21 of the team's season-high 30 assists (Lin had 13 and Davis had eight).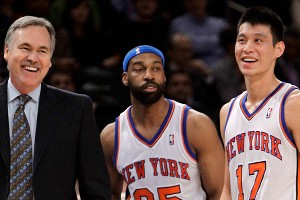 AP Photo/Kathy Willens
Baron Davis is beginning to emerge, giving Mike D'Antoni and Jeremy Lin reason to smile.
"That's what we've been talking about all year -- moving the ball and spacing the floor. It showed last night," Amare Stoudemire said. "I mean, 30 assists. That's incredible. If we keep that going, we're going to be a hard team to stop."
Another positive sign from the point guards is that Davis had no turnovers and Lin only had one.
"I don't know if I've had that ever," Lin said.
Regarding the low turnovers, Davis said: "That's what we have to do to win, especially with the type of offense that we're playing. We have to create and do a lot of assisting. The less turnovers we have, the better our team operates."
Addressing reporters after Thursday's practice at the Knicks' training facility, D'Antoni called having both of them "unbelievable."
"We didn't know if we were going to have anybody to start the year," he said. "Now, we've got two of the better guys in the league, so I'm extremely happy and our results should be a lot more favorable with those two running the show."
The top point guards in the NBA, Derrick Rose, Chris Paul and Russell Westbrook, all play around 35 minutes per game because they have solid backups. That's key during the shortened season's cramped schedule. Now D'Antoni, who was previously playing Lin around 40 minutes per game, can curtail his minutes because of Davis' effectiveness in 15 minutes of action.
The 13-year veteran said his playing time could climb to 20 minutes by the end of the month. But Davis is in a great situation because he didn't expect to play 30 to 40 minutes per game anyway while coming back from his back injury.
D'Antoni put Davis' health at "60 percent" and said that he'll be closer to where he needs to be in a few weeks. Right now, the head coach doesn't want to overuse him to prevent any setbacks. Even Davis said he still feels "a little soreness" after games, like last night.
Davis told ESPNNewYork.com that defenses are coming at him a bit harder because they know he's just returning at average health, even picking him up full court to test his capabilities. But he said the extra challenges are actually helping his game preparation.
"For the first time in my career, I think everybody's picking me up full court and trying to apply some pressure," Davis said. "Even when I come off the pick-and-roll, I'm getting a lot more bumps and people pushing me. But I need that because with not enough practice time, it's good to kind of get that and get more and more acclimated. So I need the elbows, the bumps, the pushing -- things like that, so I can make adjustments in my game and also in practice and in rehab."
Lin -- a native of Palo Alto, Calif. -- vividly remembers watching his hometown Warriors, led by Davis, upset the No. 1-seeded Mavericks in the first round of the 2007 playoffs. He stayed up until one in the morning in his Harvard dorm room, glued to the TV.
He couldn't be happier having Davis on his side now to learn from.
"Baron's had a tough road to recovery and we're all glad he's here," Lin said. "He brings an excitement and energy to the team, and we're working together. We were talking today. What he wants to start talking about is combining our sets after every game and having a point guard goal. So not necessarily, 'I need X and X,' but us together we can get this many assists and this many turnovers. So we're working on how we can bring both of our games together."
Davis said the second unit wants to be "that spark" for the Knicks, and he's pleased with the overall chemistry and camaraderie they're building.
Watch out, starters.
"Every day in practice we are challenging them and we are kicking their butts," Davis said, smiling.
You can follow Jared Zwerling on Twitter.