GREENBURGH, N.Y. -- After Thursday's practice at the Knicks' training facility, ESPNNewYork.com spoke exclusively with Josh Harrellson, who's just returning from a fractured right wrist suffered on Jan. 21.
The rookie center, who didn't play Wednesday night against the Cavaliers, explained what he's been doing and what's to come. After finishing some full-court running drills, still a bit out of breath but glad to talk, here's what he had to say: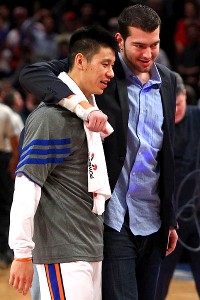 Debby Wong/US Presswire
Harrellson hopes to join Jeremy Lin on the court sometime soon.
Zwerling: How are you feeling, first of all?
Harrellson: I'm tired, but I'm trying to get back into the groove of things.
Zwerling: What was the process like for you coming back from the injury? What was the rehabilitation like?
Harrellson: The biggest challenge was not being able to use my right hand. That's my dominant hand and I did everything with it. Having to use my left hand for everything was a big challenge. I tried to just rehab it. I got my motion back -- I can't go all the way back -- but I can shoot the ball. It's tough, but it's getting there every day.
Zwerling: Did the training staff take it slow with you, considering you would be returning to a shortened season? Or did you feel like the timing was just right for this kind of injury?
Harrellson: I think it was just right for this kind of injury. They had to put a screw in my wrist. If it was my left hand, I would've been back three, four weeks, go out there and put tape on it and I'm playing. But without my shooting hand, all I bring is defense. I can play defense, but it's nice to knock down the open shot.
Zwerling: Anything with the left hand you've been working on?
Harrellson: Just a little ball-handling, a little finishing around the rim. Hook shots and stuff, so hopefully I get more confident with that and be able to shoot that in the game.
Zwerling: What are your thoughts with the new depth on the team?
Harrellson: We've definitely been blessed with the discovery of Jeremy Lin. [Steve] Novak's confidence is out of the roof right now. Baron Davis coming back healthy. They acquired J.R. Smith. We've definitely been blessed by getting a bunch of good players around us. This second half of the season, I think we're all going to make the same dedication and commitment to come out and push each other to be the best we can be and not leave anything on the court.
Zwerling: Do you see a role for yourself yet or is that going to develop over the next couple of weeks?
Harrellson: Hopefully. Just right now, I'm trying to get my confidence and my full motion back in my wrist. Hopefully once I get that, I can continue to do the things I was doing. I was playing defense, taking charges, knocking down the open shot and hopefully spread the floor more for Amare [Stoudemire] and Carmelo [Anthony].
Zwerling: Did you know that Mike D'Antoni wanted to play you last night?
Harrellson: It's tough to play me. I've been out six weeks with an injury. That was a close game until like the last couple of minutes. I know he has confidence in me, but sitting out six weeks, I would've been hesitant too if I was in his position.
Zwerling: How did you spend All-Star Weekend, by the way?
Harrellson: I went back to Kentucky and watched them beat Vanderbilt, so that was nice.
Zwerling: Any hunting?
Harrellson: Nah, nah. I took a break.
You can follow Jared Zwerling on Twitter.