DALLAS -- The Knicks knew this was going to happen. Jeremy Lin's minutes and production are decreasing now that the rest of the roster is getting healthy and on-the-court chemistry is developing.
Lin played at least 40 minutes three times during a four-game span in mid-February, but his time on the court is down. He has played 36, 32, 34, 33 and 32 minutes the last five games, all since backup Baron Davis returned from injury.
Lin's number of shots has also gone down. He attempted at least 20 for three consecutive games during the height of Linsanity. Sunday afternoon vs. Boston -- in a game the Knicks lost in overtime -- Lin took 16 shots, the most he's taken since attempting 18 on Feb. 20 against New Jersey.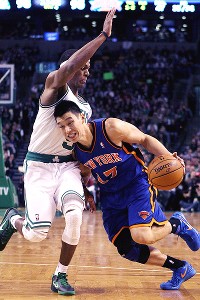 Elsa/Getty Images
Jeremy Lin scored 14 points on 6-for-16 shooting Sunday, and he only made one trip to the foul line.
"[I'm] learning my role and everyone is going to learn their roles right now," Lin said after practice on Monday in preparation for Tuesday's game against the defending champion Dallas Mavericks. "For me, it's been fewer minutes, fewer shots, But that's good because it's more well-rounded and, as a point guard, I don't want to be shooting the numbers I was before.
"It's an adjustment process. We had a great film session and great practice today and we're on our way."
Opposing teams have been attacking Lin more quickly, forcing the ball out of his hands.
Knicks coach Mike D'Antoni anticipated this.
"He's a marked man right now, no doubt about [it], and he should be," D'Antoni said. "That's good. He'll learn quicker this way."
The Celtics game on Sunday had a playoff-like intensity to it and D'Antoni feels it can only help Lin improve his ball handling and decision-making.
"He's getting a lot of in-game experience of how the playoffs are gonna be, how it's going to be the rest of his career," D'Antoni said. "And if you watch him, the second half, he's better. He's getting more used to it. I'm really happy with him."
Lin is trying to become more of a distributor because of the return of Carmelo Anthony to the lineup along with newly acquired J.R. Smith.
"It's a lot easier to shoot the ball when you're the main option," D'Antoni said. "When you have other elements, you got to incorporate and you're not getting all the looks you had before. It's a little bit harder. But he has to learn that and that's why the point guard position is hard. You got to be able to make other people better and yet not lose your game, and that's why what Steve Nash does is incredible."