GREENBURGH, N.Y -- One team won the NBA title in 2008, reached the Finals again in 2010 and currently owns the best record in the Eastern Conference.
The other hasn't won a playoff game in the last nine seasons.
No, Knicks-Celtics isn't a rivalry. At least not according to Mike D'Antoni and Amare Stoudemire.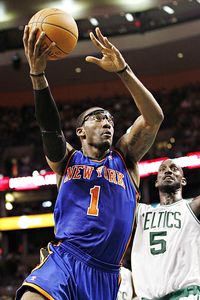 AP Photo/Winslow Townson
Is the Knicks' historic rivalry with the Celtics back on? Not yet, Amare Stoudemire says.
The Knicks, winners of eight straight, trail Boston by four games in the Atlantic Division. They'll enter Wednesday's game against the Celtics brimming with confidence. But, according to D'Antoni, they don't have the credentials to call it a present-day rivalry.
"We haven't done anything yet," D'Antoni said Tuesday after practice at the team's facility. "Wait until we do something and wait until we've threatened them. I don't think [the Celtics are] thinking, 'Oh what a threat this team is.' So we're not there yet."
The Knicks have done plenty in the past five weeks, however, winning 13 of 14 to rebound from a troubling 3-8 start.
They'll face a Celtics team on a 10n-game winning streak. Boston leads the NBA in field-goal percentage and assists and is allowing just 91 points per game, tied with the Heat for the lowest total in the league.
"They're playing the best in the league right now," D'Antoni said. "This will be a nice test for us."
A nice test, for sure. But a rivalry? Not so, according to Celtics captain Paul Pierce.
Pierce, speaking to reporters after Celtics practice in Waltham, Mass., on Tuesday morning, dismissed the idea that the Knicks and Celtics are rivals.
"It's a rivalry?" Pierce asked with a big grin. "Man, y'all are letting me in on all the new stuff, all the talk. I didn't know we had a rivalry going.
"Hey, if that's what y'all want it to be, if it'll sell more tickets and get more viewers, then I guess so," Pierce added. "[The media makes] up the rivalries, we don't. To be honest, New York is playing well, they're in our division, and both teams are streaking, so it's going to be an exciting game."
The Knicks are a different team than the one that took the floor in the teams' first meeting, a 105-101 Boston win in the second game of the season. They lead the league in scoring (108.5 ppg) thanks in large part to Stoudemire, who has scored 30 or more points in a franchise-record eight straight games. They also are the top shot-blocking team in the NBA, averaging 6.76 a game.
But even with their improved play, Stoudemire isn't ready to call Knicks-Celtics a rivalry. He said on Tuesday that the Knicks needed to earn more "respect" around the league before they can rekindle any rivalries.
"We gotta make our mark first before we start any rivalry," he said. "[We're] just getting started regaining some respect here as a team; we got no room to start rivalries right now."