When Knicks coach Mike Woodson was asked what disappointed him most about Tuesday night's collapse, he talked about the Knicks' getting away from their game plan.
"They [the Pacers] didn't do anything any differently, we just went away from [our game plan]," Woodson said. "I've got to take the blame for it, because I've got to get them to do it for 48 minutes, and we have been doing it."
Woodson is right. They have been doing it under his watch. It's hard to overestimate how good this Knicks team has become defensively since the coaching change. The 'Bockers were a top-10 defensive team under Mike D'Antoni. Coming into Tuesday's 112-104 loss to the Pacers, the Knicks were allowing fewer than 95 points per 100 possessions over the past 11 games. The Atlanta game last Friday was the only one in which the Knicks had failed to hold their opponent below their average offensive efficiency.
And those efforts were rewarded with a 9-2 record.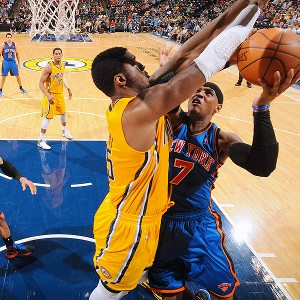 Ron Hoskins/NBAE/Getty Images
Melo and the Knicks got stuffed in Indy on Tuesday.The Knicks played the Pacers in mid-March, just after Woodson took over, and they looked like they were creating a new identity. When asked at that time if that change was sustainable, Tyson Chandler was confident: "I definitely think we can, because I think this is the identity that we should have had all year."
The games that followed seemed to justify Chandler's faith. However, events, to a degree, have conspired against this Knicks team and its new coach. Shortly after the back-to-back set with the Pacers, Amare Stoudemire's back went south, and Jeremy Lin suffered a knee injury that will cost him the rest of the regular season.
While the Knicks had won three of the four games since Lin's injury, their performance had been uneven. They ran Orlando out of the gym, but their wins at home over Milwaukee and a Kyrie Irving-less Cavs team were close, ugly affairs.
Now comes the loss to the Pacers.
For three quarters, everything looked fine -- for the most part. It's true the 'Bockers had given up 31 first-quarter points, but really, this was shaping up as a virtual carbon copy of the March 17 win here in Indianapolis. After a high-scoring first quarter, the Knicks' defense buckled down and allowed less than a point per possession over the middle two quarters. They carried apparently comfortable double-digit leads into the fourth quarter in both games.
Twelve minutes and 40 points later, however, the Knicks were walking off the floor as losers. Worse, they walked off the floor as losers in a stereotypical Knicks manner they have worked so hard to make outdated. At one end, they failed -- utterly -- to defend. At the other end, they became Iso-heavy and over-reliant on their superstar. They had lived by the 3 over the first 36 minutes, hitting 9 of 16, but hit only one of their seven tries in the deciding fourth. They had gotten away from -- abandoned -- what works for them.
It was the type of loss that could easily raise red flags. That probably should raise at least some red flags.
And it's really up to the Knicks' coaches and players to determine whether this was merely a blip on the radar or a sign of something bigger. The players seemed to understand both the gravity of this failure and the importance of continuing to build their new identity.
"It's not something that's going to be consistent," Chandler said, tangibly disappointed in his team's fourth-quarter display. "It happened in the fourth quarter, and we're not going to let it happen again. It's something we have to correct, and we have to correct it right away. The season is not long enough to have these kinds of letdowns."
With only 12 games left, and a slim game-and-a-half lead for the eighth seed, "not long enough" may be an understatement. The NBA is a hard league to play in, and a bad loss -- when coupled with injuries and the pressure of a playoff chase -- can do all sorts of damage.
Landry Fields believes the Knicks are positioned well to deal with adversity. When asked about the task ahead of him, he said, "I think people understand their roles. We go out there, we know what Woody expects out of all of us. As long as we focus on that and on our job, we'll come together collectively as a team."
And therein lies the key for this Knicks squad. The 'Bockers opened the season as a top-heavy collection, just Melo and Amare as the headliners, and Chandler expected to play all of the defense. It put them in a hole they're still trying to climb out of. However, over the course of a wild year, the team somehow transformed into the makings of a dangerous unit. A balanced, deep squad that won with the kind of defense that hasn't been seen from this franchise for more than a decade.
What they will ultimately become is yet to be decided.
"We all gotta take the blame for it ... everyone in the locker room," Chandler said.
If these guys can share the blame, and share the successes, if they can get back to the defense and the basketball that works for them, then this was just one loss to a good basketball team on their home floor. If they can't, well, this season could get away from them.