How good was Iman Shumpert's defense on Derrick Rose in Sunday's win?
Just take a look at the numbers:
Shumpert was toe-to-toe with Rose for 10 of his 26 shot attempts.
He forced the reigning MVP into eight misses and seven turnovers on those plays. Rose's two makes were from beyond the arc.
"I was just trying to make him uncomfortable," Shumpert said on Sunday.
That's no easy feat, even though Rose was playing for the first time in 12 games.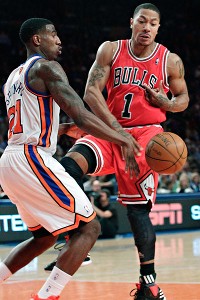 AP Photo/Mary Altaffer
On Tuesday, Iman Shumpert will again try to make Derrick Rose "uncomfortable."But now comes the hard part for Shumpert: the Knicks will ask him to go head-to-head with Rose again on Tuesday night.
If the Knicks rookie can come close to duplicating his performance on Sunday, the Knicks should be in good shape.
Sure, Rose ended up with 29 points, but he struggled to get there. And Shumpert deserves most of the credit.
He stopped Rose when it mattered most, forcing him into a difficult 22-foot jumper at the end of regulation (he missed). With 45 seconds to go in overtime, Shumpert funneled Rose toward J.R. Smith, who swiped the ball from the MVP.
The timely turnover lead to Carmelo Anthony's game-winning three-pointer. Finally, Shumpert bothered Rose on the inbounds of the Bulls' last possession before he was picked up by two help defenders. The possession ended in another Rose miss, and a monumental Knicks win.
"Shump did a helluva job defensively out there," Anthony said, "Working, trying to make it tough on (Rose). Denying him, putting pressure on the ball."
Can he apply that same pressure on Rose Tuesday night, in what's shaped up to be a crucial game for the Knicks (29-27)?
The Eastern Conference-leading Bulls will be hungry for a win after the Knicks stole one on Sunday. Rose, who has been sidelined until Sunday with a groin injury, will be less rusty and looking for revenge.
The three-time All-Star hinted at what Shumpert can expect on Tuesday when he said the Bulls need to play with a greater "sense of urgency" in the United Center.
You certainly don't have to worry about Shumpert being up for Tuesday's game. He grew up in Chicago, which is widely known as Rose's city. He finished high school two years after Rose.
So he admitted that it was "a little special" to get a win against Rose and the Bulls on Sunday.
Shumpert said it with a smile that made you think it was more than a little special, that he's more than a little motivated to go head-to-head with Rose again on Tuesday night.
"It's going to be tough," was all he would admit.
On Sunday, Shumpert's 6-8 wingspan seemed to bottle Rose up at times, and certainly made it difficult for him to distribute the ball. Shumpert fought through ball screens for Rose all afternoon but was quick to credit his teammates with helping when Rose blew past him.
"That made me all the more confident in lunging for a couple of steals," said Shumpert, who had four swipes on Sunday.
He also did a solid job running the point for the 'Bockers, finishing with 15 points, six assists, nine rebounds and just one turnover against Chicago.
As comforting as that is for Mike Woodson's crew, Shumpert knows his primary focus Tuesday will be on defense, trying to slow down one of the NBA's best scorers for another four quarters.
And he's more than ready for the challenge.
"These are games you dream about," Shumpert said. "It's my first year. I play for the New York Knicks. To be in this type of atmosphere, I've dreamed of it. So I'm looking to play big."
You can follow Ian Begley on Twitter.