Eighty-eight. That's how many points the New York Knicks scored in their loss to the Miami Heat on Feb. 23, just before the All-Star break.
That's also how many points the Knicks have been holding opponents to since March 14, when coach Mike Woodson replaced Mike D'Antoni. The Knicks' 88.8 points allowed per game is the second-best mark in the league during that span, in which the Knicks have gone 13-4.
Even though they have the second-best record in the East, the Heat haven't turned in their best performances against the top defensive teams this month, losing to the Grizzlies, Bulls and Celtics twice.
The Knicks hope to add their name to that list, by giving the Heat a taste of their own medicine Sunday at Madison Square Garden.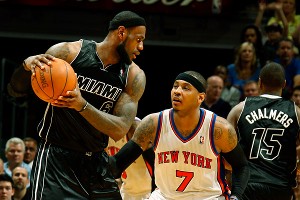 Issac Baldizon/NBAE/Getty Images
Carmelo Anthony and the Knicks aim to stand their ground against LeBron James and the Heat.
"The way that they came out just from the start -- they jumped on us, they trapped us -- made it hard for us," Carmelo Anthony said, referring to that game on Feb. 23. "They were a more aggressive team back then."
Overall, the Heat are just 14-10 since the All-Star break, averaging more than eight points fewer than prior to the break.
After a blowout win over the Washington Wizards on Friday night, Steve Novak discussed some of the finer details that have made the Knicks' D more effective over the past month.
"If a guy gets beat, it's like somebody's right there," Novak said. "Everybody finds a way to get stops. Comfort and communication is a big part of it, too, because sometimes when you switch, it's like, 'Should we or should we not?' As the season's gone on, I think we've gotten a feel for each other. I think that's evolved."
The Knicks are expecting nothing less than a grind-out game Sunday afternoon. Anthony is treating it as if the Knicks are playing the Heat in the postseason, which could happen in the first round based on their current seeding.
"You have no choice but to get mentally ready and physically ready," he said. "It will be a big game. It will be a physical game, playoff atmosphere. We've got to be ready."
Woodson called it a "big test" for his team to match up against the Heat's Big Three of LeBron James, Dwyane Wade and Chris Bosh.
"I'm interested to see how we're going to match against this team because I have a great deal of respect for what coach [Erik] Spoelstra's done and how Pat Riley has assembled that team," Woodson said. "They have a team full of talented players. They have some veteran guys that come off the bench that can play as well."
What has worked so well for Heat opponents is forcing James and Wade into isolation situations with the shot clock winding down. The Knicks might also be well-served to slow Miami's ball movement. The Heat already use up a lot of energy on the defensive end, rotating quickly and jumping out on passing lanes, so if the Knicks can wear them down and force them to play more through James and Wade, they could have an advantage.
Woodson reminisced about the heated Knicks-Heat playoff games from the 1990s, and took away one thing from those games: defense.
"They were all tough knockdown, drag-out games," he said, reflecting on the rivalry. "I mean, defense was played at its highest level and you had a bunch of guys that could score the basketball.
"It's no different than what you'll probably see tomorrow, so we'll see what happens."