The last time the Knicks won a playoff game, April 29, 2001, a gallon of gas cost only $1.70.
Not only is gas now $3.82 (the national average), making more and more car owners frustrated over rising fuel prices, but the Knicks are currently tied with the Grizzlies for most consecutive playoff losses in NBA history (12), which should make fans cringe heading into Thursday night's Game 3.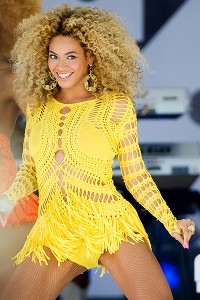 AP Photo/Charles Sykes
International pop superstar Beyonce was still a member of Destiny's Child when the Knicks last won a playoff game.
That's because the Knicks are without Jeremy Lin, Amare Stoudemire and Iman Shumpert, have a hobbled Baron Davis and Jared Jeffries in the lineup, and face a situation knowing that if they go down 0-3 in their series against the Heat, no team has ever come back from that deficit.
All they need is a playoff win, which happened, if you can believe it, all of 4,022 days ago. That's when the Knicks beat the Raptors, 97-89, in Toronto to take a 2-1 series lead in the first round. Led by Allan Houston's 24 points and Latrell Sprewell's 20, the rest of the starting five featured point guard Mark Jackson, power forward Othella Harrington and center Kurt Thomas. Former Knicks Charles Oakley, Antonio Davis and Jerome Williams were on the Raptors.
As we rewound the clock to April 29, 2001, we couldn't believe how long that's really been. Even Wikipedia was only in its third month of existence. Here are some interesting sports and pop culture tidbits from that day and week:
1. Manager Joe Torre wins No. 500 with the Yankees. On that day, the Yankees beat the Athletics, 3-1, at Yankee Stadium. While Derek Jeter went 2-for-4 with an RBI, Roger Clemens pitched seven innings, only allowing one run, and Mariano Rivera saved the game. Later that fall, with Torre as manager, the Yankees went to the World Series, but lost to the Diamondbacks in seven games.
2. President George W. Bush serves his first 100 days in office during his first term. That day, Bush's top political advisor, Karl Rove, told CNN, "We got a real strong start in the first 100 days. It's going to allow us to make a lot of progress in the days to come." Rove said the administration's priority for the next 100 days would be to get the top priorities of his administration through Congress, including a tax cut, education reform and to allow government funding for faith-based social services.
3. Most popular entertainment that week -- Top song (based on the Billboard Hot 100 chart): "All for You" by Janet Jackson ... Top-grossing movie: "Driven," starring Sylvester Stallone, about a young driver's effort to win the Champ Car World Series auto racing championship, earned $12,174,504 at the weekend box office ... Most-watched TV show: "Survivor: The Australian Outback" peaked at around 30 million total viewers before its final episode on May 3, 2001 ... Best-selling books (based on The New York Times): "Carolina Moon" (fiction) by Nora Roberts, about a woman who returns to the town where she grew up and where her best friend was murdered; and "A Heartbreaking Work of Staggering Genius" (nonfiction) by Dave Eggers about a young man's account of raising his eight-year-old brother after their parents died just weeks apart.
4. Beyonce was still with Destiny's Child. Yes, that's how long it's been. After the R&B trio released their holiday album "8 Days of Christmas" in October 2001, they announced a hiatus to pursue their own careers. After her two group members, Kelly Rowland and Michelle Williams, debuted their solo albums, Beyonce released "Dangerously in Love" two years later, which debuted at No. 1 on the U.S. Billboard 200 chart.
5. Actress Angelina Jolie was dating Billy Bob Thornton. The couple was best known for their eccentric displays of affection, which reportedly included wearing vials of each other's blood around their necks. Thornton later clarified that the "vials" were two small lockets, each containing only a single drop of blood.
You can follow Ian Begley on Twitter.
You can follow Jared Zwerling on Twitter.