Amare excited after strong summer
August, 20, 2012
8/20/12
8:39
PM ET
By
Ian Begley
| ESPNNewYork.com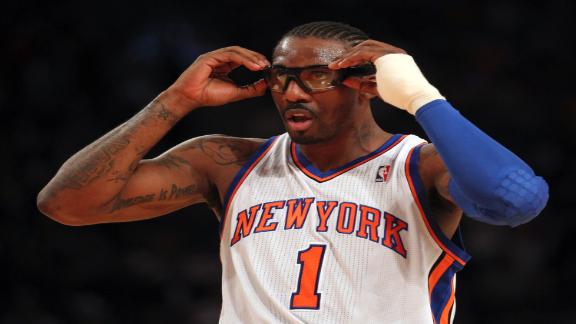 Amare Stoudemire
called last season "probably the hardest" of his nine-year career.
And he's ready to put it behind him.
Stoudemire on Monday insisted that he is 100 percent healthy and looking forward to a big year in 2012-13.
"(Last season) was a tough year for me but ... now I feel phenomenal," Stoudemire said at a signing for his children's book. "I feel like this year is going to be a great year for myself and for the team."
Stoudemire struggled through most of last season, scoring just 17.5 points on 48 percent shooting, well below his career average. During the season, Stoudemire's older brother Hazell -- "my best friend," Stoudemire said -- died in a car accident.
Stoudemire gamely tried to return to form after the All-Star break. But that never materialized.
He missed nearly four weeks with a back injury late in the regular season. He returned in time for the playoffs but missed Game 3 with a hand laceration, the result of smacking a fire extinguisher in frustration after Game 2.
Said Stoudemire: "Last season was probably the hardest season I had in my career."
But he's ready to bounce back.
To that end, Stoudemire's been training -- sometimes two to three times per day -- for the past 2½ months.
The 29-year-old spent the last two weeks in Houston learning post moves from
Hakeem Olajuwon
. Last summer, don't forget, Stoudemire didn't get to play basketball because he was working back from a pulled back muscle.
The extra offseason work this summer seems to have revitalized Stoudemire, who is entering the third year of a five-year, $100 million deal.
"This is a totally different feel. Totally different workout regimen this summer. It's back to what I'm used to doing," Stoudemire said. "(Last summer), I couldn't play any basketball, have any contact, throughout the whole summer so I couldn't get in top shape. ... So this year is a totally different playing field. I feel phenomenal."
IMPROVED DEFENSE:
Stoudemire vowed to improve on both ends of the floor this season. He is oft-critisized for a lack of intensity on defense.
"Obviously, defense is always the key to winning championships and that's something that I'm dedicated (to) also, to become a much better defensive player. And it's going to happen," Stoudemire said. "It's just a matter of preparation and practice and getting that chemistry down on that end of the court."
MORE SHOTS?
Stoudemire averaged 13.9 shots last season -- his lowest total in the last five years.
He said on Monday that he's talked to Mike Woodson and, based on their conversations, he believes he'll be taking more shots this year.
"We need that offensive threat and also defensive stopping from me," Stoudemire said, in explaining Woodson's expectations for him. "So I'm pretty sure (Woodson) is going too put the ball in my hand more and I'm going too be ready to execute and play to the best of my ability."
ON THE BOOK:
The first book of Stoudemire's children's book series, "STAT: Standing Tall and Talented", is titled "Home Court."
It's centered around an 11-year-old Stoudemire and his response to bullying.
"There's a lot of responsibilities in being a young teenager so the stories in the book relate to what they're going through as a youth," he said.
Stoudemire said one of his goals with the book is to "empower the youth to read."
"Being on the platform that I'm on, I wanted to find a way to educate the youth as best as possible and one of the avenues to do that is through reading. I think reading is very important for our youth and right now, it's almost as if it's not cool to read. And I want to change that mentality."
Stoudemire stayed at Barnes & Noble for more than two hours and signed nearly 350 books.
You can follow Ian Begley on Twitter.