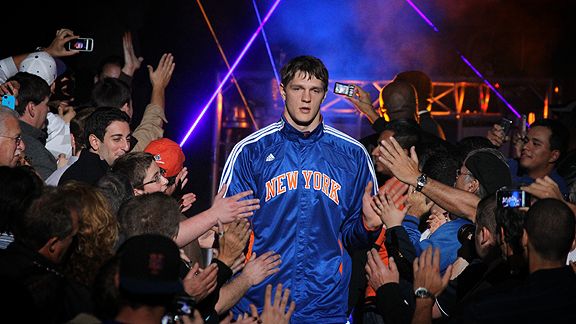 Nathaniel S. Butler/NBAE/Getty Images
Knicks center Timofey Mozgov likes NYC, but prefers his little slice of heaven 45 minutes north.
Timofey Mozgov is making a resurgence with the Knicks.
When the Knicks agreed to terms with the Russian center on a reported three-year, $9.7 million deal in July, many fans immediately thought, Here we go again. The signing brought back bad memories of international bigs the Knicks had drafted in roughly the past decade who never played: Frédéric Weis (France) in 1999, and Maciej Lampe (Poland) and Slavko Vranes (Montenegro) in 2003.
Then in August, the FIBA World Championship tipped off in Istanbul, Turkey, and Mozgov performed quite well against the world's best national teams. He averaged 13 points in nine games, including a 13-point effort on 6 of 9 shooting (66.7 percent) against Team USA, featuring Lamar Odom, Tyson Chandler and Kevin Love down low.
Once Knicks' training camp started in late September, there was some intrigue as to how Mozgov would develop alongside power forward Amare Stoudemire. Observers admired his mobility up and down the court, agility when moving laterally and dunking ease at the hoop. But as he started the season at center, his nimbleness and athleticism was overrided by his lack of polish, especially with his hands, as he had back-to-back games with four and three turnovers, respectively. For about the next two months, the 24-year-old saw sporadic minutes, and for 10 straight games from January 11th to January 28th, he didn't even play.
Then Mike D'Antoni decided to give him another crack at the starting lineup after the team got pounded in the paint during their 111-102 loss to the Hawks. "I just think Timmy's energy and length is something we need, and he's demonstrated that maybe he can do it," D'Antoni said following the game.
In his first game back on January 30th, a 124-106 win over the Pistons, Mozgov had a career-high 23 points and 14 rebounds. Since then, he's averaging 10 points on 56 percent shooting (28 of 50), 7.3 rebounds, one block and, maybe most impressively, 0.9 turnovers in the past seven games. He had averaged 2.2 turnovers in the Knicks' first six games of the season. Mozgov's numbers as of late are all way above his season averages of four points on 45.9 percent shooting, 3.1 rebounds and 0.7 blocks. While his dexterity is still a work in progress, the biggest areas he needs to improve upon are banging more and finishing stronger around the basket.
Typically before home games, you can find Mozgov at his locker -- near two other foreigners on the team, Danilo Gallinari and Ronny Turiaf -- plugged into his large headphones and reading a Russian book. On this particular night, an away game at the Prudential Center on Saturday, he was simply sitting at his locker, relaxing, wearing a black compression undershirt and his game shorts. I spoke with Timmy, as D'Antoni likes to call him for a few minutes -- his English isn't great yet -- about his play against the Lakers' dominant big-man duo, what he's working on in practice and how he's adjusting to life in the Big Apple.
What was it like playing against two of the best big men in the game, Pau Gasol and Andrew Bynum, when the Lakers came to town?
It was really hard, you know. They are too big; they are long guys. It was really hard to play defense. Also, when they're both on the court, if someone plays low post, you've got to help. You have to play the second one too. It's really hard.
Did anything impress you about yourself matching up with those guys?
I don't know. I played not bad, but when I was defending Bynum in the low post, he was really, really trouble. I made some mistakes, but I think next time I've got to think how I will defend him better.
You did have a game-high 11 rebounds.
Yeah, that was not bad.
Are you working on any new moves?
We'll do some post moves in practice, and I think I'll start to use them more now [in the games].
What do you think of New York City?
New York is a good city, but I live in White Plains [Turiaf, Landry Fields and Andy Rautins also live there]. In New York, there's a little bit of noise -- too many people and some guys rush. In White Plains, it's a little bit different -- not too much people, not too much noise. Also we have all stores, movies and it's like 30, 40 minutes to New York. It's close. It's really nice.
Do you like Buffalo Wild Wings? I know they opened one up there last year. It's also one of Landry's favorite restaurants.
Yeah, it's like across the street from my home.
You mentioned movies. What's the last one you saw?
I forgot the name, but it was a story showing how these guys meet each other. It shows how these guys after like 15 years are married and have babies. It was in the theater. I don't know the actors. It was not bad.
Have you enjoyed the Russian restaurants in the city?
What I like in Manhattan is Russian and also an Arabian restaurant. With my friend, we were like two times there. It's a really nice place. I don't know the name. And I know some Italian restaurants.
Have you ever been to Brighton Beach in Brooklyn? There's a big Russian population there.
I was in Brighton Beach two, three times maybe. One time I go with the media. Maybe two times I go to [have some fun]. One time I just go to buy some Russian books.
Are you friendly with Jazz forward Andrei Kirilenko, who's also from Russia?
Yeah, we're not like best friends, but we talk.
Do you have a Twitter account yet?
No, I don't have a Twitter.
You can follow Jared Zwerling on Twitter.