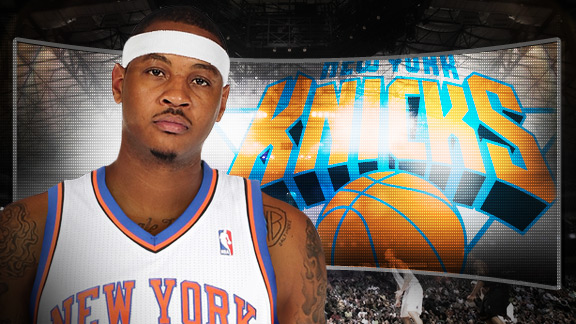 ESPN.com Illustration
Carmelo Anthony will wear a Knicks uniform. His jersey number remains a mystery.Carmelo Anthony will have to adjust to new teammates and a new coach when he joins the Knicks. He'll also have to pick out a new number.
Anthony wore No. 15 for his 7½-year tenure with the Nuggets. He also wore No. 15 during his one season at Syracuse University.
But that digit will be off limits for Anthony in New York. The organization retired No. 15 twice, for Earl Monroe and Dick McGuire.
Anthony wore No. 22 during his tenure at Oak Hill Academy. But that number won't be available for Anthony in New York, either. It was worn by Knicks great Dave DeBusschere and retired by the organization in 1981.
It is highly unlikely that the team would make either number available for Anthony.
This isn't the first time Anthony has had to switch his number. The four-time All-Star and Brooklyn native had to switch from No. 22 to 15 at Syracuse because the Orange retired No. 22 for Dave Bing.
A team official was unsure of which number Anthony would wear with the Knicks when contacted late Monday night.
Anthony, however, may have hinted at which number he'd choose to wear with the Knicks earlier this season. While speaking with reporters after the Nuggets' 120-118 win over New York on Nov. 16, Anthony said former Knicks great Bernard King was his favorite player.
"I'm a big fan of Bernard King. That's my idol," he said. "That's my favorite basketball player."
King wore No. 30 with the Knicks. That number is currently available.