It's official: As reported Tuesday. Carmelo Anthony will wear No. 7 for the Knicks. Chauncey Billups will wear No. 4.
Anthony and Billups are expected to make their Knicks debut Wednesday night against the Milwaukee Bucks.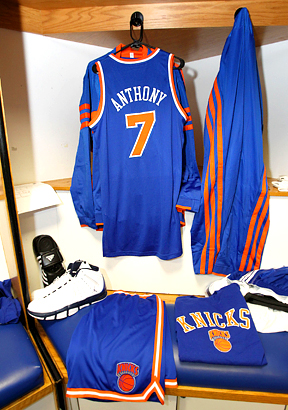 Nathaniel S. Butler/Getty Images
Uniform numbers for the other new Knicks:
• Renaldo Balkman, No. 32
• Corey Brewer, No. 2
• Anthony Carter, No. 25
• Shelden Williams, No. 13
Melo wore No. 15 with the Nuggets and at Syracuse and No. 22 in high school. The Knicks have retired 15 in honor of Earl Monroe and Dick McGuire, and 22 in honor of Dave DeBusschere.
Al Harrington was the last Knick to wear No. 7 (from 2008-10), which has actually been the most popular jersey number in Knicks history. As we blogged Tuesday, No. 7 has been worn by 25 different players, dating back to 1946. Here is the complete list, including the years:
Stan Stutz (1946-48)
Dick Shrider (1948-49)
Ray Lumpp (1948-1953)
Gene Shue (1955-56)
Slater Martin (1956-57)
Larry Friend (1957-58)
Jerry Bird (1958-59)
Bob McNeill (1960-61)
Whitey Martin (1961-62)
Jack Foley (1962-63)
Emmette Bryant (1964-68)
Dean Meminger (1971-74; 76-77)
Greg Jackson (1974-75)
Butch Carter (1984-86)
Gerald Henderson (1986-88)
Kenny Walker (1988-91)
Kennard Winchester (1991-92)
Corey Gaines (1993-94)
Doug Christie (1994-95)
J.R. Reid (1995-96)
Chris Jent (1996-97)
Brooks Thompson (1997-98)
Lavor Postell (2000-03)
Channing Frye (2005-07)
Al Harrington (2008-10)