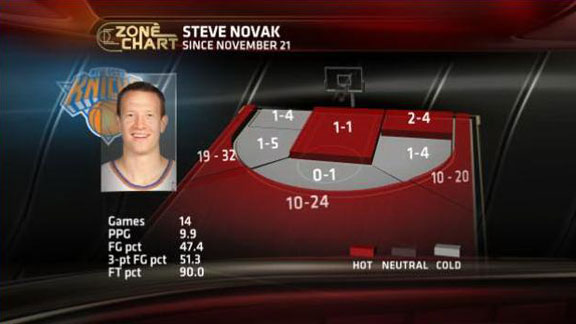 A review of notable stats and trends from the past week.
What the shot-chart shows
Remember Steve Novak's shooting slump?
The good news is that his hot streak has lasted twice as long.
Novak has been terrific from long range for nearly a full month. After a 9-for-34 slump over a seven-game stretch, Novak has since made 39 of his last 76 3-pointers (51 percent) in his last 14 games.
Novak has been awesome from both corners. The 19-for-32 from the left side shown in the zone chart came after a stretch in which Novak was 1-for-9 from that spot. Such is the life of a 3-point shooter.
Novak 3-point shooting by location
Combine the hot and cold streaks together and Novak is 23-for-43 (53 percent) on left-side 3-pointers this season.
Novak finally found the touch on those 3s that are more of the straight-on and wing-based variety in Saturday's win. He made 4-of-5 from that area in Saturday's win against the Cavaliers.
Prior to that game, he was 9-for-32 on 3-pointers from that area this season (28 percent). Last season, he was 25-for-57 (44 percent).
Novak has made at least four 3-pointers in each of his last two games. The Knicks are 7-0 this season in games in which Novak has made at least four shots from downtown after going 11-5 in those games last season.
Novak's teams have won 18 straight home games in which he's made at least four 3=pointers, a streak that started as a member of the Los Angeles Clippers against the Knicks in February, 2009.
One last Novak stat: The Knicks have outscored opponents by 33 points when he's been on the court in the last four games. When he's been out, the Knicks have been outscored by 19.
Cutting down the Nets
Carmelo Anthony's 45 points were the most by anyone against the Nets since Kobe Bryant scored 46 against them in November, 2005.
Getting a little more specific: Who was the last player to score at least 45 against the Nets in December? Then-Washington Wizards guard Michael Jordan, who went for 45 on New Year's Eve, 2001.
Lakers leftovers
The Knicks shot 53 percent from the field in Thursday's win, the best they shot against the Lakers at Madison Square Garden since shooting 57 percent on January 3, 1984. Their top performers that day were Bill Cartwright (9-for-14), Bernard King (9-for-14) and Truck Robinson (8-for-12).
Cav-Nots
Tyson Chandler had a 20/10 game, and was 9-for-10 from the field. Chandler has had three regular-season games as a Knick in which he's gone 20-10 and shot at least 90 percent from the field. The rest of the NBA has two such games in that span (since the start of last season).
Chandler had only one such 20/10 game in the first 10 seasons of his NBA career.
Kyrie Irving scored 41 points against the Knicks on in his team's loss. He's the fourth player to score 40 against the Knicks in a regular season game over the last three seasons (Blake Griffin, Andrea Bargnani, and Paul Pierce). All four did so in a losing effort.
Elias Stat of the Week
Knicks forward Carmelo Anthony had 30 points before leaving the Knicks win against the Los Angeles Lakers with a sprained ankle.
Anthony was the first player to score 30 points in 23 minutes or fewer since ESPN analyst Jalen Rose did so against the Knicks for the Toronto Raptors in 2006.
No Knicks player had scored 30 or more points while playing less than 24 minutes since Johnny Green (33 points in 22 minutes) in a neutral-site contest against the San Francisco Warriors in Philadelphia on December 30, 1964.