Opening Tip: Should Knicks trade Amar'e?
December, 25, 2012
12/25/12
8:00
AM ET
By
Ian Begley
| ESPNNewYork.com
Every weekday throughout the season, ESPNNewYork.com will tackle a burning question about the Knicks in our "Opening Tip" segment.
Today's Burning Question: Do you think the Knicks should trade Amar'e Stoudemire, or is he owed the opportunity to show that he help the 2012-13 Knicks?
Almost as soon as Mike D'Antoni took over the Lakers, the Stoudemire-for-
Pau Gasol
trade rumors started to circulate.
[+] Enlarge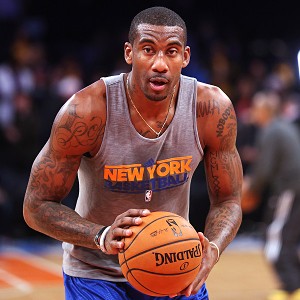 Bruce Bennett/Getty ImagesAmar'e Stoudemire is working his way back from October knee surgery.
Fans -- and some pundits -- wondered if the Knicks would send the injured Stoudemire to Los Angeles to reunite him with D'Antoni, his former coach in New York and Phoenix.
On a basic level, it made sense. The Knicks would like to get rid of Stoudemire's contract and Gasol isn't seen as a fit in D'Antoni's offense.
But nothing concrete ever surfaced.
And there are reasond for that:
• The Lakers reportedly wanted to evaluate the team when
Steve Nash
was healthy.
• Stoudemire wouldn't be a great fit for the Lakers.
Dwight Howard
is established as the team's center, so Stoudemire would have to play power forward next to Howard in L.A. That's the same role he's playing in New York alongside
Tyson Chandler
. That pairing, along with
Carmelo Anthony
, struggled for most of last season.
So the feeling of one person familiar with the Lakers' thinking is that the Stoudemire-Howard pairing would run into the same issues as the Chandler-Stoudemire duo.
I think it's best for both sides that a trade never reached any serious level of discussion -- at least none that ever came to light.
I'm of the belief that the Knicks owe Stoudemire the opportunity to show that he can benefit this team.
And he can. It just depends, of course, on how he is used.
In the best-case scenario, Stoudemire would bring some needed scoring and rebounding to the Knicks' second unit.
With Stoudemire,
J.R. Smith
and
Ronnie Brewer
or
Iman Shumpert
coming off the bench, the Knicks would have one of the most formidable second units in the NBA.
And though I understand there is no such thing as a deep-seeded allegiance in pro sports, I think the Knicks owe Stoudemire the opportunity to make his mark with this team.
Stoudemire, of course, was the first star to sign with the rebuilding Knicks. If Stoudemire hadn't agreed to come to New York in the summer of 2010, when they struck out with most other big-name free agents on the market, there might be no Carmelo Anthony or Tyson Chandler on the Knicks roster.
Stoudemire got the ball rolling, made it OK for other stars to migrate to Madison Square Garden. And that shouldn't be taken lightly.
Still, there are some who will scream and howl for the Knicks to trade Stoudemire, especially if he doesn't fit in seamlessly early on.
It's part of life in the NBA, especially in New York.
Which leads us to our question: Do you think the Knicks should trade Stoudemire or will he be able to provide a meaningful boost to the 2012-13 Knicks?
Please leave your thoughts in the comments section below.
You can follow Ian Begley on Twitter.