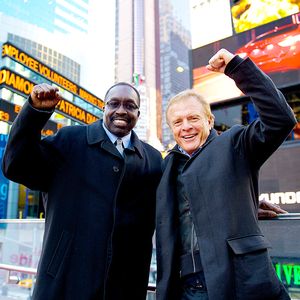 Photo courtesy of The People's Games
The People's Games co-creator Terry Jastrow (right) calls Earl Monroe, New York coach of the event, "basketball royalty."
A few years ago, Terry Jastrow, seven-time Emmy Award-winning producer and Armyan Bernstein, chairman of Beacon Pictures, were literally walking on the beach one day in California with their families when they came up with the idea for The People's Games.
"[Armyan] said, 'I've always had a secret wish, a secret dream,'" Jastrow says, reflecting on their conversation. "He said, 'What happens if we go into the neighborhoods and we section it off, sort of like March Madness, so that the neighborhoods would play each other. They would have teams and they'd play each other to a city champion. No pros, just like the common man. This would be like the teacher, the baker, the candlestick maker, the taxi driver, the janitor.' And I said, 'Oh, The People's Games.' And he stopped and said, 'You got it, you got it.'"
While Jastrow and Bernstein were drawing up the event, they decided to start with a basketball competition between New York and Los Angeles. They then wanted two iconic coaches, one to represent each city. After getting a commitment from former Los Angeles Laker Lucius Allen, a two-time NCAA champion playing under John Wooden at UCLA, he led Jastrow and Bernstein to a New York legend.
"He said some version of, 'Man, I hate to do this, but your guy is Earl Monroe,'" Jastrow says, laughing. "He said, 'He's a really great friend of mine and he's a lovely guy.'"
All it took was one lunch meeting and Monroe was on board. Jastrow was honored to have such "basketball royalty" taking part in the inaugural event, which commences with tryouts this weekend and then concludes with the main event in May.
"[Earl] had such an individual quality to him," Jastrow says. "For many years in the 70s, I was [legendary sports broadcaster] Howard Cosell's sort of principle producer. And he loved athletes, he really did. But he loved three athletes in particular. He loved Joe "Willie" Namath, obviously Muhammad Ali and Earl "The Pearl" Monroe. He just loved his flash, his style. He was really Howard's kind of guy -- where he came from, his own sense of individuality, his own sense of purpose and he was such a great offensive player as well. Plus, I think he liked just to say his name [laughs]."
Here is Part 3 of my interview with "The Pearl," where he and I discuss his involvement with The People's Games.
Tell me more about your role in the event.
I'm going to be coaching and I'm going to have a couple coaches with me: [My daughter] Maya Monroe and Geoff Huston, who used to play with me with the Knicks. We're excited about it because we just think it's really something for guys who've had dreams and haven't had them fulfilled at all. This is an opportunity to come together and try and fulfill those dreams that they probably still have and want to know if in fact they can work or not.
Is this your first time coaching?
Well, I've coached other things and what not. Let me just say this is not my debut [laughs].
With Maya having been an assistant coach at York College, has she given you any pointers?
I've got some great tips from her [laughs]. We both kind of feel the same way -- we want all of the players to play, not just players sitting there on the bench and never getting a chance to play. I think the alluring thing about this is the competition, and you don't want to make a team just for them to sit on the bench. We're both looking forward to coaching all players to be playing.
Thinking back to all of the coaches you played for, are there any styles you liked, which you might bring to The People's Games?
My [Winston-Salem State] college coach [Clarence Gaines] certainly is one. The kind of ball we played was defensive. We played man-to-man and we had also the star system, where we had somebody who's a real good shooter and offensive player. And then also [former Knicks coach] Red Holzman -- the defensive positions that he fostered and what not. We're looking to try and incorporate both of those styles.
You obviously played in New York and have traveled to Los Angeles. How is the balling different in each city?
You can see it on TV right now. I mean, New York is a lot harder type of basketball, a little more physical. And LA, you have a lot of the 3-point shooters and what not, maybe not as physical. But still in all, I think it comes down to the IQ of the players who are playing in it. Hopefully we can kind of attract some guys who have that good basketball IQ, as well as some skills.
If they were to ever play, could a New York team comprised of the city's best streetballers beat the Knicks?
[laughs] Well, when you play on the streetball in the playground, it's a lot different than organized ball. In most instances, you ask guys that played in the league, some guys can't play in the streets because it's not organized in the way that they're used to having strict organization or whatever the case may be. Streetball's loose, you can take guys and this and that. And that's a reason why so many NBA guys never really played in the playgrounds because back in the day, a lot of Knicks used to come up to Rucker Park and they'd get embarrassed. So there, they don't show up anymore [laughs]. It's a different culture and your reputation is on the line every time you step on the court, so you've got to bring it every time you get there. You've got to know what you've got to do, and you've got to go and make your statement. That's the difference in playground and the NBA.
Do you envision a lot of streetball players getting picked for The People's Games, or do you think the participants will be more diverse than that?
I think it'll be a lot more diverse than that. We're talking about taking it back to the roots, the origins of the game. It's not so much just streetball I think; it's basketball. I think, in a nutshell, people will be drawn to it because it's being played by just your everyday kind of guy -- guys who are your teachers, your drivers, your firemen, whatever, who feel as though that they want to participate and represent their city and what not. That's kind of the draw for a lot of people.
So do you ever still lace 'em up?
No, no. I do a lot of spokesperson stuff for EmblemHealth and also for Merck with diabetes. I also have my own company, which is Reverse Spin Entertainment Group, and we're involved in entertainment stuff.
The first day of tryouts for The People's Games is Sunday, March 13th. For more information on tryout locations in New York, check out peoplesgames.com. After the group is narrowed down to 100, another tryout on March 20th will file it down to 40, and then a final one on March 27th will announce the 20 finalists. There are only three rules for participants: you have to be at least 18 years old, a resident of the city and have had no previous professional basketball experience.
The People's Games will tip off on May 1st in Los Angeles and then travel back to New York on May 3rd. If a third game is needed to decide the victor -- it's a best-of-three event -- it will take place in New York on May 4th. All games will be streamed live on the event's website.
Jastrow says that later this year, similar competitions will launch in soccer, baseball and football in New York and Los Angeles. Next year, they're planning to add track and field, and then expand The People's Games to the 16 most populated cities in the U.S., where it would be eight West cities vs. eight in the East.
"The Pearl" dishes on the Knicks in Part 1 of the interview, and jazz and basketball in Part 2.
You can follow Jared Zwerling on Twitter.