Could Chandler be next to turn it up?
May, 1, 2013
5/01/13
5:05
PM ET
By
Jared Zwerling
| ESPNNewYork.com
J.R. Smith
and
Raymond Felton
have picked up their play down the stretch this season.
Is
Tyson Chandler
next? The numbers suggest he is.
Chandler's increase in minutes and rebounds from Games 1 to 4 prove he's returning to form after losing weight and stamina from battling the flu near the end of the regular season.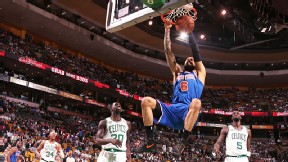 Nathaniel S. Butler/NBAE/Getty ImagesTyson Chandler is the Knicks' anchor in the middle.
The starting center is also showing signs that his neck, which had a small bulging disk before the postseason, is feeling better, as he's experiencing less soreness in the area. All in all, that's great news for the Knicks as they look to close out the Celtics in Game 5 on Wednesday night.
"Oh yeah, I feel that Tyson would turn it on for the playoffs,"
Iman Shumpert
said. "He's a big-time player. The playoffs are here and I expect a lot out of Tyson."
If they advance past the Celtics, the Knicks will need Chandler to be 100 percent healthy in the later rounds. He's arguably the best of the mobile centers in the NBA, and he'll have to do the most court coverage.
In many ways, Chandler is the anchor of the Knicks' defense, acting as the last line of protection, and offense because of the attention he demands setting screens and rolling to the basket.
"Offensively, he's one of the very best pick-and-roll guys to the rim, where he collapses your defense if you don't put bodies in front of him, and he has those lob dunks," Miami Heat coach Erik Spoelstra told ESPNNewYork.com.
In Game 4, for the first time in the series against the Celtics, Chandler had two of those kinds of dunks. He also had his first double-figure rebounding game on Sunday (11). In the second half alone, he had five offensive boards (some tap-backs), which led to second-chance points and the Knicks coming back from a 20-point deficit to force overtime.
"I felt great tonight," Chandler said after the game. "I felt real lively, was moving around real well. I thought I gave my team an opportunity."
Felton added afterward: "Tyson's starting to look great. He got us a lot of key extra possessions down the stretch to really keep us in the game, and give extra possessions to get shots. That was something that was really helpful to us early in the season, so for him to be able to continue to do that will be big for us."
Based on Chandler's progression, consistent double-doubles are likely approaching. Just a few weeks before his neck ailment in mid-March, he had four games with at least 20 boards in February, including a franchise-record three in a row at the start of the month.
The other day, when asked if a 20-rebound performance was nearing, he flashed his big smile. With his team one game away from moving on to the second round, Chandler will be needed to play big on Wednesday night.
He's ready.
You can follow Jared Zwerling on
Twitter.