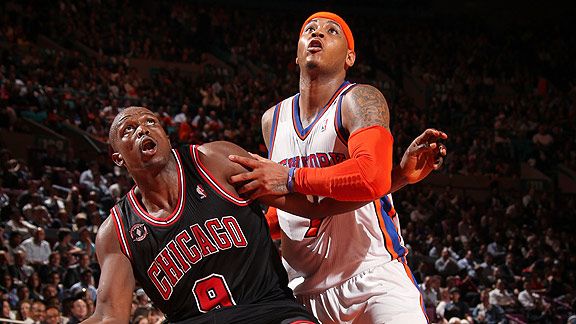 Nathaniel S. Butler/NBAE/Getty Images
Carmelo Anthony and the Knicks set their sights on this weekend's playoff opener.NEW YORK -- The New York Knicks were already locked into the No. 6 seed and a first-round playoff matchup with the Boston Celtics prior to Tuesday's game with the Chicago Bulls.
After their 103-90 loss to the East-leading Bulls -- a game in which the Knicks led 55-52 at halftime, but lost control of after a 26-2 Bulls run to start the second half -- the Knicks admitted that they were already looking ahead to the playoffs.
(The Bulls did have something to play for, as they're trying to secure home-court advantage throughout the playoffs.)
"My mindset right now is definitely the postseason," Knicks forward Carmelo Anthony said after the game. "That is what I am focusing on right now. This weekend I have already started watching film and just trying to break things down on Boston and to get my mind right for that series."
Another playoff veteran, Chauncey Billups, is already looking ahead, too. And that includes past Wednesday night's regular-season finale in Boston.
"Nothing we can really accomplish tomorrow, to be honest with you," Billups said. "Tomorrow, to me, is nothing. [In the playoffs] everything will be different, intensity will be different, players will be more focused, it will be a totally different game."
This will be the Knicks' first playoff appearance since 2004. When asked what advice he would give to his younger teammates who don't have much, if any, postseason experience, Billups said: "It's basically just no-nonsense. Come in, get work done, and we watch film. It's all business."
The Knicks will be in Boston on Wednesday night. But the real business trip will come this weekend.