Knicks' Midseason Report Card
January, 23, 2014
Jan 23
4:19
PM ET
By
Ian Begley
| ESPNNewYork.com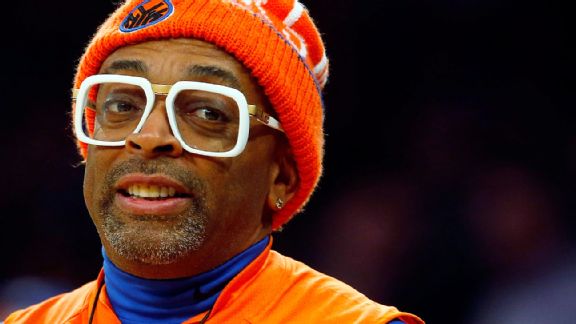 Jim McIsaac/Getty ImagesSorry, Spike. Your Knicks are barely passing muster so far this season.
Just how bad are things for the Knicks?
They lost their 27th game of the season Wednesday. Last season, they lost 28 games total.

So for those keeping score at home, they'd need to go 39-1 to match last season's record.
"That's not happening,"
Carmelo Anthony
said.
Not after the disastrous half of the season the Knicks have been through.
New York came into the year talking about winning a title. Now, they're on pace to win just 30 games, making them one of the biggest disappointments in the NBA.
Below, we offer our first-half grades for the team. We also want to know how
you'd
grade this team, so feel free to weigh in with your marks and remarks below.
PLAYERS
| | | |
| --- | --- | --- |
| | | Those knocking Anthony are misguided. He's been averaging 26.2 points and a career-high nine rebounds, the 19th-highest average in the league. And his assists per game are up a bit from last year. To point out that he hasn't been good in the clutch this season is a fair criticism. But the Knicks wouldn't be in those clutch situations without Anthony. |
| | | Stoudemire has been a pleasant surprise for New York on both ends of the floor. Once his minutes limit was lifted, Stoudemire came on strong. In his past 12 games, Stoudemire has averaged 13.2 points, 5.6 rebounds and 22 minutes. The veteran power forward is expected to be out until at least next week with an ankle injury. |
| | | Similar to Stoudemire, Martin proved extremely valuable once his minutes restriction was lifted. He filled in nicely for the injured Tyson Chandler during the Knicks' five-game winning streak earlier this month. Martin is also one of the few Knicks with a positive plus/minus (plus-1.3 per 48 minutes). Like STAT, he is expected to be out until at least next week because of an ankle injury. |
| | | The Knicks' first-round pick has been one of the few bright spots this season. Not many expected Hardaway to be in the rotation this season, but the Michigan man has forced his way in thanks to 39 percent shooting from beyond the arc. Defense has been an issue, but it seems Hardaway has the athleticism to improve in that area. |
| | | Prigioni missed 16 games due to a broken big toe. When healthy, he's been a positive for the Knicks. He gets a "C+" here because he hasn't made the kind of impact he did last season. The Knicks' assist rate is down when Prigioni is on the floor as opposed when he's on the bench. That's not the same statistical profile he's produced in the past. |
| | | Chandler hasn't been healthy for most of the season. He's missed 24 games due to a combination of illness and a broken bone in his shin. When he has played, Chandler hasn't made the same impact he did two seasons ago. The Knicks are being outscored by 2.5 points per 48 minutes when he's off the court and 9.1 points per 48 when he's on it. |
| | | Bargnani has remained healthy this season, playing in all 42 games. But he hasn't been the kind of secondary scorer the Knicks hoped for when they acquired him in a trade over the summer. Bargnani is shooting a career-low 27 percent from beyond the arc on a career-low 2.6 attempts per game. So much for spreading the floor. |
| | | Shumpert has been Shumpert on defense. He's given 100 percent effort while guarding the opponent's toughest scorers. Sometimes he gambles and commits ill-advised fouls, but he's guarded people well on the whole. The problem is his lack of consistency on offense. Aside from his red-hot scoring on the Texas trip, he hasn't provided points for this team on a nightly basis. |
| | | Udrih came to New York hoping to be a part of the Knicks' three point-guard rotation. That hasn't happened. Udrih, sources say, would prefer to be traded, and that has been communicated to Knicks management. He has struggled on defense and has been the target of some pointed criticism from Mike Woodson. |
| | | World Peace has also struggled with injuries this season. A chronic knee condition has limited him to just 23 games. When healthy, Peace was out of the Knicks' rotation at times, so his impact, due to decisions largely outside of his control, has been minimal. With Stoudemire and Martin out with injuries, the Knicks could certainly use a healthy World Peace. |
| | | The NBA is a "what have you done for me lately" business and New York is a "what have you done for me lately" town. What Felton has done lately for the Knicks hasn't been pretty. In his past five games, Felton has shot just 35 percent from the floor and hit 28 percent from beyond the arc. Not good. Couple that with Felton's struggles on defense and the result is a "D" grade. |
| | | Between the shoelace antics, the suspension for a drug-policy violation, the drama over his younger brother and the poor shooting, Smith has taken a massive step back in the first half of the season. The reigning Sixth Man of the Year Award winner is shooting a career-low 36.5 percent from the field while playing 32 minutes a night. His PER, a measurement of a player's per-minute production, is 10.6. The league average is 15. |
COACH





Mike Woodson

The Knicks entered the season with championship expectations and are now on pace to miss the postseason. Woodson deserves some culpability here. The Knicks have lost a handful of games due to late-game errors and have been noncompetitive in others. Woodson's defense -- something he takes pride in -- hasn't worked so far this season. He avoids an "F" here because of all of the injuries he's coached through.
GENERAL MANAGER


INCOMPLETE


Steve Mills

Mills inherited this roster, so it's hard to place much blame at his feet for the way things have shaken out so far. But it's on the Knicks' president/GM to make the necessary moves either to right the ship or ensure Anthony re-signs as a free agent. Or both. If that means making a coaching change or shaking up the roster through a trade, Mills has to make the call.
OWNER





James Dolan

The owner deserves credit for opening his wallet to fund the second-highest payroll in the league. But the roster he's paying for doesn't fit. Was it Dolan who forced the deal for Bargnani? If so, that was a misguided move. Also, the Dolan votes of confidence for Woodson clearly haven't produced the desired result. Firing Glen Grunwald seems like the right move at this point, but the original timing of the whole thing wasn't right.
Question: What grades do you think the Knicks deserve?
You can follow Ian Begley on Twitter.
FOLLOW ESPN NEW YORK ON TWITTER
TRUEHOOP NETWORK

adidas Men's New York Knicks Pre-Game Grey Full-Zip Hooded Jacket Shop »
BLOG ARCHIVE:
CATEGORIES:
2013-14 ATLANTIC STANDINGS