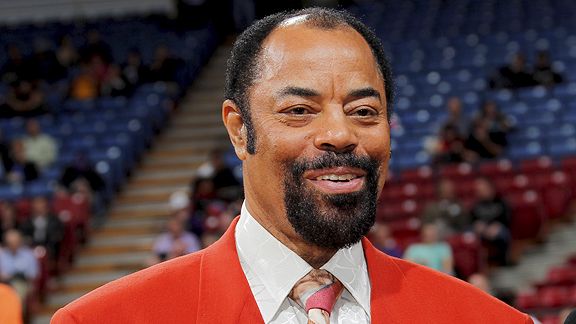 Rocky Widner/NBAE/Getty Images
Frazier has already made a large impact in his new community.Knicks legend and MSG analyst Walt Frazier only recently moved to Harlem, but he's already making a big impression in the neighborhood.
On Friday night, Clyde was recognized in a two-part event organized by the NY Carib News called "Fabulous Fathers," an annual literacy series to celebrate several super dads. First, Frazier, wearing a purple suit and white dress shoes, signed copies of his reissued book from 1974, "Rockin' Steady," at Hue-Man Bookstore & Cafe, the largest independent African-American bookstore in the country.
Afterward, Frazier was honored at a private dinner at Gran Piatto D'Oro restaurant for his work with his son, Walt III. Two other notable fathers included former New York City mayor David Dinkins, the only African-American to hold that office, and Chet Whye, the executive director of Harlem4 Center for Change.
In light of Father's Day on Sunday, Frazier spoke about the impact his father (and mother) had on his life, the issues that trouble him in the black community and the school system, as well as the importance of an involved father in a child's life: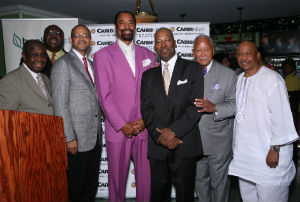 Merv Bamby
Frazier was honored alongside a number of community leaders, including former New York City mayor David Dinkins (second from right).
"This is really an honor, a humbling experience to be here tonight. I never expected this. My son is here, Walt III. If you get a chance to talk to him, he'll tell you what an exquisite dad I am [laughs].
"I grew up in very humble beginnings in Atlanta, Georgia. I'm the oldest of nine kids -- seven sisters and one brother, so I often tell people when you grow up in a scenario like that, you either like kids or you hate them [laughs]. I've had an affinity for kids for a long time. When I came to the Knicks, they were my most ardent supporters. They bought my books, they bought my Clyde sneakers, they attended my camp. So today I feel compelled to give back. I recently moved to Harlem, and I must say I feel right at home; it's like I've been here all the time and I see a lot of things that I can do in giving back. I'm starting to do so at Abyssinian Baptist Church, the church I've attended a long time. I'm going to be working with the youth there in a basketball program, trying to motivate the kids and teach them how to be successful on and off the basketball court.
"One of the things I do under my Walt Frazier Youth Foundation is I go into the schools and talk about the importance of education and the abstinence of drugs and alcohol. I go to inner-city schools and I also go to the elite schools. I usually ask the kids, 'How can you improve your relationship with your parents?' Whether it be the inner-city school or the elite school, they say 'communication.' They say, 'My parents don't communicate.' I think you can't motivate people unless you communicate, so you gotta talk to those kids, look in those eyes when they come in, know what they're doing, know their friends, and that's going to be essential for their success.
"Being the oldest of nine, I was a role model before I knew what the word meant, so I was very cognizant of the family image, always projecting a good persona wherever I went. I had to take care of my sisters, take them to school and bring them back, so that was a good experience for me in handling celebrity and being a positive role model for people. But today, a lot of the kids that we talk about are involved in shooting deaths in Harlem. The peer pressure is the most overwhelming thing for them, and we know today that there aren't a lot of dads around. If you look at the NBA, I would say 80 percent of the guys are not growing up with a father, a male figure. It's always the mom, so we need more dads to be more positive with our kids.
"When I go into the schools, I'm appalled that there are no male teachers anywhere. The principals are women -- they're all women -- so the kids kind of run amok because the women can't provide that surrogate father like I had in high school. My coach was there for a lot of the kids. That's one thing that they're missing -- that male figure that we need to make the family strong. Also when I go into the schools, it's appalling to see that sometimes over 50 percent of the kids are dropping out by the 10th grade. Black males today are becoming an endangered species. We have more black males incarcerated than we do in our colleges and universities. So there's a lot of work to be done. Personally, whenever I go and talk to a group of kids, if I reach one, then that's why I came -- if I can make a difference in giving back. As I stand here tonight, I'm standing on the shoulders of a lot of people -- not only my parents, but a lot of my peers, my teammates.
"I think what really made me is what my parents instilled in me at an early age. My father is why I have such sartorial splendor [laughs]. My dad was a jazzy dresser; he used to like clothes and I think I acquired that gene from him. My mom was the one who was the strict one. I remember when I got older, she couldn't whip me anymore. She said, 'Wait 'til your father comes home.' By the time he got home, the fury was over so nothing ever happened [laughs].
"I work a lot on discipline. I never smoked, I never drank -- all I wanted to do was be a ballplayer. I still have those disciplines now; I don't really smoke or drink that much. The only thing I'm not doing is playing games. I still take pride in working out and eating properly. In my book, you will see that even in 1974 -- I was 25 years old -- a healthy diet was very important to me. I was one of the first guys that used to work out year-round. I was taking vitamins, I was doing yoga in 1975. People thought I was saying 'yogurt' [laughs]. I've been a pioneer in a lot of ways. I went to a lot of parties where drugs were handled very freely, but whenever I was thinking about doing something that I shouldn't be doing, I always thought 'What would my mother think if this happened to me?' When I was younger, I would not only think 'What would she think?' but 'What would she do to me?' [laughs]
"Tonight has really been a revelation. The fathers have so many kudos in what they're doing. I know it's not easy; the discipline that you have to do in working with our kids, trying to instill the right things in them. I know I'm doing the right thing by trying to give back, remaining a very humble person. I often tell people, 'You can't buy respect, no matter how much money you have. You have to earn it, not only on the court but off the court as well.' You'll be hearing more about me working in the community with our kids, trying to really make a difference."
You can follow Jared Zwerling on Twitter.