Opening Tip: Miss the Kidd?
April, 2, 2014
4/02/14
6:00
AM ET
What's the biggest difference between the Knick team that won 54 games last year and the team that's struggling to make the playoffs this season?
To Metta World Peace, the answer to that question is simple.
[+] Enlarge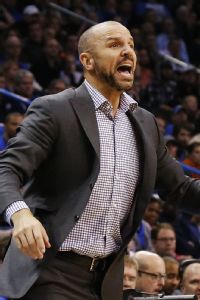 AP Photo/Sue OgrockiKnicks fans prefer Jason Kidd in an orange and blue uniform.
It's the guy who coaches the Nets.
In an interview shortly after he was released by the Knicks, World Peace told ESPN New York that his teammates talked often about how much the club misses Jason Kidd this season.
"I spoke to a lot of people and a lot of people are saying Jason Kidd was the reason [for the Knicks' poor play this year]," World Peace said in late February. "... I spoke to Tyson about it and Tyson said Jason Kidd used to do a lot of adjustments on the court. So that was an issue that we had this year with Jason Kidd becoming a coach. A lot of times they kept saying, 'We miss that presence of Jason Kidd.'"
There are statistics and anecdotal evidence that support World Peace's point.
Last year, the Knicks were 7-5 in games decided by three points or fewer. This season, with Kidd on the other side of the East River, the Knicks have gone 2-7 in such games.
That statistic suggests a failure by the Knicks to execute late in close games.
There's no way to say this with any certainty, but maybe Kidd could have helped the Knicks handle things better in tight games.
"You don't see it on the stat sheet, but there's three or four or five plays that Jason does throughout the course of a game that beats the other team," Mike Woodson said of Kidd last year. "It's amazing."
Another instance in which the Knicks miss Kidd? Their collective basketball IQ seems to have taken a hit without the veteran point guard on the floor.
Losses to Washington, Houston, Indiana and a double-overtime win over Milwaukee come to mind.
It wouldn't be a stretch to wonder if Kidd's on-court intelligence could've offset some of the late-game errors that cost the Knicks wins.
"He's just like another coach on the court,"
Raymond Felton
said of Kidd last season. "We get down by 10, 15 points and he's still calm. I've never seen a guy who's so poised; it seems like he isn't worried about anything."
Of course, the most recent memory of Kidd on the court isn't pretty.
The then 40-year-old ended his playing career by missing 17 straight shots over 10 games in the 2013 playoffs. So it's easy to forget that Kidd played such an integral role in the Knicks' early season success.
But he did.
In in the first 26 games of the season, Kidd hit an eye-popping 44.3 percent of his 3-point attempts. He also helped the ball movement in a Knicks offense that at times became encumbered by isolation.
Kidd's assist rate -- or the number of his assists compared to possessions used -- was 33 percent for the season. That's more than double the league average.
The Knicks this season rank 21st
in assist rate
(16.2).
With that being said, Kidd's absence certainly isn't the only reason the Knicks have struggled this season.
Their offseason acquisition of
Andrea Bargnani
didn't work out well.
Both
J.R. Smith
and
Iman Shumpert
started slowly this season following offseason knee surgeries. Shumpert hasn't produced on a consistent basis.
Smith turned things around after two months of subpar play. Injuries, such as
Tyson Chandler
's broken leg, have certainly impacted the season. Woodson's also made some costly coaching errors.
Given all of that, do you think the absence of Kidd is the biggest reason behind the Knicks' struggles this season? Kidd, of course, has the chance Wednesday to make the Knicks' season even more miserable as his Nets face the Knicks at the Garden.
Up Now:
Can Iman Shumpert
fill the scoring void
if
Tim Hardaway Jr.
sits out Wednesday's game against Brooklyn?
The Knicks front office
ranked dead last
out of all the NBA teams in a poll of ESPN NBA Forecasters.
What's next:
The Knicks play the Nets at Madison Square Garden tomorrow on ESPN.
Question:
Do you think the absence of Kidd is the biggest reason behind the Knicks' struggles this season?
You can follow Ian Begley on Twitter.