Knicks' playoff hopes dimmed by Wizards
April, 5, 2014
4/05/14
12:40
AM ET
The
Knicks
' playoff hopes took a major hit Friday night.
The
Atlanta Hawks
' blowout win and New York's last-second loss to the
Washington Wizards
left the Knicks one game back of the eighth-place Hawks with five games remaining.
If the Knicks lose to the
Miami Heat
on Sunday, their season will essentially be on life support.
[+] Enlarge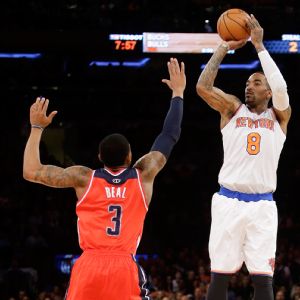 AP Photo/Frank Franklin IIJ.R. Smith pumped in 32 points against the Wizards, but it wasn't enough.
"We've been up against the wall this whole time. Miami's just another team we gotta go [through],"
Carmelo Anthony
said after his 10-point, nine-turnover outing in a one-point loss to the Wizards. "We've had some pretty good wins on the road. We wanna keep it up. We've got five games left. We wanna try to make this happen."
The Knicks are two games behind the Hawks in the loss column, and Atlanta holds the tiebreaker based on conference record. So if the Knicks and Hawks finish tied, the Knicks will not make the playoffs.
"It makes it extremely hard, but we put the pressure on ourselves from the beginning of the season to be in this situation,"
J.R. Smith
said after pouring in a game-high 32 points. "We don't have any choice but to come out fighting if we really want to make it, and I think we do, so I feel good about it."
The schedule also favors the Hawks, who, despite some recent talk of tanking, beat the
Cleveland Cavaliers
by 19 on Friday. Four of Atlanta's final seven games are against opponents under .500.
In fact, three of the Hawks' opponents (
Milwaukee Bucks
,
Boston Celtics
,
Detroit Pistons
) are a combined 100 games under .500.
If Atlanta wins three of its final seven games, New York would need to go 4-1 in its final five to get into the playoffs. If the Hawks go 2-5 to finish the season, the Knicks would get in if they went 3-2.
In other words, the odds are against the Knicks. That's why Friday's loss felt so deflating to
Amar'e Stoudemire
.
"It was right there for us to take. We just didn't take it," Stoudemire said.
The Knicks were up 89-88 with 33 seconds remaining, thanks to a
Raymond Felton
3-pointer. But
Bradley Beal
-- the same player who hit a game-winning layup against the Knicks in December -- hit a jumper coming off of a screen with 23 seconds to play to put the Wizards up one.
The Knicks then called a 20-second timeout to set up an ill-fated play that seemed a bit disjointed.
Coach Mike Woodson said he wanted to set up a play that would have allowed Anthony and Stoudemire to work in a two-man set, but the Wizards did a solid job denying Anthony the ball.
Anthony eventually got the ball from Felton, more than 25 feet from the basket, and tried to split two Wizards defenders on a drive. But the ball slipped out of his hands and ended up in the hands of Smith, who missed a fadeaway 3-point attempt at the buzzer.
"This one was tough," Felton said.
The loss left the Knicks in desperation mode. Now, they need to win nearly every one of their final five games -- starting Sunday in Miami -- to make the postseason.
"We should have won the game," Stoudemire said. "It's a game that we had in our hands, so we have no excuses now. We have to keep fighting, keep playing hard and see if we can win in Miami."
You can follow Ian Begley on Twitter.