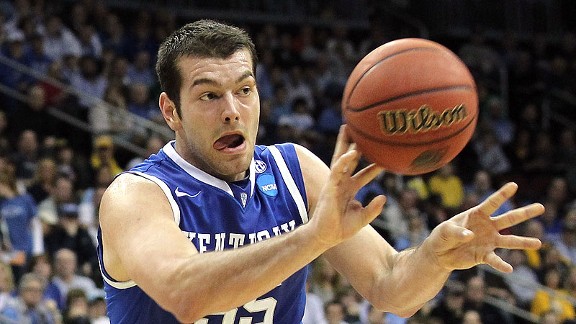 Nick Laham/Getty Images
Second-round pick Josh Harrellson has been working out at Kentucky and IMG Academy in Florida during the lockout.
If and when the NBA season starts, the Knicks will be looking for a big, intimidating, body to fill the paint.
Mike D'Antoni's crew allowed an average of 45.4 points in the paint last season, the fifth-highest total in the league, and were outrebounded by 3.5 boards per game.
Ronny Turiaf was a solid piece inside, but he it's clear he can't be the whole puzzle this season.
So the Knicks would do well to find someone with a physical presence and unselfish approach to complement Turiaf.
Rookie Josh Harrellson believes he's that guy.
"I'm going to go out and be the tough guy. I'm going to go out and get the offensive rebounds, I'm going to get the put-backs.... I'm going to set hard screens. I'm just going to do what I have to do -- dive on the floor, take charges. Anything I have to do to help this team be successful," Harrellson said last week in a phone interview.
The Knicks hope Harrellson can do just that, which is why they took him with the second-round pick they purchased from New Orleans last June.
To prepare for the season, the 6-10, 275-pound banger from Kentucky has been training at his alma mater. He's also worked out at IMG Academy in Bradenton, Fla., going up against NBA bigs such as Glen Davis and Tyrus Thomas.
"As soon as the lockout ends, I'll be ready to go and ready to turn it on," Harrellson says.
The 22-year-old also kept busy by playing with former Kentucky alumns in a barnstorming tour around the state. Harrellson, Deandre Liggins, Brandon Knight, Demarcus Cousins and others have played NAIA schools in Kentucy as part of a tour organized by former Wildcat Jeff Sheppard.
Harrellson has made around $2,500 per game, which he says is enough for him to get by during the 120-plus day lockout.
"If that wasn't the case, it'd definitely be more difficult," Harrellson said. "I'd probably have to go to the bank and take out loans or I'd have to take a loan from my agent or something. But I've been blessed."
No, Harrellson hasn't had to approach agent Merle Scott for money, just advice. Scott's helped Harrellson find places to workout during the lockout, specifically sending him to IMG to work out against NBA competition.
When Harrellson isn't hooping, he's been hunting.
He likes to chase game in the Kentucky wilderness during his downtime.
"I wish I was playing basketball," he says. "But hunting gives me a chance to relax."
Harrellson likes going after turkey and deer, but he's got bigger game in mind once the season starts - NBA big men.
"I think I have enough heart and enough courage to step in and do what I have to do," said Harrellson, the kid they call "Big Jorts" for his love of jean shorts. "I'm just gonna do the little things that nobody wants to do."
Which is exactly what the Knicks need him to do.