NEW YORK -- Last season with the Mavericks, Tyson Chandler didn't have a problem playing against the Celtics. In two wins, he averaged 13 points and 14 rebounds, matching up against two large-sized human beings in Jermaine O'Neal and Kendrick Perkins.
So what happened on Christmas Day?
Although the Knicks won 106-104, the team's new center wasn't productive stats-wise. He scored seven points and only grabbed three rebounds. Well, to cut him some slack, it was his official Garden debut as a Knick. But he admitted after the game that it doesn't come easy against the C's.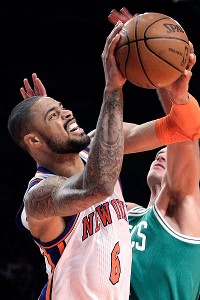 AP Photo/Kathy Willens
Tyson Chandler's six blocks? Good. His seven points and three rebounds? Not so good.
Chandler said the Celtics have been champions for a reason, because they always know how to claw their way back into a game. In the postgame locker room, some of those claw marks were visible from what Chandler agreed was a playoff environment.
"I mean, you see my face," Chandler said. "My lip is busted in four different places, my nose. It was a great game, and that's what you want, though. You don't mind; at least I don't."
Chandler was signed to help close the rebounding margin the Knicks struggled with last season. But on Sunday, it wasn't close. The Knicks got out-rebounded 41-31, including 13-8 on the offensive glass. Not to mention, Chandler has to make his presence felt more defending the paint. The Celtics outscored the Knicks by a significant margin, 48-30, in that area.
Chandler was impressive blocking shots -- he had six of them -- but he needs to be more aggressive on the boards. Carmelo Anthony, who is a solid rebounder for his small-forward position, should not be leading the team in that category. He had eight of them on Christmas Day. Also, Amare Stoudemire shouldn't have six defensive rebounds, his total on Sunday, to Chandler's one.
If Anthony continues to put up Jordan-esque numbers, but the Knicks get out-rebounded by double digits and Chandler and Stoudemire can't even combine for 10 rebounds, they'll be a fun team to watch, but nothing more than that.
Chandler, though, said it's only going to get better.
"We made some mistakes out there and let them cut into our lead, but I love the way we responded," he said. "We didn't hang our heads. We kept fighting and grinding. We gave a great effort and from that we will be able to go back to the tape and learn from our mistakes, and then correct those and get better."
You can follow Jared Zwerling on Twitter.