The Boston Celtics wanted a different look off the bench at power forward, meaning a player who made more noise on the court than off it.
On Sunday, that noise came from Brandon Bass causing havoc on the glass and ramming home two-handed dunks.
The Celtics traded Glen "Big Baby" Davis to Orlando for the smaller, more athletic Bass. In the team's season-opening, 106-104 loss to the Knicks, the newcomer turned in 20 points and 11 rebounds. It was his first career game with at least 20 and 10.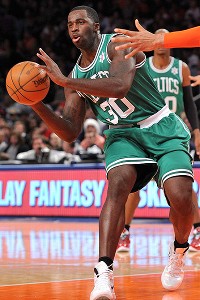 Christopher Pasatieri/Getty Images
Brandon Bass led the Celtics to a 32-15 advantage in bench scoring.
"I just wanted to come out there and contribute any way I can," the 26-year-old forward said. "I just wish we could have won tonight, man. I just wish we could have won."
Bass did his part.
He tortured New York on the offensive glass in the third quarter when the Celtics turned a 10-point halftime deficit into an eight-point advantage headed into the fourth quarter. Bass, at 6-8, 250 pounds, showed a full range of skills at the end of the third, scoring three straight baskets.
First he gathered a missed Chris Wilcox layup for a dunk.
Two plays later, he snagged another offensive board after Ray Allen misfired on a jumper and ended that play his own 16-footer.
Then Bass closed the third by getting open underneath the basket where Rajon Rondo found him for an easy layup and a 87-79 lead.
Bass had eight points and six boards in the third.
The Celtics liked Bass not just because he is active around the basket but he's also considered a quiet workman-type. Davis, on the other hand, overtly complained about his role on the veteran team during his time with the Celtics.
"Brandon is going to give us, obviously, a more mature, more consistent scorer coming off the bench," said Kevin Garnett, who missed a game-tying jumper before the clock expired. "I actually like our bench and how we look, not just on paper but how we look in practice and in the games. Chemistry is a big question mark here. How they jell is another question mark."
For now, Bass, who also shot 9 for 13 from the floor, has answered any question about what he brings to the Boston frontcourt.
"Kid can play," Boston coach Doc Rivers said. "He's tough. He can finish. He can offensive rebound. He can do a lot of things. He's doing it right now.
"He's second-guessing half the things he's doing because of the execution part of it. He's late on a lot of stuff because he's just not sure yet. He's just going to keep getting better and better as the year goes on."