Hall of Famer Walt Frazier recognizes how special his connection is to the Knicks, who's now in his 22nd season as the team's broadcast analyst on MSG Network. In anticipation of the Knicks' third annual Legends Night, honoring former players, Frazier said, "It says a lot about a franchise that honors and recognizes those that helped build it. Legends Night is so special to each player and you can see it in their faces -- it's like a family reunion. The amount of recognition each player gets from the fans is unique to this city -- it's a New York thing" (NYKnicks.com). We thought we'd recognize Frazier in our own right by giving him the Knicks Blog floor to commentate -- in other words, to swoop and hoop -- on the Knicks season. Here's how he bounded and astounded us.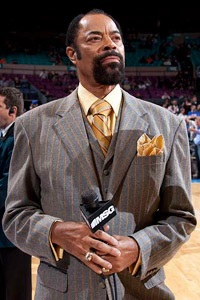 George Kalinsky/MSG Photos
Stylin' and profilin'.
How are you feeling about this season?
I'm excited. We've got some more athleticism, more versatility, so everybody's looking forward to a good season.
The Knicks are going through a tough stretch right now, having lost to the Celtics and Blazers already. Obviously the Magic game was postponed, but now they're in Chicago. What have been some of the positives you've seen so far?
Well, I think they're playing D'Antoni's style -- they're running, Felton has been very aggressive getting into the paint. This kid Fields has astounded everyone, man. Mozgov, also -- he's a good shot blocker. Randolph's been injured, so he probably could have helped some with Gallinari struggling. The Knicks can't wait until he gets back. He's a big guy with a lot of upside. I think Amare has been everything as advertised. He's been solid, a good go-to guy.
Amare is the Knicks' best centerpiece since Patrick Ewing. What has struck you about him as a leader?
His work ethic is unbelievable. The guy extends so much energy before the game. I'm like, "Save some of it, man." He likes to go out and shoot and shoot. He leads by example, man. He's the first one there and the last to leave in practice, so guys have to respect him and try to keep up with him. He's also a better perimeter shooter than I thought he was. He has a little midrange jumper. He seems like he's worked diligently to improve on that particular shot.
Since you're the epitome of "cool," you must admire Amare's sense of style -- even him getting the personal invite from the most powerful person in fashion, Anna Wintour, to attend New York Fashion Week.
Yeah, but he dresses different from me (laughs). He's more conservative; he likes a different cut. His body is incredible, man. I think the guy must have a 32-inch waist, and he's 6'10". He dresses more, I guess you'd call it, Italian tight fit wear. He looks good in his clothes.
Has he come up to you for any style pointers?
Nah, but I've seen him checking me out (laughs). Sometimes he says, "Hey Clyde, nice suit." He pretty much I think has his own repertoire of what he wants to do, and he seems to relish being in New York, man. Like this town, as we know it, is not for everybody. Everybody can't handle the publicity here, the pressure, but he seems excited. I think Felton is like that as well.
Obviously Amare doesn't have All-Star Steve Nash to set him up, so there's more weight on his shoulders to carry the offense. How do you think he's adjusted to being more self-reliant in creating scoring opportunities for himself, especially against the zone?
He's trying to make that transition because if you watched the previous games, what teams are going to do is go into a zone down the stretch to eliminate his ability to create off the dribble. He's usually faster and quicker than the guys who are guarding him. That's going to negate that and force him to the perimeter, so the zone I thought worked pretty affectedly the last time against him.
How do you think Amare and Raymond have worked off the pick-and-roll together?
They're developing a nice rapport. Felton is starting to look for him. Also, Stoudemire has been impressive with his passing. He reciprocates a lot of times hitting the guards when they come off the screen. Mozgov is a good passer, too.
You mentioned Fields earlier. It's been pretty impressive to see him not only develop so quickly, but even start.
Yeah, well, we've had to really scrutinize because we didn't have any first-rounders. [The Knicks' front office] has done an excellent job knowing what's available out there and getting tangible results.
Did you get a chance to see Fields play at the Vegas summer league?
Yeah, I did. I was impressed. I thought he could score. I like his feet, man. He has very quick feet. What I've noticed now is he's an excellent rebounder. His timing is exquisite. He anticipates well when the rebounds are coming. He's also a good leaper and he can score. He runs well. He's unflappable out there and doesn't show much emotion -- just gets the job done. He's for real. I don't think this kid is going to fade. He does everything well and he will only continue to get better. How many guys come in right away and start as rookies? It's like one percent. I told him, "I couldn't even remember my name the first game I played."
Randolph will be making his season debut tonight. What will he bring to the team?
Another shot blocker, man. Can you believe the Knicks are averaging 8.3 blocks a game right now (laughs)? Last season, they were tied for worst in the league -- 3.7 a game. Randolph is another guy who runs the floor well. He's 6'11", the third tallest player on the team. He's going to be a difficult matchup for the opposition because he's coming off the bench. He's playing against second-line players, so he can almost be a starter. The problem is he's raw, man. He left college early, last season he missed a lot of games, so he lacks gametime experience because of the injuries. I think once he achieves that, the Knicks feel that he can be an All-Star player.
I wrote in an earlier post about how Randolph and Stoudemire could eventually be one of the league's toughest big-man duos to match up with, considering their athleticism, around-the-basket game and ball-handling. In fact, they both have the ability to dribble up the court.
Yeah, that's what I mentioned -- their versatility. Fields can also bring it up. [In previous seasons], the Knicks had guys who were similar players. They could only play one position, but now look at Chandler. He can play the 2, 3, 4. They're moving him around. Randolph is similar, Amare is similar to that. Fields can play the 2 and the 3. So there's a lot of versatility there.
So far the Knicks have had a pretty balanced scoring attack, from the first five to the bench. Do you think that can work to their advantage all season, or do you think they'll need another consistent 20-point scorer to complement Stoudemire, especially against the league's top teams?
Definitely a balanced attack. I think Chandler's capable of being a 20-point scorer, Gallinari too. I mean, we were looking for him to have a breakout season. Then with the other guys, Toney Douglas coming off the bench is another good shooter and he can score. Walker at times. So I think it's imperative that those guys be consistent because as we saw in the last game against Portland, when they went into that zone, the Knicks went a long time without scoring. This is what happened last year. They were going through these scoring droughts and they fell behind by double digits. So it's imperative that somebody comes off the bench with a hot hand, who can be a zone buster and get them going.
With Kelenna Azubuike and Eddy Curry coming back soon, how do you see the rotations possibly changing? Before the season, I actually thought Azubuike, if he was healthy, could have been the starting shooting guard.
Yeah, plus he's a bona fide two. That's his position, and he can score. He's a big, strong guy. I like his game. But, as you mentioned, he's not really working out too diligently, so his status is kind of up in the air. As far as Curry, I think he's looking to come back. He definitely can help us. He's a guy who requires double-teaming when he's on the low post. That should help the Knicks' perimeter shooters get some uncontested shots.
The interview will continue with Parts 2 and 3, where Clyde and I discuss the evolution of the NBA game, the updated version of his 1974 book, "Rockin' Steady," and his flamboyant fashion wardrobe, which consists of much more than just colorful three-piece suits. Stay tuned.
You can follow Jared Zwerling on Twitter.